Do you make your own perogies or use store bought?
Please note that this review was not paid for or sponsored by any third party. I purchased this product with my own money and the opinions in this review are strictly my own. I am not affiliated with Costco or any of its suppliers. I am just a fan of the company. I write these reviews to help my fellow shoppers.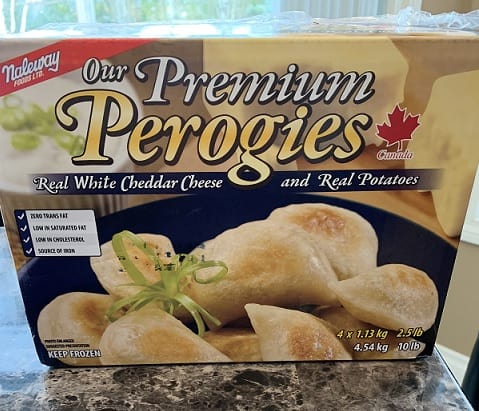 Today we are talking perogies! Perogies were something that I had growing up pretty frequently. My mom would make perogies and ham sausage and that would be dinner. It's simple, convenient, delicious and definitely filling. If you want to know how to feed a family of four on one income you should talk to my parents. Growing up I ate a lot of simple meals that were inexpensive, delicious and always filled me up. We never wasted food in our house and now as an adult I very rarely waste food, even though my husband thinks I'm a little weird when he pulls a quarter cup of cooked rice out of the freezer that's been in there for 6 months.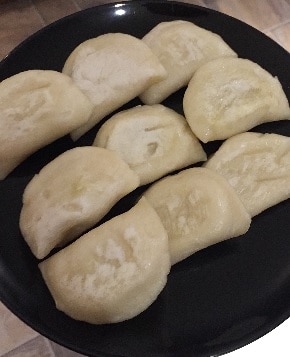 I found this huge box of Haleway Foods LTD. Premium Perogies at Costco and decided they were perfect to have in our house for those busy nights or times when I feel like making a simple dinner. The truth is most of the time I put a lot of effort into making big salads or healthy dinners that take a lot of time and require a lot of chopping. Sometimes I secretly wonder if I'm going to get carpel tunnel syndrome from all the chopping I do! I work full time as a nurse and there are nights where I just want to eat at home but not go to a ton of effort to make something. I feel like perogies were made for those nights. This box cost $9.99 Canadian and it comes with four bags of perogies each weighing 2.5 lbs. That's a lot of perogies! Each bag could probably feed a family of four so I feel like the cost is very reasonable.
Perogies are convenient and easy to make and these Costco Haleway Foods LTD. Premiun Perogies from Costco were ready in no time. You can choose to boil or pan fry them and it's very difficult to ruin perogies. Did you know you can also bake your perogies? I've done it before by putting the perogies on a greased baking sheet and then baking them until golden brown. Baking them is super easy with mininmal cleanup and it also makes them a little dry on the outside and slightly crunchy which I prefer.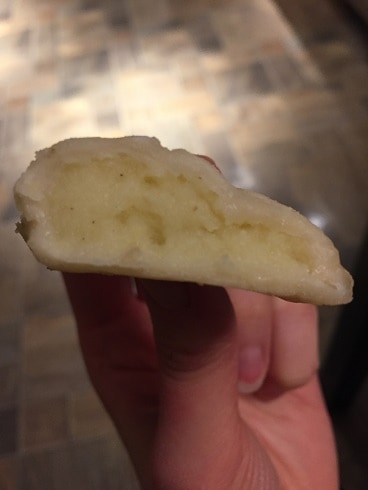 The Haleway Foods Perogies from Costco were not overly flavorful but they still were tasty. Basically if you like a standard, basic perogie you'll probably enjoy these. If you wanted to fry up some bacon or onions to add some flavor to these I definitely encourage that. I would think if you have a kid who just likes basic, simple foods these would probably be perfect. I enjoy my perogies just plain with sour cream and I definitely enjoyed these. They were soft and fluffy on the inside and full of potato/cheese filling. The ingredients claim there is parmesan cheese in the filling but I definitely couldn't taste any strong parmesan flavor. Overall these are a great tasting perogie if you're not looking for a ton of extra added flavor.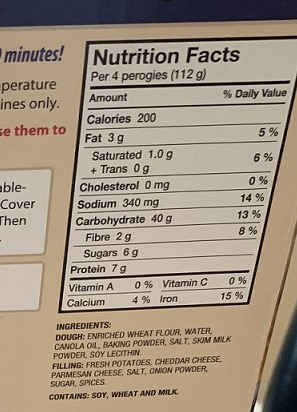 Nutritionally four perogies is 200 calories, 340mg of sodium, seven grams of protein, six grams of sugar and three grams of fat. I have to say I was a little disappointed in the sugar content but quite pleased about the amount of protein. The calories and fat are reasonable, If you eat eight, you're not blowing your calories or fat for the day and I find these to be quite filling.
I will not be purchasing these for again for a while because I have 3 bags left to use. We don't eat perogies that often but I would definitely consider buying these again when I run out. They're perfect to have if you're hosting a large Thanksgiving or Christmas dinner or in need of something to bring to a potluck or big family get together.
Taste: 8/10
Cost: 9/10
Convenience: 8.5/10
Nutrition: 5/10
If you are from Western Canada please visit the Costco West Blog to find out what's on sale at Costco this week!