Quick post on Rodelle Organic Baking Cocoa From Costco and my favorite chocolate cake recipe!
Please note that this review/recipe was not paid for or sponsored by any third party. I purchased this product with my own money and the opinions in this review are strictly my own. I am not affiliated with Costco or any of its suppliers. I am just a fan of the company. I write these reviews to help my fellow shoppers.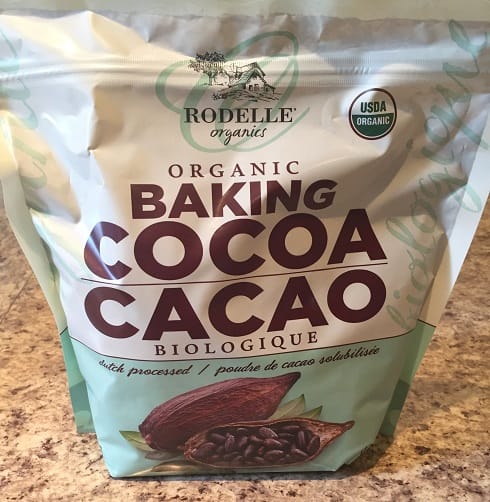 I did not want to write an entire review on this Costco bought Rodelle Organic Baking Cocoa because, well…it's cocoa powder. It tastes great, is organic and has a nice rich, bold, deep chocolate flavor. Any questions about it, let me know! I thought I would post the chocolate cake recipe I used along with this cocoa powder to make my husband's birthday cake and icing. This is the kind of chocolate cake your grandma would make from scratch for your birthday. It has a rich chocolate flavor, is super moist and very delicious. Also the chocolate buttercream I make is (in my eyes) the best icing for chocolate cake ever.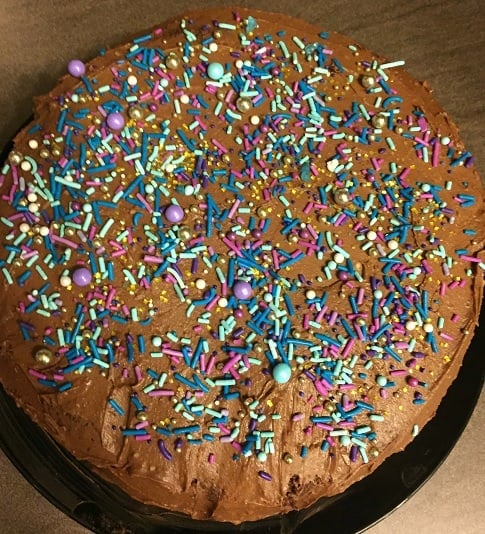 Ingredients for the cake:
2 extra large eggs slightly beated
1 and 3/4 cup all-purpose flour (measured by spooning the flour into the measuring cups gently and then leveling with a knife, not packing it in)
2 cups of granulated sugar
¾ cup cocoa powder (I used this Rodelle organic baking cocoa purchased from Costco)
1 ½ tsp baking soda
¾ tsp salt
1 cup reduced fat buttermilk or you can make your own with lemon juice and 2% or higher milk.
½ cup butter measured solid, then melted
1 heaping Tbsp vanilla extract
1 cup of hot coffee (you can use decaf, I just make a single serve coffee in my single cup coffee maker)
Directions
1. Prepare 2- 9 pinch cake pans by using parchment paper to cut circles for the bottom of each pan, place circles in the bottom of each pan, if your pans are not nonstick then grease the sides of the pans with a little bit of butter.
2. Preheat oven to 350 Fahrenheit.
3. Melt butter in microwave safe bowl on 7 second intervals, stir after each interval until it is melted, set aside.
4. Combine all of your dry ingredients in a large bowl and stir together.
5. Add wet ingredients to dry ingredients except for the coffee. Use a hand mixer and beat until smooth about 2 to 2.5 minutes. If you don't have a hand mixer, you could use a stand mixer as well.
6. Stir in hot coffee to the batter, and mix gently with a rubber spatula just until combined. Warning! This batter will look like SOUP. Trust me it will be okay.
7. Pour batter evenly into the prepared cake pans. Bake in preheated oven on the middle rack for about 33-38 minutes. I usually bake for 35 minutes. Check with a toothpick if done.
8. Let cool and then use a knife to go around the edges of the pan and flip your pans upside down. Then it's time to ice the cake!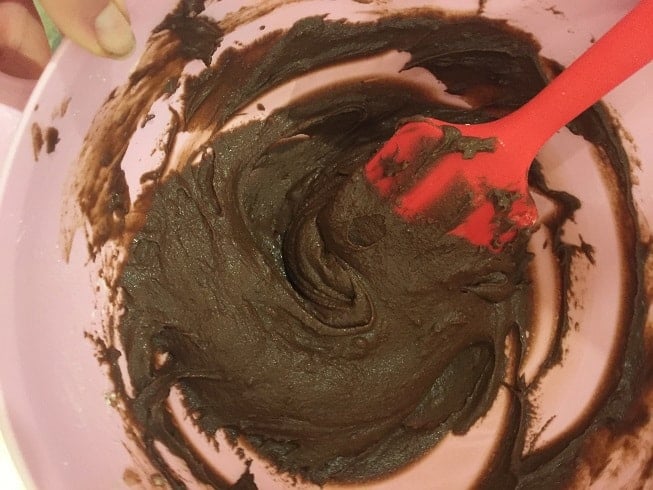 Buttercream icing ingredients:
¼ cup butter softened to room temp
¼ cup cocoa
1 and ¾ cups icing sugar
½ tsp vanilla
¼ cup half and half cream or 2% milk (you may need a table spoon or two extra to get the right consistency)
Directions:
1. Using a handheld mixer or spatula cream all the buttercream icing ingredients together until nice and smooth and it is the consistency you like. Feel free to add additional cream/milk to achieve the consistency you prefer.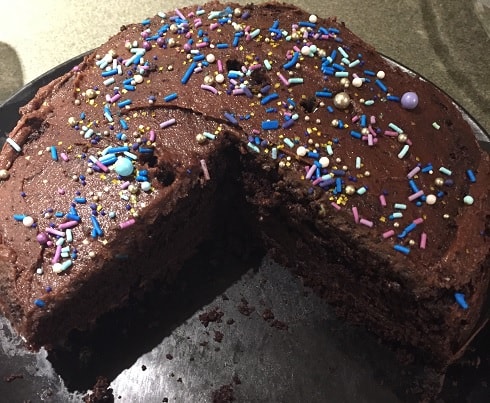 Any questions? Let me know