Craving ribs but not feeling up to a lot of work? Try these
Please note that this review was not paid for or sponsored by any third party. I purchased this product with my own money and the opinions in this review are strictly my own. I am not affiliated with Costco or any of its suppliers. I am just a fan of the company. I write these reviews to help my fellow shoppers.

My husband loves his meat and I'm still getting used to cooking different kinds of meat, ribs are something I haven't mastered yet but these ribs from Costco looked tasty and convenient.
I purchased these ribs for $9.79 Canadian but I believe you can find them about 3 dollars cheaper if they are on sale. I felt the cost was reasonable considering how convenient these are compared to buying ribs and cooking them yourself. You're basically paying for the convenience. I will say that for us there wasn't a ton of ribs in the box so if you have big eaters in your house, you may need 2 boxes to fill hungry tummies. My husband easily ate 3/4 of the package, therefore if you have big eaters these could get on the pricey side.
The Costco 44th Street Slow Cooked Pork Back ribs are actually quite good, there was enough meat on each rib and not a lot of fat. I liked the barbecue sauce that is used, it was slightly sweet and tangy. The meat was very tender and easily pulled off the bone with just a fork and knife. I was a little worried because I usually assume when I buy something like this there will be a lot of fat and gristle and not much meat but that was not the case with these. I really enjoyed them. Nothing beats homemade ribs though.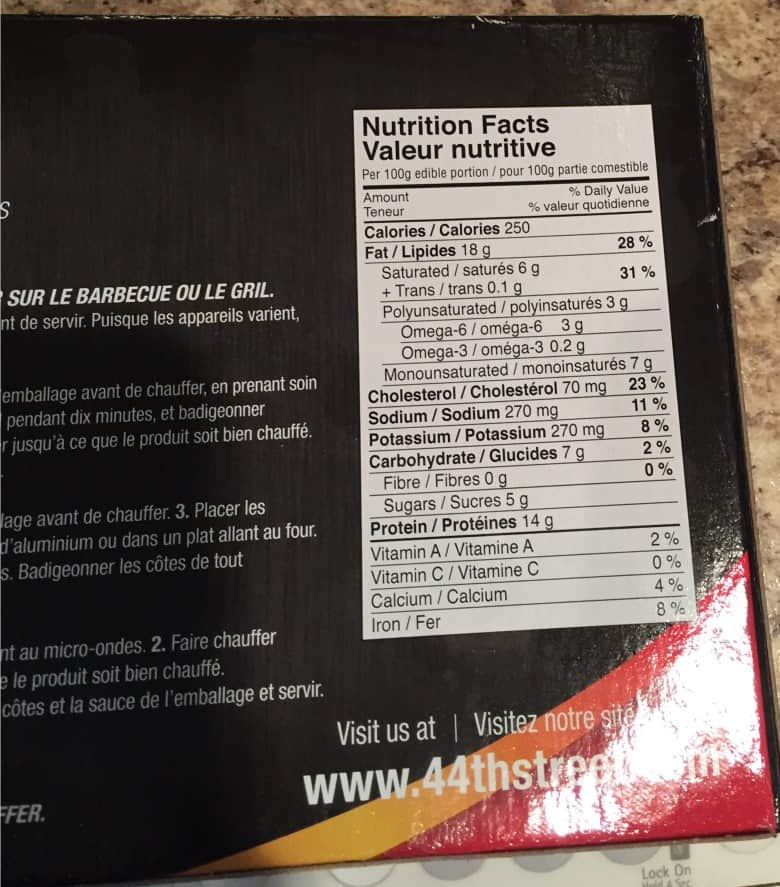 Nutritionally these are not the healthiest, the box is 680 grams and a 100 gram portion is 250 calories, 18 grams of fat, 5 grams of sugar, 270mg of sodium and 14 grams of protein. The sodium is not as high as I thought it would be so that's a positive, the calories aren't that high either if you keep your portion down. The biggest con is the amount of fat in a serving. I would suggest serving these with veggies and a salad to off set the fat and higher calories if you're trying to lose weight.
Convenience is a huge factor with these, you can grill them, bake them or microwave them even. They're already fully cooked so you don't have to worry about serving raw ribs and constantly checking the internal temperature. I chose to grill these and they turned out great and were very easy. They also come already seasoned and sauced so you don't need to worry about lathering them in barbecue sauce or seasoning them. They make a perfect quick meal. The ribs go well with a ton of different sides, sweet potato, corn, peas, salad, baked potato, fries.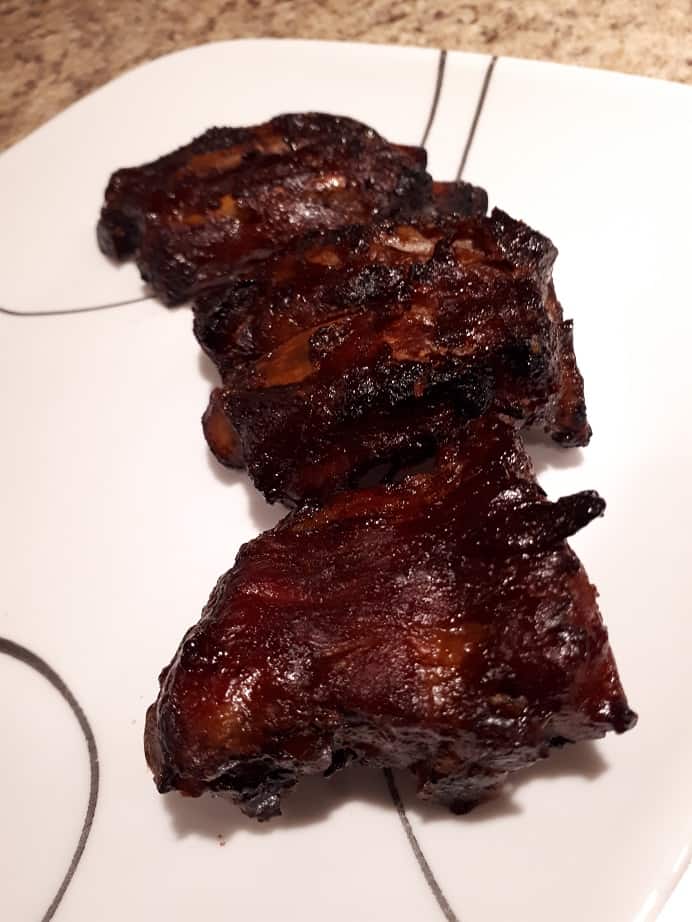 These ribs are tasty, don't have a lot of fat and gristle and are super convenient for people like myself who enjoy ribs but don't usually cook them. I would repurchase these again, especially if they are on sale.
Cost: 8/10
Nutrition: 5/10
Convenience: 9/10
Taste: 9/10
Do you make your own ribs? How do you cook them?