This convenient noodle dish from Costco is really tasty!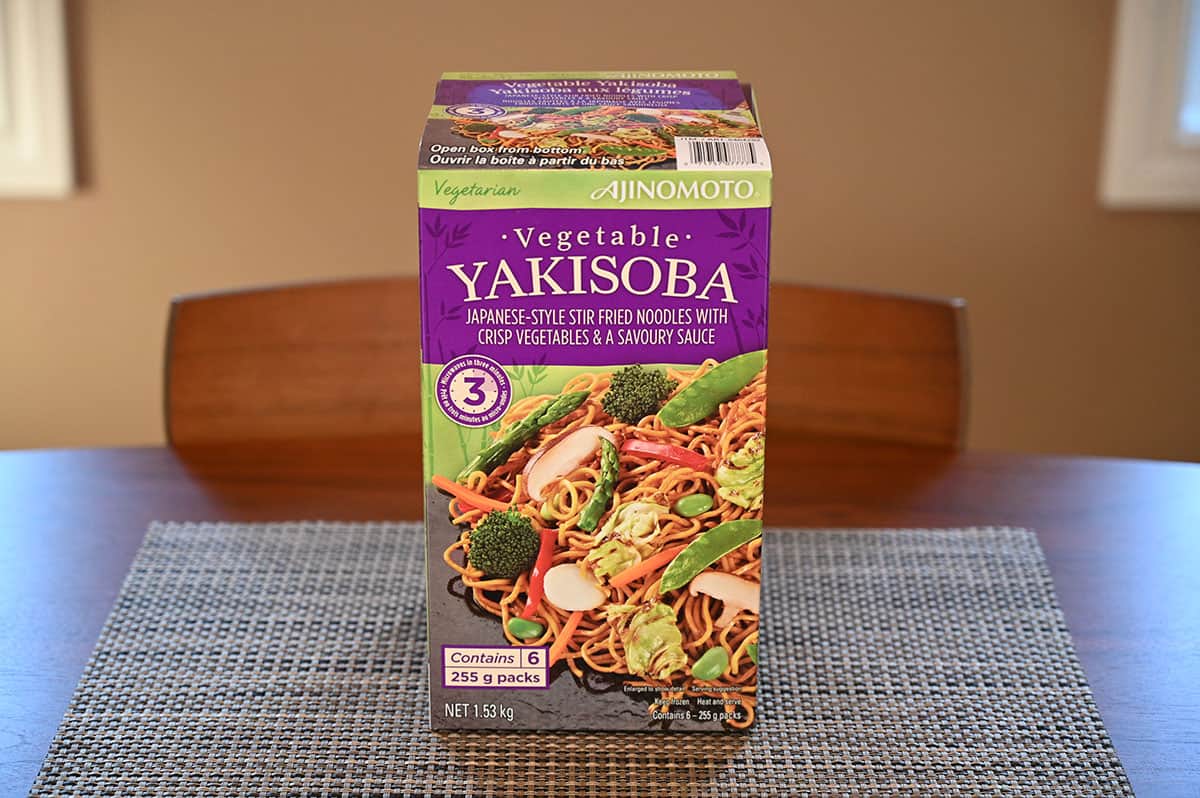 When I'm not eating healthy Costco salads, I eat a lot of frozen items from Costco – which are usually super yummy and usually super high in sodium, haha. When I saw the Ajinomoto Vegetable Yakisoba at Costco, I couldn't resist trying it to see if it was worth adding to my list of frozen, high sodium, convenient meals that I occasionally purchase.
Location in Store
The Ajinomoto Vegetable Yakisoba can be found in the freezer section at Costco.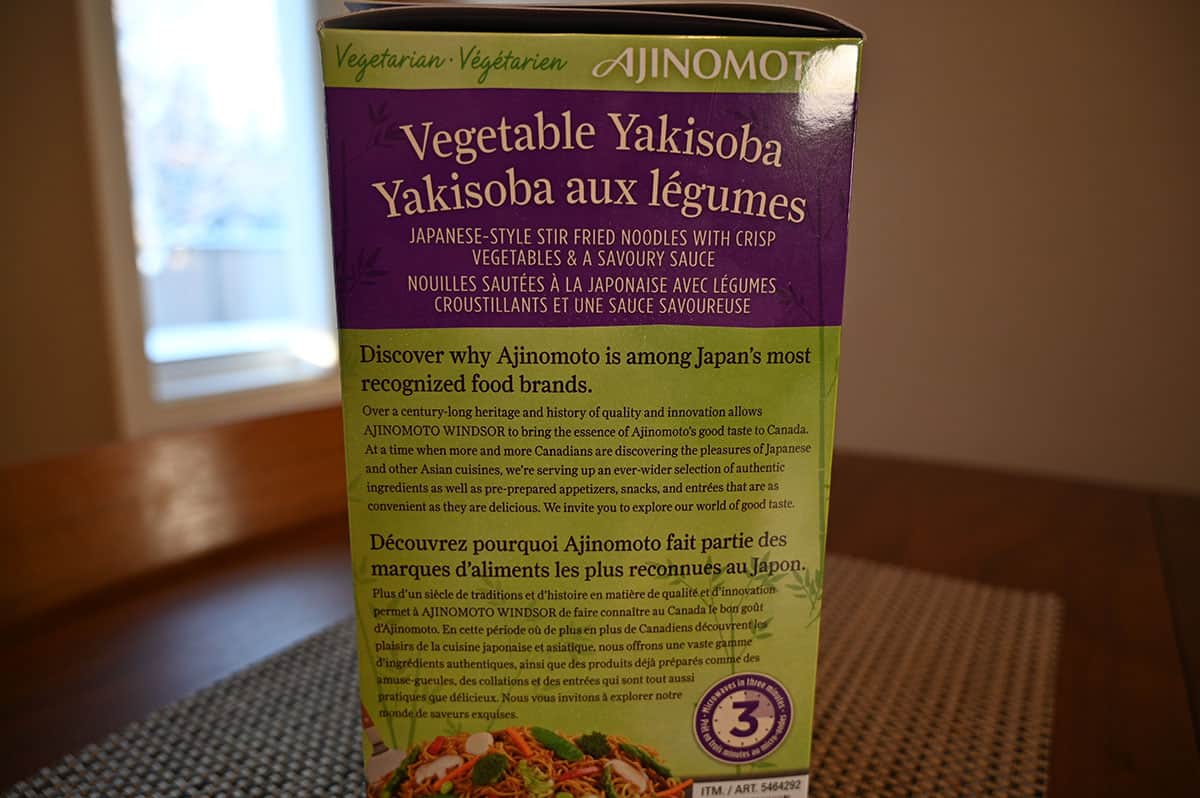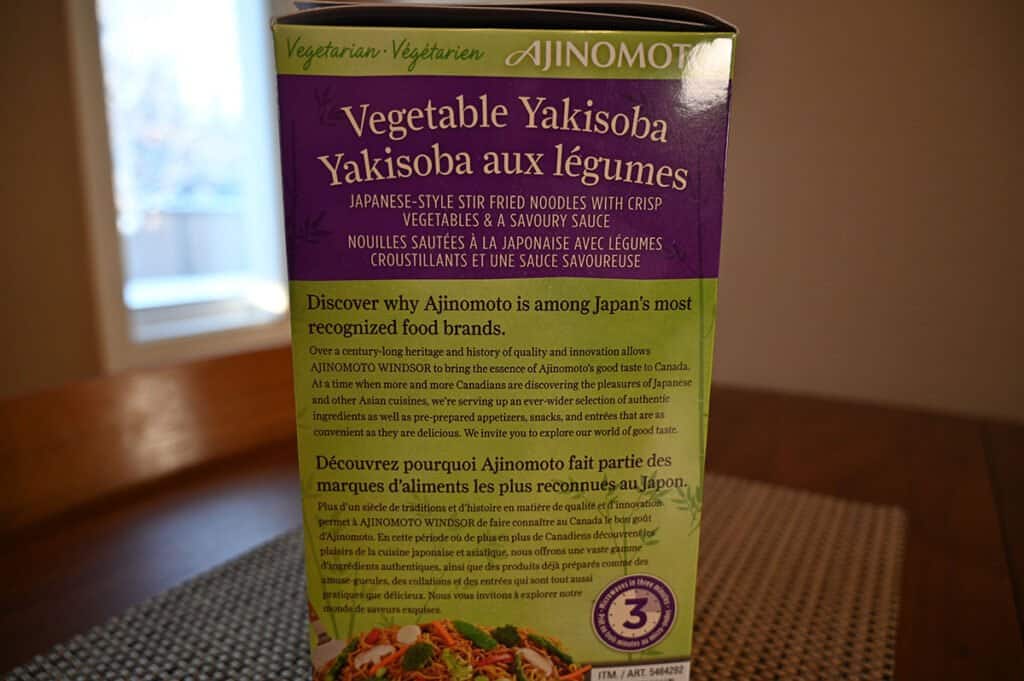 Taste
This Vegetable Yakisoba is actually really, really yummy. Maybe it's all the sodium? Before I go on talking about the amount of sodium in this, it actually doesn't TASTE very salty. My taste buds decided there was just the right amount of seasoning added to these thick yakisoba noodles. If you prefer really thin noodles like chow mein or vermicelli, you might find these noodles a little on the thick side.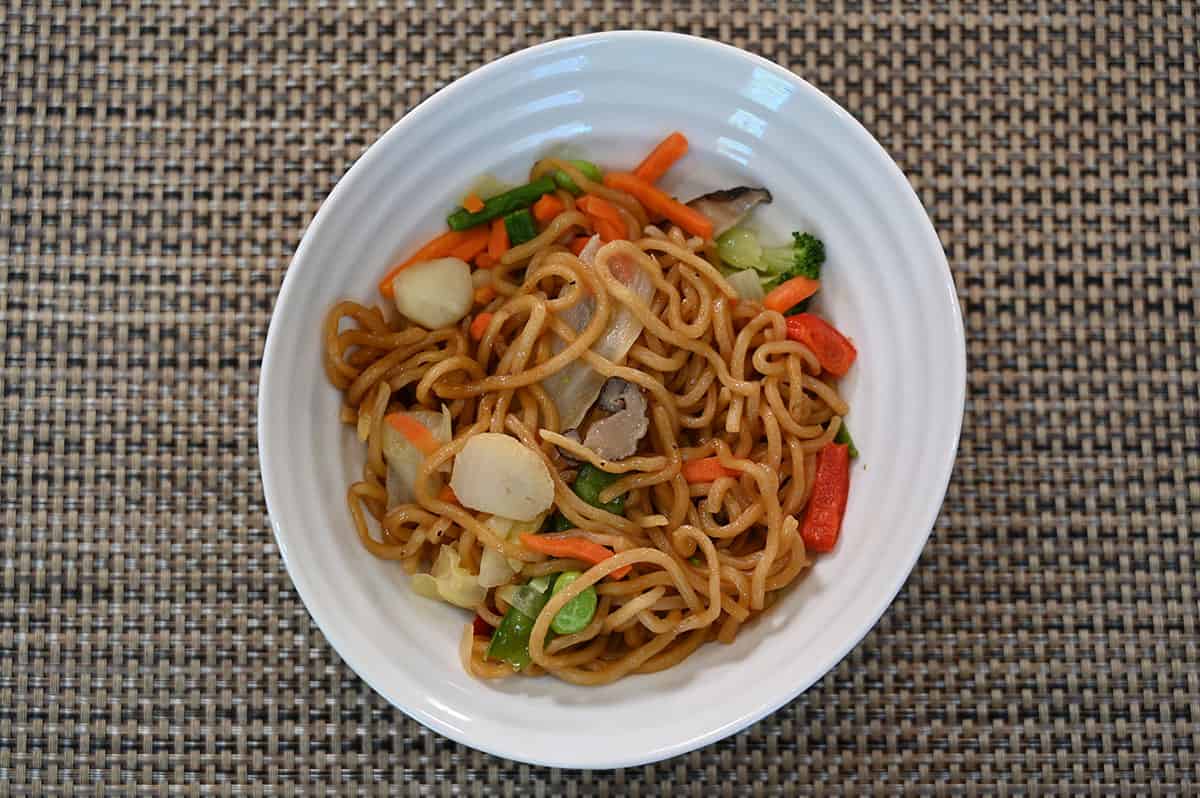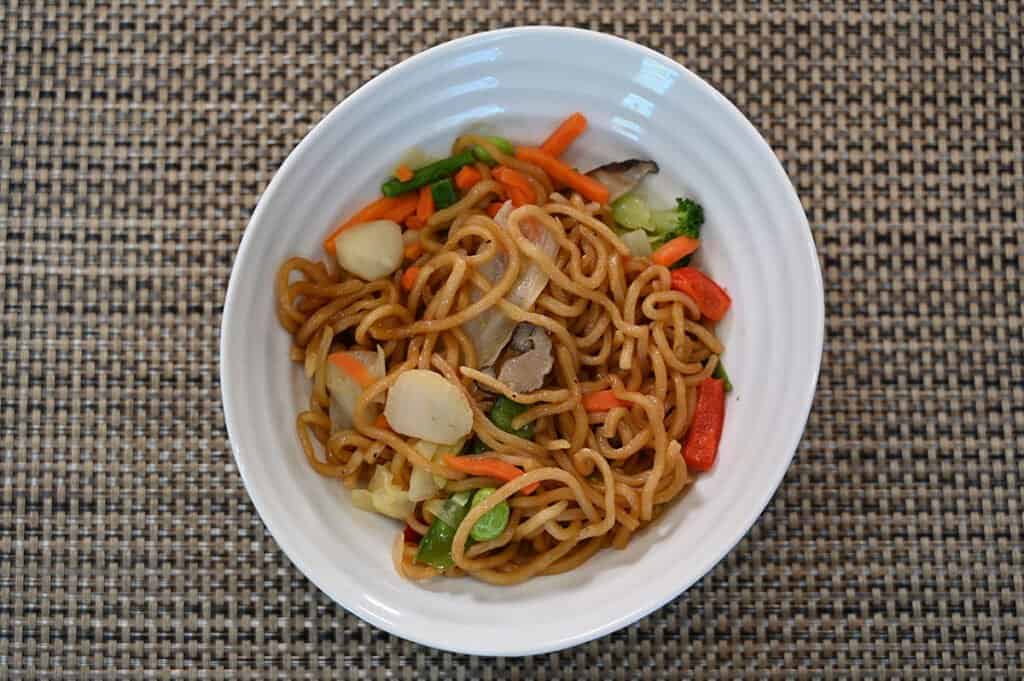 Although it's called, "Vegetable Yakisoba" there's way more yakisoba noodles than veggies in this. I added a few of my own veggies, which took care of that problem right away. The vegetables in the Vegetable Yakisoba (according to the ingredients list) are broccoli, Chinese pea pods, edamame, asparagus, shiitake mushrooms and water chestnuts. In my bowl, I was able to find one mushroom, edamame, one broccoli, and Chinese pea pods. I didn't find any asparagus or water chestnuts in my particular bowl. Although this is a frozen and reheated noodle dish, the noodles came out with just the right texture and consistency; not too hard and not too chewy. The vegetable yakisoba is flavored well and you can taste notes of garlic and sesame. Overall, super yummy.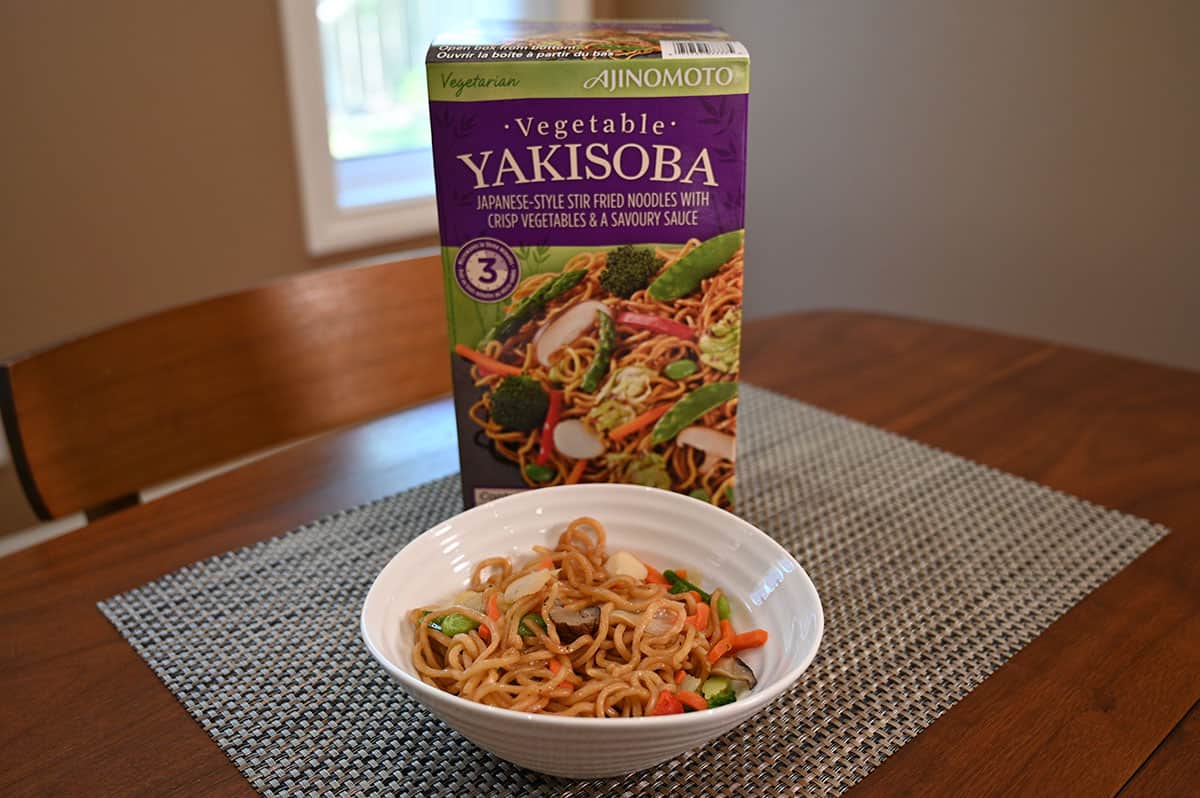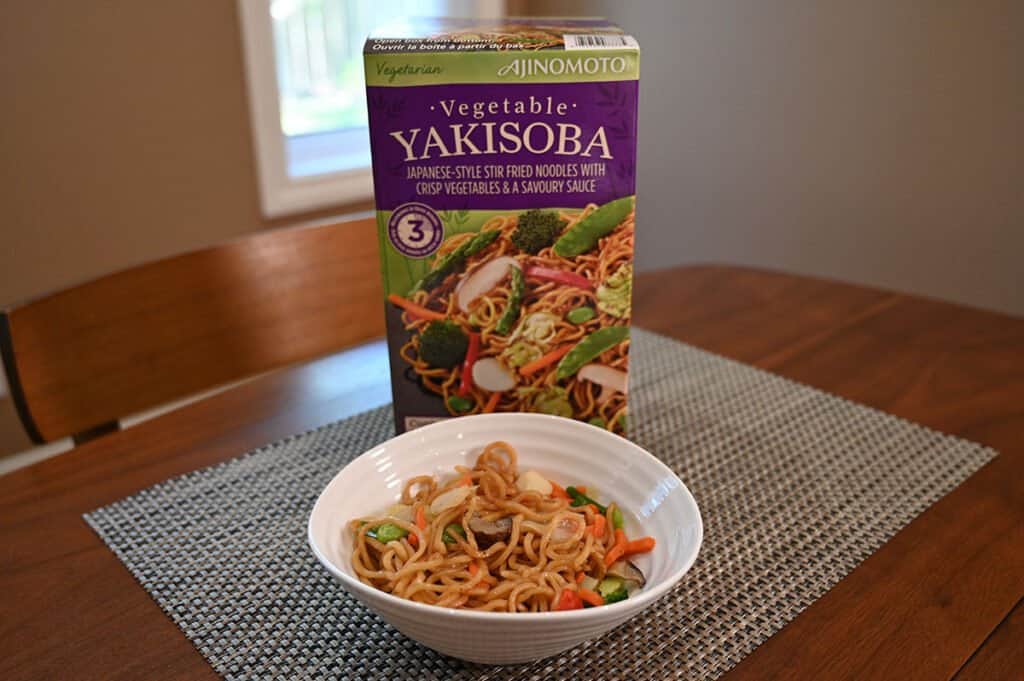 Cost
This isn't the cheapest item, but it isn't that expensive either. You get six packages of vegetable yakisoba in the box. I paid $15.99 Canadian (regular price), so just over $2.65 per bag. You're definitely paying for the convenience factor. I'll point out that one bag of vegetable yakisoba left me quite full!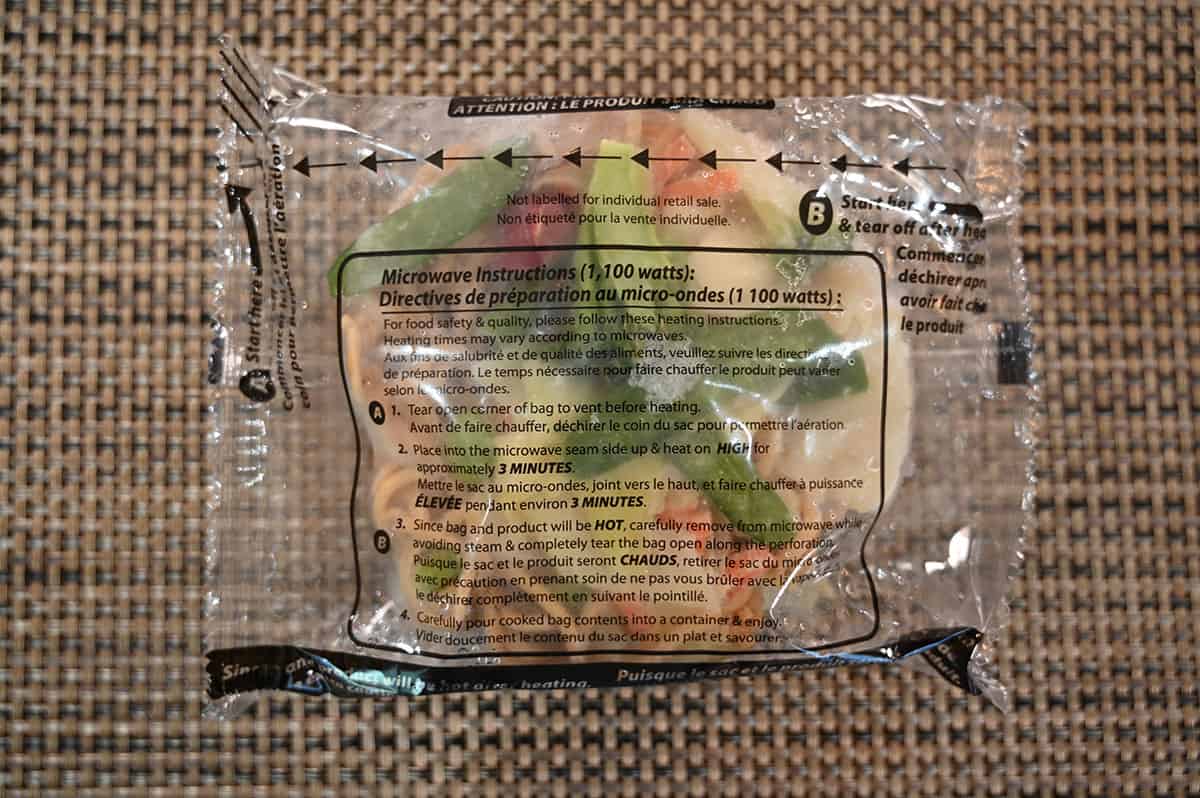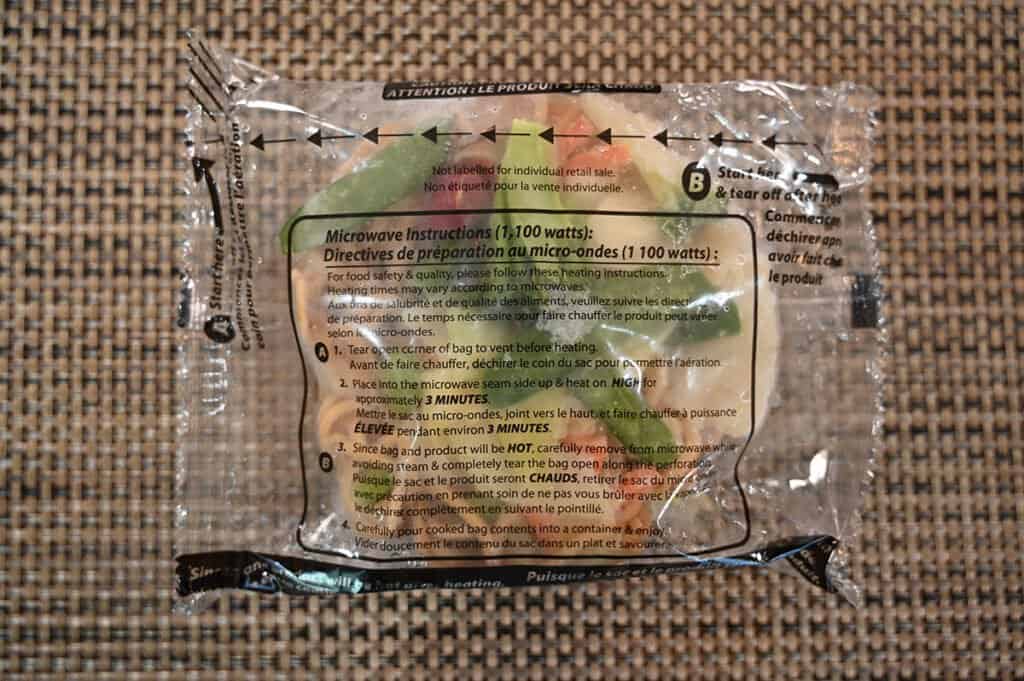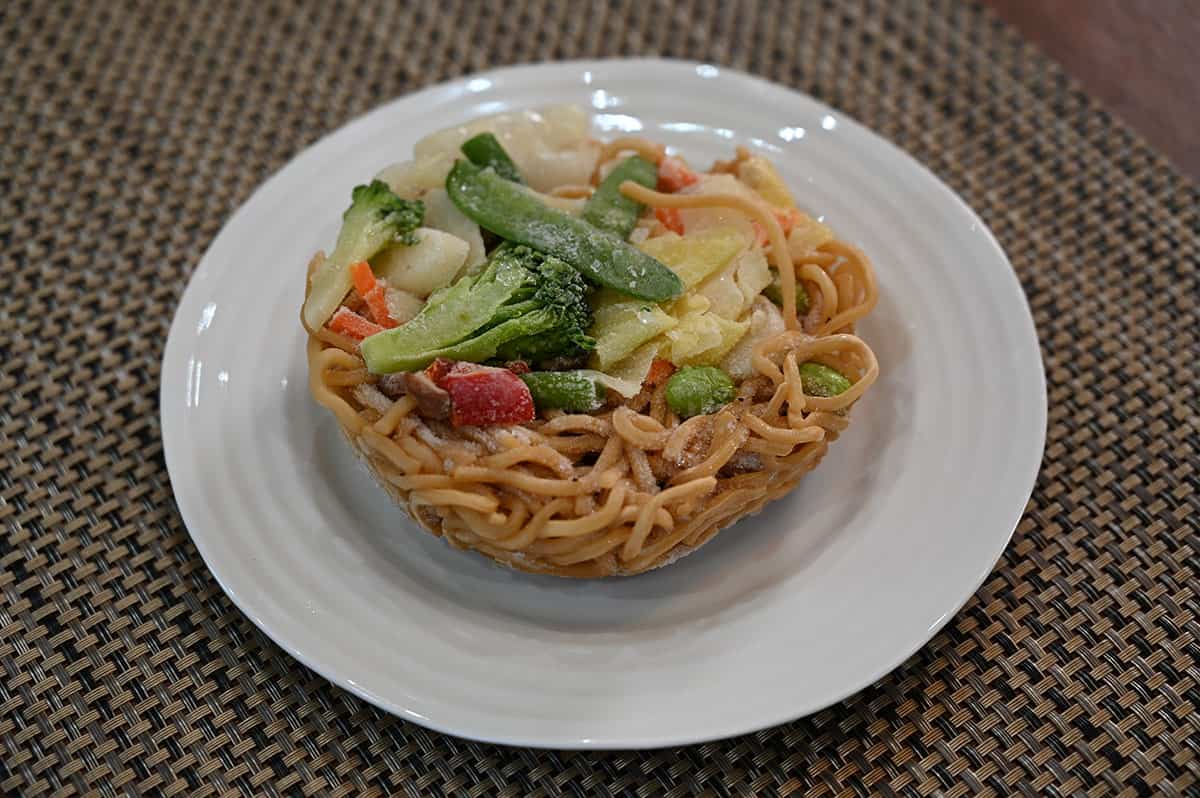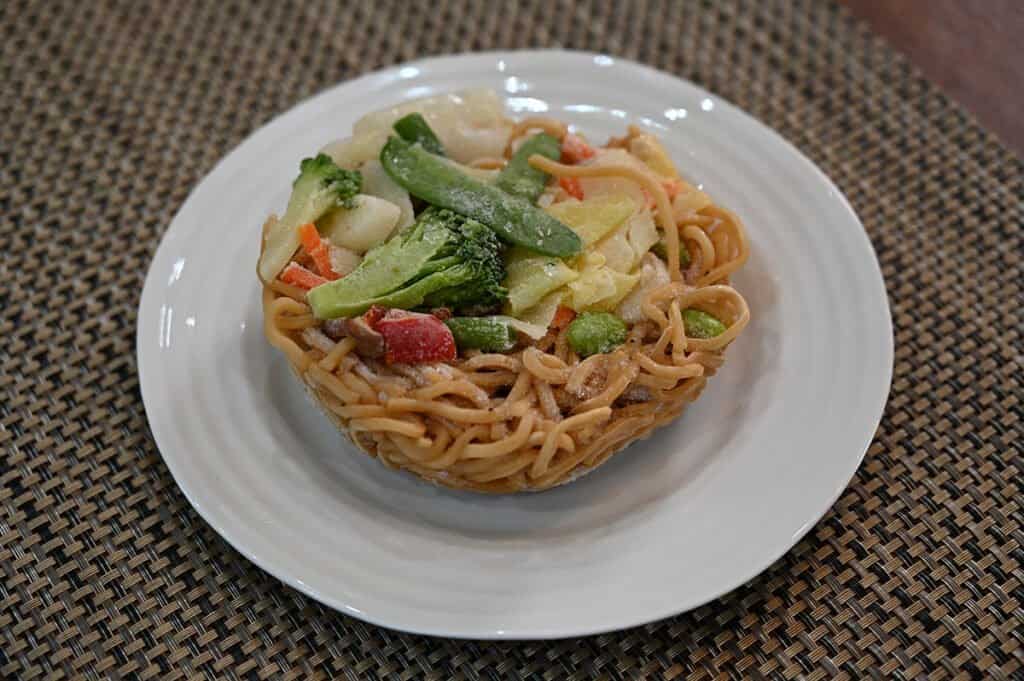 Convenience
The Costco Ajinomoto Vegetable Yakisoba is super convenient to prepare. You cook can either cook the noodles and vegetables using the microwave or on the stove. Either way, you cook them from frozen.
To cook the Vegetable Yakisoba in the microwave, you tear open a corner of the bag, cook it on high for three minutes, then just pour the noodles and vegetables into a bowl. This is perfect for those really busy nights when you need something in a few minutes that will fill your tummy and leave you feeling satisfied.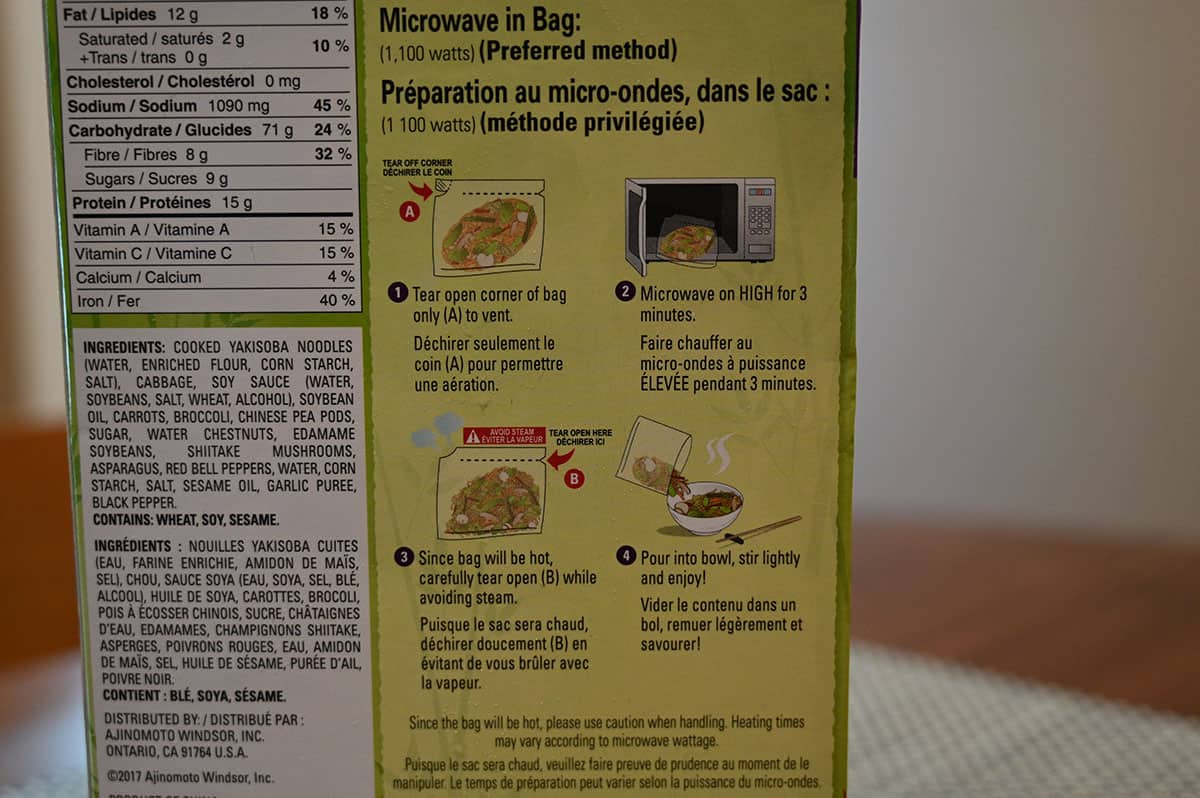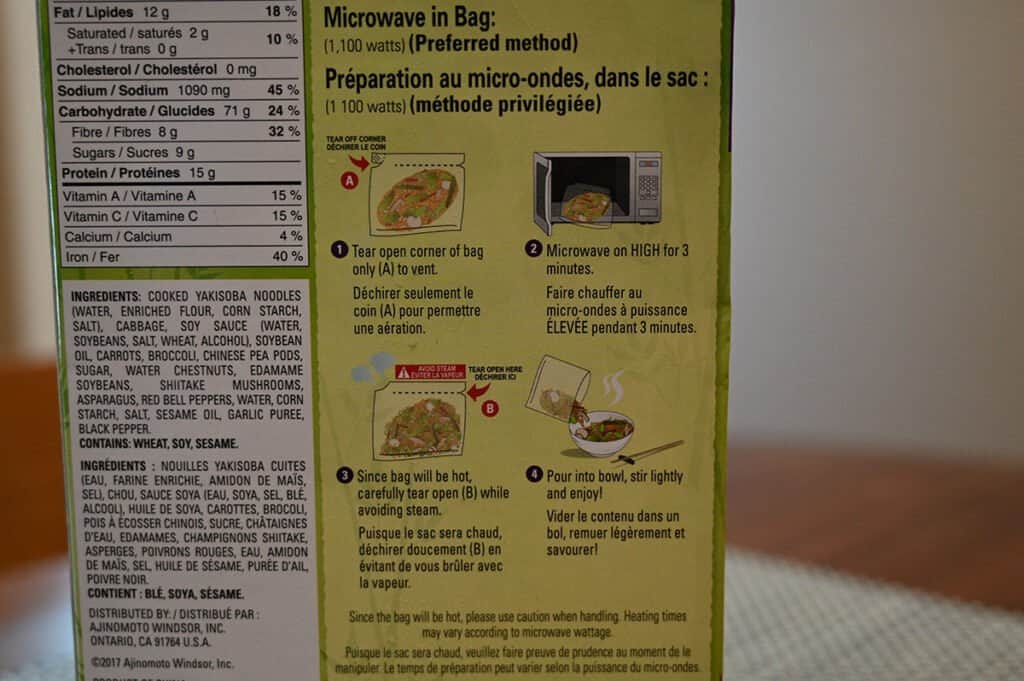 To cook the Vegetable Yakisoba on the stove, you heat one cup of water to a boil in a non-stick pan, place the frozen disc of noodles and vegetables in the pan vegetable side down, heat on high for six minutes, flip the noodles, then stir for three to four minutes or until the water has evaporated. Not quite as easy as using the microwave, but still pretty simple!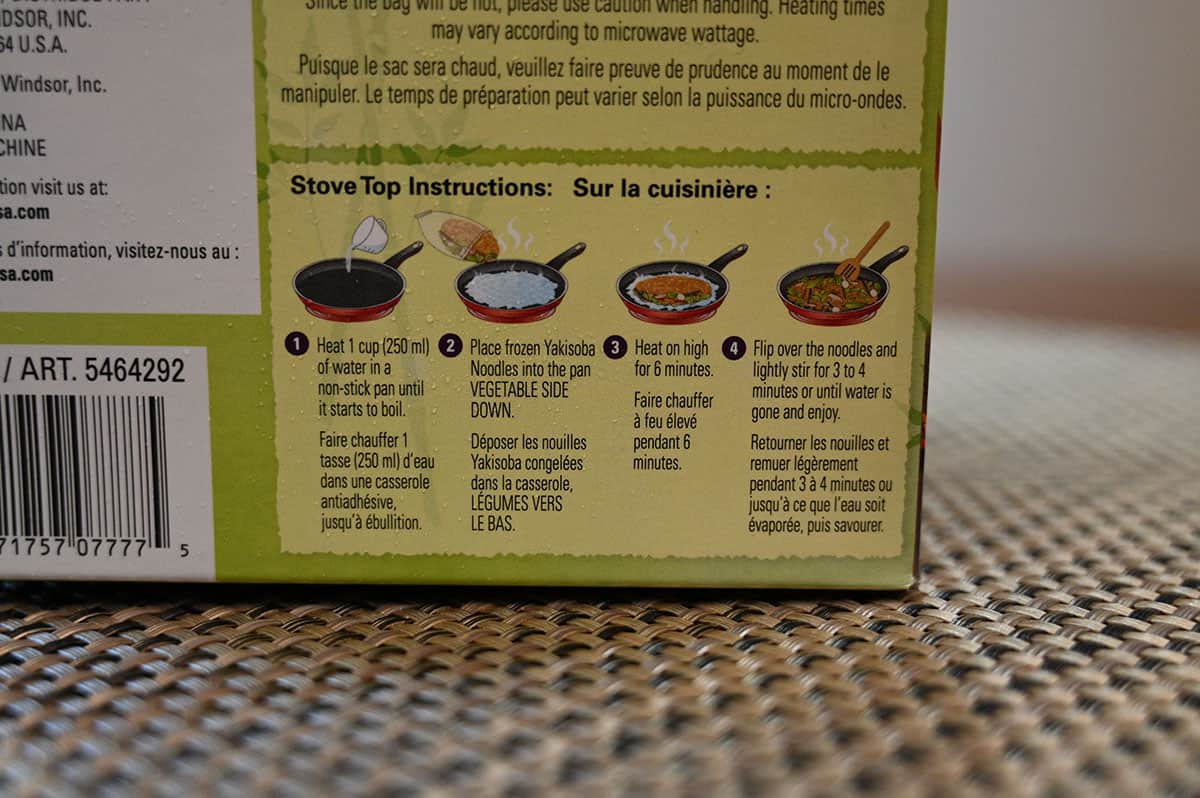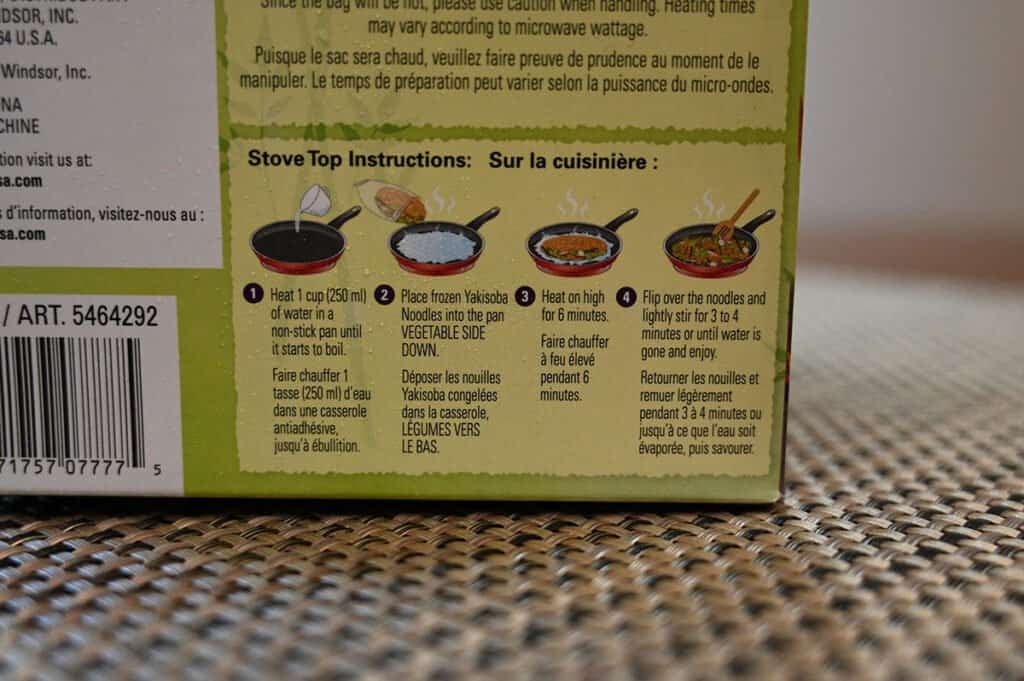 Nutrition
Here we go. One package of the Ajinomoto Vegetable Yakisoba contains 450 calories, 12 grams of fat, nine grams of sugar, 15 grams of protein and…. 1090 milligrams of sodium. The numbers for everything except the sodium aren't too unreasonable for a whole bag, but the sodium is definitely quite high. If you're closely monitoring your sodium intake, definitely steer clear of this product.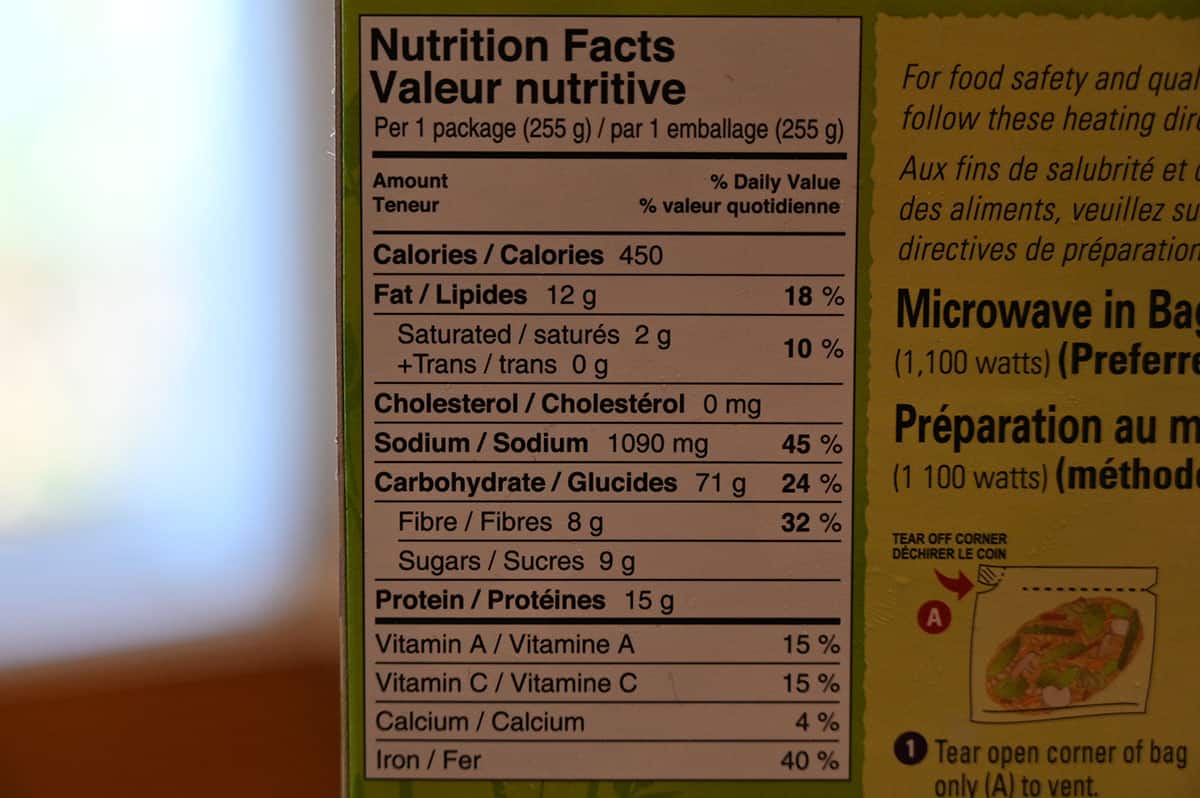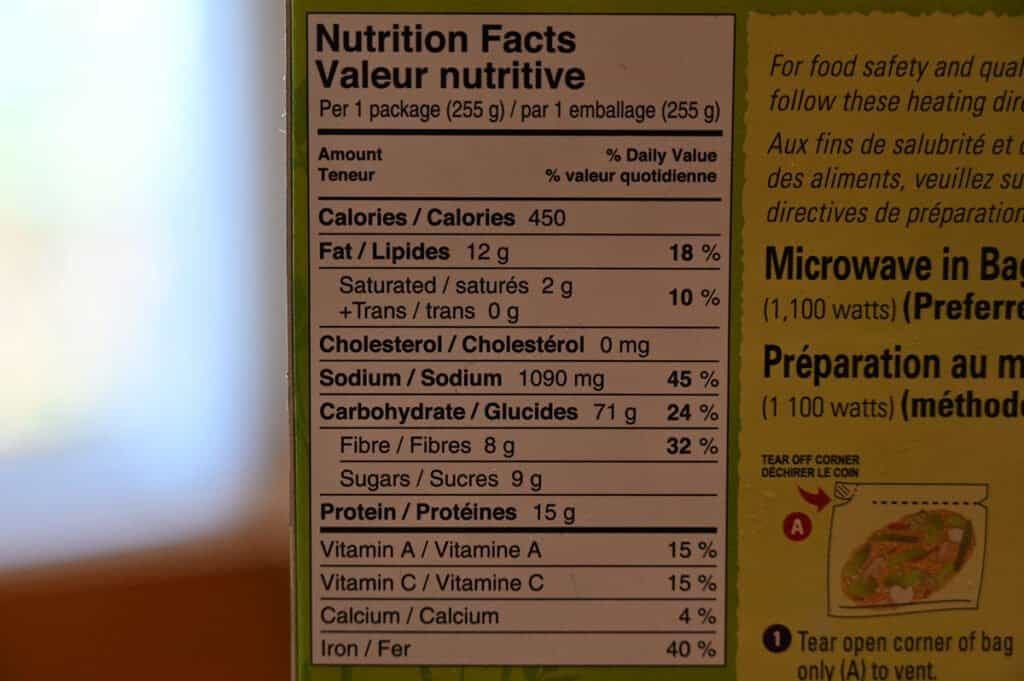 The ingredients list for the Costco Vegetable Yakisoba is fairly straightforward. Some of the ingredients may not be super healthy (e.g., flour, corn starch, salt and sesame oil), but they're all things you'd expect to find in a stir fry style noodle dish like this.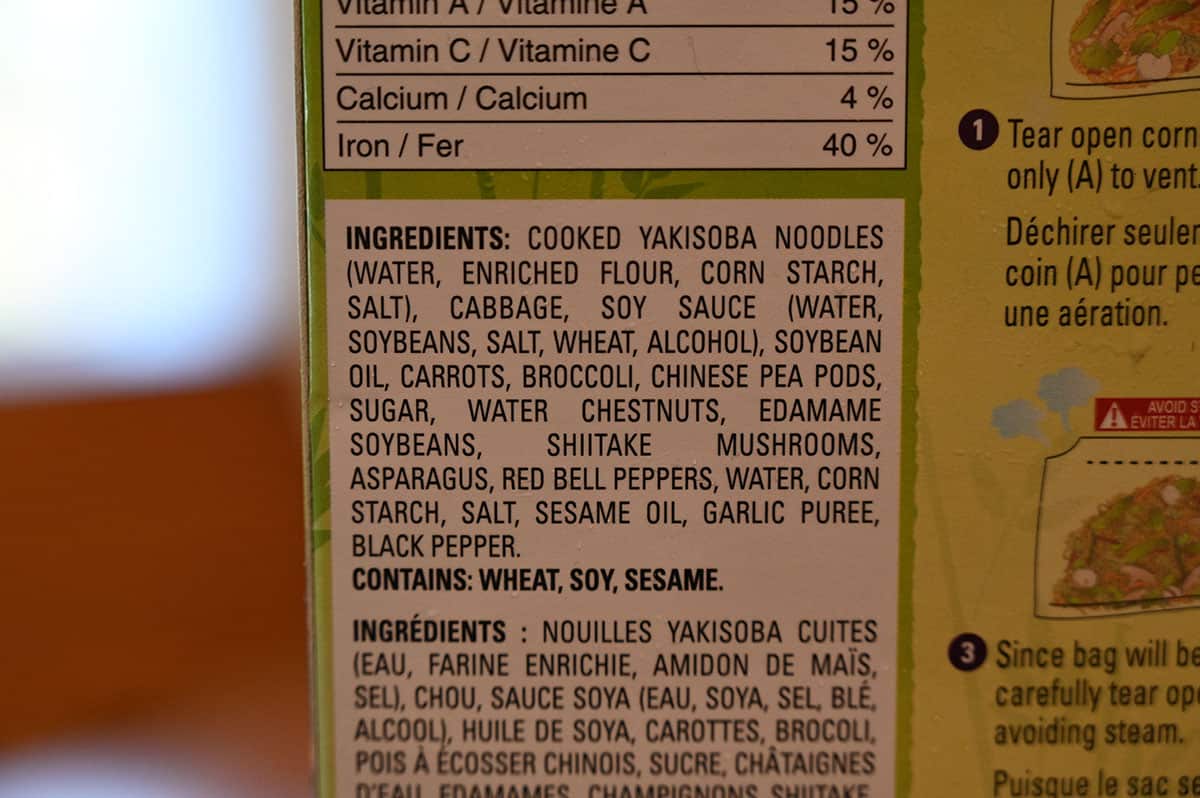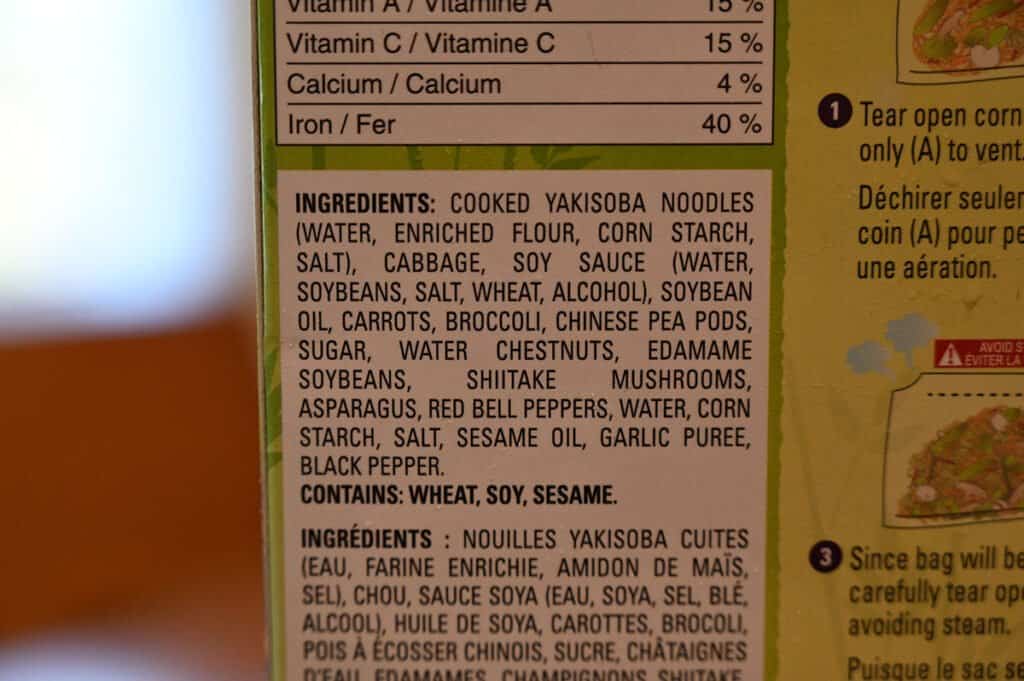 Scoring
Taste: 9/10
Cost: 7/10
Convenience: 10/10
Nutrition: 4/10
Overall
Must buy!
The Ajinomoto Vegetable Yakisoba is a tasty and extraordinarily convenient bowl of noodles. I think kids would really enjoy it too. If you're worried about the nutritional information (especially the sodium), I recommend adding additional chicken and vegetables and eating less than a whole bag of Vegetable Yakisoba; maybe split it between two people.
Do you prefer thick or thin noodles? What extra vegetables or other ingredients would you add to the Vegetable Yakisoba?
Please note that this review was not paid for or sponsored by any third party. This product was purchased by Costcuisine for the purpose of producing this review. The opinions in this review are strictly those of Costcuisine. Costcuisine is not affiliated with Costco or any of its suppliers. In the event that Costcuisine receives compensation for a post from the manufacturer of a product or some other third party, the arrangement will be clearly disclosed (including where the manufacturer of a product provides Costcuisine with a free sample of the product).