Decided to give this a whirl to meet my latest sushi craving needs!
Please note that this review was not paid for or sponsored by any third party. I purchased this product with my own money and the opinions in this review are strictly my own. I am not affiliated with Costco or any of its suppliers. I am just a fan of the company. I write these reviews to help my fellow shoppers.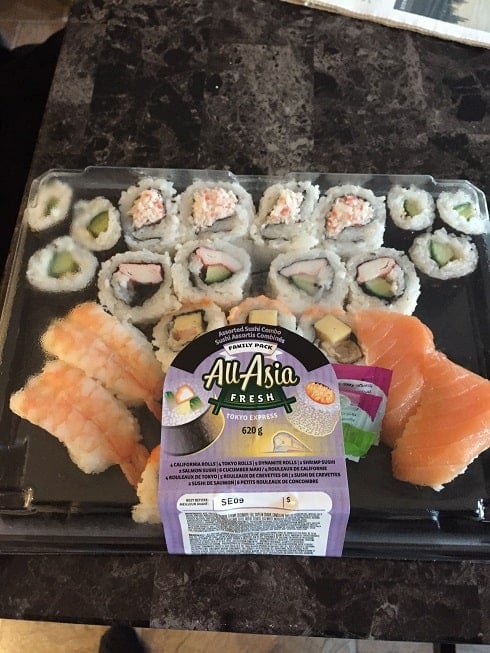 Today let's talk about Sushi. Sushi is one of those foods that I get a craving for occasionally. Whenever I get this random sushi craving it's strong and until I get my sushi fix I basically think about sushi non-stop. Recently when I stopped at Costco I had already been battling the sushi craving for a few weeks so I decided to check out the pre-made Sushi offered.
The sushi I decided to try was the assorted sushi by "All-Asia Fresh Tokyo Express". The package included, 4 California Rolls, 4 Tokyo rolls, 5 Dynamite Rolls, 2 Shrimp Sushi, 2 Salmon Sushi and 6 Cucumber Maki Rolls. Basically a little bit of everything! The sushi tasted fresh, not fishy and overall was pretty good. The Costco All Asia Fresh Tokyo Express rolls stayed together well and rice was cooked to perfection. I would not say it tasted amazing or was on par with sushi you would get at a fancy sushi restaurant, but it was definitely as good as any fast food sushi type place. It met my craving though I don't have any complaints about the taste whatsoever. My favorite roll was definitely the California Roll but I did not dislike any of the rolls, they all tasted quite nice. None of the rolls in this pack are super unique or adventurous which makes these a pretty safe bet. The Cucumber Maki is great because those who are put off by any seafood can definitely enjoy these.
The price is pretty awesome. We got this package of 23 pieces of assorted sushi for $9.99 Canadian. One of the reasons my husband and I don't eat a ton of sushi is because of how expensive it can be. Has anyone else ever ordered 3 rolls from a local sushi shop and felt shock when they found out the total? Sushi is not cheap and I consider it a "lighter meal" so sometimes sushi from a restaurant seems a little overpriced. I've definitely purchased one roll of Sushi (6 pieces) for far more than $9.99 so I would say this is priced well.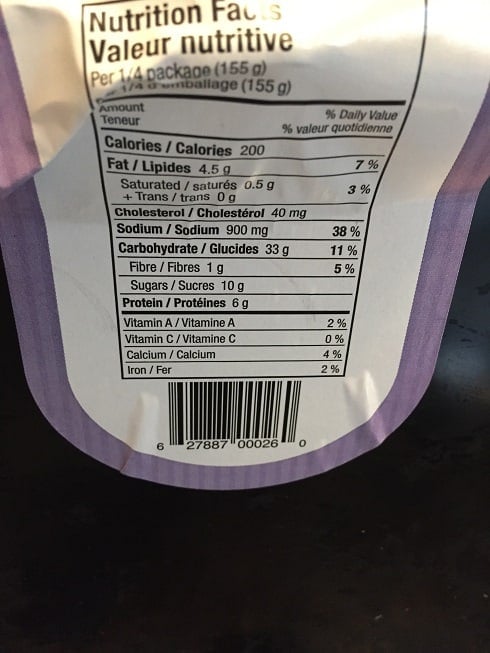 Nutritionally, ¼ of the package is 200 calories, 4.5 grams of fat, 900mg of sodium, 6 grams of protein and 10 grams of sugar. This includes the soy sauce, wasabi and ginger I believe. It's not high in calories but it definitely is high in sodium and sugar. I recommend replacing the soy sauce with a low sodium soy sauce or using less. The sugar is probably because sushi rice is made with sugar and rice vinegar. If you just eat a quarter or half of the package, nutritionally it's actually pretty healthy other than the sodium. A lot of foods we eat on a daily basis have added sugar but if sugar is something you avoid you may want to think twice about sushi. One thing I would like to point out is the lack of fibre. Maybe try eating a smaller portion of sushi with a nice green salad.
This All-Asia Fresh Tokyo Express Sushi from Costco is so convenient. It comes nicely packaged and has everything you need to enjoy the sushi except for chopsticks. To make this more convenient the company could have small little bowls either built into the container or included in the container to pour the soy sauce and wasabi in. The rolls come with 3 packets of soy sauce and 1 pack of wasabi. We definitely ran out of soy sauce and didn't have any in the fridge so that was slightly inconvenient.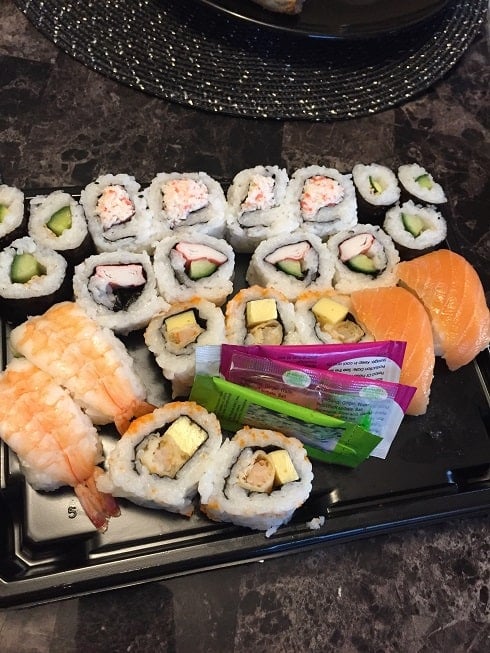 I will definitely repurchase this again when I'm having a sushi craving. It's much cheaper for us than ordering take out sushi or going for sushi and it's nice that there's an assorted package at Costco where you can try a few different kinds. This was overall satisfying and tasted fresh.
Taste:9/10
Nutrition: 6/10
Convenience: 8.5/10
Cost: 10/10
Do you love or dislike sushi? Favorite kind of sushi roll?