Are these cinnamon rolls as good as the mall version?
Please note that this review was not paid for or sponsored by any third party. I purchased this product with my own money and the opinions in this review are strictly my own. I am not affiliated with Costco or any of its suppliers. I am just a fan of the company. I write these reviews to help my fellow shoppers. If you like my blog and want to show your appreciation, please follow me on Instagram or Facebook, or tell your friends to check out my blog!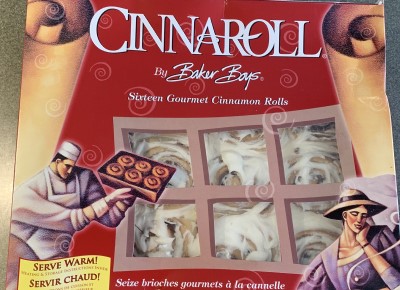 First off, Canadian friends, this information is for you. Here's the scoop – Baker Boys Cinnamon Buns are actually made by the same company that runs and owns Cinnzeo. For non-Canadians, this is the cinnamon roll place that we have in all of our malls (or at least it feels like all of them!). Baker Boys started in Calgary in the 1980s and started off with the retail store Cinnzeo. After Cinnzeo became successful, they created thaw-and-sell cinnamon buns to be sold in grocery stores like Costco. Thus, when you buy these cinnamon rolls, you're probably getting close to the same quality as your favorite mall cinnamon roll stand for a much cheaper price.
Anyway, I would consider myself a bit of a cinnamon connoisseur – it's my favorite spice/flavor. I put ground cinnamon on everything. I put it in my protein shakes, I put it on my oatmeal, I add extra to cookies I bake, I put it on toast, I put it in yogurt. You get the idea. Unsurprisingly, if you were to ask me what my favorite breakfast item is, I would say the cinnamon bun. I like them with and without icing, with or without raisins and without nuts (even though I love nuts). Long story short, I pretty much love all cinnamon buns. Unless they have a sickly sweet, artificial-tasting frosting. Then it's a no-go.
Taste
This cinnamon rolls are DELICIOUS! They're soft and fluffy, covered in delicious ooey gooey cream cheese icing and have that strong cinnamon flavor. The best way to eat them is to warm them up in the microwave until the icing melts and starts pouring all down the sides of the bun and onto the plate. Once you've done that, they melt in your mouth and are satisfyingly sweet. There aren't any nuts or raisins in the Baker Boys Cinnarolls, so nut and raisin haters, here's a cinnamon bun for you.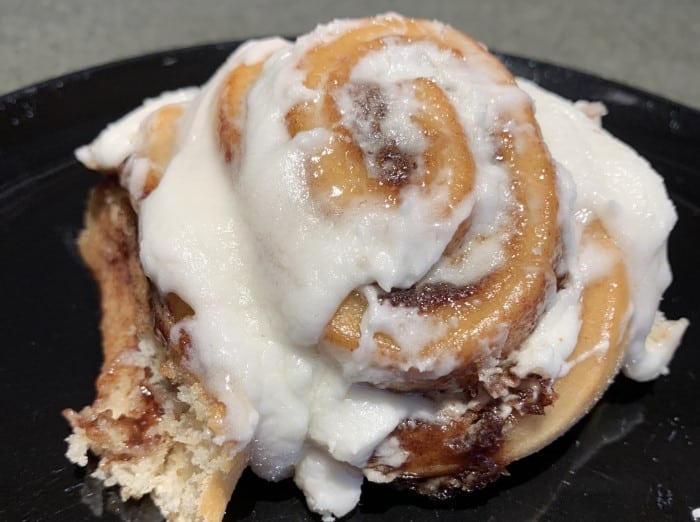 Cost
This box of 16 cinnamon rolls cost $8.99 Canadian (regular price). That's super reasonable compared to paying four or five dollars for a single large roll at the mall. When I compare the taste, quality and price of these cinnamon buns to other grocery store cinnamon buns, I feel that $8.99 is extremely reasonable. We actually had mall cinnamon buns in our house and I put a mall-bought one on my husband's plate along with the Baker Boys version from Costco. After I had warmed them in the microwave and submitted them for taste testing, my husband couldn't tell the difference between the two. If you really scrutinize them, I found the Costco cinnamon buns tasted like they had a bit less cinnamon and the icing had more of a lemony taste to it. That's with me really trying to pick up the differences though.
Convenience
These cinnamon rolls are ridiculously convenient. Have you ever tried making your own from scratch? I have, and it was on a night that I was supposed to go to a movie with Sean. I thought it looked easy and two hours was plenty of time to make them. Well, two hours later I had flour everywhere, my dough was still rising and Sean was in a panic about us missing our movie. Homemade cinnamon buns are definitely delicious, but they take time, patience and a little bit of elbow grease. Aside from saving all of these things, I love that the Costco Baker Boys Cinnarolls freeze so well and taste delicious even after being in the freezer for a few months. If you have family members or friends who like to drop by unannounced for a morning coffee, I recommend keeping a box of these in your freezer to offer them!
NutritionNutritionally, if you can keep it to one of these cinnamon buns, you're not going to blow your calorie, fat or sugar intake for the day. Unfortunately I find it hard to have only one of these! The cinnamon buns aren't healthy, but they're a treat and should be enjoyed as a treat (and not consumed in multiples every day for breakfast). When I was growing up, my family used to buy a box for Christmas day brunch. I would always look forward to having one of these cinnamon rolls at breakfast on Christmas Day.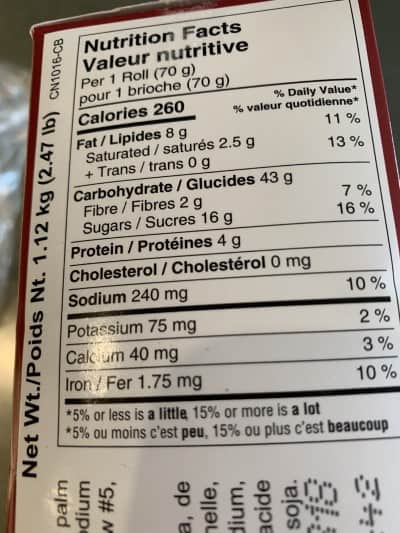 In my opinion, the best cinnamon buns are either homemade or from a small, family-owned bakery. Nothing can beat those. Second place is mall cinnamon buns – I think most of us have eaten a cinnamon bun at our local mall from one of those mall cinnamon bun shops. You know, the places that smell so irresistibly good that it's basically kryptonite for anyone on a strict diet? There are a few different chains, but they all seem to sell nearly identical products (and they all seem to produce that magical smell). Anyway, third place goes to the Costco Bakery Boys Cinnarolls. They're quite similar to mall cinnamon buns, but they're not coming straight out of the oven. Still, they're pretty close in taste and far cheaper. I love these cinnamon rolls and will repurchase them. If you're a cinnamon bun fan like me, check them out.
Taste: 9.5/10
Cost: 9/10
Convenience: 10/10
Nutrition: Treat yourself. You deserve it.
What's your favorite breakfast treat? Do you like your cinnamon rolls with nuts, raisins or plain?