These make AWESOME personal pizzas!
Please note that this review was not paid for or sponsored by any third party. I purchased this product with my own money and the opinions in this review are strictly my own. I am not affiliated with Costco or any of its suppliers. I am just a fan of the company. I write these reviews to help my fellow shoppers.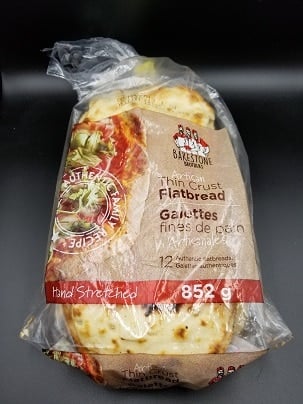 I found a great new bakery item from Costco – the Bakestone Brothers Artisan Thin Crust Flatbread. I really enjoyed this flatbread!
Taste
The flatbreads in the package don't look like anything special, but they're actually really delicious and are SO versatile. The flatbreads are very thin, so when you bake them in the oven, they crisp right up. If you don't bake them before eating, they're slightly soft and chewy. They don't include any added flavors like rosemary or garlic; basically the only flavor is salt, so that helps with the versatility of these flatbreads – I made little flat bread pizzas with them and they turned out wonderfully, but you could also make very easy appetizer/snack just by heating and slicing them, then pairing them with a dip or spread. Because the flavor of the flatbread itself is so simple, it can mix well with almost anything!

Convenience
The Bakestone Brothers Artisan Thin Crust Flatbreads freeze really well, so if you're even in the mood for a pizza for one, they make an awesome easy crust. As I said above, there are lots of ways you can use these flatbreads; aside from using them for pizza crusts or a bread for dipping, I thought they could work well for calzones or paninis. The best before date on the ones I purchased was about five days after the date of purchase, but I froze them immediately anyway.
Cost
Regular price for a pack of Bakestone Brothers Artisan Thin Crust Flatbread (which contains 12 flatbreads) is $5.99 Canadian. Pretty reasonable in my opinion!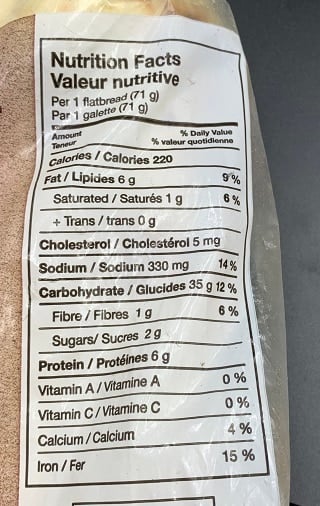 Nutrition
One flatbread contains 220 calories, 6 grams of fat, 330 milligrams of sodium, 35 grams of carbohydrates, six grams of protein, two grams of sugar and one gram of fibre. The fat and sodium content might be a little higher than some people might feel comfortable with, but I thought it was decent considering how filling one flatbread is. Also, a big part of how healthy it ends up being is what you choose to put on it (so for pizzas, using extra veggies and less cheese helps offset the fat and sodium in the flatbread).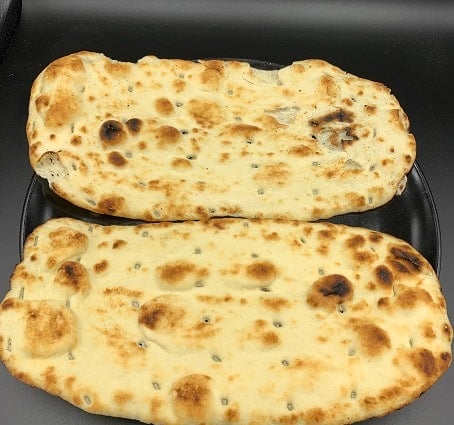 I'm excited to use the rest of the flatbreads in my bag by making another batch of flatbread pizzas! I think I'll definitely repurchase these for that purpose, although another tempting option is the Molinaro's Pizza Kit.
Taste: 9/10
Cost: 8/10
Convenience: 10/10
Nutrition: 6.5/10
Location in Costco: Bakery section.
Have you tried these? If so how do you use them? Do you have any favorite toppings?