A simple, convenient supper idea!
Please note that this review was not paid for or sponsored by any third party. I purchased this product with my own money and the opinions in this review are strictly my own. I am not affiliated with Costco or any of its suppliers. I am just a fan of the company. I write these reviews to help my fellow shoppers.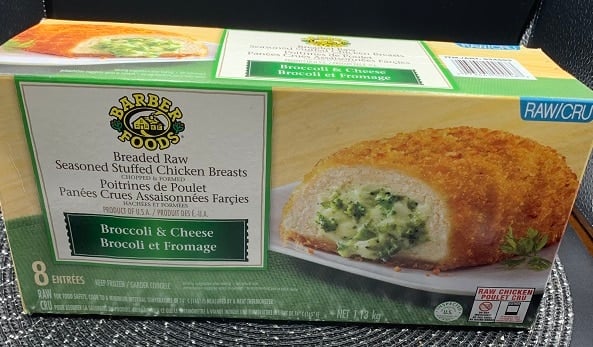 The last time I was at Costco, I was looking for convenient dinner items because I knew I had a few busy weeks coming up. The Barber Foods Breaded Raw Seasoned Stuffed Chicken Breasts with broccoli and cheese were on sale, so I decided to try them out!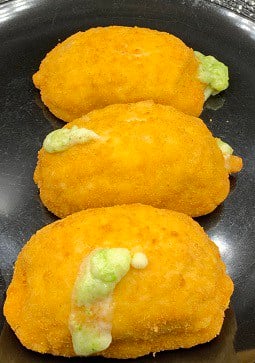 Taste
These stuffed chicken breasts are definitely tasty. They're well seasoned and the crumb coating on the outside gets crispy and golden brown when baked in the oven (kind of like a chicken nugget or a chicken tender). The chicken breast itself is moist and lean. The meat, which is flattened out to be fairly thin and uniform, seems to be of good quality. Of the four chicken breasts from the box that we've eaten so far, we haven't found much in the way of nasty/questionable bits of chicken. The stuffing inside is enjoyable; you can definitely taste both the Swiss cheese and the broccoli. Have you ever had broccoli with melted cheese sauce on top? That's pretty much what you taste in the center of these chicken breasts. When heated, the cheese inside turns into more of a sauce and isn't a thick, stringy melted cheese (though it does thicken as the chicken breasts cool). The Barber Foods Breaded Raw Seasoned Stuffed Chicken Breasts with broccoli and cheese will pair well with various sides like mashed potatoes, rice, vegetables and salad.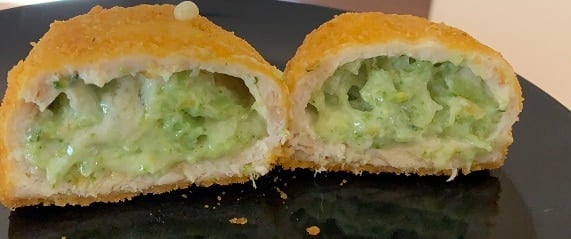 Cost
I was lucky and found these chicken breasts on sale for $8.99 Canadian. The regular price for the box is $11.99 Canadian. I don't think $11.99 is unreasonable, but if you can get the box on sale, I think that's a really solid deal considering how many meals you can get out of one box. I think most people would probably need one and half to two of these chicken breasts for a meal since they're fairly small, but at $8.99 for a box, if you can feed two people two meals or a family of four one meal, I think you're doing pretty well.
Convenience
The Barber Foods Breaded Raw Seasoned Stuffed Chicken Breasts with broccoli and cheese certainly make a convenient dinner. All that's required to get them ready is turning on the oven and baking them! The chicken breasts come raw, which is emphasized on the box and on the individual wrappers for safety; the box also states that they are not to be microwaved. The box contains eight individually-wrapped raw stuffed chicken breasts. The individual packaging adds to the convenience factor too since it's easy to store the chicken breasts in the freezer and then take out just what you need for a meal (so these would work great for a single person too!). The only downside as far as convenience goes is that you're probably going to want some kind of side with the chicken.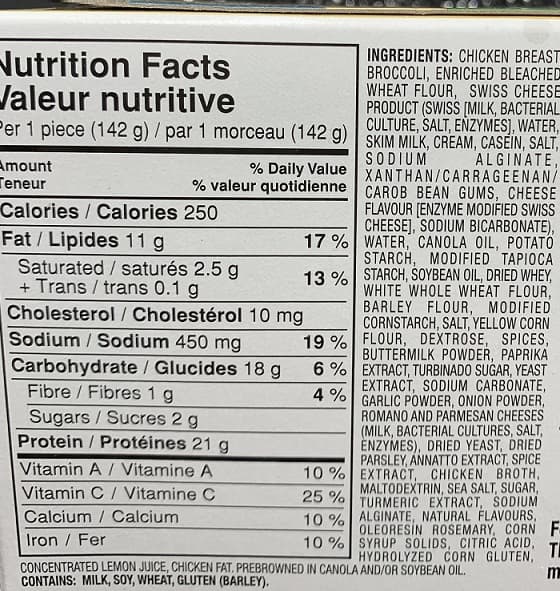 Nutrition
Each stuffed chicken breast contains 250 calories, 11 grams of fat, one gram of fibre, two grams of sugar, 21 grams of protein and 450 milligrams of sodium. I appreciate the minimal amount of sugar and high protein content, but I could do with less sodium. The list of ingredients is quite long and there are definitely some on the list that I would question the purpose of.
If you're looking for an easy meal and you're not overly concerned about watching your calorie or sodium intake, I recommend trying the Costco Barber Foods Breaded Raw Seasoned Stuffed Chicken Breasts with broccoli and cheese. They taste delicious and are very easy to make!
Nutrition: 6/10
Cost: 9/10
Convenience: 9/10
Taste: 9/10
Where to find it in Costco: Freezer section.
Have you had these before? What did you think? What's your favorite filling for a stuffed chicken breast?