The difference between Bing cherries and Rainier cherries explained!
Please note that this review was not paid for or sponsored by any third party. The opinions in this review are strictly my own. I am not affiliated with Costco or any of its suppliers. I am just a fan of the company. I write these honest reviews to help my fellow shoppers.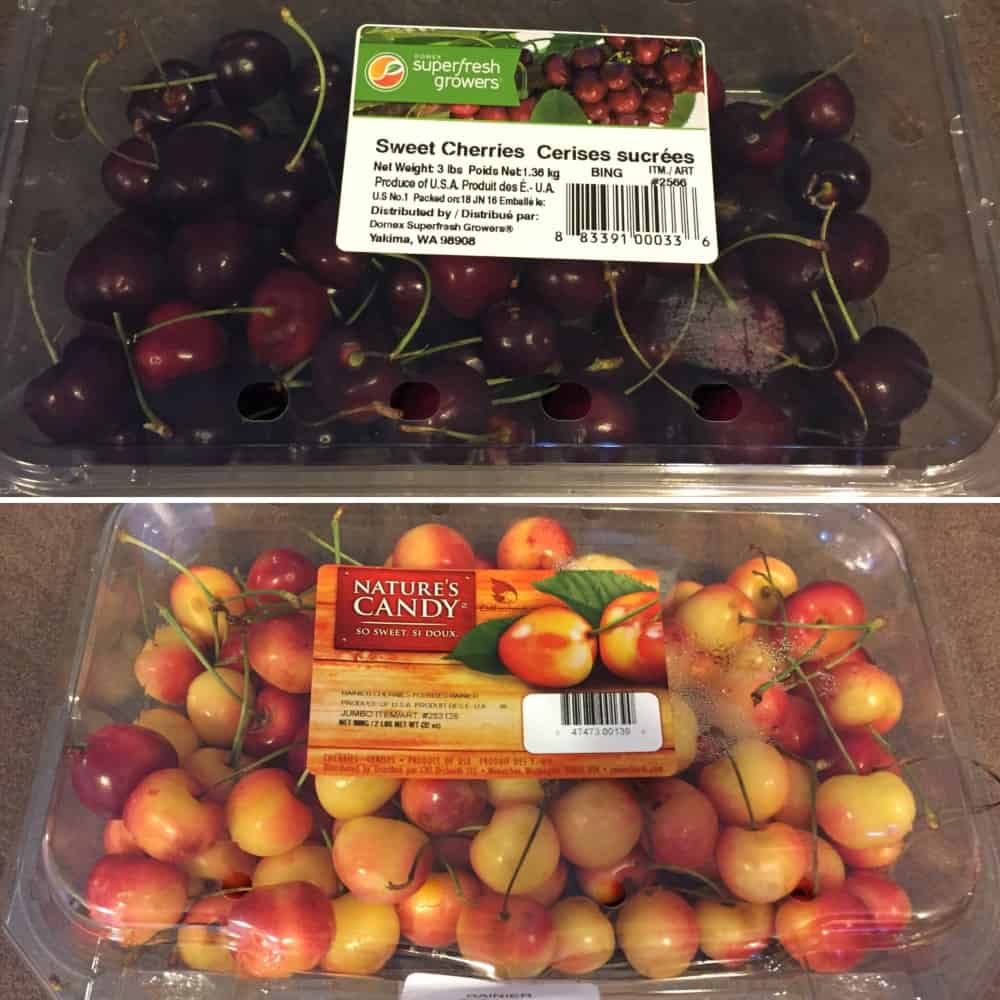 Hi everyone! Happy Monday! It's a holiday here so I wanted to keep it super short and sweet as I am sure most people are either A) getting ready for another week or B) spending time with family. I have a bunch of reviews this week so check back daily!
I wanted to quickly talk about the difference between dark red Bing cherries vs yellow/red Rainier cherries and then give you guys a Costco tip that I find super helpful!
I have never bought the Rainier cherries prior to this past week because I have only ever had the dark red, Bing cherries and I always thought the Rainier cherries were sour or less sweet. I decided for this blog I was going to mix it up and purchase the Rainier cherries. The price was the same for both ($9.99 CAD). The difference between these cherries is that the Rainier cherry is a hybrid of a "Van" cherry and a "Bing" cherry. The Rainier cherry tastes slightly sweeter, is bigger and has a softer skin. Bing cherries are deep red in appearance are smaller and have a tougher skin than the Rainier cherries, they also have a lower sugar content than the Rainier cherries. Although both these cherries taste super sweet, individuals with diabetes can eat cherries because the glycemix index of cherries is actually lower than a lot of other fruits. Cherries also contain chemicals that boost insulin which can in turn lower sugar levels so feel free to enjoy these!
Honestly these both taste delicious and they last over a week in my fridge, the Bing are definitely firmer so if you like firm, smaller cherries that are slightly less sweet buy the Bing. If you like a sweet, softer, larger cherry go for the Rainier. I personally prefer the dark red Bing.
Nutrition: 9.5/10 (cherries have a ton of health benefits, if you're on a low carb, low sugar diet you may want to enjoy them in moderation)
Taste: 10/10 (so good, so sweet, addictive!)
Convenience: 10/10 (just wash and gobble these up!)
Cost: 8/10 (it's hard to find very cheap cherries but these are not overly priced and are delicious)
Have you tried both of these cherries? Which do you prefer? What's your favourite cherry dessert or baked item? Mine is cherry pie!
Also my Costco tip! When you go in the produce room you'll notice there's tons of boxes. Whenever I go shopping at Costco I like to keep my meat separate from my produce so if you're buying meat or any warm items, take a box from the produce room that's empty and put your meat/warm items in it. Then if they run out of boxes are the front you have one!