Turkey for two!
Please note that this review was not paid for or sponsored by any third party. I purchased this product with my own money and the opinions in this review are strictly my own. I am not affiliated with Costco or any of its suppliers. I am just a fan of the company. I write these reviews to help my fellow shoppers. If you like my blog and want to show your appreciation, please follow me on Instagram or Facebook, or tell your friends to check out my blog!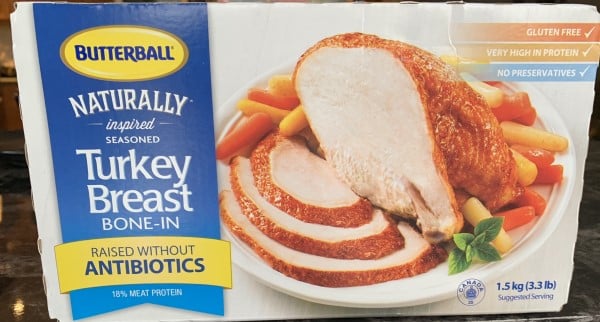 I made my first turkey! Okay, not a whole turkey. Just a turkey breast. I was craving turkey recently, and with there being only two of us in my house, I figured a turkey breast made more sense than a whole turkey. My husband and I both prefer white meat to dark anyway, so I didn't think we would be missing out on much this way. Most people I know only eat turkey on certain holidays and stick to cooking whole birds, but if you could make a more convenient version, would you eat more turkey? That was the question I was asking myself when I put the Butterball Naturally Inspired Seasoned Turkey Breast in my cart at Costco.
Taste
The turkey breast tasted okay – it definitely wasn't the best turkey I've ever had, or even average. This may seem odd, but I actually didn't like how much seasoning the turkey seemed to have. It was too much; I found it overly salty. It also had an oily taste to it. Although the turkey breast was extremely moist, I found it TOO moist. I guess I like my turkey on the dry side, if that makes sense – or at least drier than this turkey breast. Basically the natural turkey taste I love so much was disguised in canola oil and seasoning. The "naturally inspired" turkey breast didn't taste all that natural to me. Eating this turkey actually made my craving for the traditional homemade version much worse. I also got a few pieces that were a bit fatty tasting and weren't edible. I guess I could see people who like a lot of seasoning and prefer their meat to be really moist potentially enjoying this?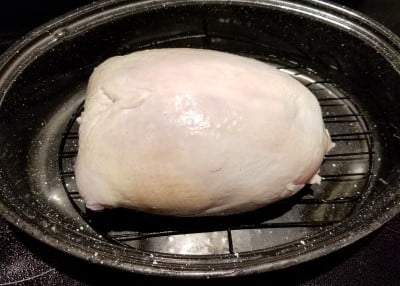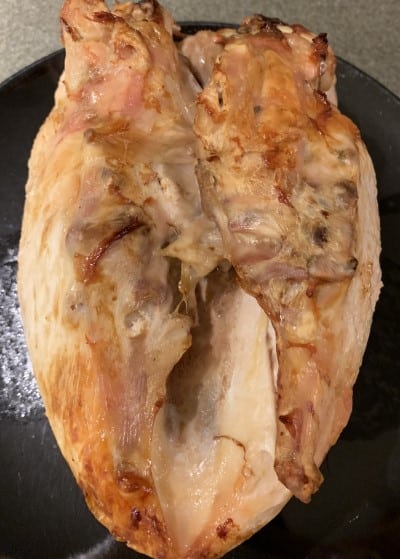 Cost
The Butterball Naturally Inspired Seasoned Turkey Breast cost $14.99 Canadian (regular price). That's not not bad considering you get quite a bit of meat and it's very convenient compared to making a whole turkey. This turkey breast would easily feed a family of four. If you're hosting more than four people, there probably won't be enough turkey for everyone to eat as much as they want.
Convenience
The turkey breast can be found in the frozen section at Costco. It comes wrapped in a bag inside a box and is frozen solid. I let it defrost in the fridge overnight and it was still slightly frozen the next day at about 4:30 p.m. To cook the breast, you run it under water for a minute, take it out of the bag, put it in your roaster and pop it in the oven. You turn it once, halfway through cooking. The time it takes to cook depends on whether you're cooking it frozen or after it has been thawed in the fridge – three hours and 30 minutes if it's frozen, two hours and 15 minutes if it's been thawed. Cooking the breast was pretty simple. I did have to check the temperature a few times and cook it longer. I also had to scrub my roasting pan to clean it (which I expected). I never thought it could be so simple to make turkey. It is a bone-in turkey breast, so it was slightly difficult to get all of the meat off and cut it perfectly. If you're a soup-making person, you could definitely use your leftovers to make soup. Anyway, I have to give this product points for convenience. Making the gravy and sides were more work than making the turkey!
Nutrition
A 100 gram serving of Butterball Naturally Inspired Seasoned Turkey Breast contains 160 calories, 10 grams of fat, 230 milligrams of sodium and 18 grams of protein. The box states that the turkeys are raised on a whole grain diet and without the use of any antibiotics. This isn't as healthy or lean as a completely natural, fresh turkey though. The higher fat and sodium are likely from the canola oil and salt used to season the meat.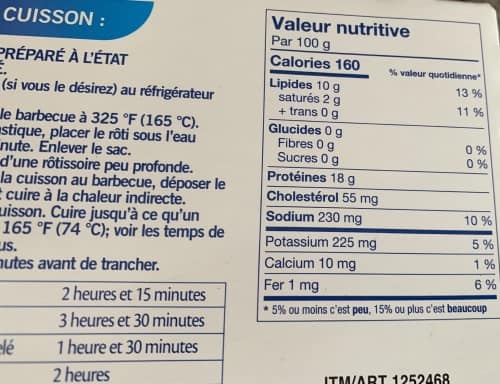 I was really hoping that the Butterball Naturally Inspired Seasoned Turkey Breast would curb my turkey craving until Christmas and make me extra jolly like Old Saint Nick, but unfortunately this was a miss. I wouldn't purchase it again. Still, I could see it being useful if you're in a time crunch or enjoyable if you like oil-infused, heavily-seasoned Butterball turkey.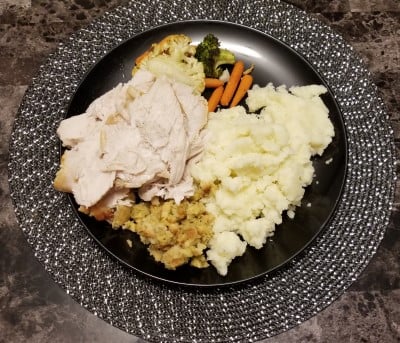 Taste: 3/10
Cost: 7.5/10
Convenience: 7.5/10
Nutrition: 5/10
Do you have any secret tips for cooking a turkey? What's your favorite turkey side dish? Gravy or no gravy?