Love parmesan? Watching your carbs? You'll like these
Please note that this review was not paid for or sponsored by any third party. The opinions in this review are strictly my own. I am not affiliated with Costco or any of its suppliers. I am just a fan of the company. I write these honest reviews to help my fellow shoppers.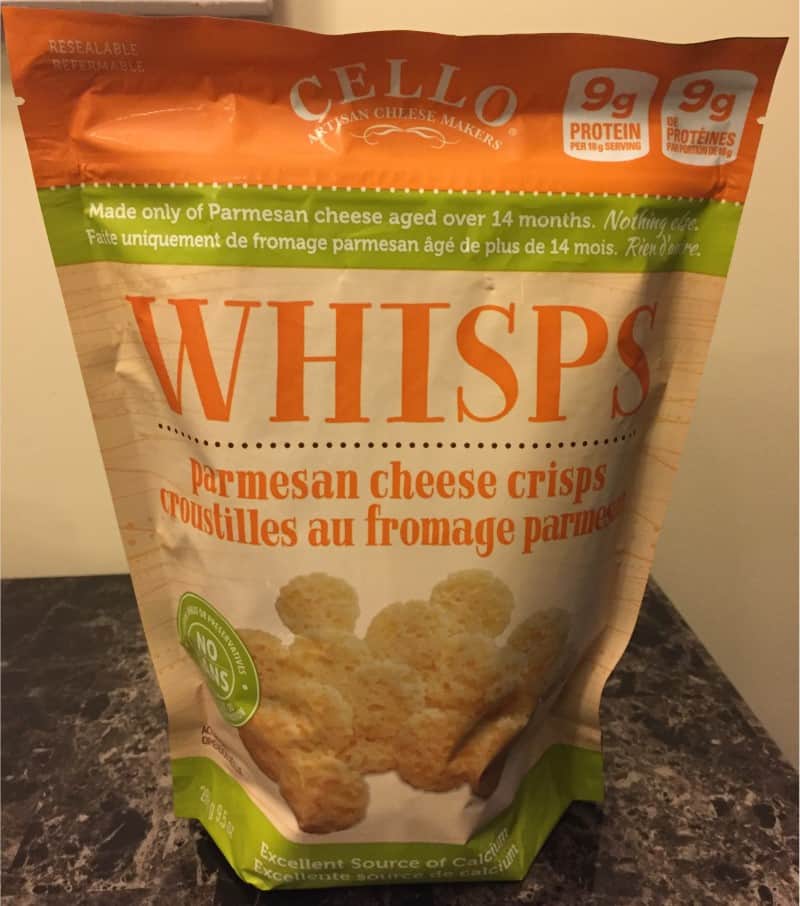 These Cello Parmesan Whisps purchased at Costco have been ALL OVER social media! Very popular with individuals on the Keto diet and vegetarians. I decided it was only right for me to buy these and tell you the scoop on them despite my husband despising Parmesan. I did not even attempt to get Sean to try these with me and I'm pretty sure I could take full reign of our television by opening these up on the couch beside him.
Basically if you don't like very strong cheese or don't love Parmesan, you will not like these. They are dried Parmesan pieces turned into kind of a chip/cracker/crisp hybrid. Almost picture a flat round, crunchier Cheeto but instead of orange artificial flavor it's real deal strong Parmesan that has been aged 14 months, that's it, nothing else to it, just aged crispy Parmesan.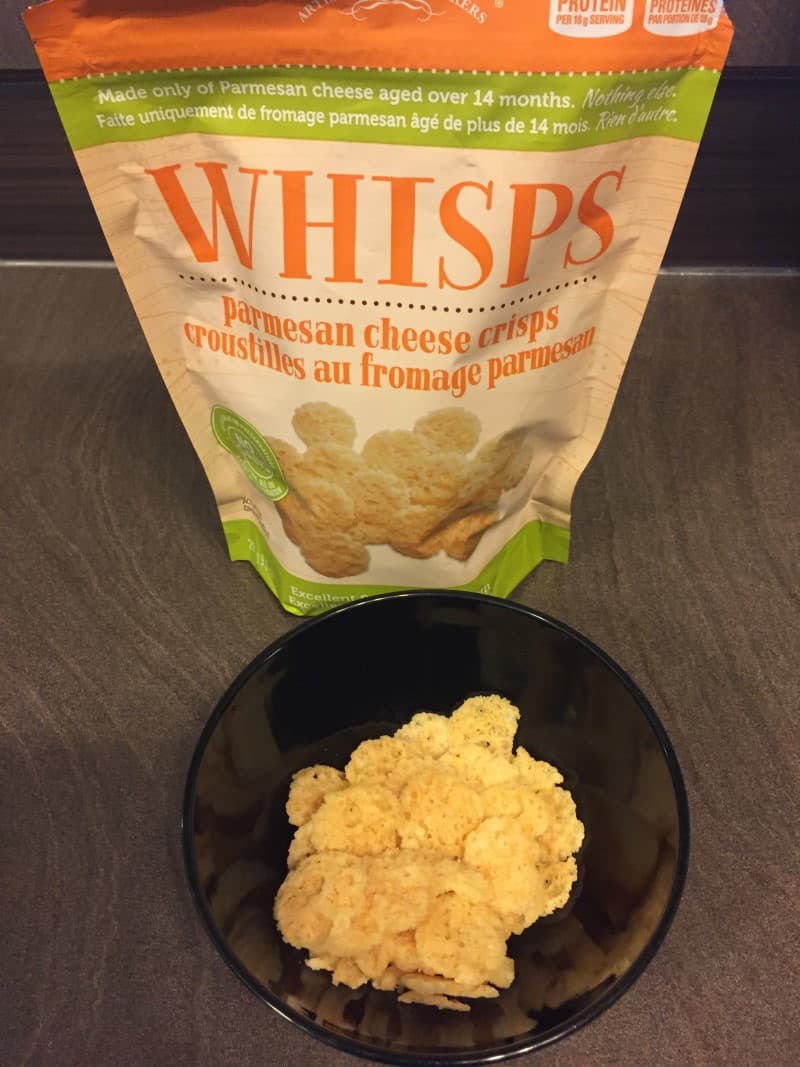 Taste wise I feel like you can only eat a few of these due to how strong they are. Because of their powerful flavor I would find it hard to find anything to dip these in, I don't think they'd go well with guacamole or salsa. I could see possibly a light tzatziki dip or ranch dip being okay with these. I myself do like the taste of Parmesan and often when it's available at restaurants I like to put it on my pasta and pizza. These I found to be okay alone and they are tasty but I don't quite see them the same as other cracker and chips due to how strong they taste. What these would be great for would be salad toppers. Such as an Italian seasoned pasta or green salad.
Cost wise, these are NOT cheap if you think of them like a bag of chips. $11.99 CAD for the 269 gram or 9.5oz bag. However if you consider what they actually are, aged dried parmesan than the price might be slightly easier to swallow. I personally feel that they are overpriced and the price would be one reason why I may not consider purchasing again.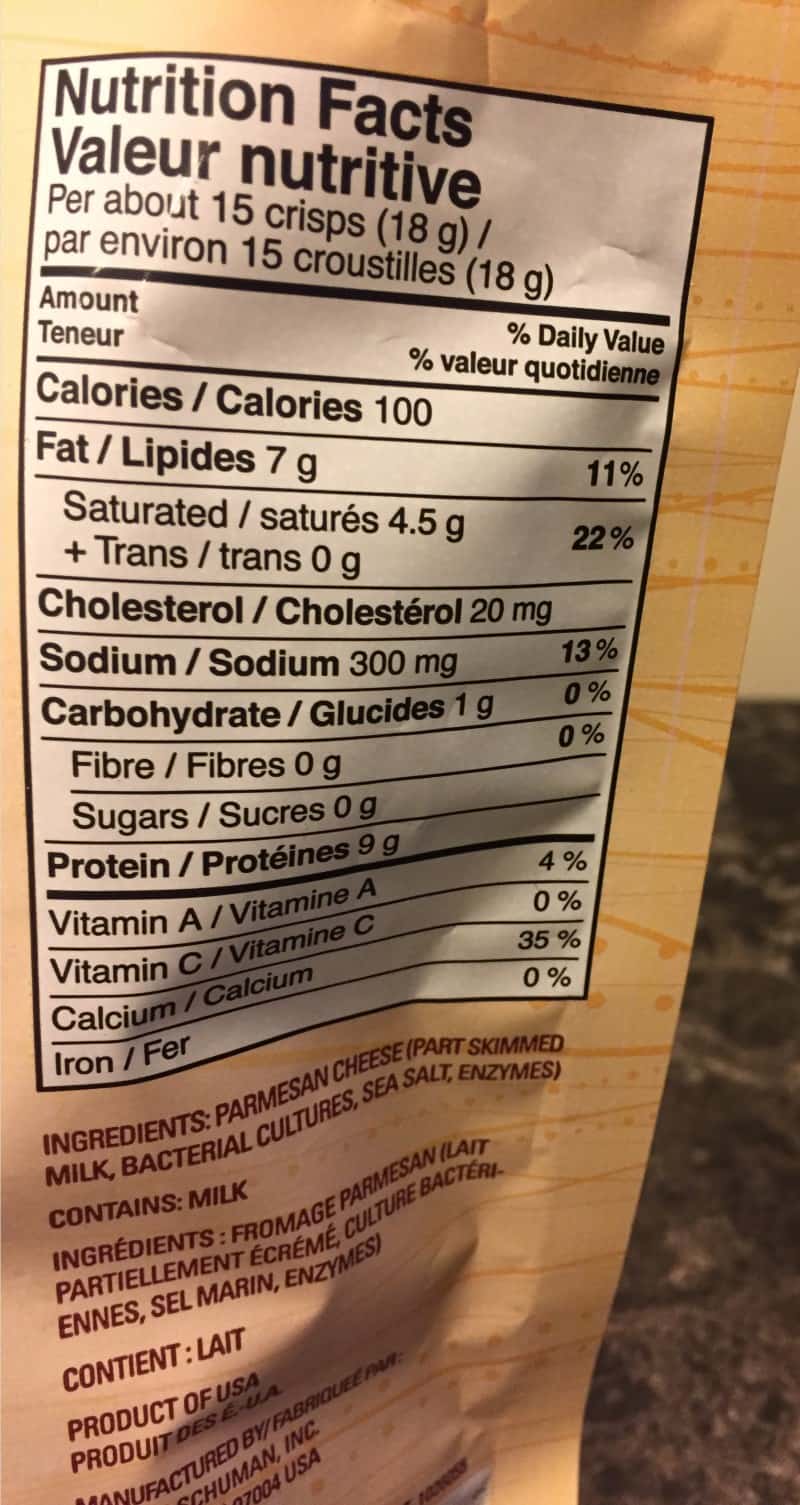 Nutrition is what I think draw people to this product. 15 small crisps is 100 calories, 7 grams of fat and 9 grams of protein. The sodium is a little high, 300 mg per 15 crisps but I think that's to be expected considering it is Parmesan cheese. If protein is important, there are not many chip or cracker like products available that provide this high amount of protein for 100 calories. People on the Keto diet flock to these due to the fact there's basically no carbohydrates in them at all. If you're watching your carbohydrate intake but are craving a chip/cracker snack these could definitely serve as a replacement.
These are super convenient in a resalable bag. All you do is open and consume!
Overall I probably will not purchase these again, I am not on a Keto diet and don't watch my carbs super closely and I don't find these crisps super versatile and don't seen a ton of use for them. They also don't taste that great, If I were on a very restrictive diet I think they would probably taste a lot better due to how restricted I would be from other products. These are quite strong tasting so I feel like you need to be careful what you mix them with. I will probably finish the bag though. In summary, if you are watching your carbs very closely or are on the Keto diet and LIKE/LOVE the taste of Parmesan, these are made for you and I totally recommend you try them out!
Nutrition: 9/10
Taste: 5/10 (you have to love parmesan to like this)
Convenience: 10/10
Cost: 4/10
Do you love or hate parmesan? Have you had these? Any suggestions on what to dip these in or eat with?