A traditional Greek/Mediterranean appetizer!
Please note that this review was not paid for or sponsored by any third party. I purchased this product with my own money and the opinions in this review are strictly my own. I am not affiliated with Costco or any of its suppliers. I am just a fan of the company. I write these reviews to help my fellow shoppers.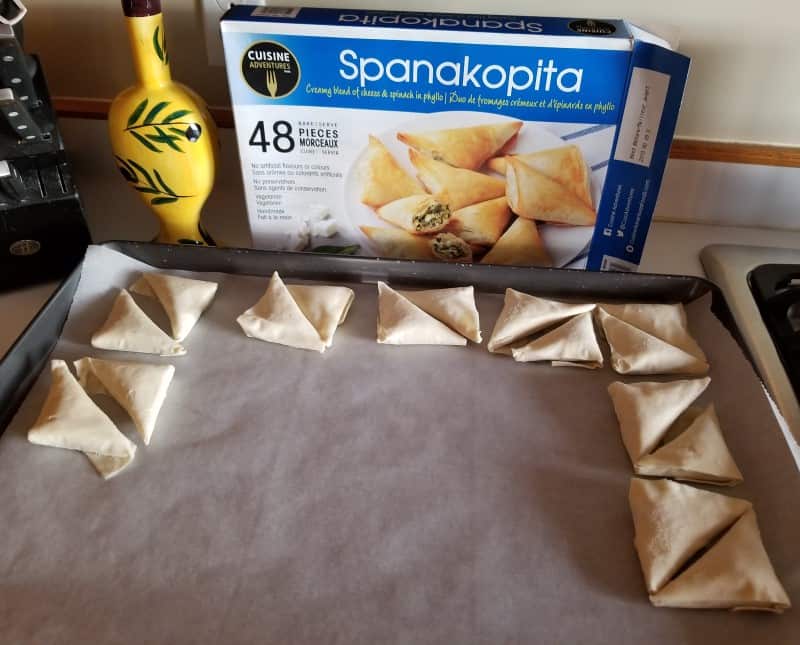 It was recently my mother in-law's birthday and my father in-law put on a fantastic barbecue with lots of food from Costco of course. One of the things we had as an appetizer was this Spanakopita by Cuisine Adventures from Costco.
These are delicious little phyllo pastry triangles stuffed with spinach and cheese. The phyllo is super flaky and I enjoyed being able to basically unwrap layers of flaky pastry until I hit the final center layer that is filled with a nicely seasoned spinach and cheese mixture. The ends of the Spanakopita pastry triangles get nice and crispy in the oven while the middle of Spanakopita is soft and super flaky. There is just the right amount of filling in these, not so much that it's oozing everywhere making it difficult to eat but enough that you can really taste and appreciate the warm filling. Beware these get hot in the oven so some of us were a little too eager and ended up burning our mouths just a bit. I will mention these are pretty buttery/oily which is most likely due to the phyllo pastry. They still tasted delicious and I enjoyed them but I definitely noticed they were shiny with butter and oil and I want to be honest with my readers.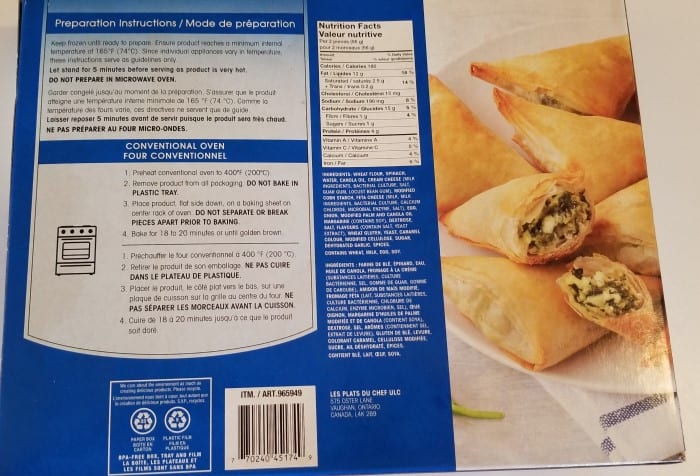 So these…are not healthy unfortunately. Two of these are 180 calories, 12 grams of fat, 4 grams of protein and 190 mg of sodium. The sodium actually isn't too bad but they're high in fat. Let me tell you, it is super easy to eat way more than 2 of these. I think the fat must be coming from all the delicious butter. Moderation is key! If you only eat two that won't ruin your diet or day, but if you eat like 8…then you're looking at a few calories and a few grams of fat.
These are very convenient for your next party or get together. You can find these in the freezer section at Costco and they're super simple to whip up in the oven. You do have to heat these up so it is a tiny bit of work but all you do is pop them out of the plastic tray they come in, put them on a baking sheet and heat them up.
Cost wise these were $16.49 Canadian. Some may feel this is slightly on the expensive side but to feed 7 people an appetizer only half the box and saved the other half for another time. To feed 7 people an appetizer for less than $9 dollars is pretty good I would say! You're definitely paying slightly for the convenience factor and for the fact these are a slightly fancier appetizer than your ordinary chips and dip.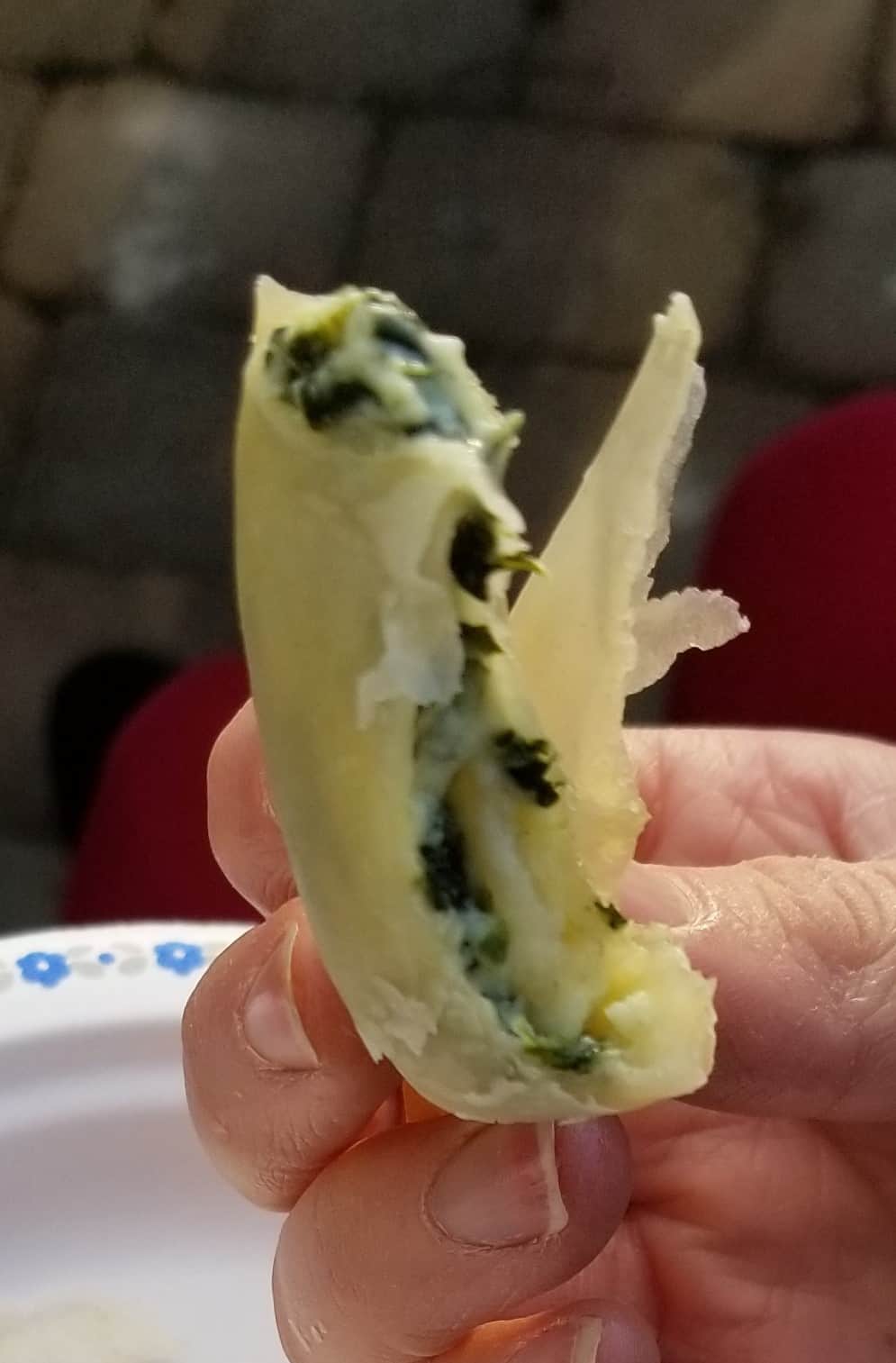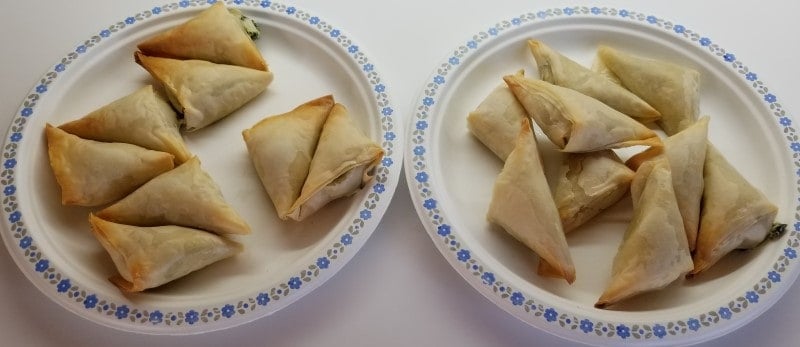 Overall I would definitely buy these for a party or for a night when I want to stay in and have appetizers. I would eat these again in a heartbeat, they are delicious. Not the healthiest appetizer but that's not a shock considering we're talking phyllo pastry and cheese here. Everyone at the barbecue actually commented on how good these were so they were definitely a crowd pleaser.
Taste: 9/10
Cost: 7.5/10
Nutrition: 3/10
Convenience: 8.5/10