Matcha, white chocolate, chia and strawberry is what granola dreams are made of!
Please note that this review was not paid for or sponsored by any third party. However, I was given a free sample of this product to review. The opinions in this review are strictly my own. I am not affiliated with Costco or any of its suppliers. I am just a fan of the company. I write these reviews to help my fellow shoppers.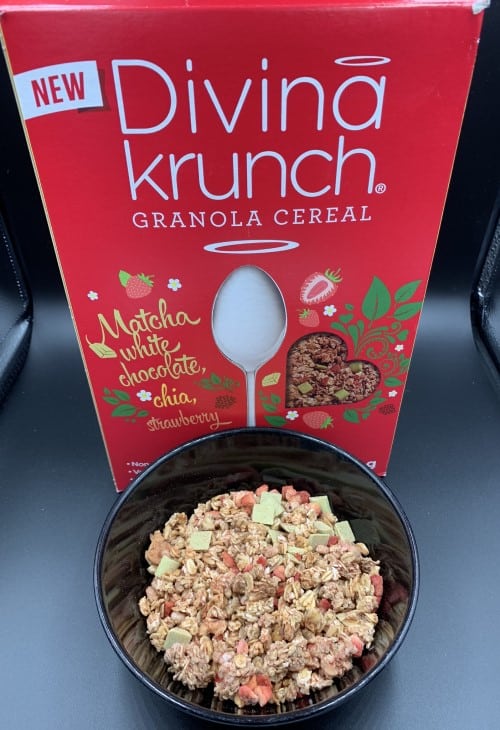 A couple of months ago, I randomly commented on one of Divina Krunch's Instagram posts asking about their granola and they kindly offered to send me some to try!
Taste
I decided to open this granola after I had been for a morning run but wanted to do a few things before I could sit down for a proper meal. Bad idea. I quickly found out that I really love this granola. I think I love it almost a little too much – it's addictive. I found myself constantly walking by the box of granola, sticking my hand in and eating a mouthful. I probably ended up eating like three cups of granola. Lesson learned. This granola is a mixture of white chocolate matcha squares, dehydrated strawberries and delicious clusters of granola (both small and big clusters). It's not a rock hard, crunchy granola where you need milk or yogurt to soften it up. I actually prefer to eat it alone; it tastes so good that I found adding yogurt, milk and/or fruit took away from its deliciousness. The granola part itself isn't very sweet at all, which is nice. The white chocolate pieces are where the sweetness is, and there so many that your entire bowl is overpowered with white chocolate. I personally don't love chocolate in my granola as I usually eat it in the morning mixed with yogurt and fruit, but I do appreciate the chocolate when I'm enjoying it alone as a snack. Overall, this is a well-balanced and very satisfying granola/cereal (I eat a lot of different types of granola and I would say this is definitely more of a cereal granola). It's also fun and tasty enough that I think a lot of kids would really enjoy it.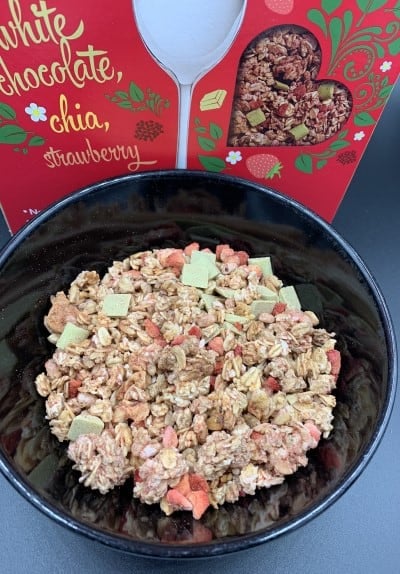 Cost
The regular price of one box of Divina Krunch Granola Cereal is $7.89 Canadian. When it's on sale, it can be found for as little as $5.89 Canadian. Not overly expensive, but not the cheapest cereal. However, keep in mind that granola is usually always more expensive than other cereals. The bag of cereal that I received was basically full to the top with granola cereal; it's a good-sized box and there wasn't a bunch of air in it. Unfortunately I should mention that the bottom of my bag sadly had a lot of fine crumbs. I'm not really sure if that's preventable, but it's always a bit disappointing.
Convenience
This granola is very convenient – it's great for an awesome snack at work, makes a nice addition to yogurt or fruit, works as a great smoothie bowl topping and can also be enjoyed with milk as a regular cereal. Personally, I prefer to eat it just alone and dry. I feel like it tastes the best that way, and it doesn't get much easier than eating cereal right out of the box!
Nutrition
Granola is definitely something you have to be careful with if you're really watching your calories, fat and/or sugar. It's not an unhealthy option, but if you get carried away and end up eating multiple cups of it, you're looking at the same amount of calories as a fast food burger! The Divina Krunch Matcha, White Chocolate, Chia, Strawberry Granola Cereal has a lot of fibre, a decent amount of protein and a reasonable amount of sugar reasonable (less than 10 grams in a serving). The amount of fat is a little high, but it's important to have some fat in your diet. The Divina Krunch cereal is also low in sodium and uses non-GMO grains, so those are positives! The key to enjoying this granola is moderation, which can definitely be hard. I recommend portioning out your half cup before you start eating rather than digging your hand into the box 20 times throughout the day like I did!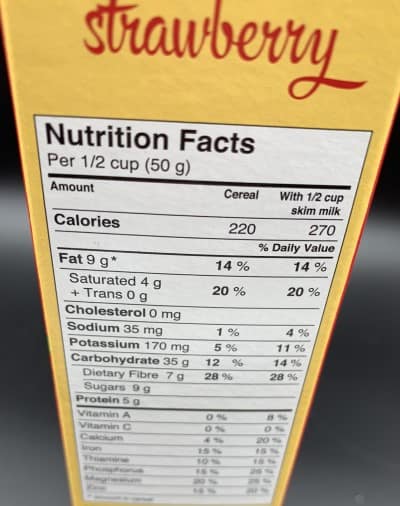 I really enjoy the taste of the Divina Krunch Matcha, White Chocolate, Chia, Strawberry Granola Cereal. I would definitely purchase this granola again to snack on at work.
Taste: 8.5/10
Cost: 7.5/10
Convenience: 10/10
Nutrition: 6/10
Do you like granola? How do you eat your granola?