I love Mexican food and I love easy appetizers!
Please note that this review was not paid for or sponsored by any third party. I purchased this product with my own money and the opinions in this review are strictly my own. I am not affiliated with Costco or any of its suppliers. I am just a fan of the company. I write these reviews to help my fellow shoppers.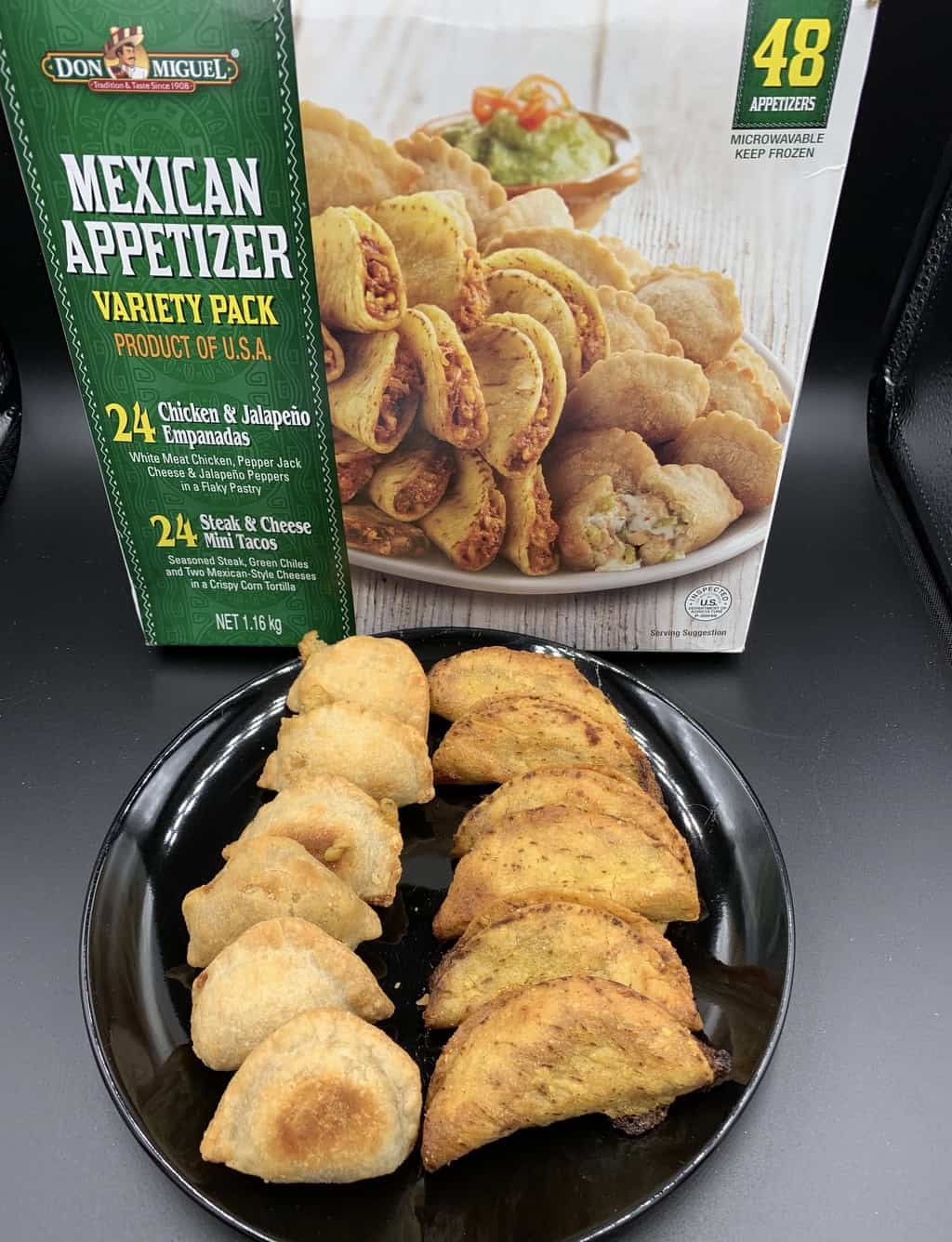 Based on the tag line above, it's pretty clear that I needed to try this appetizer variety pack! We have tacos pretty regularly, and I thought the Don Miguel Appetizer Variety Pack would be nice treat to have before the main course on those nights.
Taste
This pack is awesome and so fun, I would definitely buy it again. The empanadas definitely have some heat and spice to them and are basically like a delicious stuffed pastry with cheese, jalapeno and chicken. The outside empanada dough becomes slightly crispy and golden brown when baked and the cheese and chicken stays hot inside the dough. My husband who sometimes gets turned off by certain cheeses enjoyed the cheese in these and didn't find it overpowering or funky tasting! When baked, the tacos become quite crispy so if hard taco shells are your thing, you're in luck. The tacos taste like warm nacho chips with steak and cheese stuffed inside. To be honest there's not a ton of meat or cheese in the tacos because anymore wouldn't fit the size of the shell, the filling to shell ratio is balanced and there's no shortage of flavor. The tacos are not spicy/hot like the empanadas are so if you have people in your house who like spicy and some who don't this is a great appetizer pack.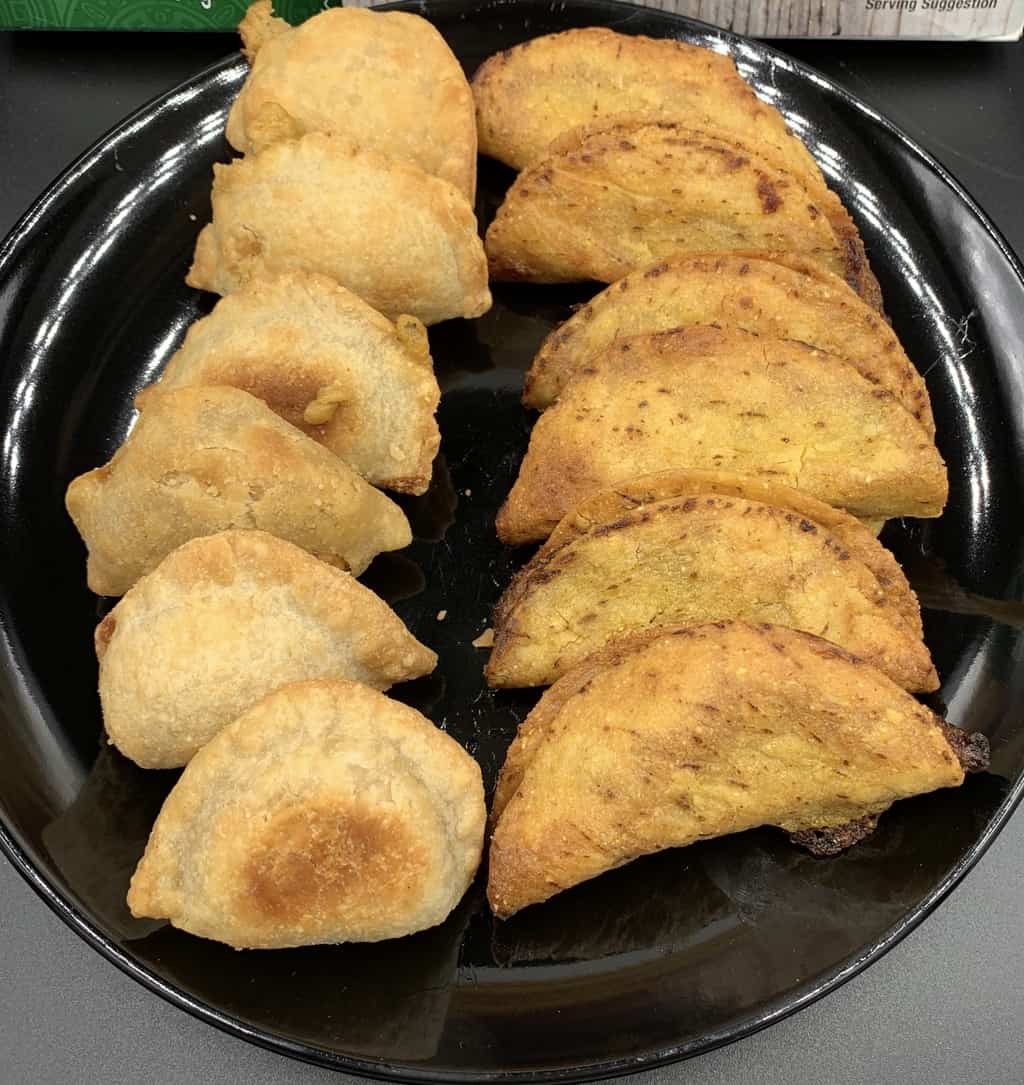 Cost
The Don Miguel Appetizer Variety Pack is found in the freezer aisle at Costco. The box of includes two kinds of appetizers, chicken and jalapeno empanadas as well as steak and cheese mini tacos. You get 24 of each, so 48 appetizer pieces in total. That's a lot of appetizers! The cost of the box is $14.69 Canadian not on sale. When I take into consideration the cost versus the taste and how many pieces you get in the box, I think this is pretty reasonable. My husband and I were able to make appetizers 4 different times out of the one box.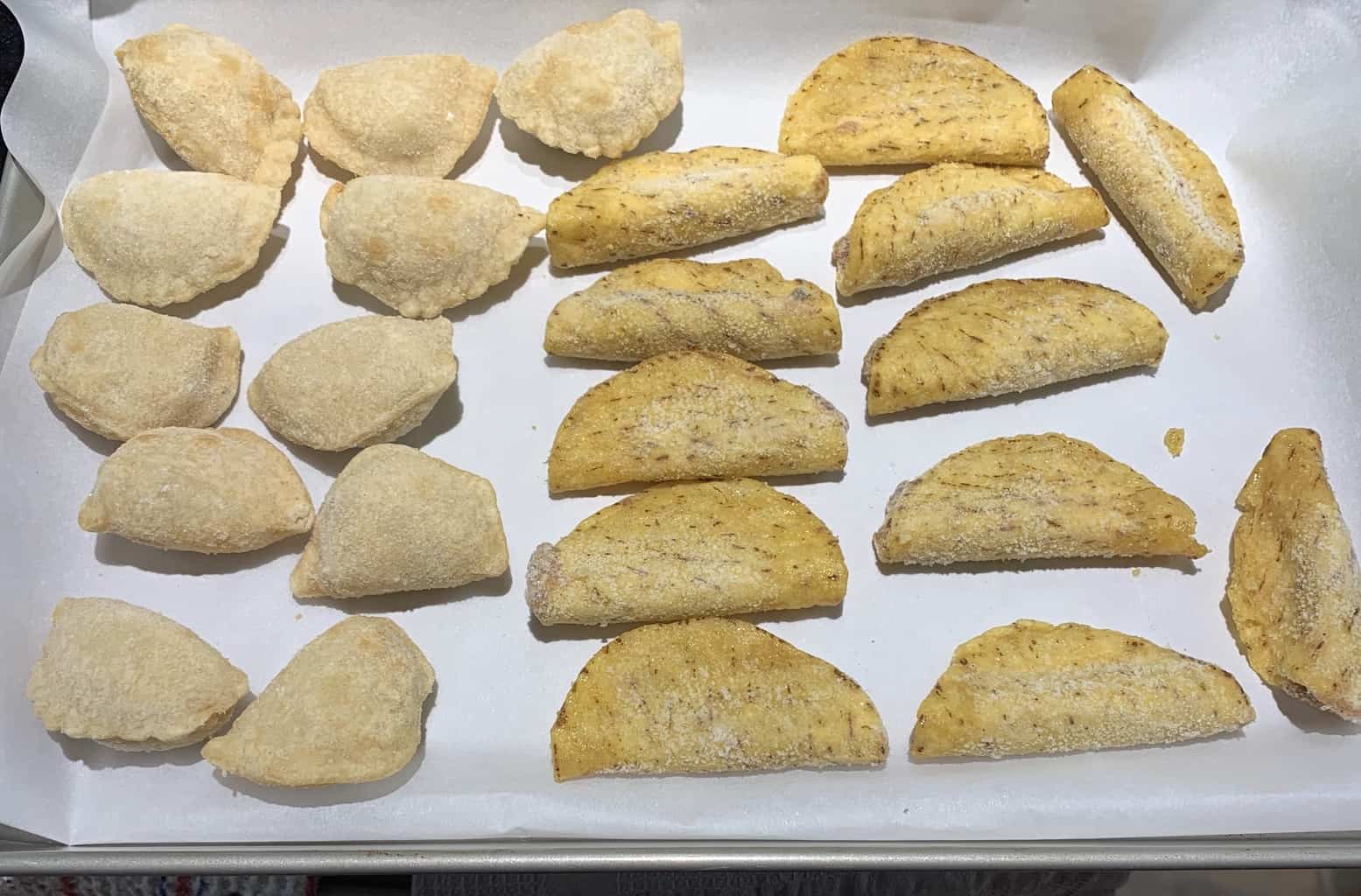 Convenience
The package states you need to cook the empanadas 17 to 19 minutes and the tacos for 15 to 17 minutes. I just cooked both for 17 minutes in my oven and they were great. The appetizers are so easy to heat up, basically you can just place them on a cookie sheet and bake them. You get two separate bags in the box, one bag with the tacos and one bag with the empanadas. The bags aren't re-sealable so you have to find an elastic or pin to close the bags up if you don't use them all.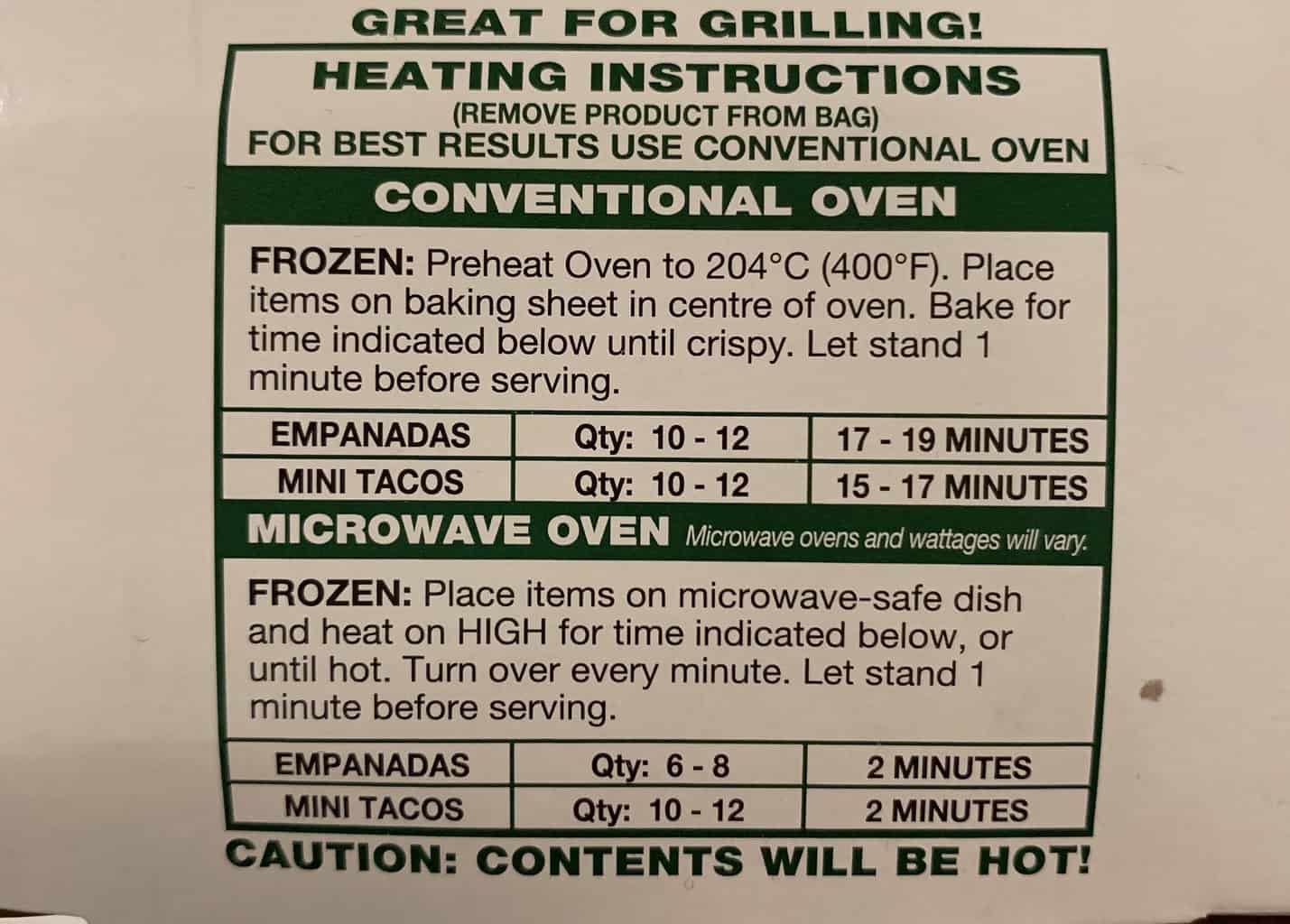 Nutrition
The tacos have fewer calories than the empanadas, but I find the empanadas are more filling. Three empanadas contains 230 calories, 10 grams of fat, 470mg of sodium and 12 grams of protein. Four tacos contains 160 calories, five grams of fat, 400mg of sodium and 8 grams of protein. The calories, fat and sodium content aren't all that bad as long as you practice moderation and don't eat all 48 appetizer pieces in one sitting. There aren't a ton of preservatives or additives that I could see on the ingredient list but there are a few, such as disodium inosinate and guanylate, after some Google searching I found that this is quite a common flavor enhancer that can be found in various foods.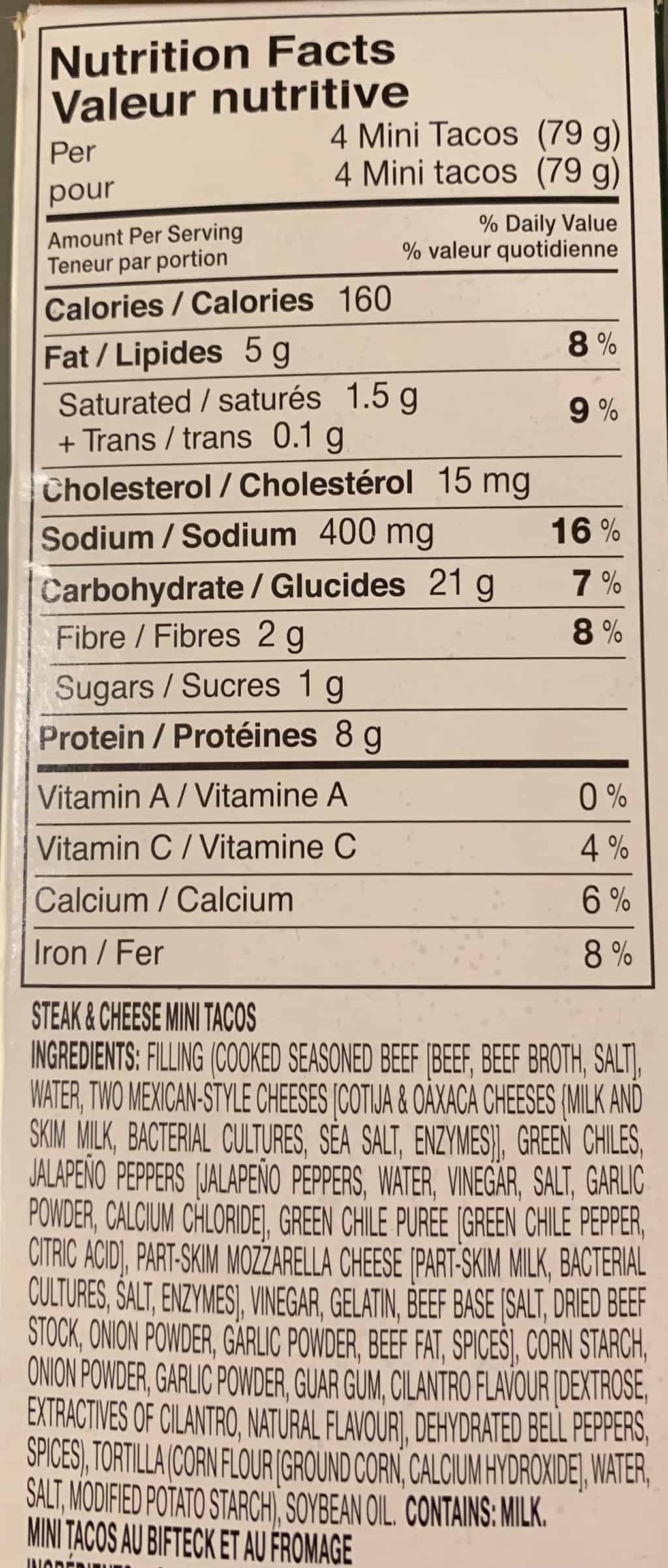 I really enjoyed the taste of these and recommend serving them with salsa, sour cream and guacamole or fresh avocado. I wouldn't hesitate to buy these again especially if I were hosting a party, I could see both adults and kids enjoying these.
Taste: 8.5/10
Cost: 8/10
Convenience: 8/10
Nutrition: 3/10
Which would you rather have? The tacos or the empanadas?