My family loves these cookies!
If you like my blog and want to show your appreciation, please follow me on Instagram or Facebook, or tell your friends to check out my blog!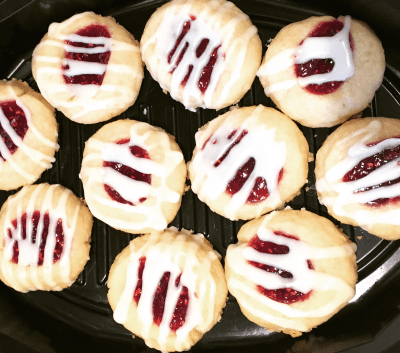 I wanted to share this recipe because yesterday I posted the review for Costco Kirkland Signature Butter Shortbread cookies, and if you like those and enjoy raspberry jam, you'll love these. They're a combination of an almond extract-flavored shortbread with a raspberry jam filling. You drizzle them with melted white chocolate if that's your thing, but it's optional you'll probably enjoy that finishing touch if you like sweeter cookies). Overally, they're very simple and easy to make, and they're always a big hit with my family. I use the E.D. Smith Raspberry Jam from Costco for the filling inthese cookies.
Ingredients
2 cups unsalted butter at room temperature
1 and 1/3 cup white sugar
¾ teaspoon pure vanilla extract
¾ teaspoon almond extract
4 and ¼ cups all purpose flour
¼ cup Costco E.D. Smith Raspberry Spread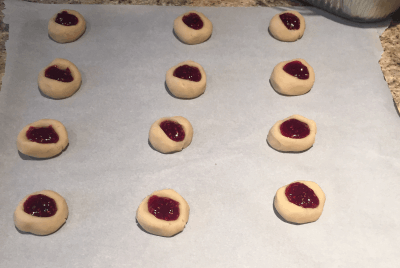 Directions
Using a stand or hand mixer, cream butter until soft and fluffy (usually about 1 minute).
Add sugar, almond extract and vanilla and mix again until combined. Add flour and mix until flour is incorporated and you have a dough.
Pack dough tightly into a glass or plastic mixing bowl, cover with plastic wrap and refrigerate overnight or for 8 hours.
Take dough out of refrigerator and start scraping dough with a metal spoon to get about a tablespoon of dough per cookie. The dough will seem like cement, but trust me – it will work.
Roll tablespoons of dough into balls using your hands and then place each ball on a parchment paper-lined cookie sheet. Press down in the center of each ball with the back of a spoon or your thumb to form a little pocket in the middle. If your balls crack just push them together or smooth out the dough with your hands.
Preheat your oven to 350 degrees Fahrenheit.
Fill each pocket with about 1/2 teaspoon of Costco E.D. Smith Raspberry Spread. I like to stir the jam up in a bowl first so it's nice and smooth.
Bake in the oven for about 12 minutes.
Cool on the cookie sheet for 1-2 minutes before transferring the cookies to a cooling rack.
Drizzle with melted white chocolate if desired.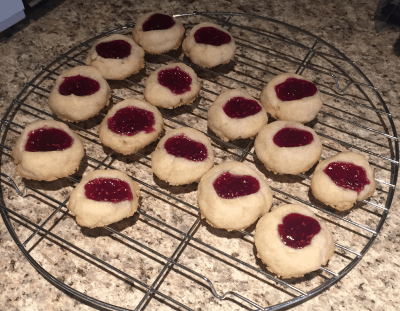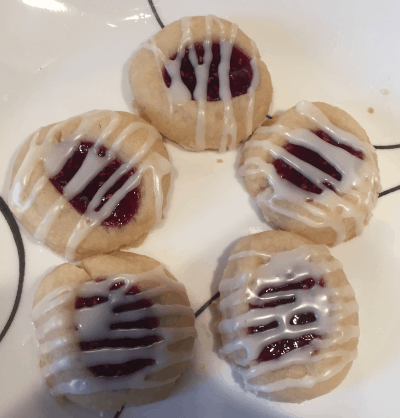 Any questions?! Let me know