Thanksgiving can be busy, is convenience more important than taste?
Please note that this review was not paid for or sponsored by any third party. I purchased this product with my own money and the opinions in this review are strictly my own. I am not affiliated with Costco or any of its suppliers. I am just a fan of the company. I write these reviews to help my fellow shoppers.
This review was originally done as a guest post for the amazing Costco West fan blog. Please visit this website to see Costco deals in Western Canada or even if you're just curious about the different products Costco currently is offering!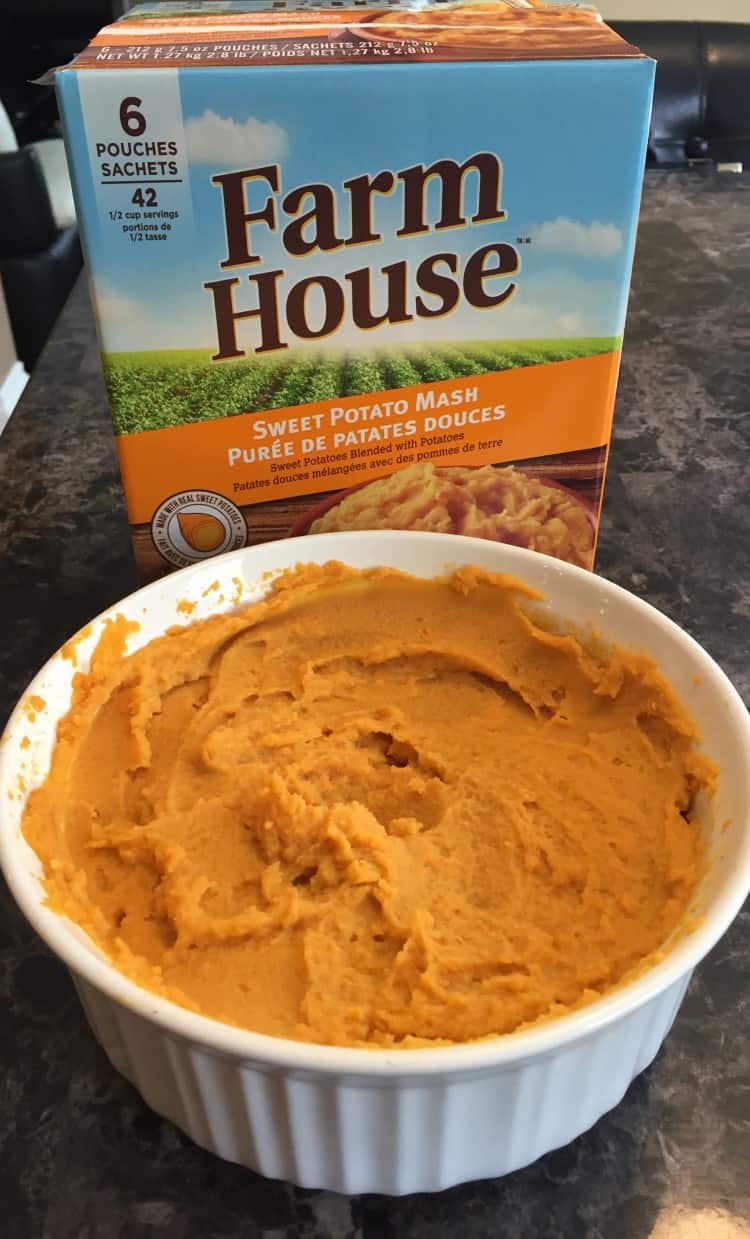 My husband and I have been talking about making sweet potato mash for a while, but I haven't got around to doing it from scratch. I've enjoyed sweet potato mash at restaurants many times, so when I saw this box of sweet potato mash that I hadn't seen before at Costco, I thought it would be a great opportunity to try a convenient version of a classic Thanksgiving dish. I'll admit I almost put it back when we were standing in line as I felt guilty about not just making the mash from scratch, but I could tell my husband wanted to try it and would've been slightly disappointed!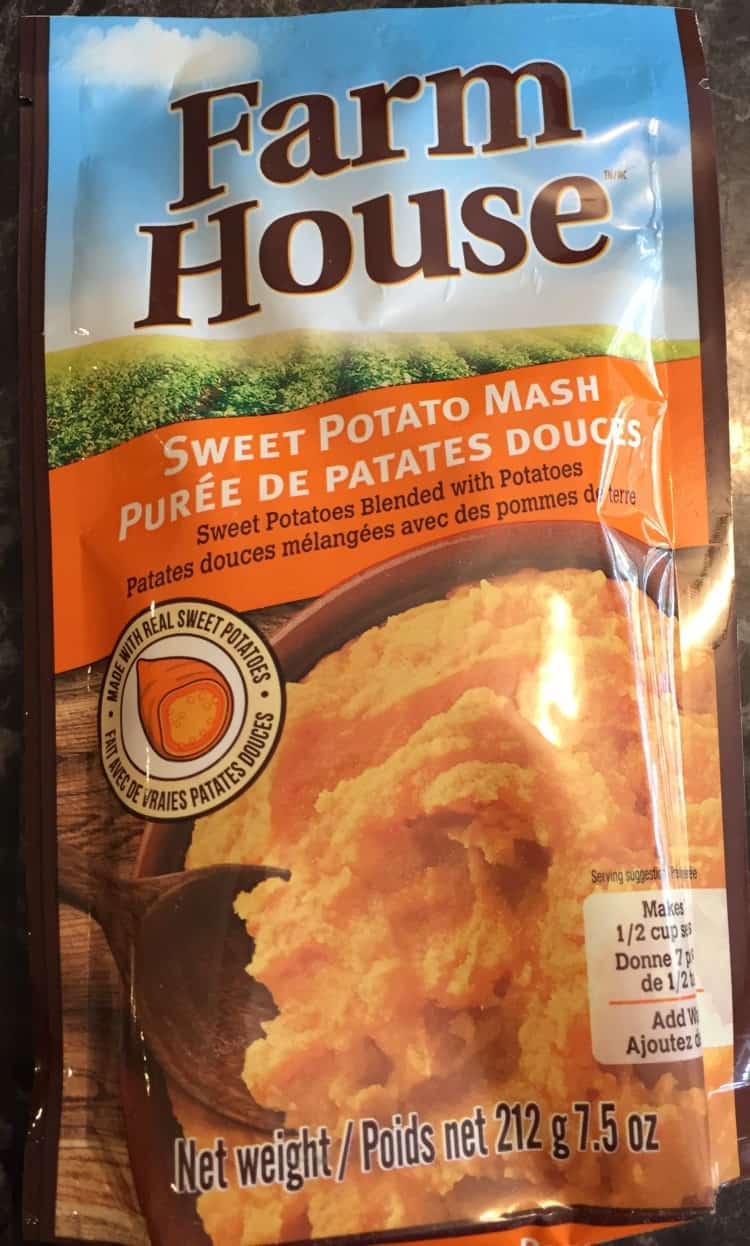 The box comes with six packets of sweet potato mash for $11.99 Canadian (so about $2 per packet). You get a lot of sweet potato mash in this box, so if you're hosting a huge Thanksgiving dinner, I think this is one way you could save a few dollars (and probably more than a few minutes!). In short, the cost is very reasonable; even though sweet potatoes are generally fairly cheap, I don't think you're paying much of a premium over making sweet potato mash from scratch.
Convenience is what sells products like this. The Costco Farm House Sweet Potato Mash was very easy to make; add some water and do a little stirring and you're good to go. You save time by not having to wash, peel and cut your sweet potatoes and then cook/season them. I can see this Costco Farm House sweet potato mash being perfect for large potlucks at churches and workplaces and especially for those individuals who are brave enough to host 20+ guest Thanksgiving dinners (a challenge I have the utmost respect for!). This would also be perfect for the person who needs bring a dish to a gathering, but doesn't feel comfortable in their cooking abilities.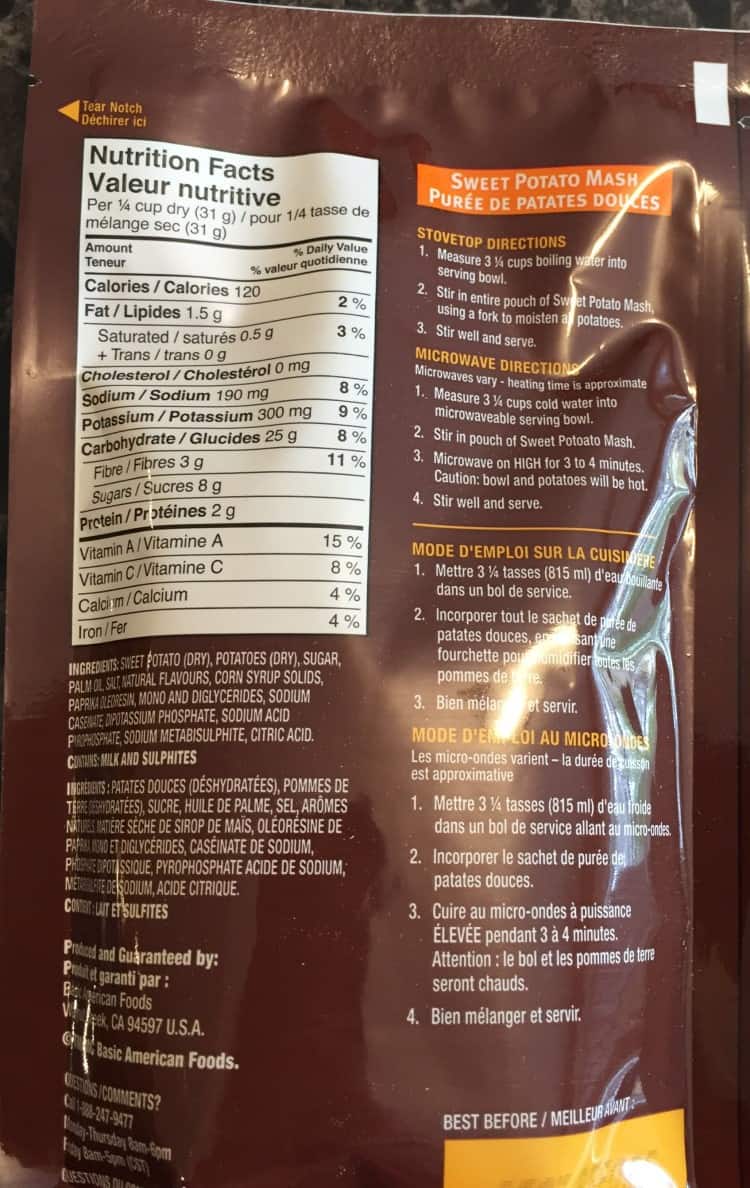 One reason I almost put the box of sweet potato mash back is because I read the nutritional label and ingredients before we left the store. The sugar is a little high for my liking. Specifically, there are eight grams of sugar in about 1/7th of a package. The calories, fat and sodium aren't that bad if you only eat 1/7th of the prepared package, but I could probably easily eat double that. There are normally quite a few nutritional benefits from eating sweet potatoes, and I think you probably lose a few of those benefits when you opt for this convenient instant mash. The packaging does state that they use real potatoes and sweet potatoes which is certainly positive. These appear to be gluten-free as well as safe for vegetarians. However, they contain milk, so vegans should be aware of that. They also contain sulfites and other chemical-sounding ingredients.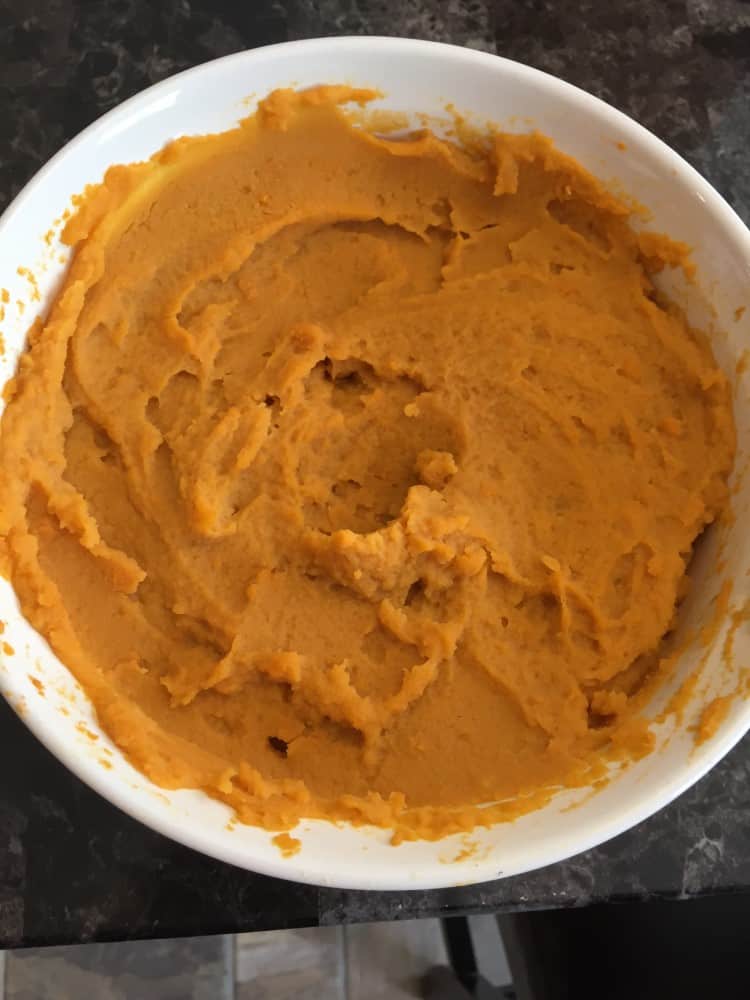 The taste of this mash is not awful, but not great. Both my husband and I didn't like it enough to eat more than a spoonful. It tasted quite bland, which is surprising considering how much sugar is in this product. It also had a grainy texture and a bit of an off-putting smell. This mash was definitely more on the savory side than the sweet side taste-wise, but it didn't taste very much like real sweet potatoes. I guess you could use this mash as a base and add your own ingredients (such as pecans, marshmallows, brown sugar and cinnamon) to create sweet potato casserole, but that would detract from the convenience factor.
I know some people are totally turned off by instant anything (especially mashed potatoes), but I think there's a time and a place for these super convenient products! For example if you're already mashing a huge pot of regular potatoes and want to offer your guests sweet potato mash as well, you could easily whip this up. I personally can't recommend this based on the taste. They definitely weren't awful, but they definitely weren't tasty either. I can't see myself repurchasing this. I don't even know what I'm going to do with the remaining five packets!
Cost: 8/10
Convenience: 10/10
Taste: 2/10
Nutrition: 3/10
Do you make your own sweet potato mash? If so I'd love your recipe!