If you weren't told you wouldn't know this is hummus!
Please note that this review was not paid for or sponsored by any third party. I purchased this product with my own money and the opinions in this review are strictly my own. I am not affiliated with Costco or any of its suppliers. I am just a fan of the company. I write these reviews to help my fellow shoppers.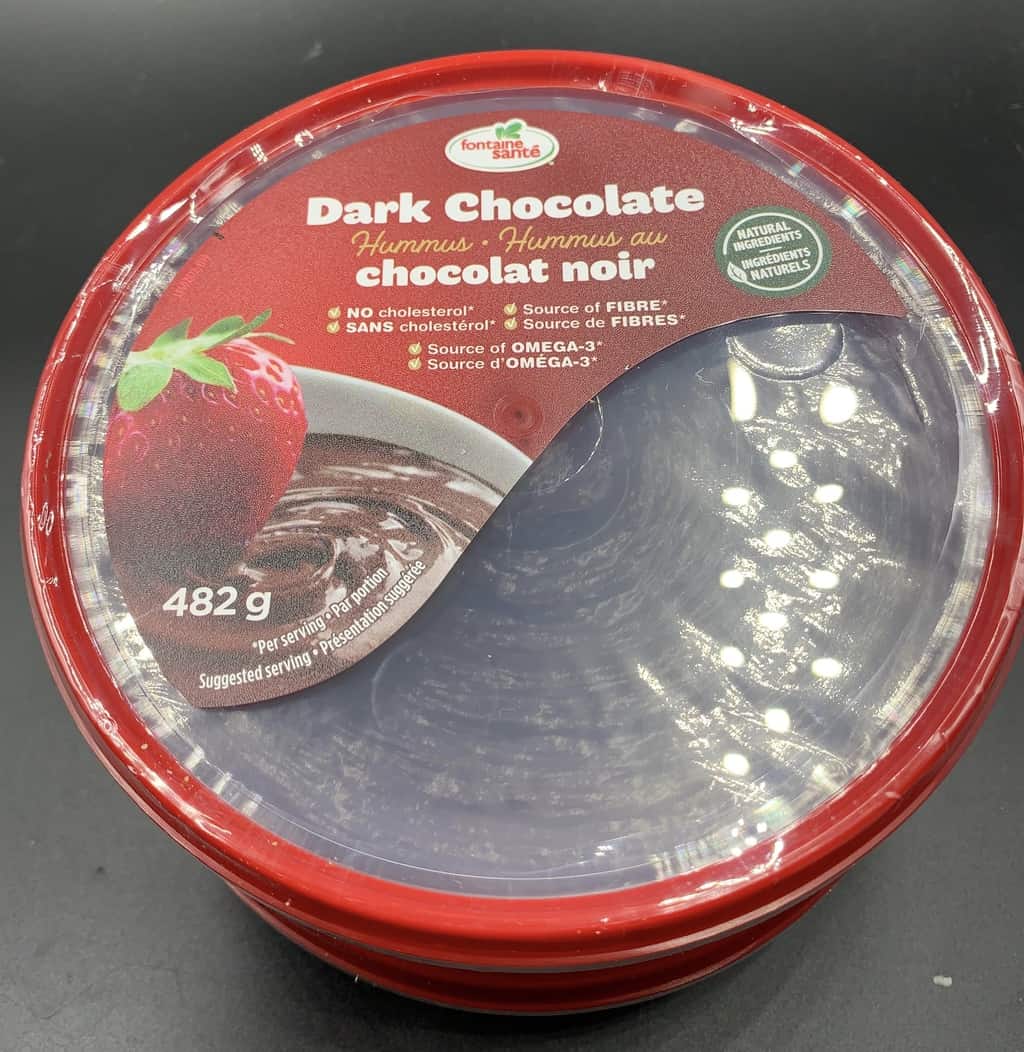 I hope everyone who had a long weekend this past weekend had a nice time! How did you spend your Valentine's Day?! I spent mine at Costco (no regrets, I had fun actually seeing new products). Sean and I tried a sample of this dark chocolate hummus and we were both shocked at how good it was.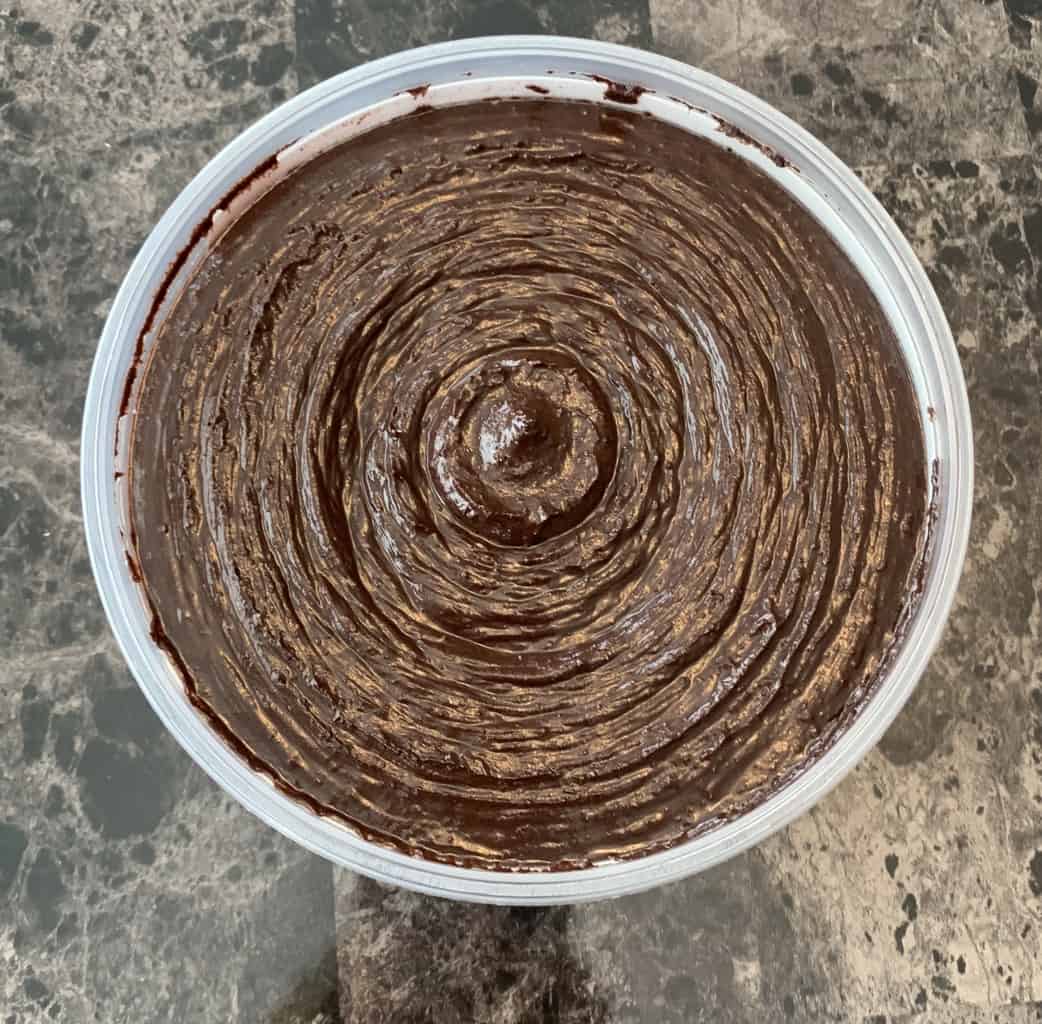 Taste
The whole concept of chocolate hummus grossed me out to be honest. Hummus is a savory thing so how could it possibly be turned into something sweet and chocolatey? Costco was sampling this when we went on Friday and I somehow convinced my husband to try the sample with me. They were sampling the chocolate hummus with regular Tostito tortilla chips which is an interesting combination and definitely not how I would serve it but I have to say THIS IS DELICIOUS! It basically tastes like a thick, sweet, dark chocolate icing. If you really look for it, yes you'll taste the slightest hint of chickpea flavor but there's nothing at all savory about this hummus. It's basically like a chocolate dip that's extremely tasty. I find it pairs best with fruit such as strawberries or bananas. It's even good just by itself on a spoon. I have to say I was really skeptical about this but it's way better than I expected and actually quite yummy.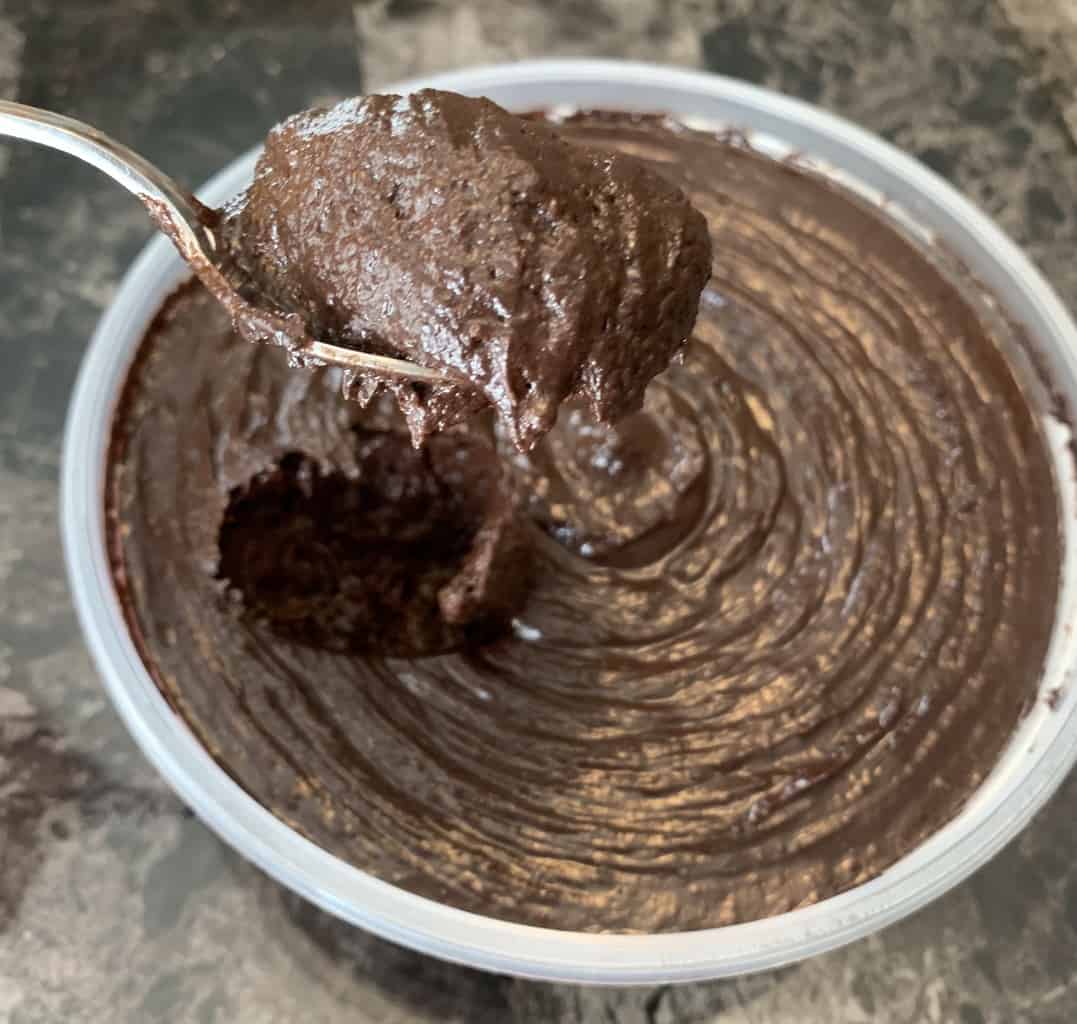 Cost
I bought the Fontaine Sante Dark Chocolate Hummus on sale for $4.99 which is two dollars off the regular $6.99 price. Not bad for two large tubs of hummus!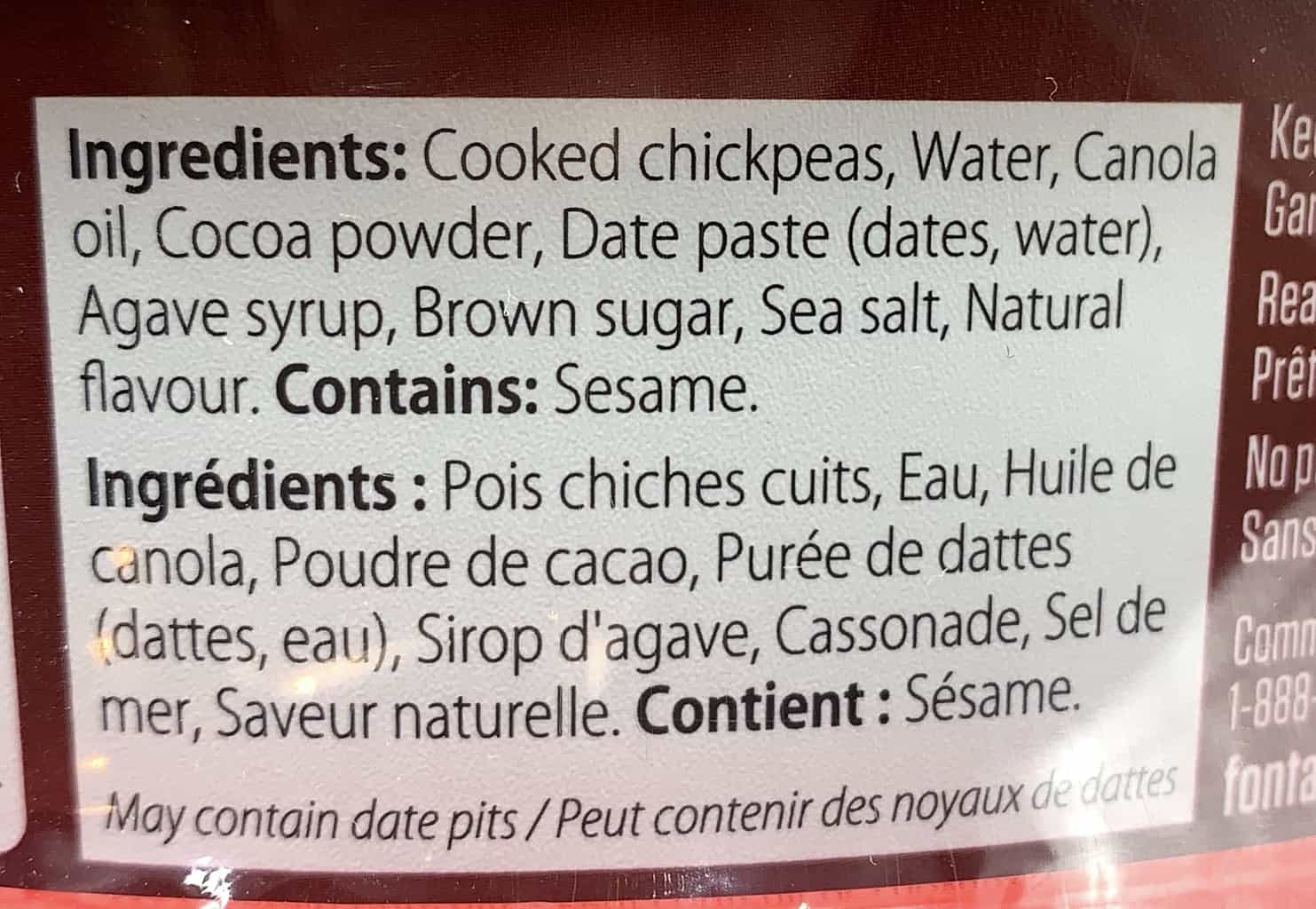 Convenience
This is such a convenient snack or dessert! Basically you just open it up and dip. The best before date on the tubs of hummus is about two months from the date we purchased the two-pack. HOWEVER there is one big inconvenience! The packaging states the hummus should be consumed within three to five days from opening. For people like me who just want to have a little bit each day it's a little inconvenient as I'll probably be wasting some hummus.
Nutrition
Two tablespoons is 80 calories, five grams of fat, nine grams of carbohydrates, five grams of sugar, two grams of fibre, one gram of protein and 15 mg of sodium. The hummus is sweetened with date paste, agave syrup and brown sugar. The one less favorable ingredient is canola oil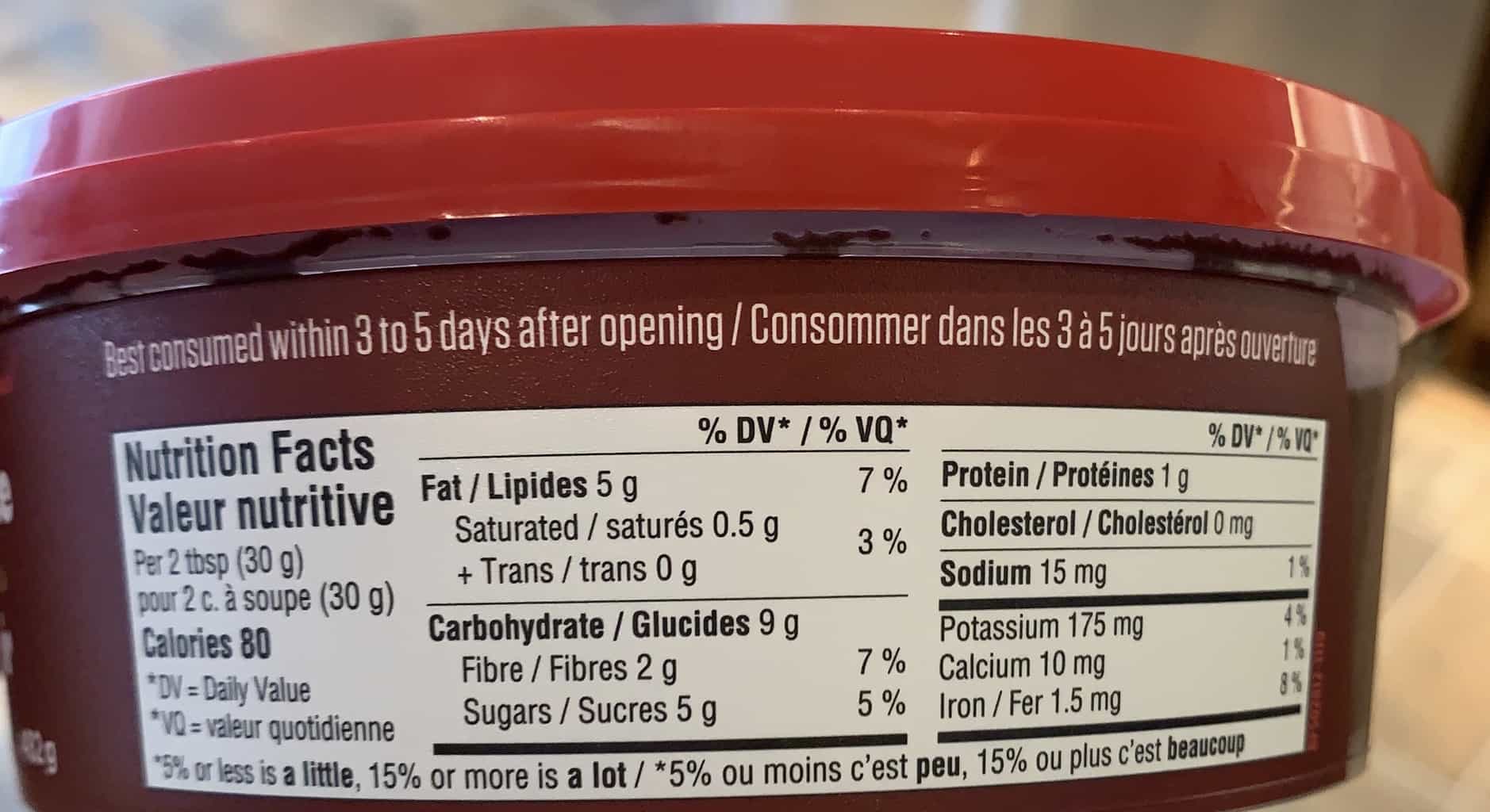 As I write this review I'm actually really looking forward to going home and eating a banana with some of this hummus smothered on top for dessert! To me, it tastes ALMOST as good as thick chocolate cake icing so I love that it's a bit of a healthier dessert option.
Taste: 8.5/10
Cost: 9/10
Convenience: 9/10
Nutrition: 7/10
Would you try this? Why or why not? How do you think you'd eat this? On fruit, toast, just plain or some other way?