If you're interested in reasonably healthy microwaveable meals, these chicken bowls might be for you.
Please note that this review was not paid for or sponsored by any third party. I purchased this product with my own money and the opinions in this review are strictly my own. I am not affiliated with Costco or any of its suppliers. I am just a fan of the company. I write these reviews to help my fellow shoppers.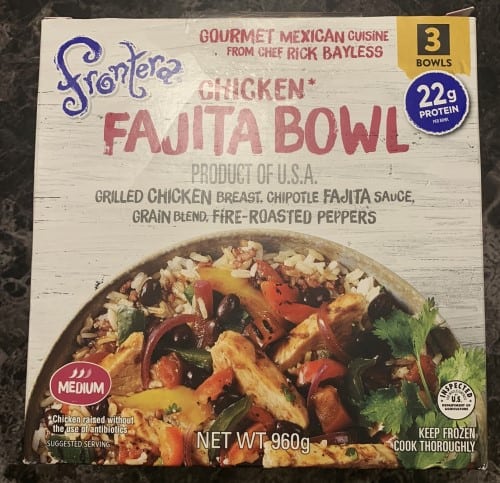 I'm always on the hunt for quick, convenient, reasonably healthy dinner options. Working full time and making a big dinner every night can get a little tiring so to prevent feeling burnt out I like to have a few nights where I make something super easy.
We always enjoy Mexican food so when I was the Frontera Chicken Fajita Bowls at Costco I thought they'd make an easy, delicious, reasonably nutritious dinner. It was mostly the nutrition information on the bowls that lead me to purchase these.
Taste
The bowl has black beans, grilled chicken, a grain blend that includes white and brown rice, fire roasted peppers, fire roasted tomatoes, cilantro and a chipotle fajita sauce. The cilantro isn't super over powering so cilantro haters proceed with caution. So the overall taste of these bowls … is fine but not mind blowing or anything special. Both Sean and I were underwhelmed and they tasted a little bland in my opinion and don't taste any different to me than most frozen microwave dinners. For some reason I thought they'd be extra good because of the cost and because Costco carried them. The chicken in the bowls is all white chicken meat but I found it to be just a tiny bit rubbery and processed tasting. The bowls definitely have a little bit of heat but the actual flavor of the bowls wasn't complex or intriguing. I enjoyed them enough but I probably wouldn't purchase these again as I can make a similar dish at home that probably would taste better and be cheaper.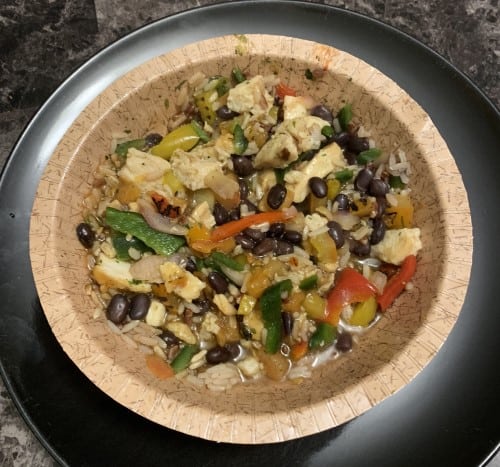 Cost
I paid $11.79 Canadian for the Frontera Chicken Fajita Bowls at Costco. For that price, you get three individually-boxed bowls. As you can see, these aren't cheap; you're paying about $3.95 per bowl. I guess if you buy lunch at work for like $15 per day, then this is a much cheaper option – unless you compensate for bringing your lunch by going for a $10 afternoon latte and pastry trip!
Convenience
As with most of the other items found in the freezer aisles at Costco these, bowls are very easy and convenient to prepare. They're perfect to bring to work or school for lunch and also make a super quick dinner option. All you do is microwave the bowl to heat it up. It's that simple. Since they each come in a bowl, you don't even need to worry about dishes afterwards! At Costco, the large box you buy contains three smaller boxes, each with an individual bowl inside, so a lot of packaging. The bowls have a paper lining on the top but aren't completely sealed so some of the beans and rice fell out into the box. Not a big deal; I just poured whatever had fallen out back into the bowl.
Nutrition
Like I said, what attracted me about these bowls is the nutritional information. One bowl contains 250 calories, two and a half grams of fat, eight grams of fibre, eight grams of sugar and a lovely 22 grams of protein. The negative part is the sodium – 700 milligrams per bowl. That's not as bad as some restaurant meals that might have more than twice that amount, but it isn't ideal. Lots of people don't need to be too concerned with sodium, but for people monitoring their sodium and fluid intake (like those with chronic heart problems), these bowls might be worse than you might think based on other nutritional data.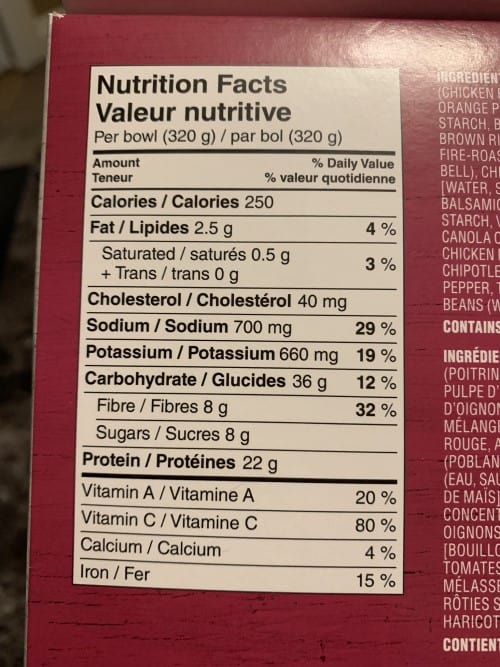 I recommend these bowls for times when you need something reasonably healthy, easy and quick and aren't too concerned about the taste being spectacular. The taste of the bowls just didn't satisfy me enough to encourage me to repurchase these for the cost.
Taste: 6/10
Cost: 5/10
Convenience: 9.5/10
Nutrition: 8.5/10
Do you buy any frozen microwave meals for lunches or dinners? Have you tried this one?