This is a tasty, reasonably priced organic pasta found at Costco
Please note that this review was not paid for or sponsored by any third party. I purchased this product with my own money and the opinions in this review are strictly my own. I am not affiliated with Costco or any of its suppliers. I am just a fan of the company. I write these reviews to help my fellow shoppers.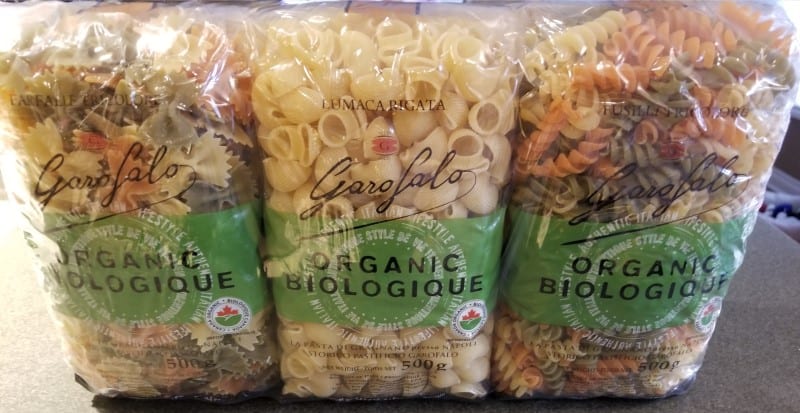 This post is leading up to my super easy chicken parmesan recipe that I will be posting on Friday. It was my husband's birthday recently and the chicken parmesan I make is his favorite so I made it this past weekend using basically all Costco bought ingredients including this pasta!
This Garofalo pasta is produced in Italy and is made out of certified organic durum wheat, organic tomato paste and organic spinach. Sorry gluten free friends, this definitely has wheat. I did a tiny bit of research on what durum wheat actually is and it's basically a harder wheat that is less processed and due to that it has more protein and gluten than softer wheat pastas. When I was researching I found that durum wheat pasta is generally what is served traditionally in Italy.
How does this taste? Delicious. I really enjoyed it. I love the shapes that come in this pack of 6, sorry spaghetti lovers but I prefer the bows, fusilli and shells. I find it much easier to eat and probably spray less pasta sauce all over my kitchen when I don't consume long pasta. You do not taste the spinach and tomato paste that's on the ingredient list. This pasta definitely tastes very hearty and is not your typical white pasta, it's definitely got that healthier whole grain taste to it which I really enjoyed and I also felt quite full after consuming less pasta than usual.
What I loved about this pasta is the convenience, it comes in a bag with 6 individual 500g bags in it. The 3 shapes are bows, shells and fusilli and you get 2 bags of each shape. Some may find this not as convenient as say something like the Costco deli section lasagna that you just cook up in the oven but it is so easy to boil this pasta. The instructions say to cook for 15 minutes and that's exactly what I did and it came out perfectly al-dente. No guessing or pulling pasta out of the pot to test it was involved. Also I love knowing I have a little stock pile of pasta in my pantry to choose from during busy nights. I'll add that expires in 3 years so I have lots of time to use this up.
This 6 pack of pasta was purchased for $12.99 Canadian (so about $2.18 per package) which I think is actually quite reasonable considering it's organic and from Italy. I know you can get a box of pasta cheaper on sale but this pasta actually tasted like high quality pasta and seemed much easier to cook because there was no guess work involved, therefore the cost seems reasonable to me.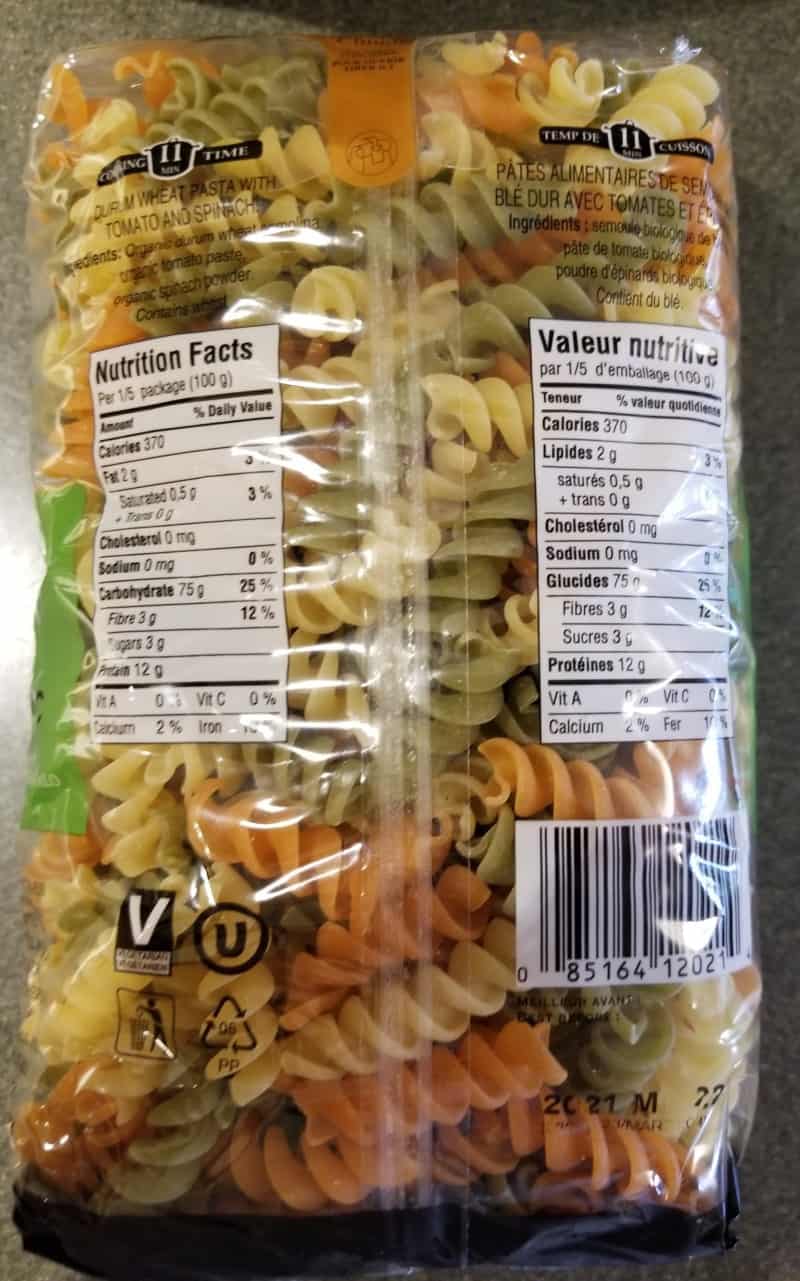 Nutritionally 100 grams of pasta (which is pretty close to one cup) is 370 calories, 2 grams of fat, 3 grams of sugar, 12 grams of protein, 3 grams of fibre. and 75 grams of carbohydrates. So after comparing to a similar grocery store bought whole grain pasta, this pasta actually has a little bit more calories, carbohydrates, sugar and less fibre then the store bought pasta. This pasta does however have more protein so if that's important to you that's the one positive. Obviously eating a ton of pasta every day all day is may not the greatest nutrition decision but I think if you have pasta every once in awhile you may as well enjoy it and buy a pasta you like the taste of. I will mention I compared this to gluten free pastas at Costco and you're looking at a lot more calories and fat with the gluten free options unfortunately. I wish the nutrition information was a little better as I probably easily eat like 2 cups of this pasta! Haha.
Overall I enjoyed this pasta and will definitely use it up. It's nice that it's organic, I enjoy the pasta shapes and it's kind of cool that it's from Italy. It will probably take me quite awhile to use all 6 packages as we do not eat pasta that often.
Nutrition: 6/10
Taste: 9/10
Cost: 8/10
Convenience: 7/10
What's your favorite pasta shape?! Favorite kind of pasta sauce, alfredo, Bolognese, tomato?