These organic ready-to-drink fresh coconuts at Costco are super fun and amazing if you like fresh coconut water!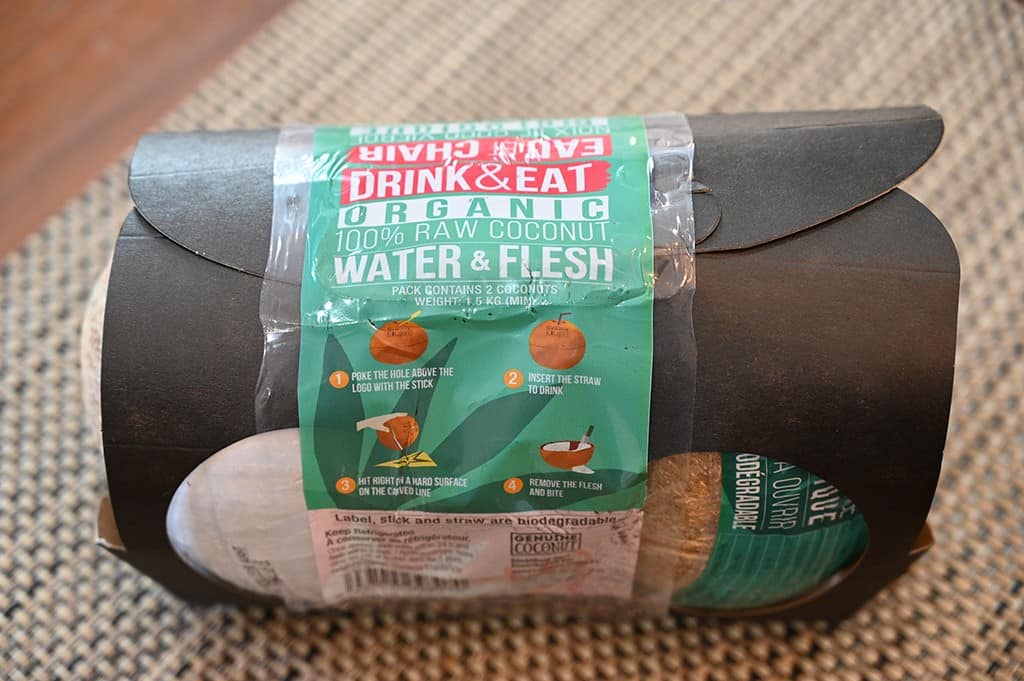 During our last trip to Costco we picked up such a fun product! These Costco Genuine Coconut Eat & Drink Fresh Coconuts! They're fresh coconuts that you make a hole in and drink the coconut water out of!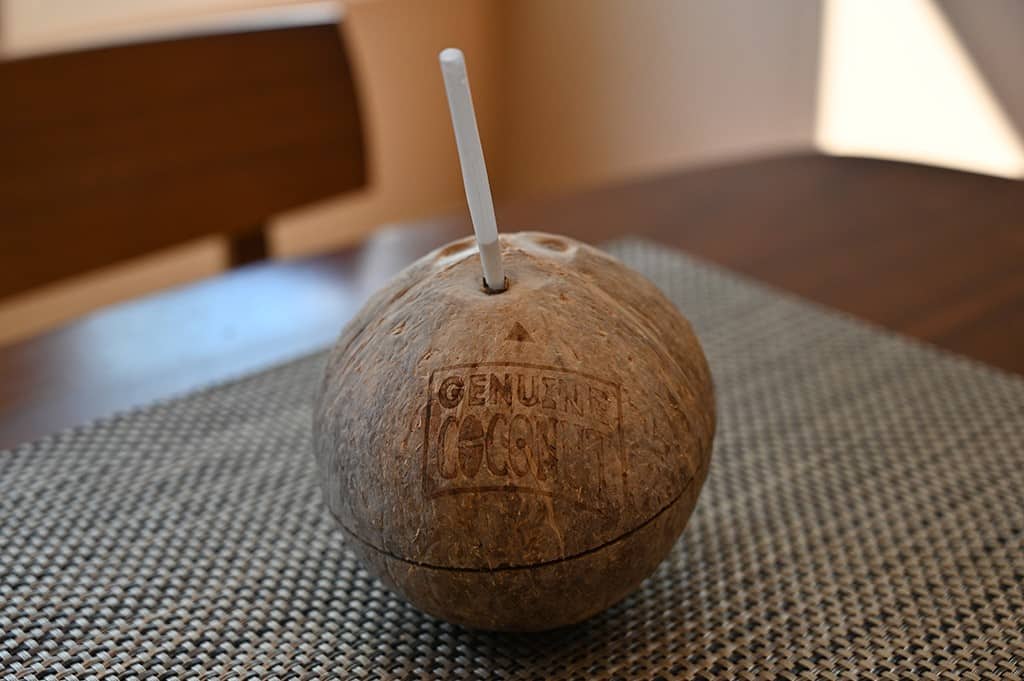 On a trip to Hawaii a few years ago my husband and I were exploring the Garden of Eden and it was really hot out so we stopped to get a fresh coconut from a vendor. It was good but it wasn't that refreshing because the coconut had been sitting out in the hot sun all day. When Sean and I tried this Genuine Coconut from Costco we both said "this is what we wanted in Hawaii" because it so refreshing and cold due to being in the fridge!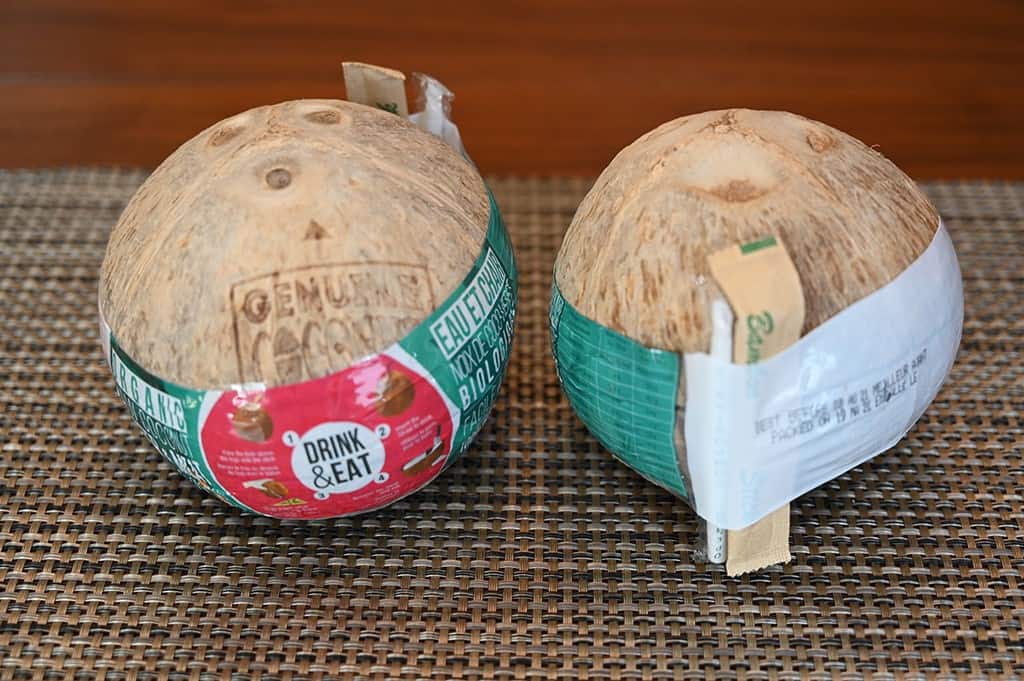 I found the coconuts in the corner of the cold produce room. The item number is 1358123.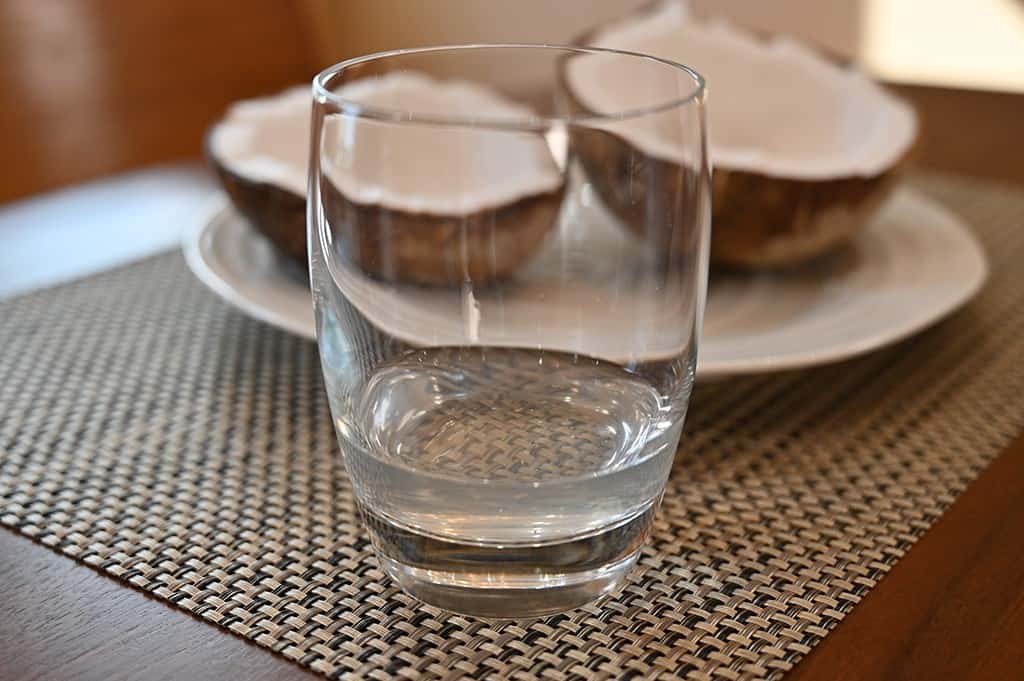 Taste
If you've ever had fresh coconut water and meat before that's exactly what this is! The coconuts had a TON of coconut water in them and was really refreshing and delicious, we shared one and both had lots of coconut water to enjoy.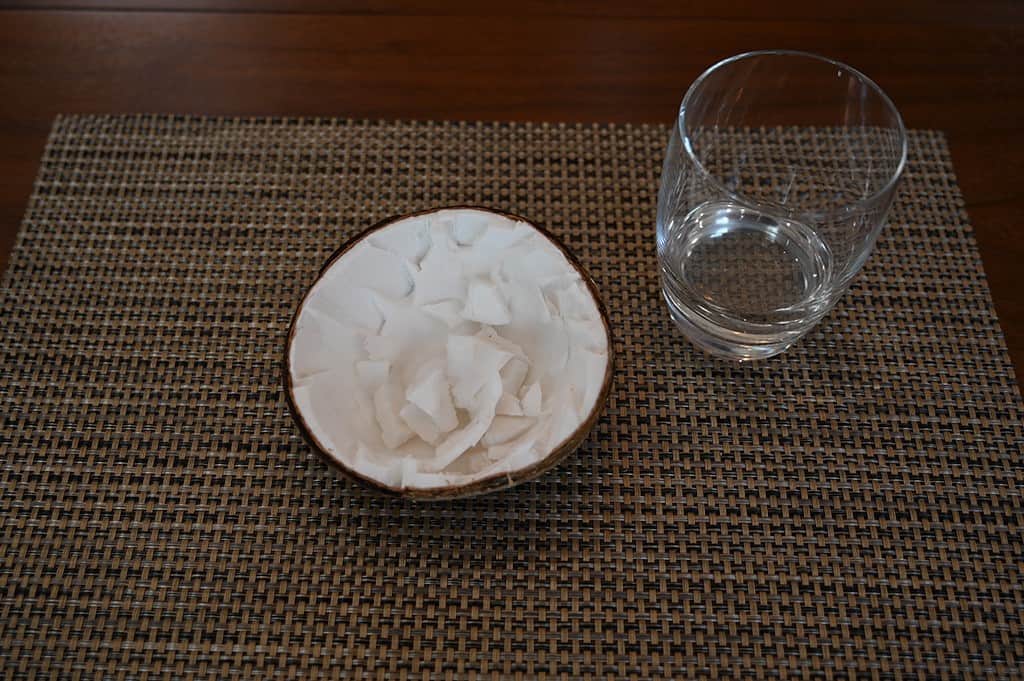 The coconut meat isn't that easy to get out and it took my husband using a knife to get it out but once you get it out it's fresh and tasty real-deal coconut!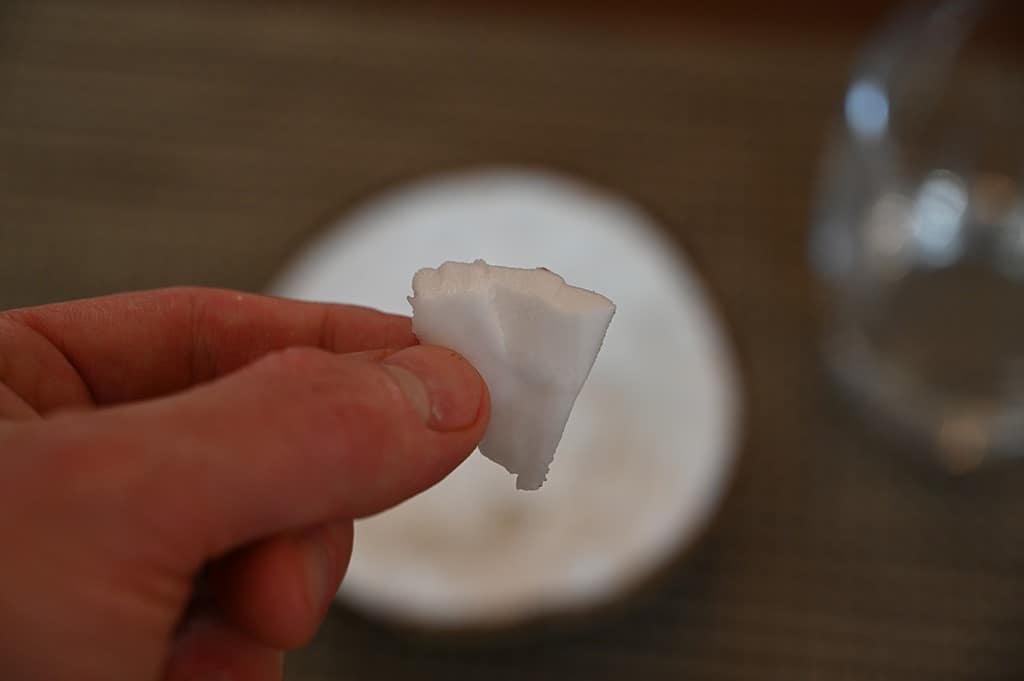 Cost
I paid $7.99 Canadian for two Genuine Coconut Eat & Drink fresh coconuts! Each coconut comes with a straw and bamboo stick.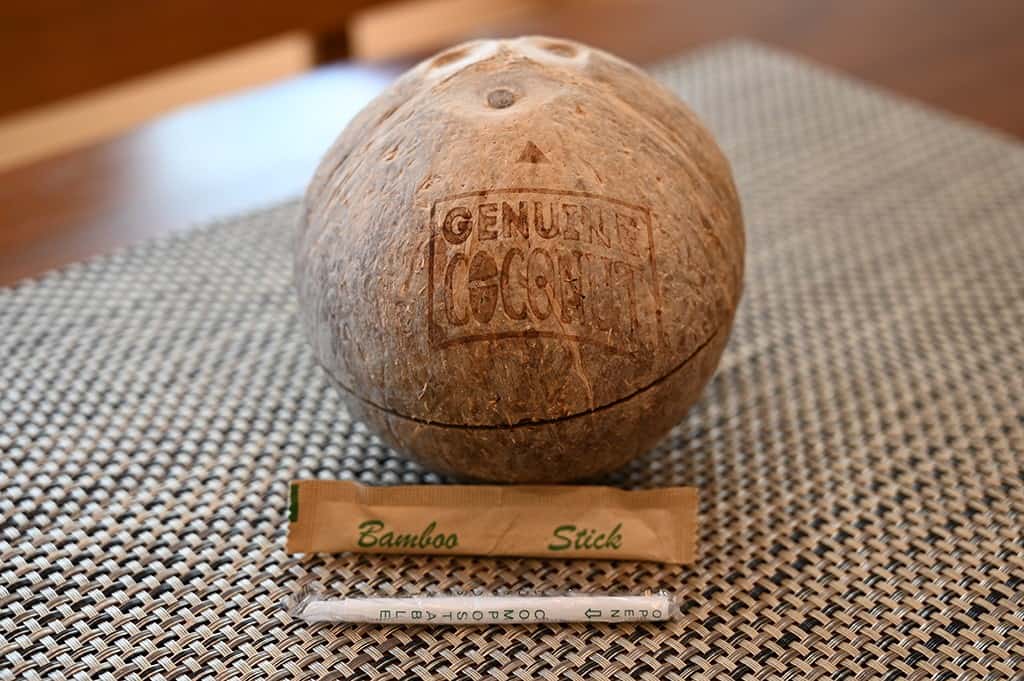 Convenience
There's an arrow on the coconut that points to the soft spot on the coconut that you use the bamboo stick to puncture. Once you puncture the coconut you pop your straw in and enjoy the fresh coconut water! It's a really fun product and process to punch your own hole!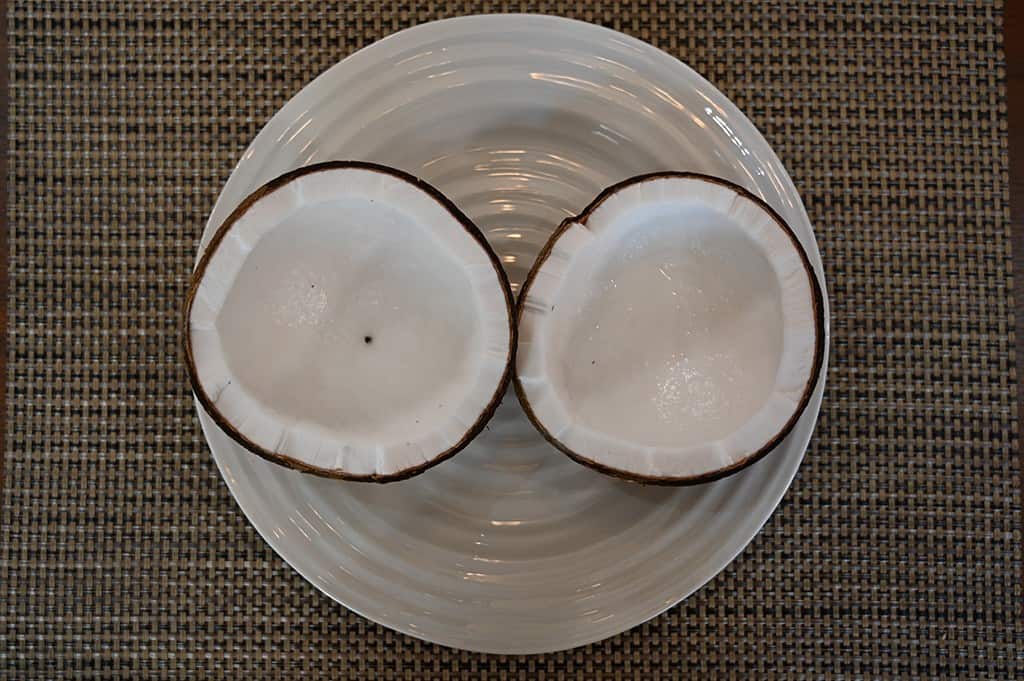 The meat is really hard to get out and you need a knife to do so, I thought it would come out pretty easily but that wasn't the case. Once opened the packaging suggests drinking coconut water within 24 hours and eating coconut meat within 5 days.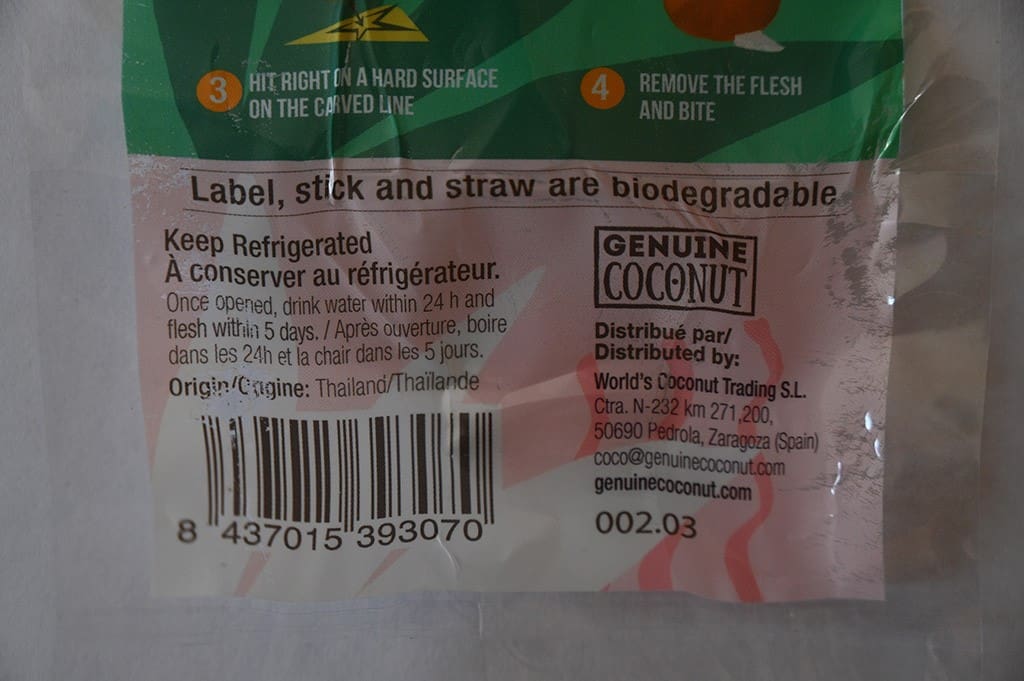 The best before date on the coconut is about a month from the date we purchased them and they need to be kept refrigerated.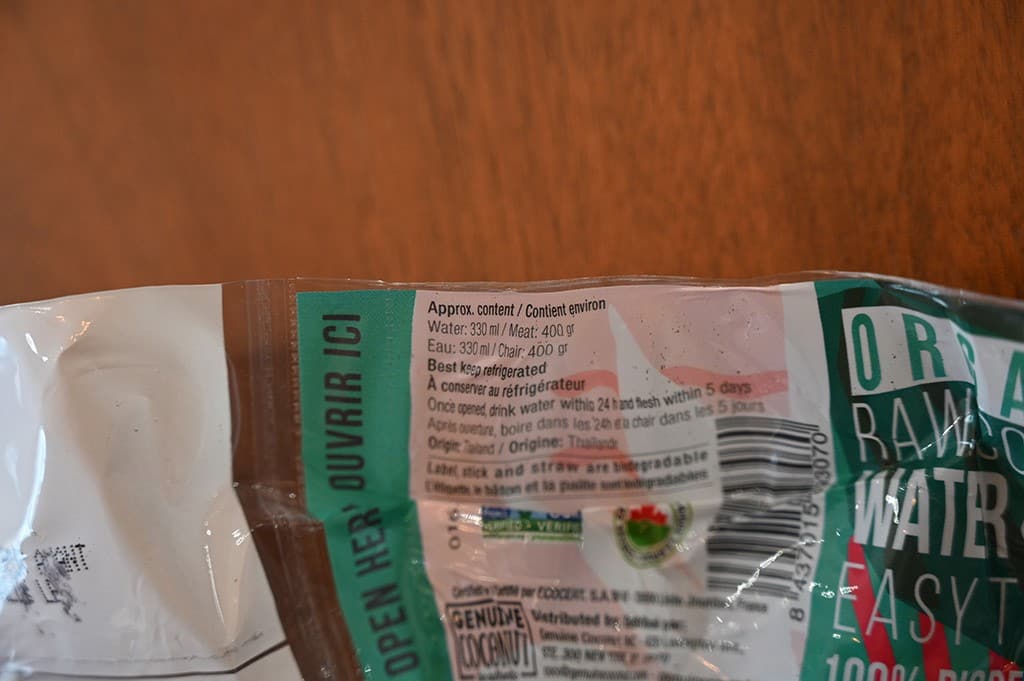 I think these fresh coconuts would be amazing to serve to guests at a themed party or summer barbecue! People will totally love how unique these are.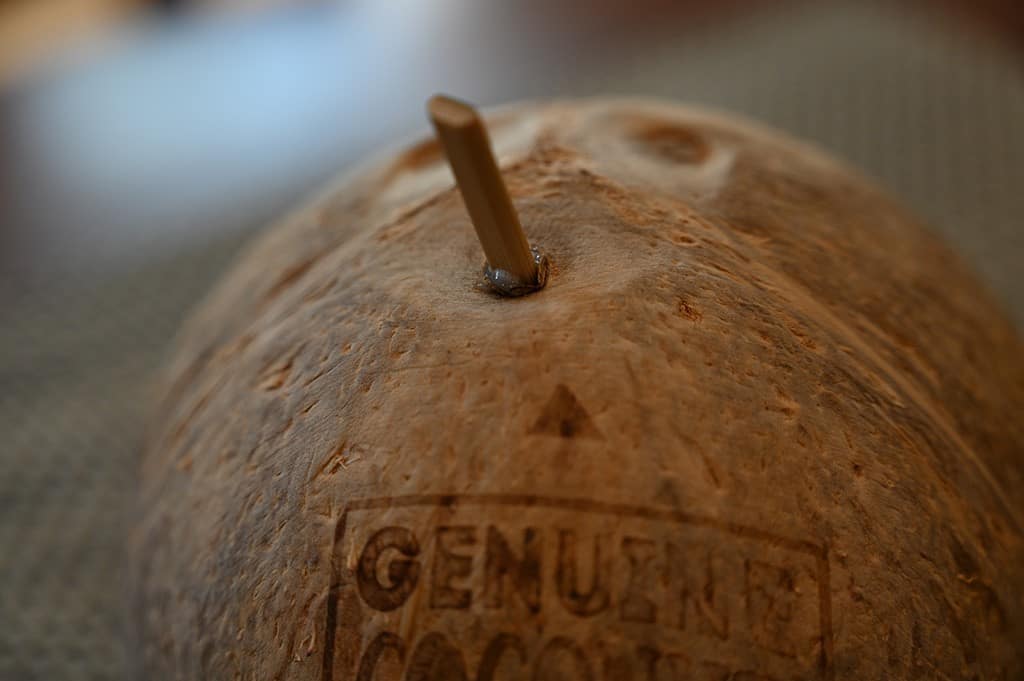 Nutrition
Coconut meat is high in fat and calories, the flesh of one medium coconut is about 1400 calories. Coconut meat is a great source of fibre, potassium and iron.
One cup of coconut water is 45 calories, 0.5 grams of fat, 252 mg of sodium, 600 mg of potassium, six grams of sugar and nine grams of carbohydrates. Coconut water is known to balance blood sugar, improve blood circulation, supply energy and cure bad hangovers.
Scoring
Taste: 8/10
Cost: 5/10
Convenience: 10/10
Nutrition: 10/10
Overall
Give it a try!
The coconut water was really tasty and refreshing, the meat not as much but this compares favorably to the fresh coconut we had in Hawaii but was nice because it was cold!
Would you buy these? If you did what did you think of them?
---
Please note that this review was not paid for or sponsored by any third party. This product was purchased by Costcuisine for the purpose of producing this review. The opinions in this review are strictly those of Costcuisine. Costcuisine is not affiliated with Costco or any of its suppliers. In the event that Costcuisine receives compensation for a post from the manufacturer of a product or some other third party, the arrangement will be clearly disclosed (including where the manufacturer of a product provides Costcuisine with a free sample of the product).