If you love tzatziki, you might want to try this!
Please note that this review was not paid for or sponsored by any third party. I purchased this product with my own money and the opinions in this review are strictly my own. I am not affiliated with Costco or any of its suppliers. I am just a fan of the company. I write these reviews to help my fellow shoppers.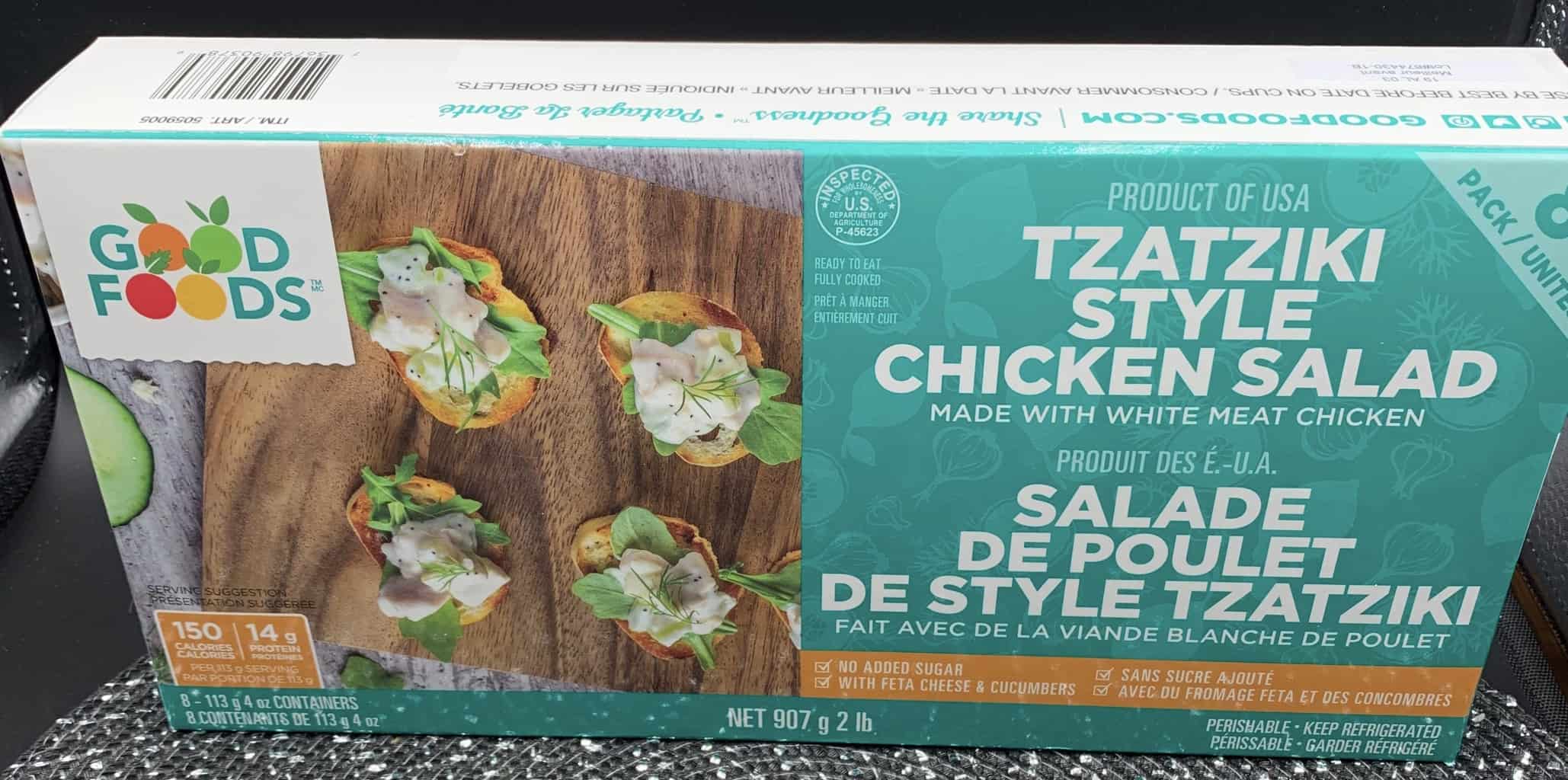 I usually aim to make at least one quick, easy dinner per week. I'm sure everyone who works full time can understand feeling tired and not wanting to spend an hour or more making a feast each night. I recently found this Good Foods Tzatziki Style Chicken Salad at Costco and figured it would make an easy sandwich to have with a bowl of soup.
Taste
The Costco Good Foods Tzatziki Style Chicken Salad tasted pretty good. Not amazing, not awful, just good. On first taste, the salad tasted strongly of Tzatziki and garlic. I thought to myself "oh man I hope I don't have bad breath from this tomorrow". There's garlic, onion, dill and vinegar flavors going on and the sauce is a low fat greek yogurt and mayonnaise sauce. I found it a little too saucy for my liking and I wish there was more chicken. I'm the kind of person that doesn't like my tuna or chicken salad swimming in sauce so take that into consideration. The flavor of the Tzatziki is quite intense, you really need to like Tzatziki to enjoy this chicken salad. There wasn't much cucumber or feta in the chicken salad either. Maybe two or three pieces of cucumber and feta per container. I can't see loving this on regular whole wheat bread and told my husband multiple times how glad I was that I had stopped to get pita bread for the meal. It was hard for me to really determine the quality of the chicken used because of how strong the Tzatziki flavor is as well as the large the amount of sauce, I did find one or two slightly rubbery pieces though. I feel like this would be much better with less sauce and more chicken.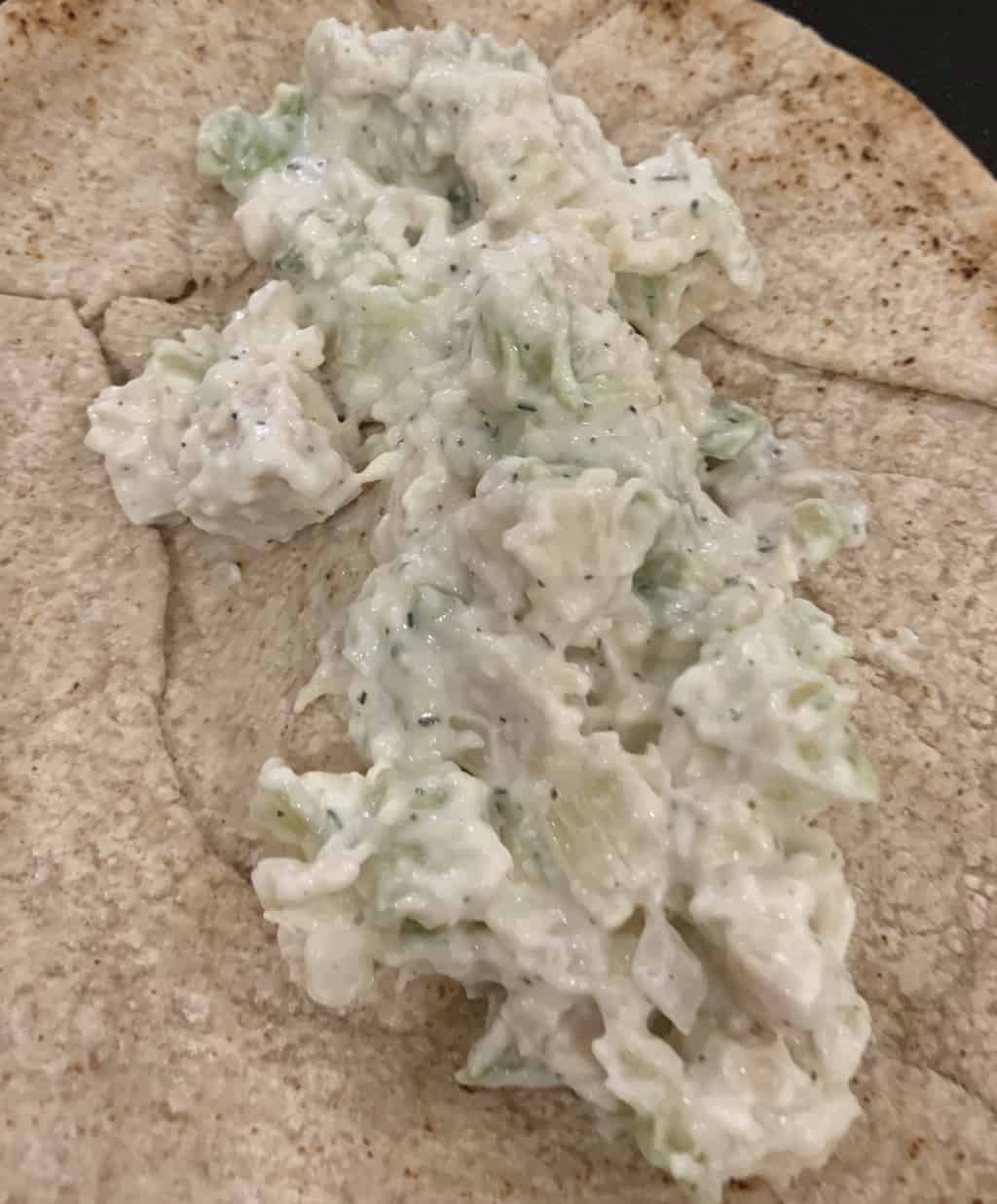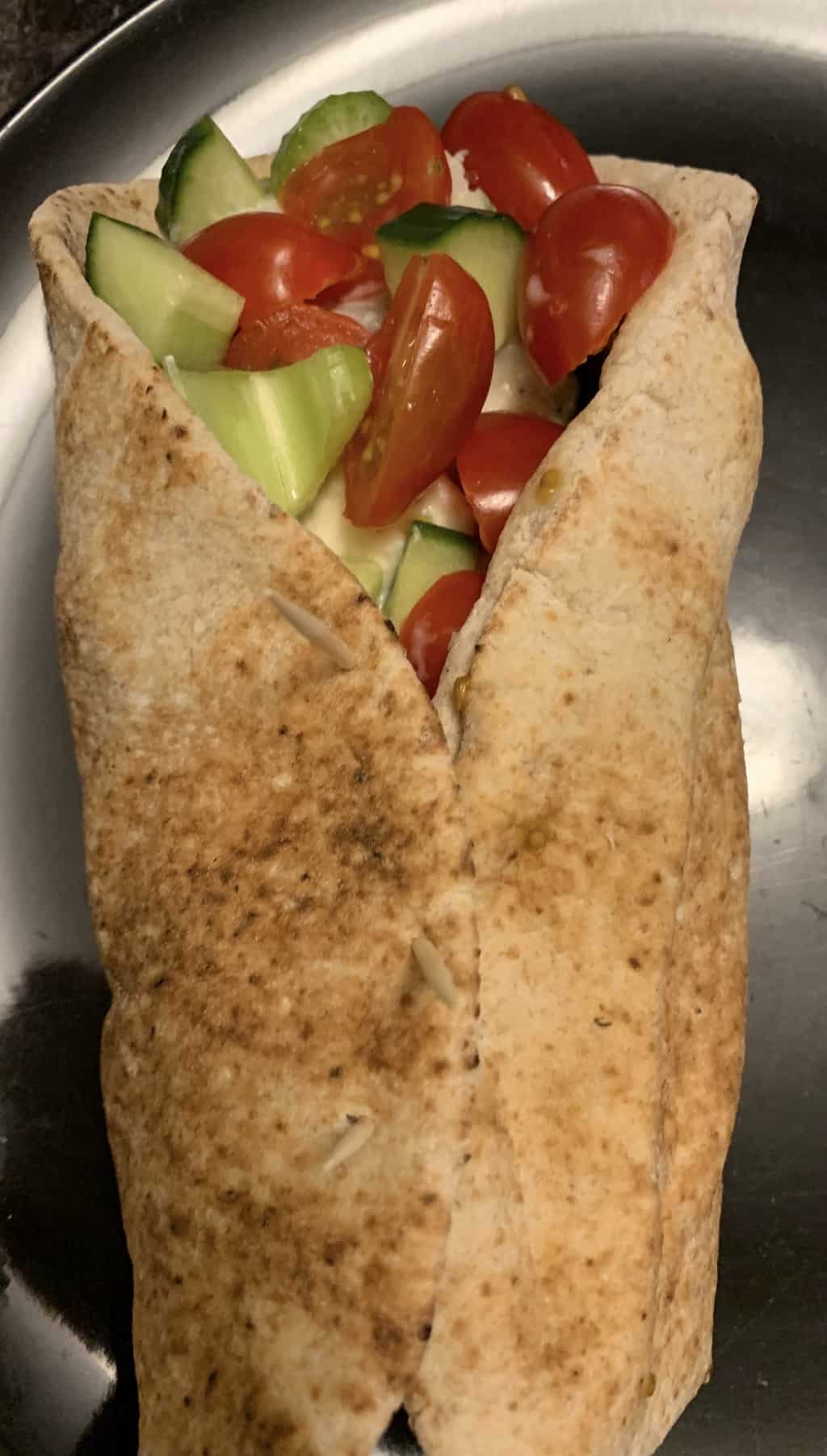 Cost
You get 8 individual little 113 gram containers of chicken salad for $14.99 Canadian. About $1.88 per cup. Honestly, I find this a little expensive and think you're mostly paying for convenience and packaging. You're not getting a ton of chicken in each cup and when I think about it, it would be much cheaper for me to buy the ingredients and make this myself. If you're looking for a cheaper alternative to the $10 sandwich you buy at work than obviously these would save you money.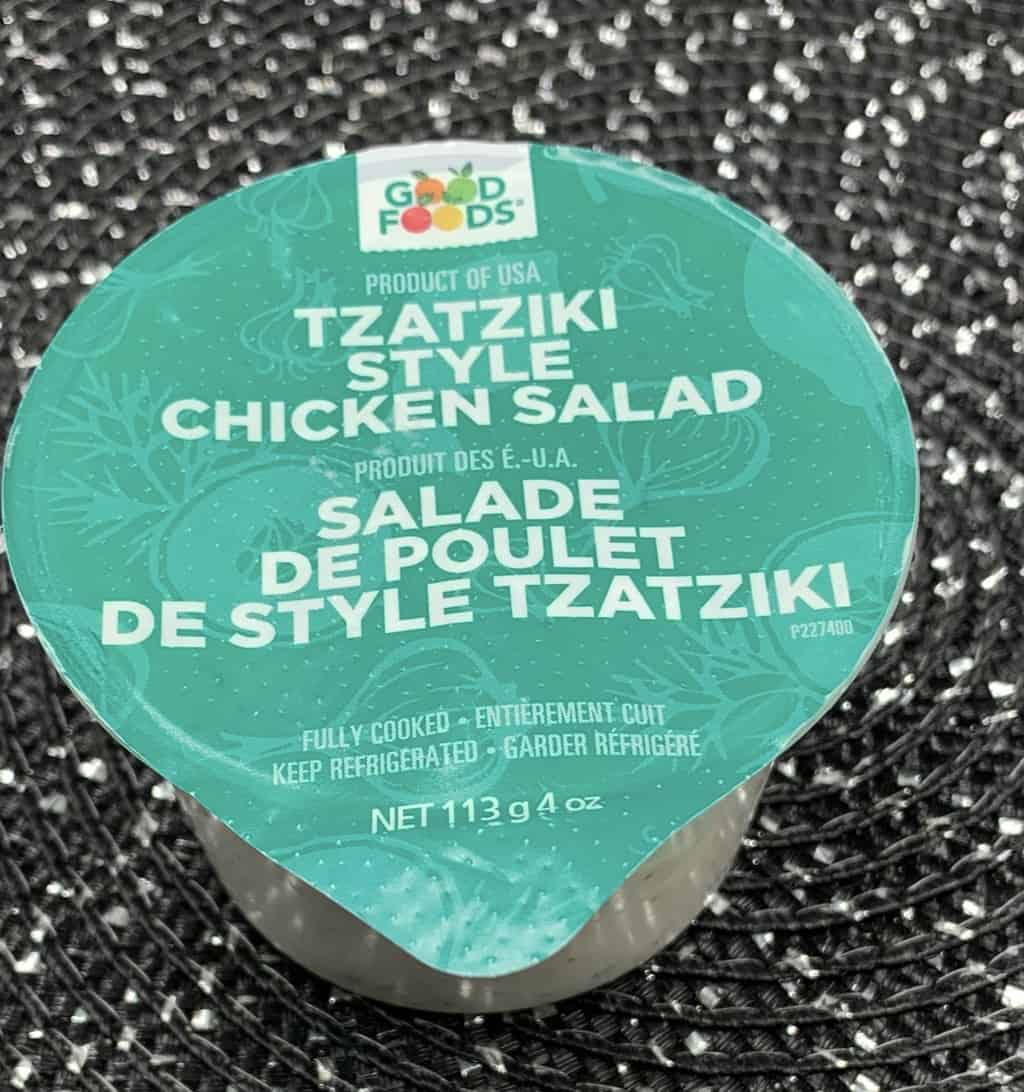 Convenience
Convenience is what lured me to buy the Good Food Tzatziki Style Chicken Salad. You can choose to eat this alone or as a sandwich, with crackers or maybe even used as a protein in a green salad. The best before date on the box was a month from the purchase date so it doesn't expire super quickly. The chicken salad comes conveniently packaged in a nice little cup, all you have to do is open the top. Super easy to transport for lunch or a snack.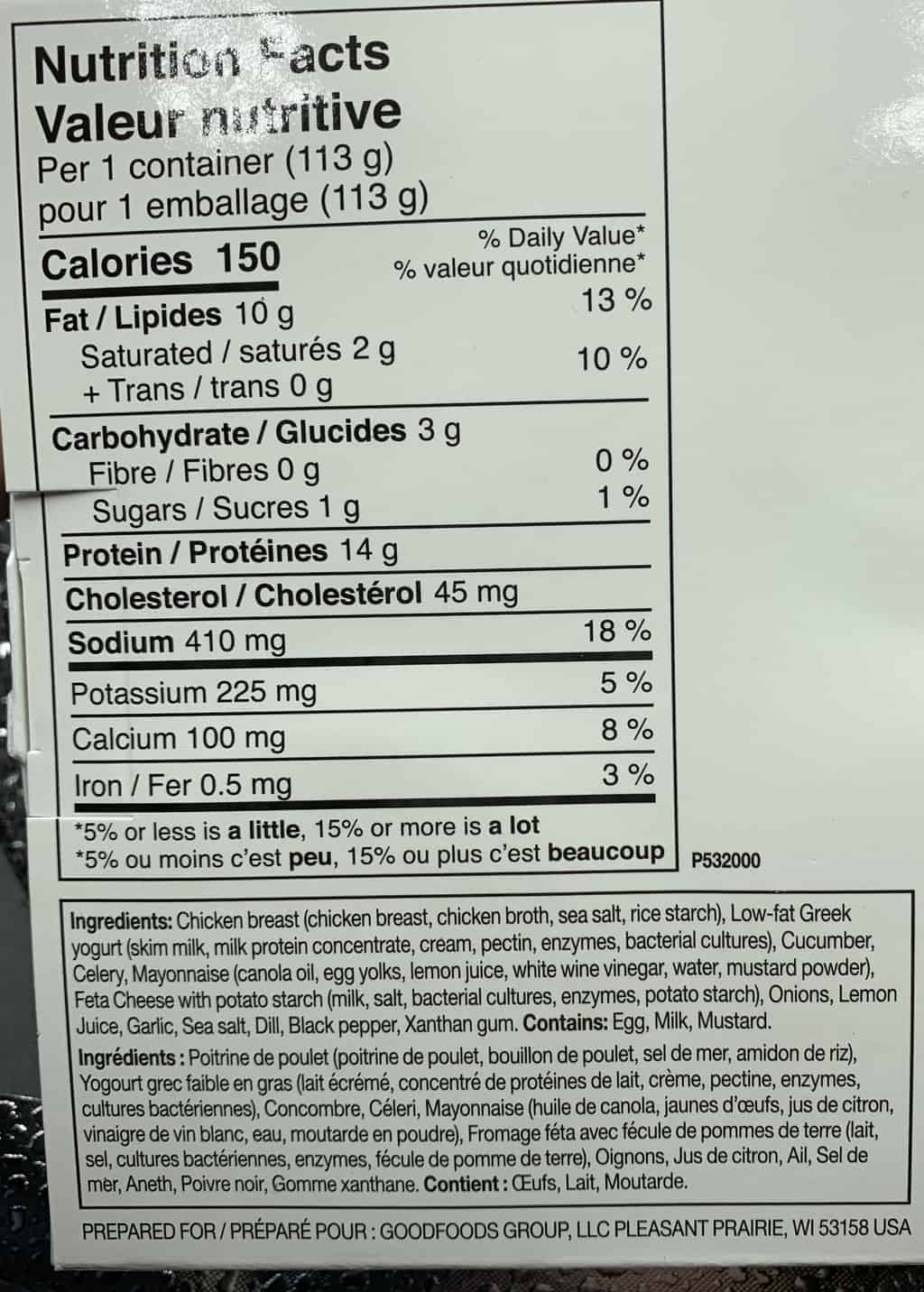 Nutrition
One container of the GoodFoods Tzatziki Style Chicken Salad is 150 calories, 10 grams of fat, one gram of sugar, 410mg of sodium and 14 grams of protein. Definitely a little high in fat and sodium but low in calories. I'd say there's a reasonable amount of protein but not as much as I'd like to see for chicken salad.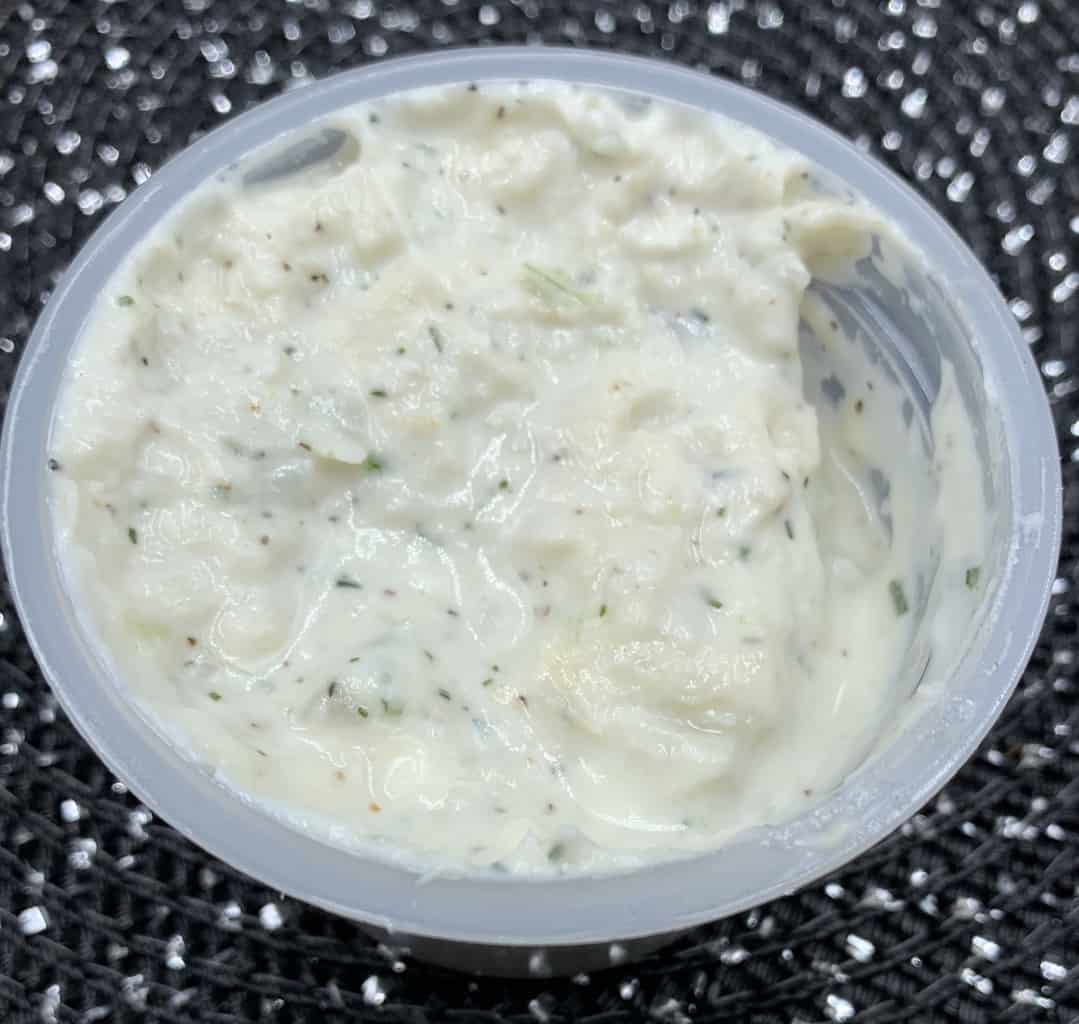 I'll be able to finish this pack up when I want another easy, quick dinner but will not be repurchasing this product. It didn't wow my taste buds and I find it a little bit on the expensive side.
Taste: 5.5/10
Cost: 5/10
Convenience: 10/10
Nutrition: 7.5/10
What's your favorite – chicken, egg or tuna salad? Do you have your own homemade chicken salad recipe you'd like to share?