I'm not a big fan of fall, but I sure love Halloween! Decorations and costumes are great, but Halloween candy might be my favorite part of the holiday. I don't know why, but somehow the miniature versions of chocolate bars seem to taste better than the full-size versions. If you have trouble making your Halloween candy last until the actual day or you need to get ready for a ton of trick-or-treaters, Costco has you covered with its huge bags of Kirkland Signature Halloween candy. The Funhouse Treats bag is available in both Canada and the U.S. and is full of different kinds of candy. For chocolate fans, Canada has the Treatsize Favourites pack and the U.S. has the All Chocolate pack. What kinds of candy and chocolate bars come in these bags? Is it a better deal than buying your Halloween candy elsewhere? Read on to find out!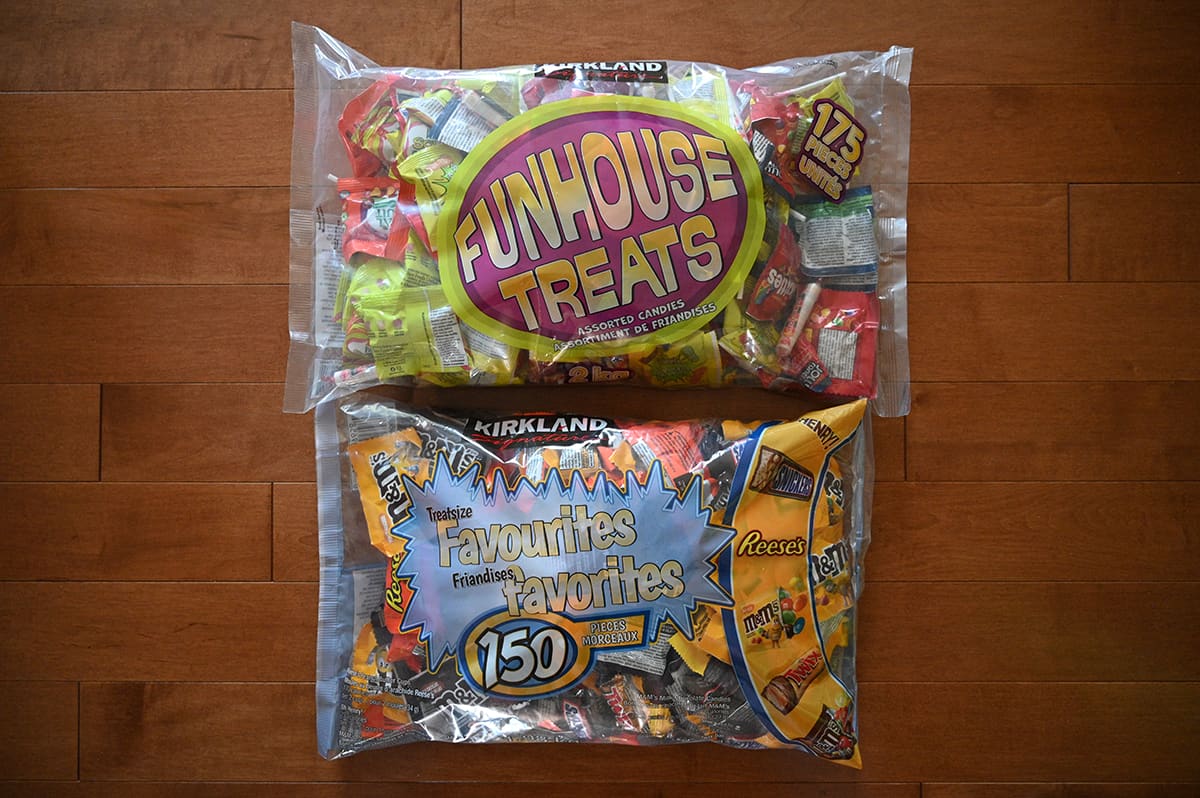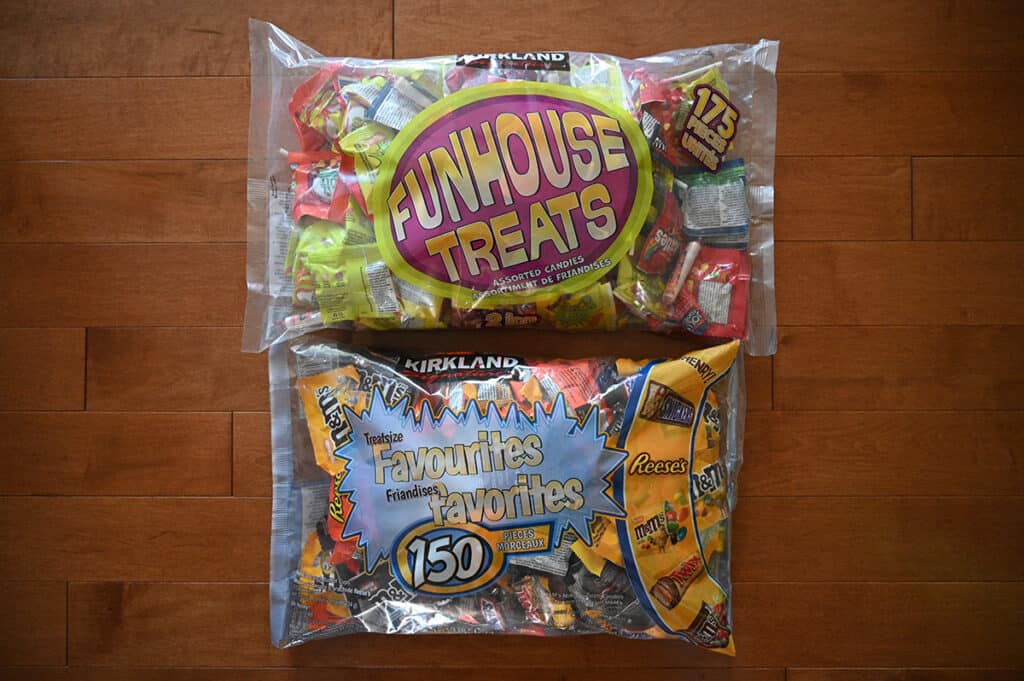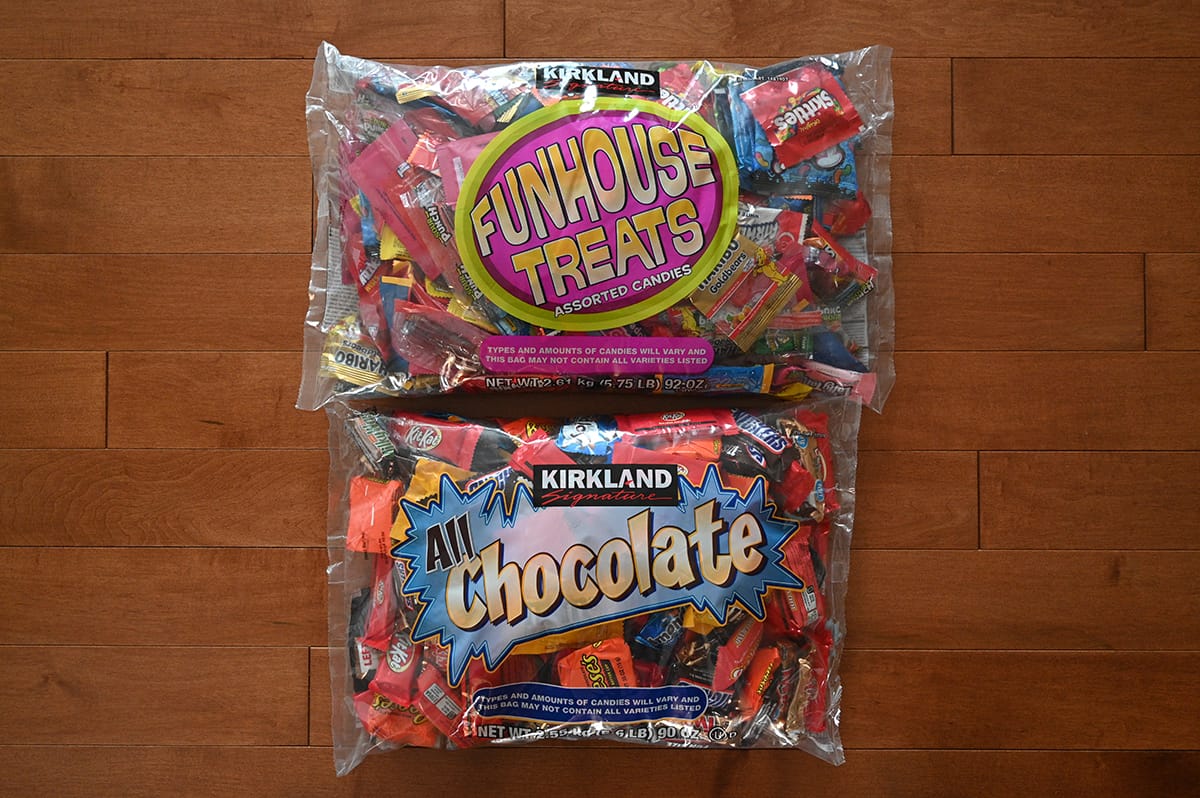 Location in store
The Canadian Halloween candy is located in the seasonal aisle at the back of the store, near the Halloween decorations. The item number for the Funhouse Treats in Canada is 6764440 and the item number for the Treatsize Favourites is 4466644.
The USA holiday candy is located in the seasonal aisle as well. The item number for the Funhouse Treats is 1481907 and the All Chocolate is 107979.
What comes in Costco's assorted Halloween Candy?
Kirkland Signature Funhouse Treats (Canadian)
In the Kirkland Signature Funhouse Treats bag, there is a variety of sweet hard candy and gummies. There isn't any chocolate. This is a great bag if you'd like to offer only peanut-free treats.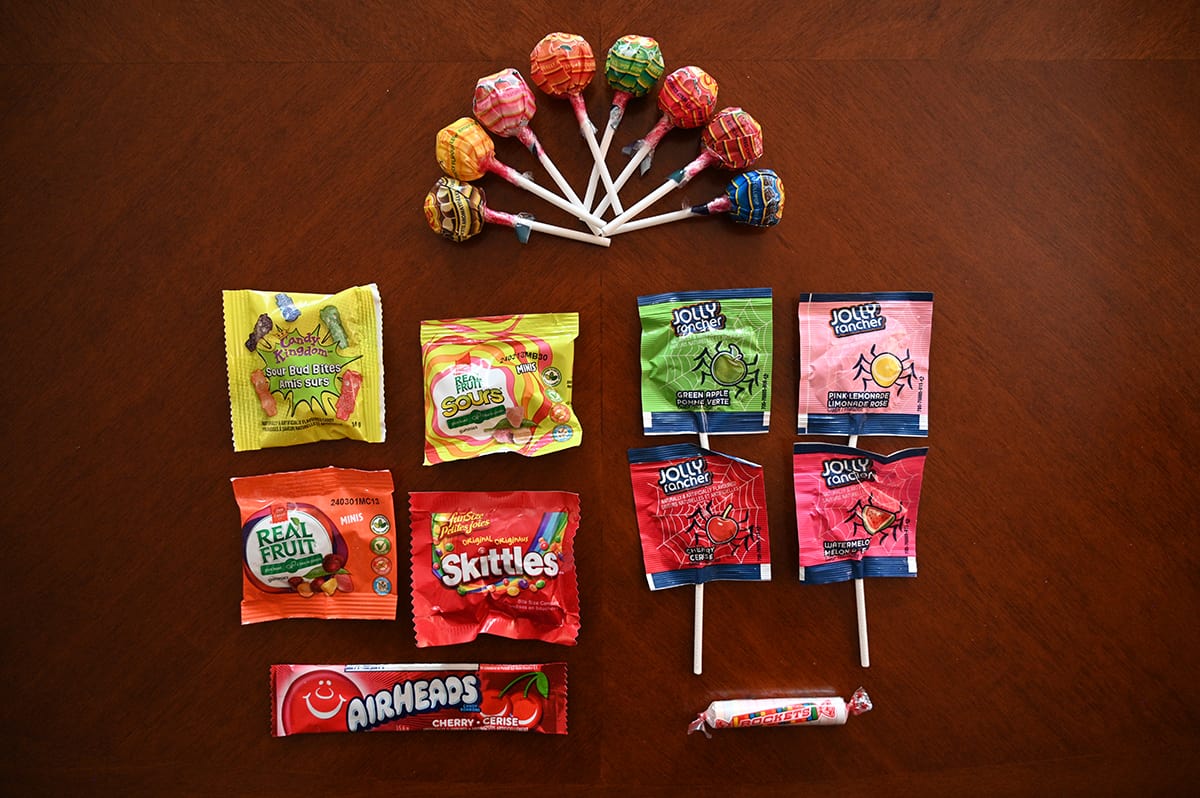 Chupa Chups lollipops
These are individually wrapped lollipops in a variety of flavors like orange, cola and strawberry! I loved these growing up.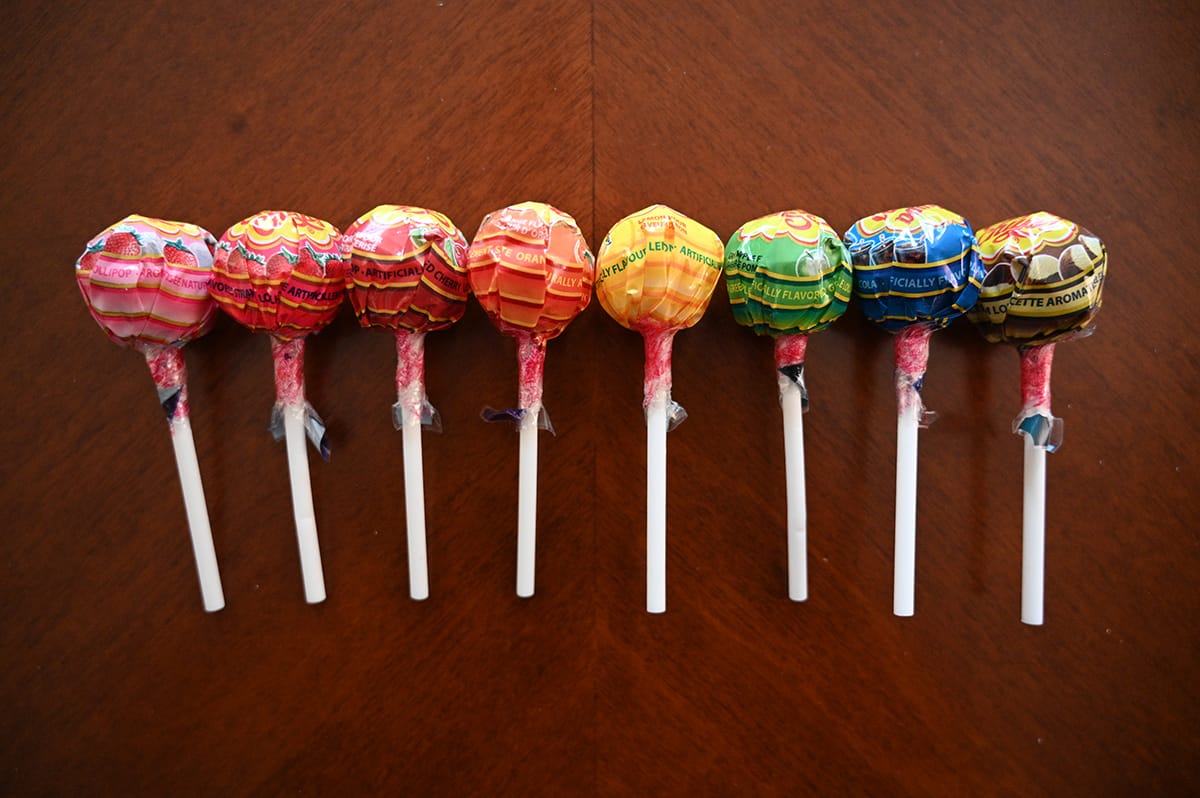 Jolly Rancher lollipops
These are fruity and flavorful hard lollipops that come in four flavors. Pink lemonade, watermelon, cherry and green apple.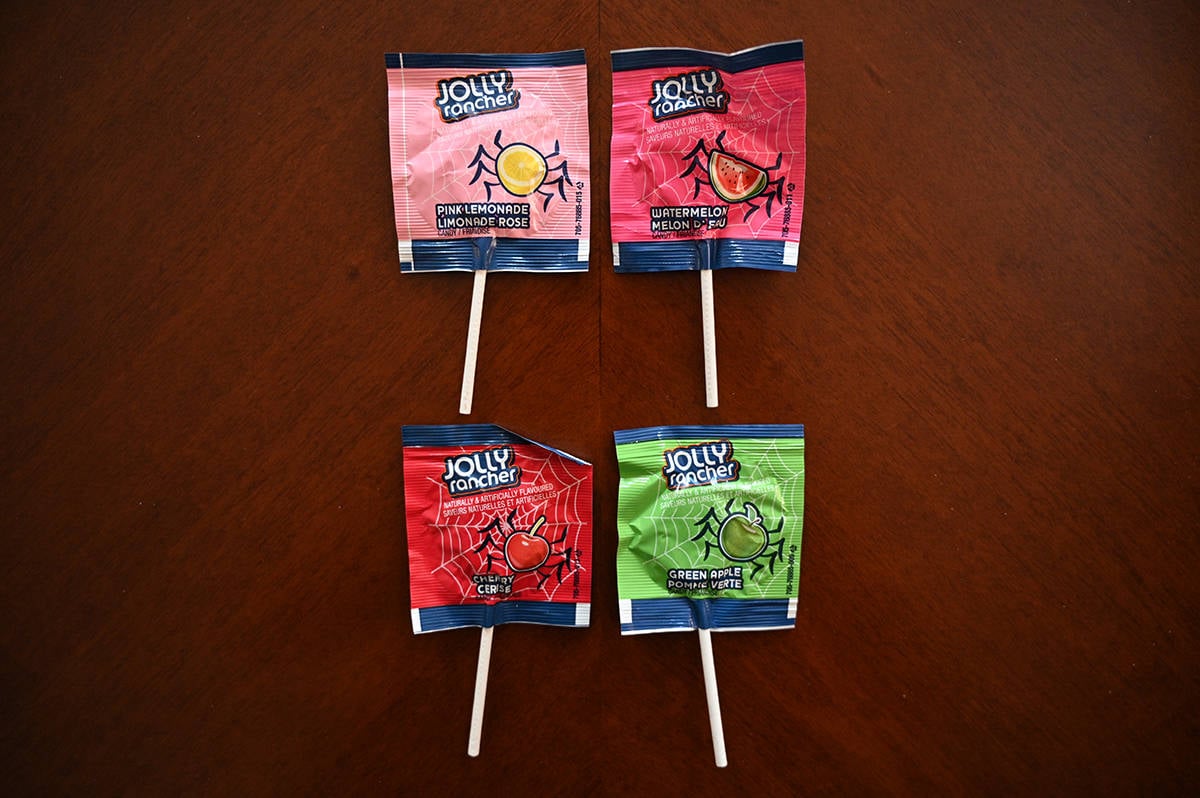 Rockets
Basically sugar but in a small tablet form that turns to powder when you chew them. They apparently are different flavors but they all taste the same to me and I despised getting these as a kid. These small tablets are potentially a choking hazard for wee ones.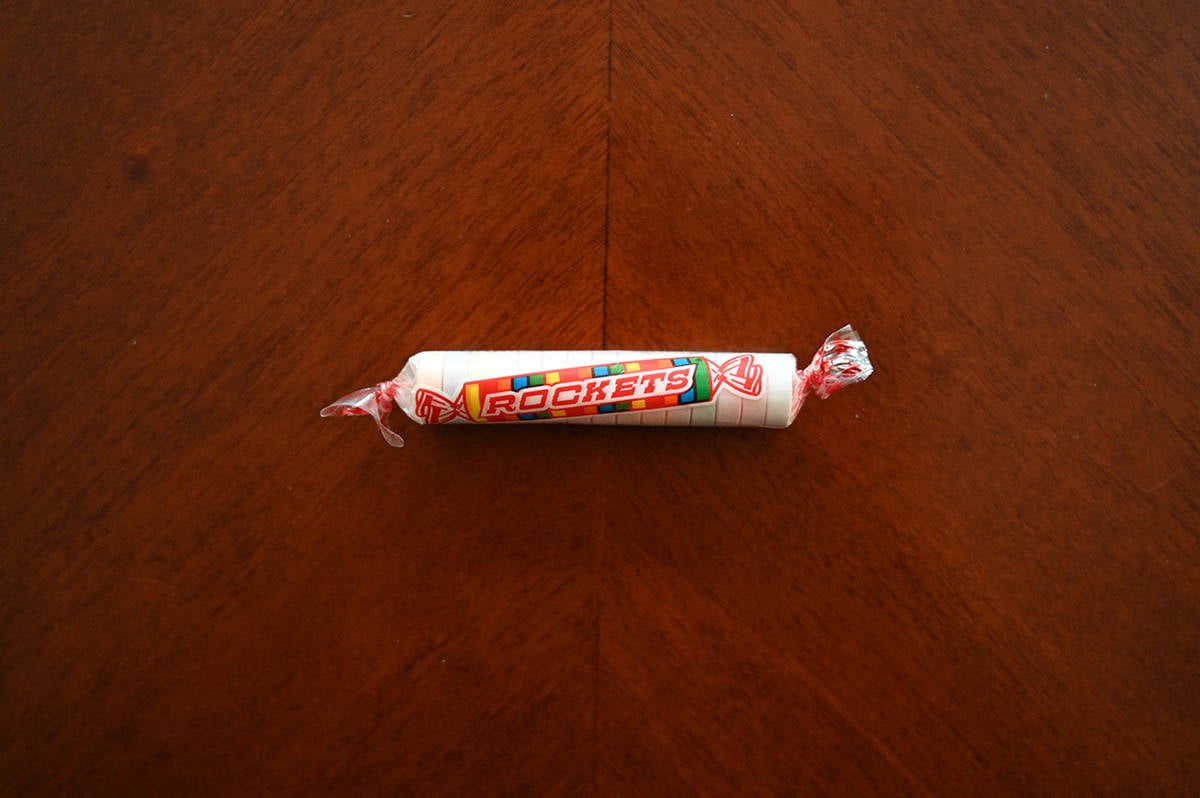 Real Fruit Minis
Tiny bite-size gummies made without any animal gelatin so they're vegan. They come in a variety of fruity flavors. I wouldn't offer these to super little ones because they're a choking hazard.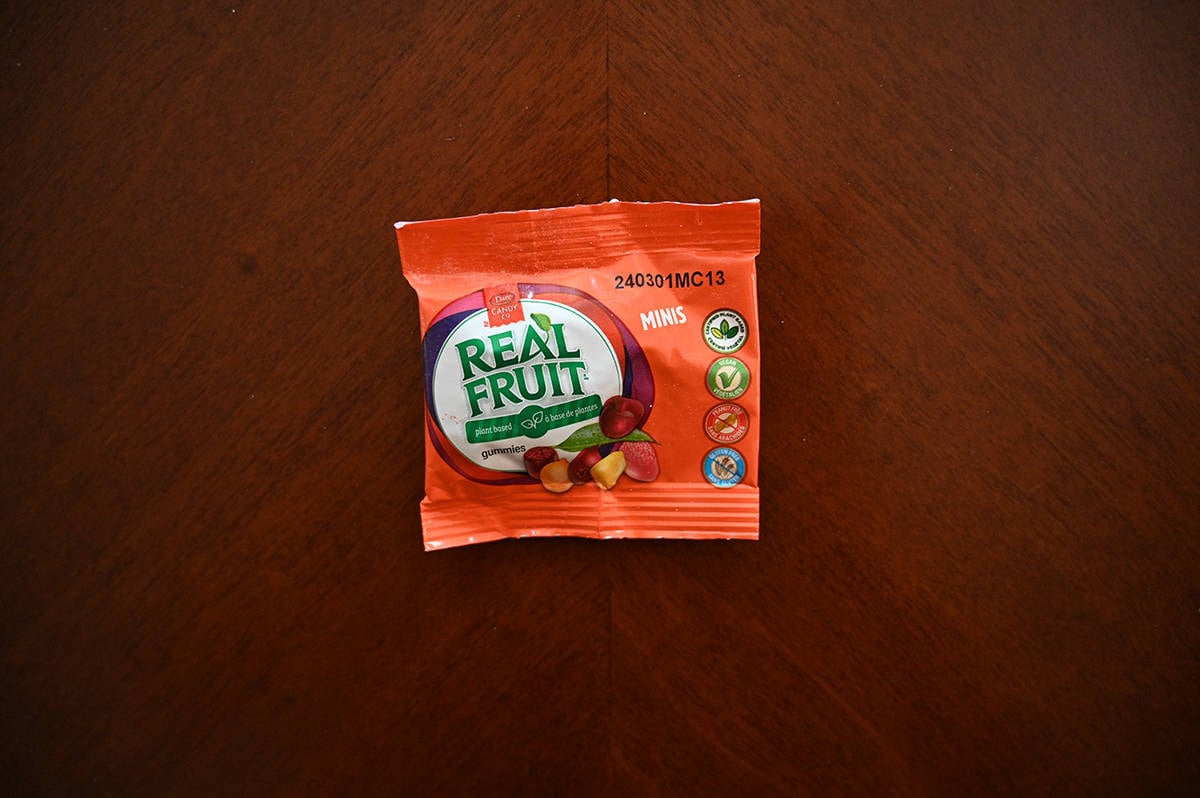 Airheads
These are a chewy, soft and fruity candies with a texture similar to taffy. They come in cherry flavor.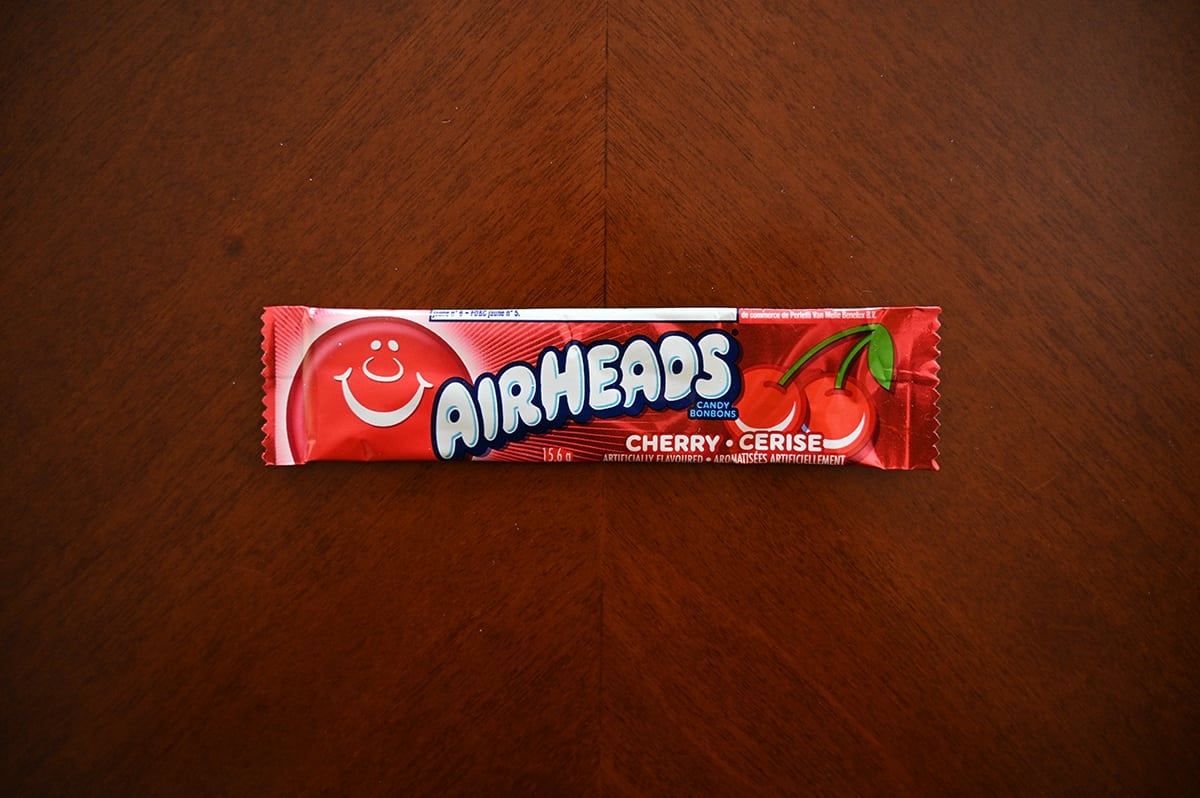 Skittles
Fruity small round candies with a hard shell and a soft center. Skittles come in a variety of fruity flavors like grape, orange and lemon. Also a choking hazard.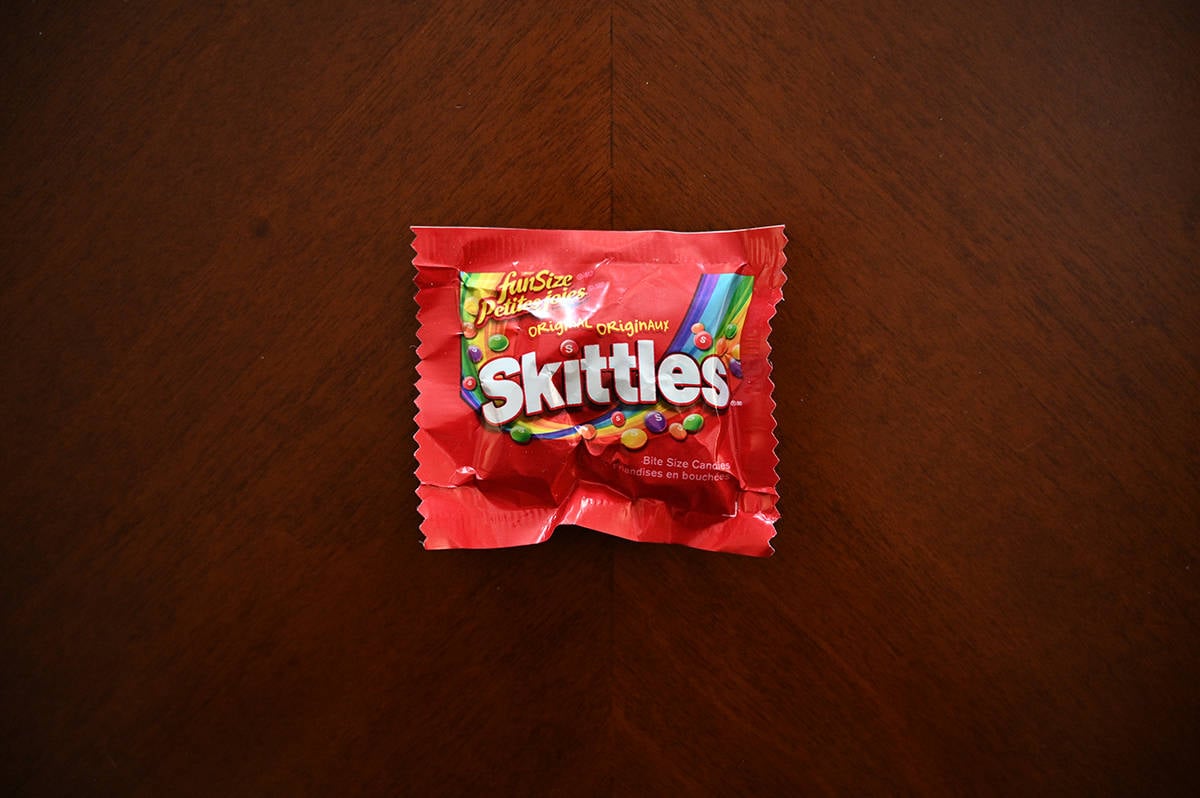 Real Fruit Sours
Sour and sweet vegan gummies that come in three different citrus flavors in the pack. Also a choking hazard for toddlers and young ones.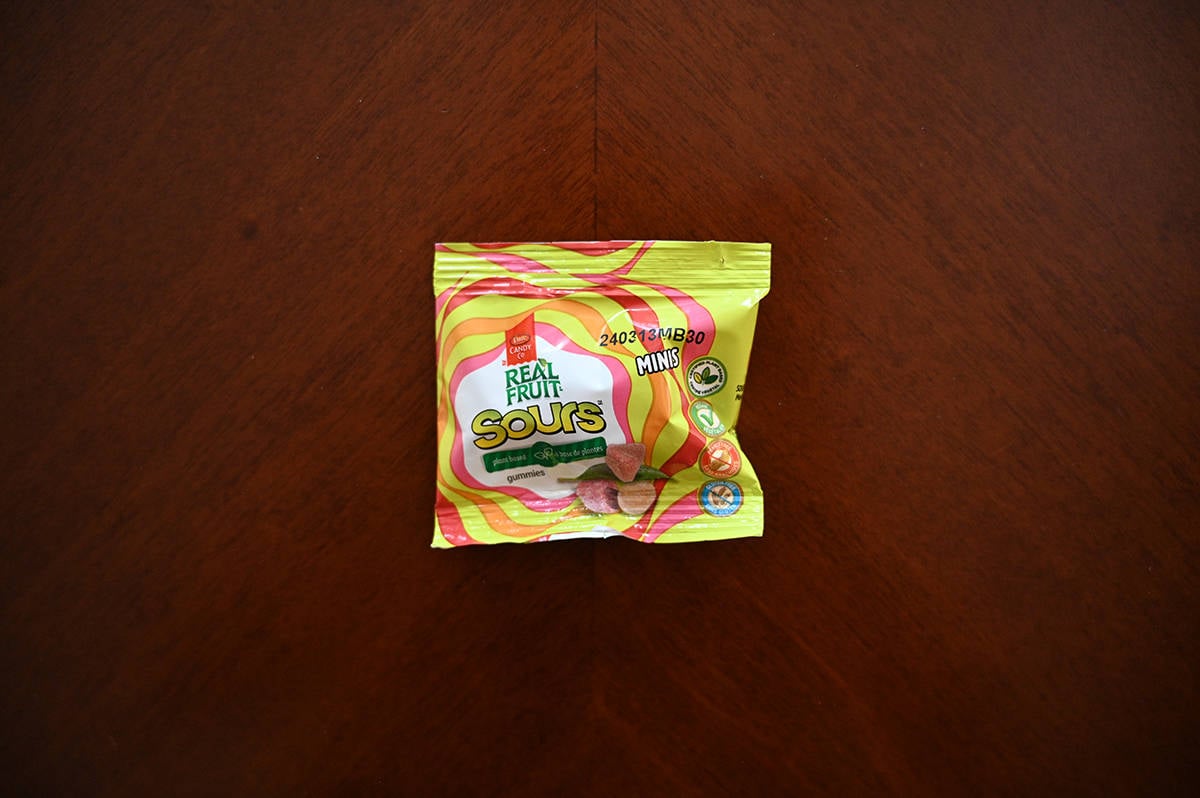 Candy Kingdom Sour Bud Bites
Sour and sweet candies that are shaped like little people that come in a variety of flavors. They're a choking hazard for toddlers.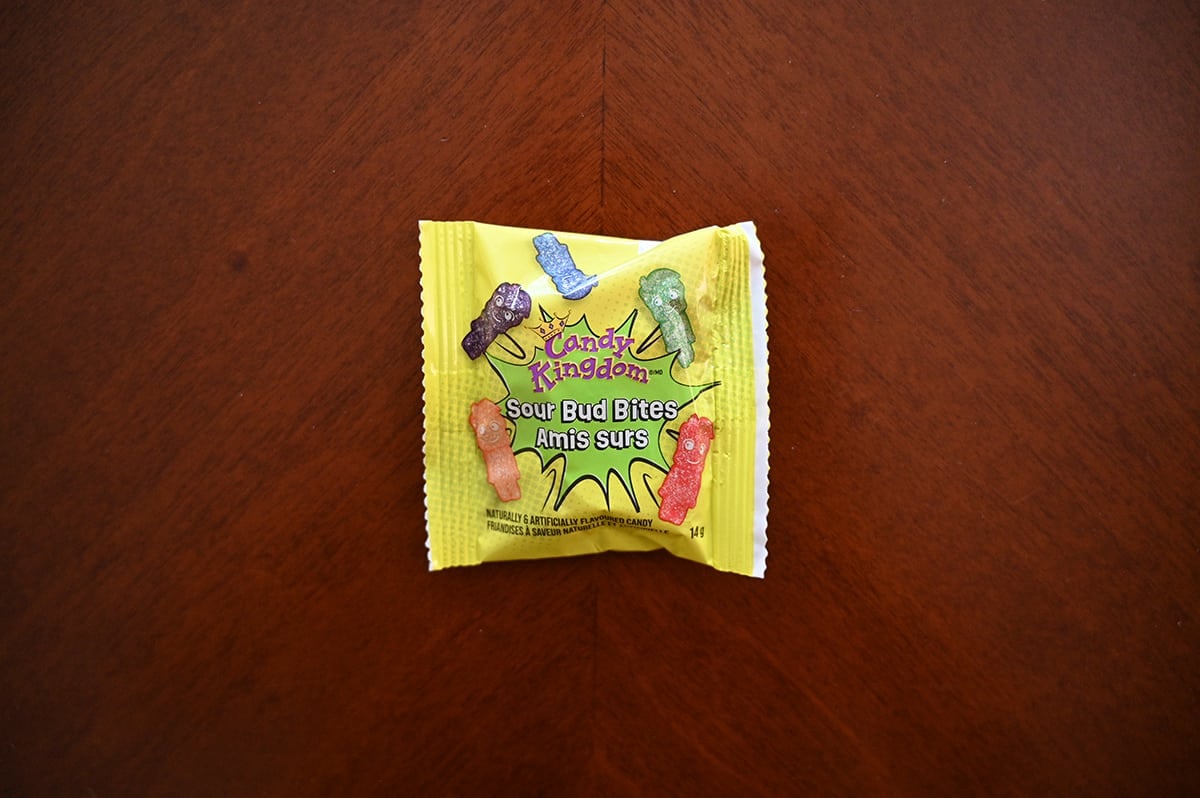 Kirkland Signature Treatsize Favourites (Canadian)
I prefer this Treatsize Favourites Bag over the Funhouse Treats, probably because I don't like sweet candy. I'm definitely a chocolate girl. This bag isn't nut-free though like the candy is though. Also, after seeing the American All Chocolate chocolate bars, the Canadian versions look tiny! Shrinkflation seems to be hitting Canada harder than the U.S. when it comes to Halloween candy.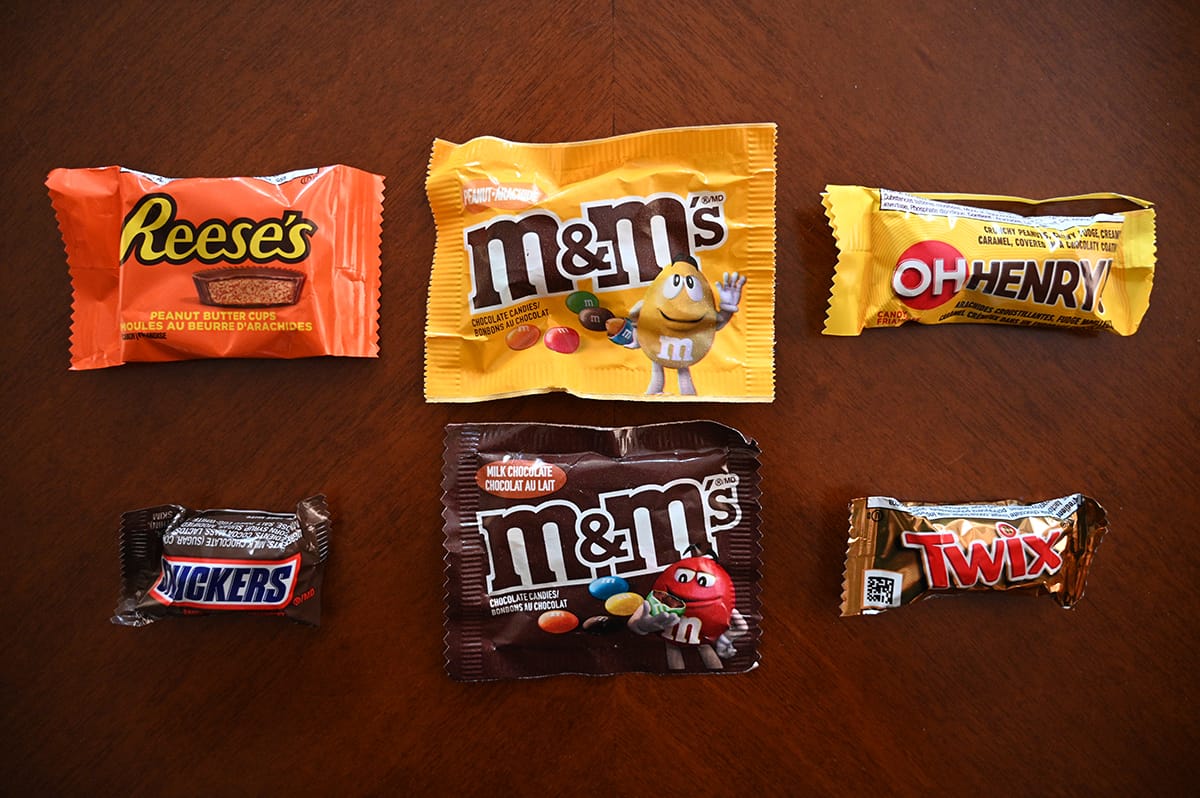 Peanut M&M's
Round candy-coated chocolates with a peanut center. These are also considered a choking hazard and could be a major allergen for some kids,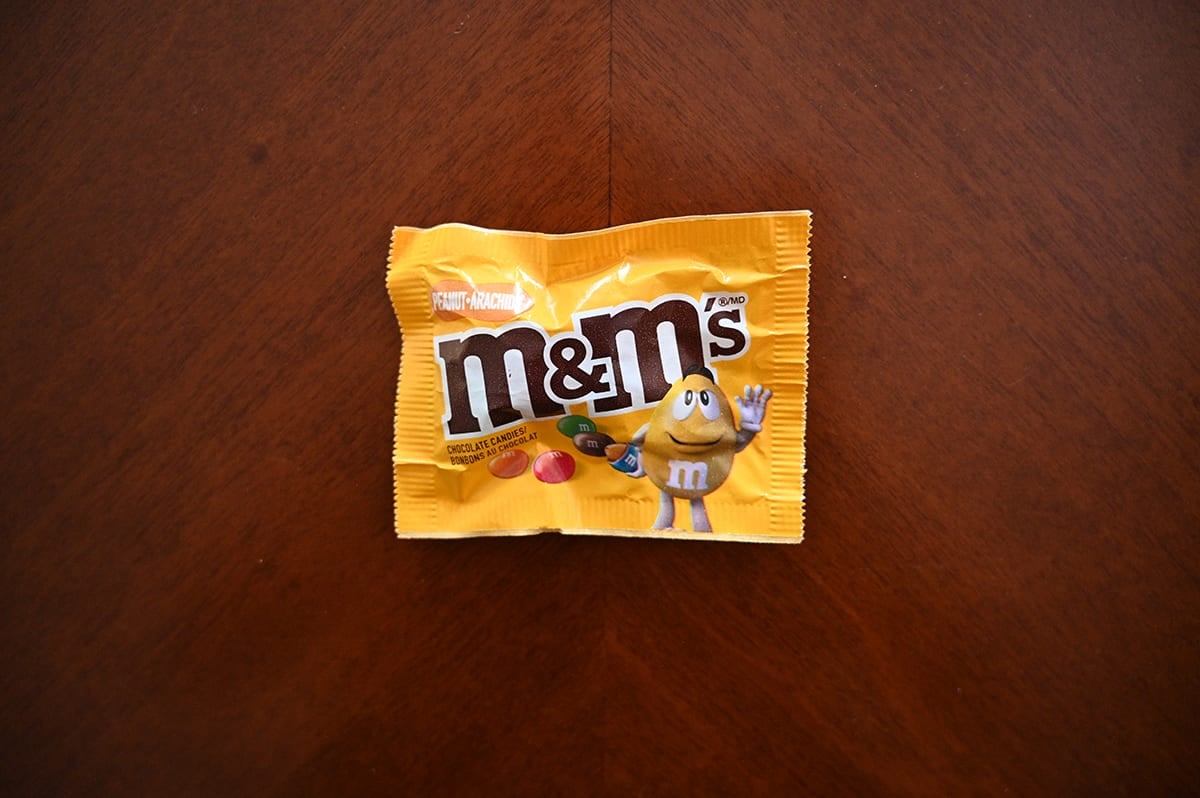 Milk Chocolate M&M's
Candy-coated milk chocolate with a m printed on each button-shaped candy. I also would be cautious as these could be a choking hazard.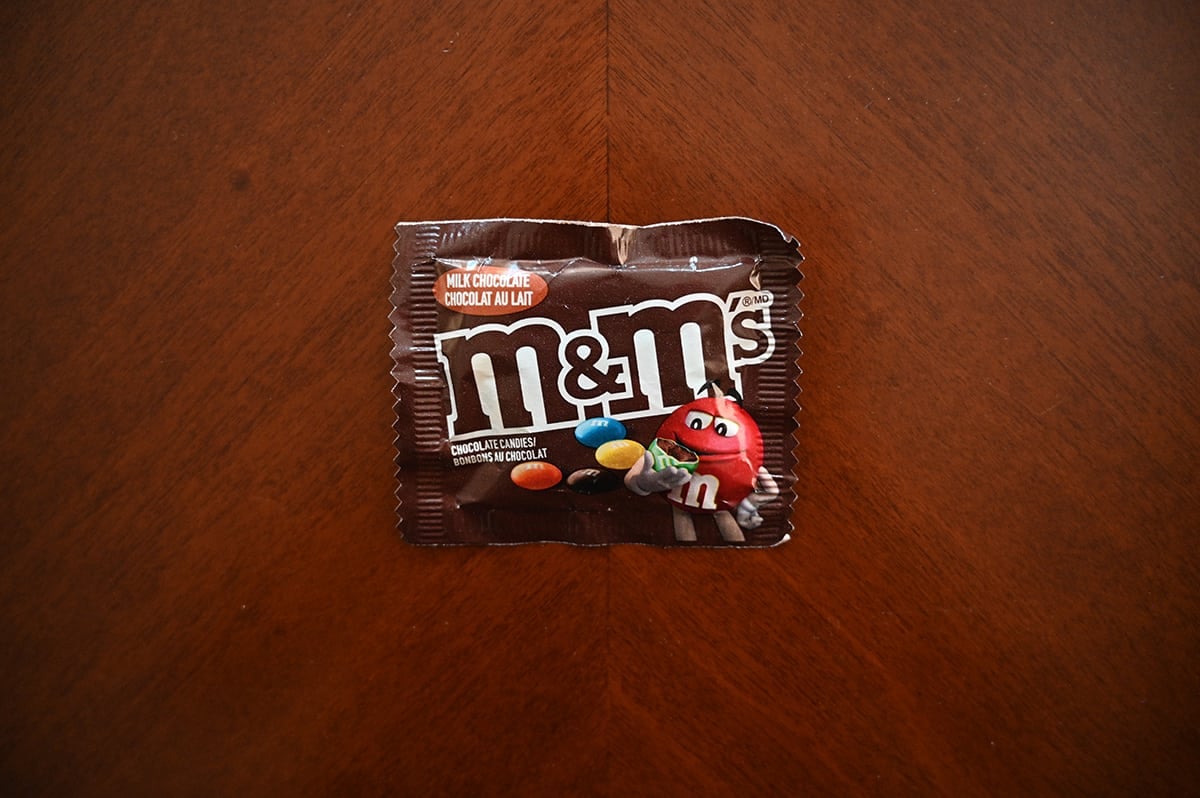 Oh Henry!
A candy bar containing chocolate, peanuts, fudge and caramel. It's very chewy and sticky. It could be considered a choking risk as well as it contains peanuts.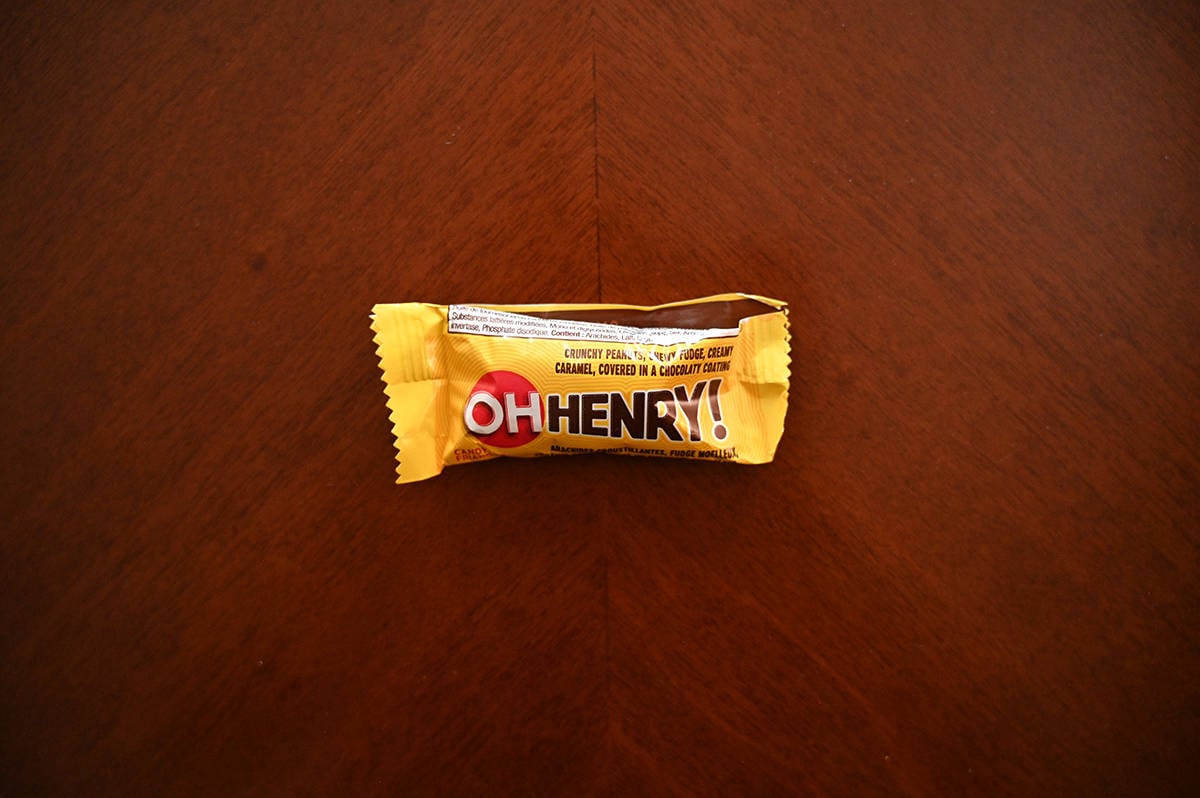 Twix
I've always liked Twix. It's a shortbread biscuit with a layer of caramel on top coated in chocolate. It's a nice combination of crunchy and chewy.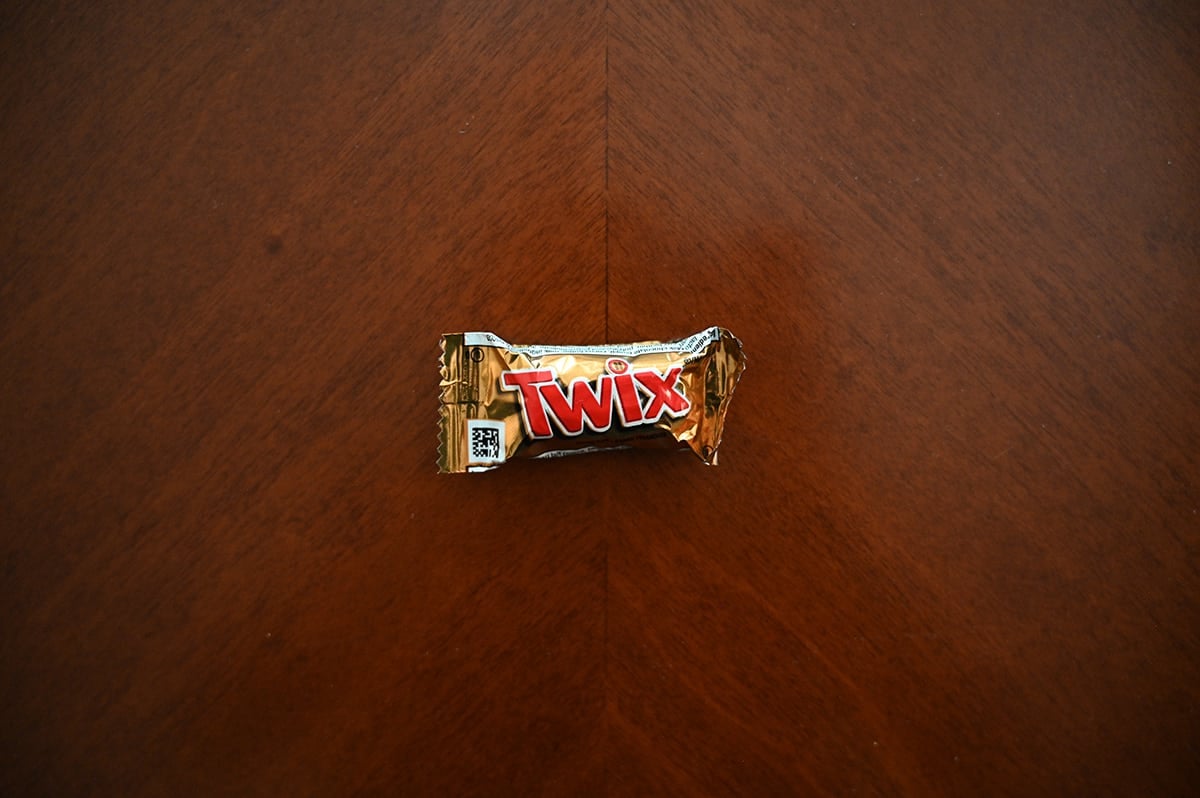 Reese's Peanut Butter Cups
The classic Reese's Peanut Butter Cup! A peanut butter filling coated in Hershey's chocolate that is loved by many. Contains peanuts.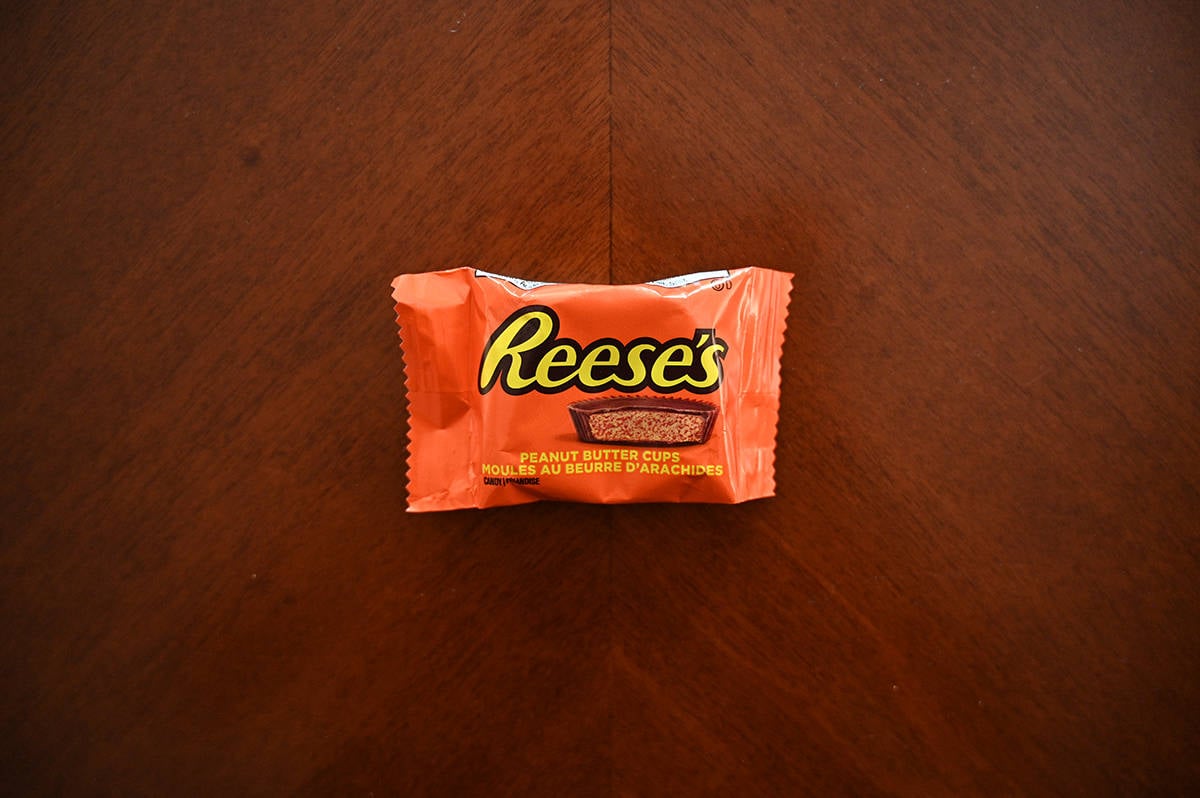 Snickers
A candy bar with a nougat center topped with caramel and peanuts and then coated in chocolate. These are quite chewy so can be considered a choking risk as well as Snickers contains the major allergen peanuts.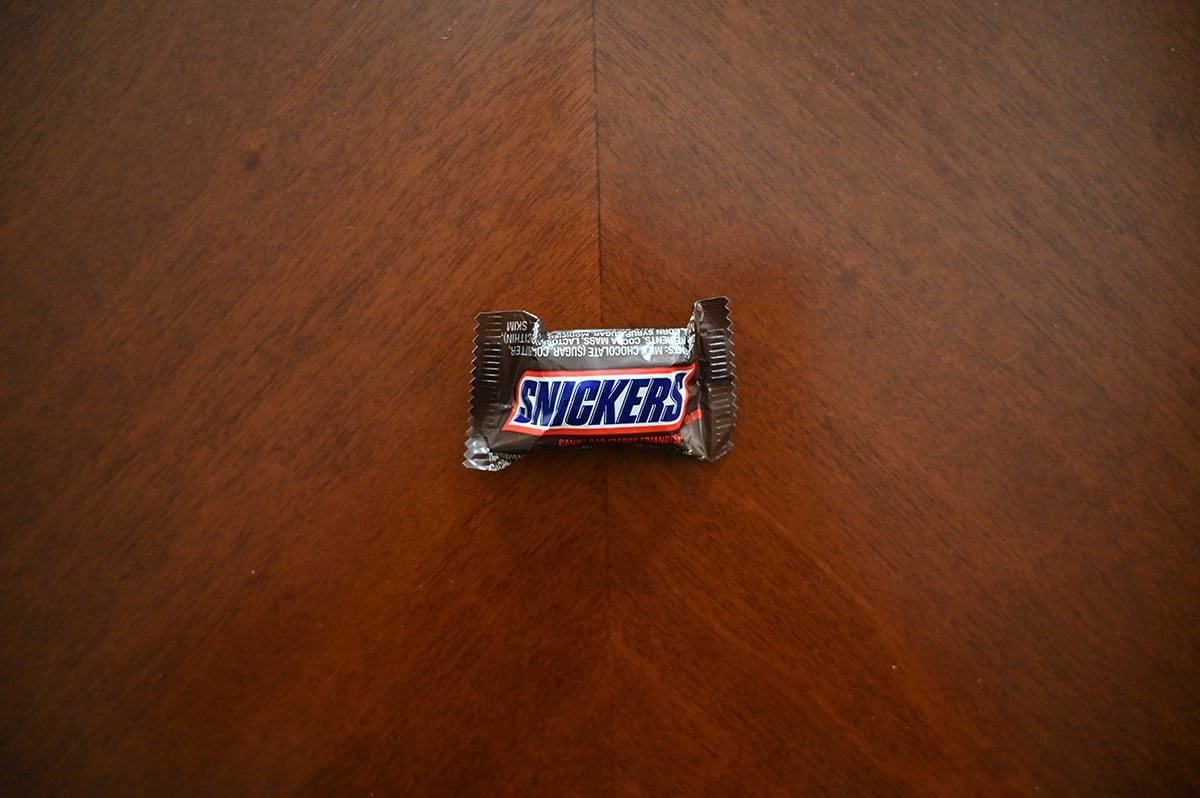 Kirkland Signature Funhouse Treats (United States)
Similar to the Canadian version, this bag has all different kinds of candy but no chocolate. There's a mix of hard candies and gummies. This bag has a ton of variety. I kept pulling out something new from the bag every time I reached in. My only complaint is how pretty much everything in the bag is a choking hazard for little ones.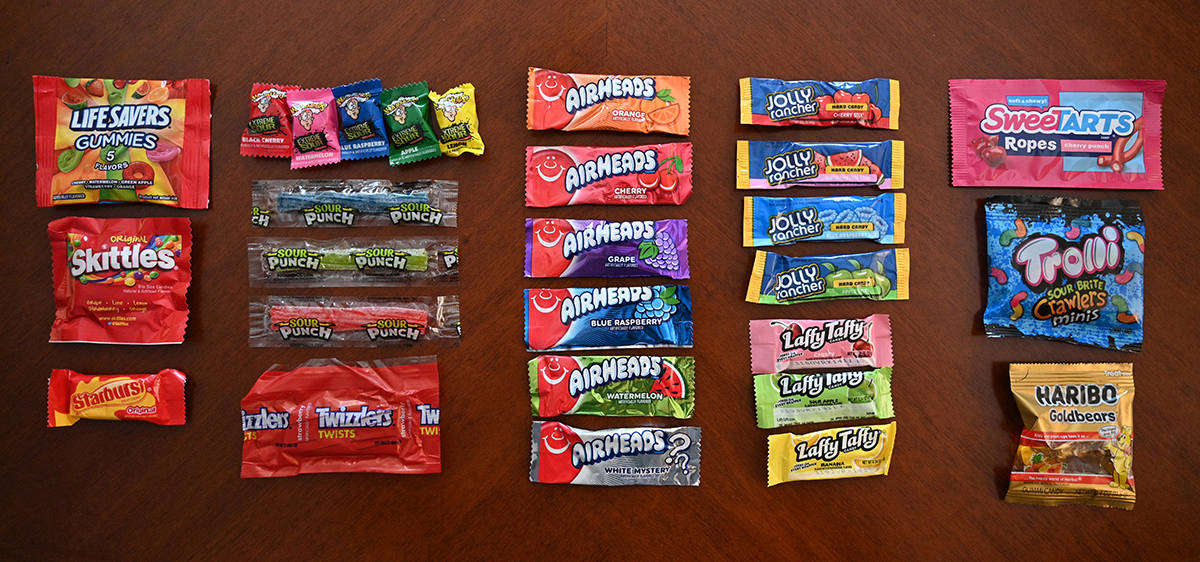 Skittles
Fruit flavored hard-shelled, soft-centered small round candies. Skittles come in fruity flavors and some parents avoid them due to the red dye.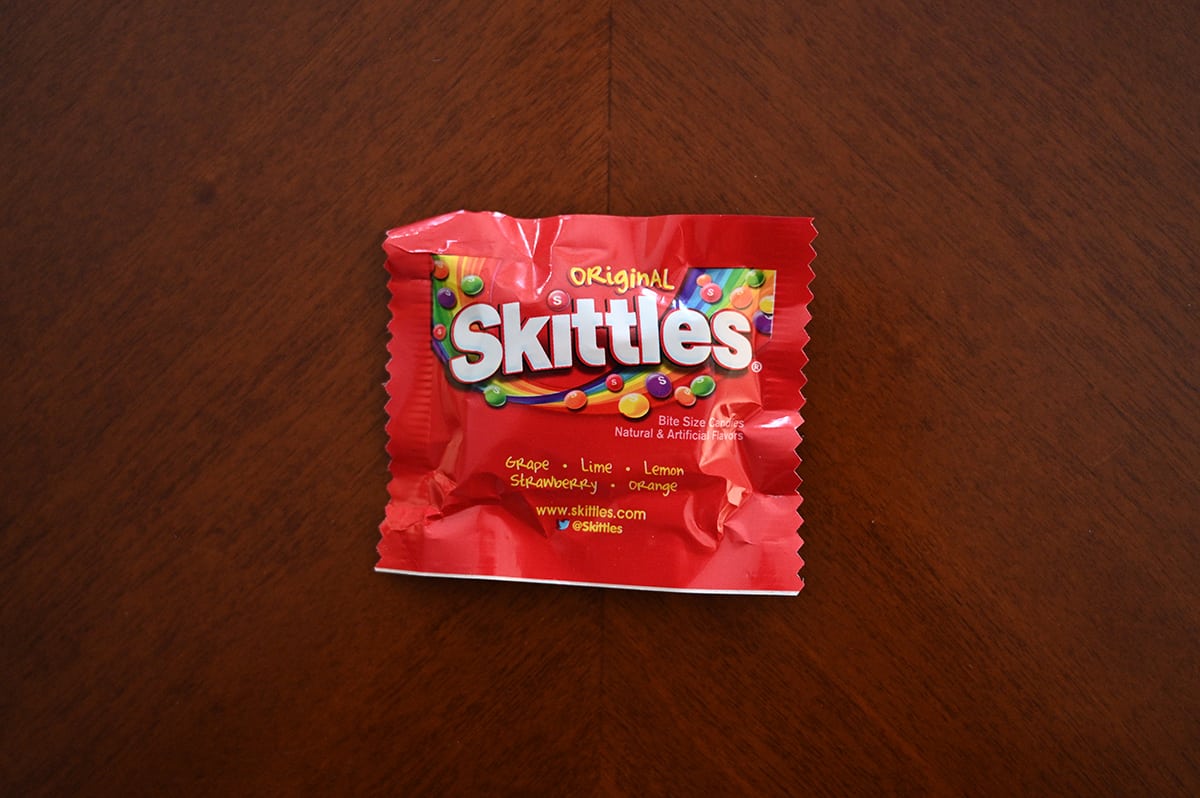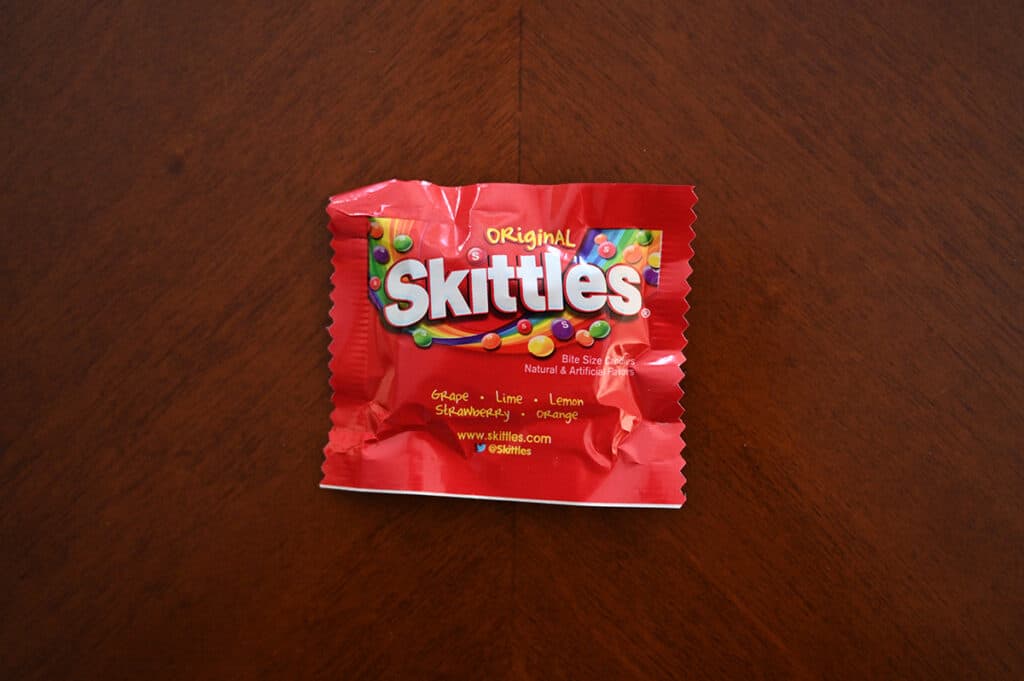 Warheads
These are an extremely sour hard candy that's loved by sour fanatics. I don't like them at all and would be disappointed to find these in my Halloween bag.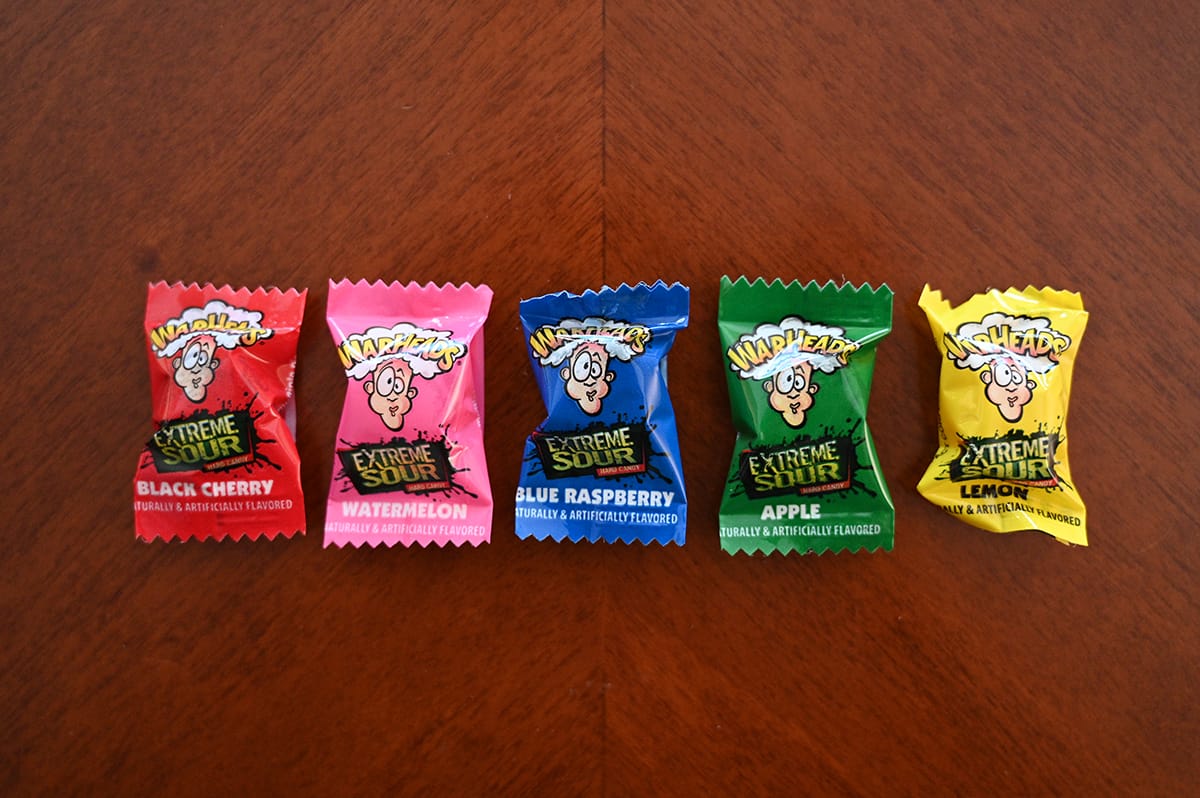 Airheads
The Canadian bag has only one flavor of Airheads while the USA bag has six different flavors of this chewy, soft, taffy-like candy.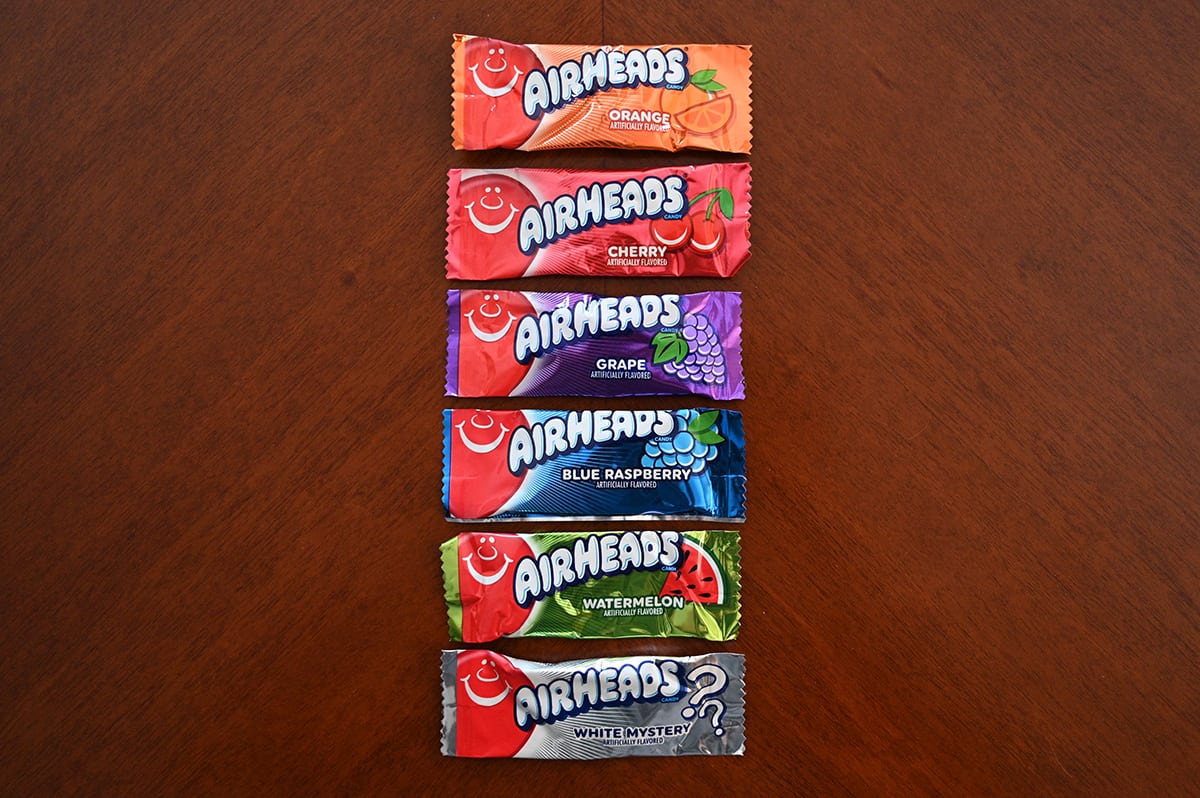 Starburst
Chewy, soft, square-shaped candies that come in lemon, orange, cherry and strawberry flavors.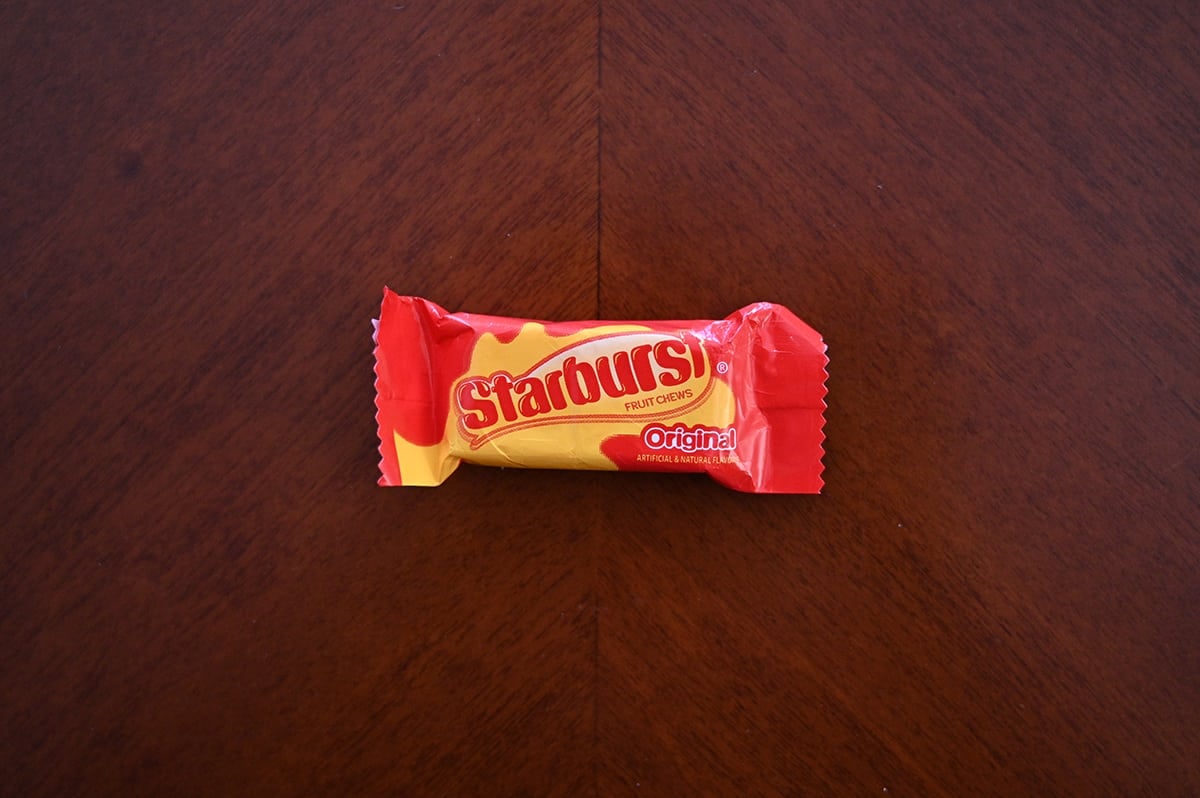 Jolly Rancher Stix
Individually wrapped Jolly Rancher candies that are long and thin. There are four flavors in the bag, cherry, watermelon, blue raspberry and apple.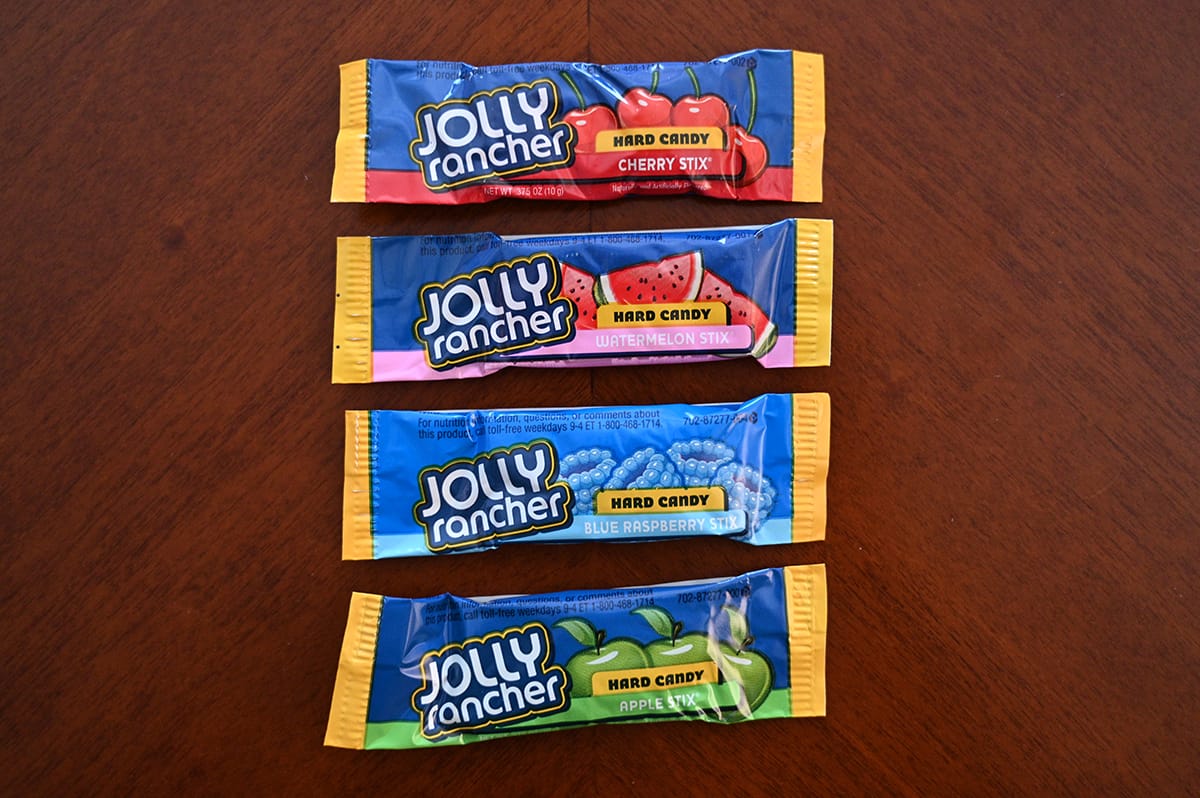 Sour Punch
Chewy, fruity and sour gummy candies that come in blue raspberry, cherry and apple.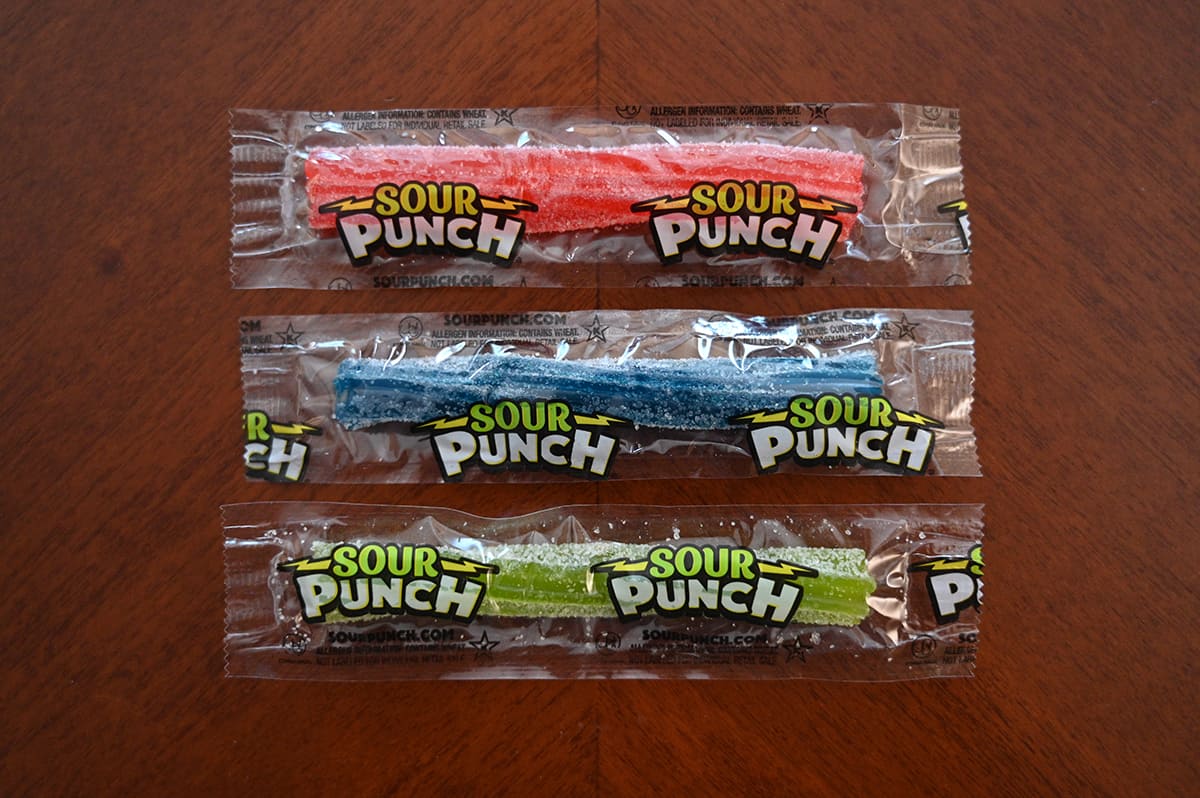 SweeTarts
Soft and chewy, sweet and sour candies that come in cherry punch flavor.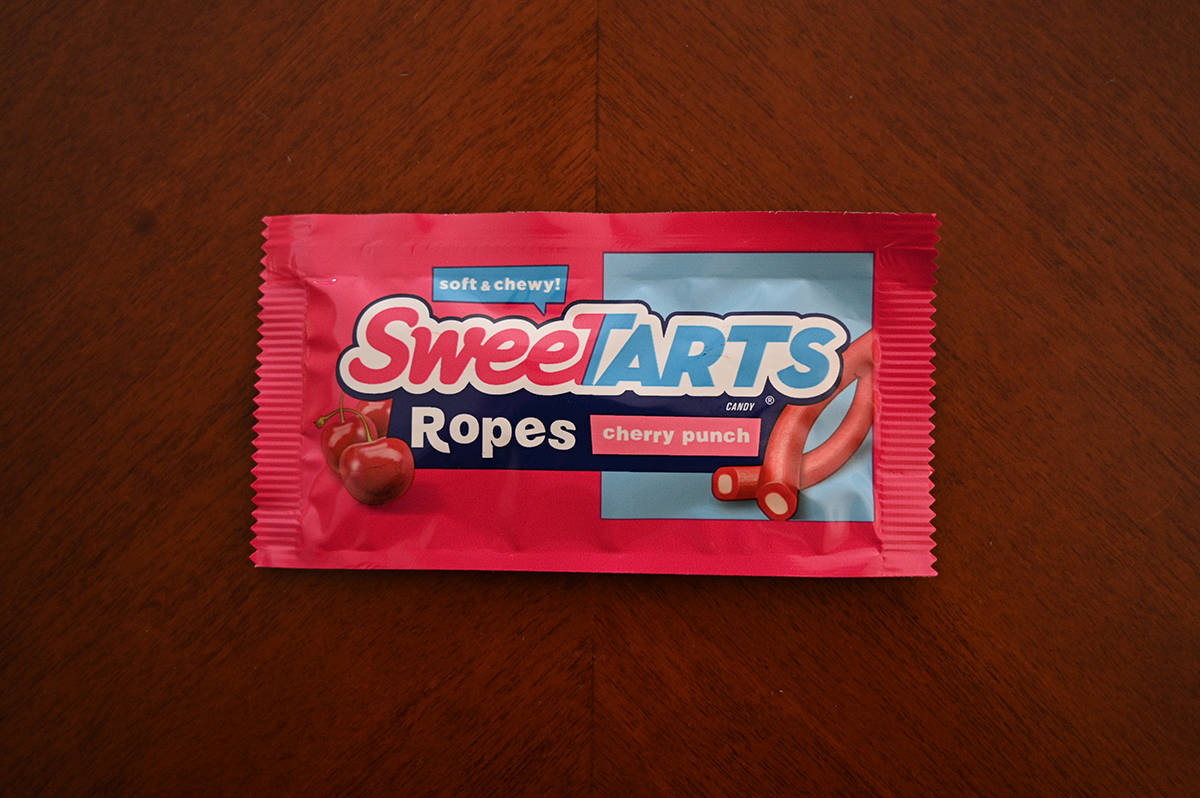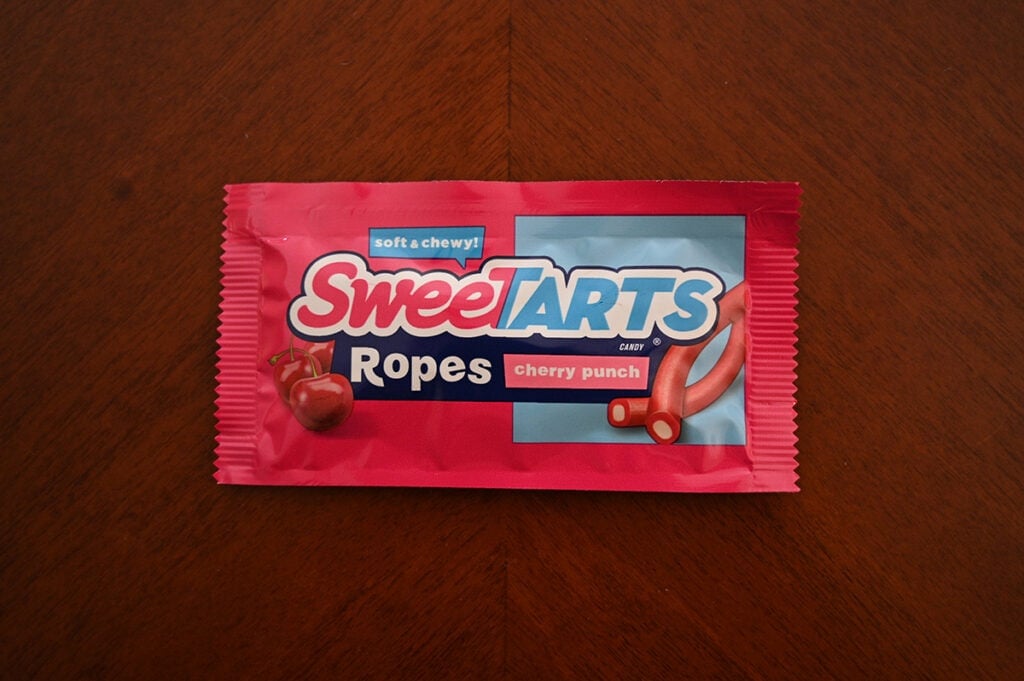 Twizzlers Twists
Strawberry flavor twisted licorice.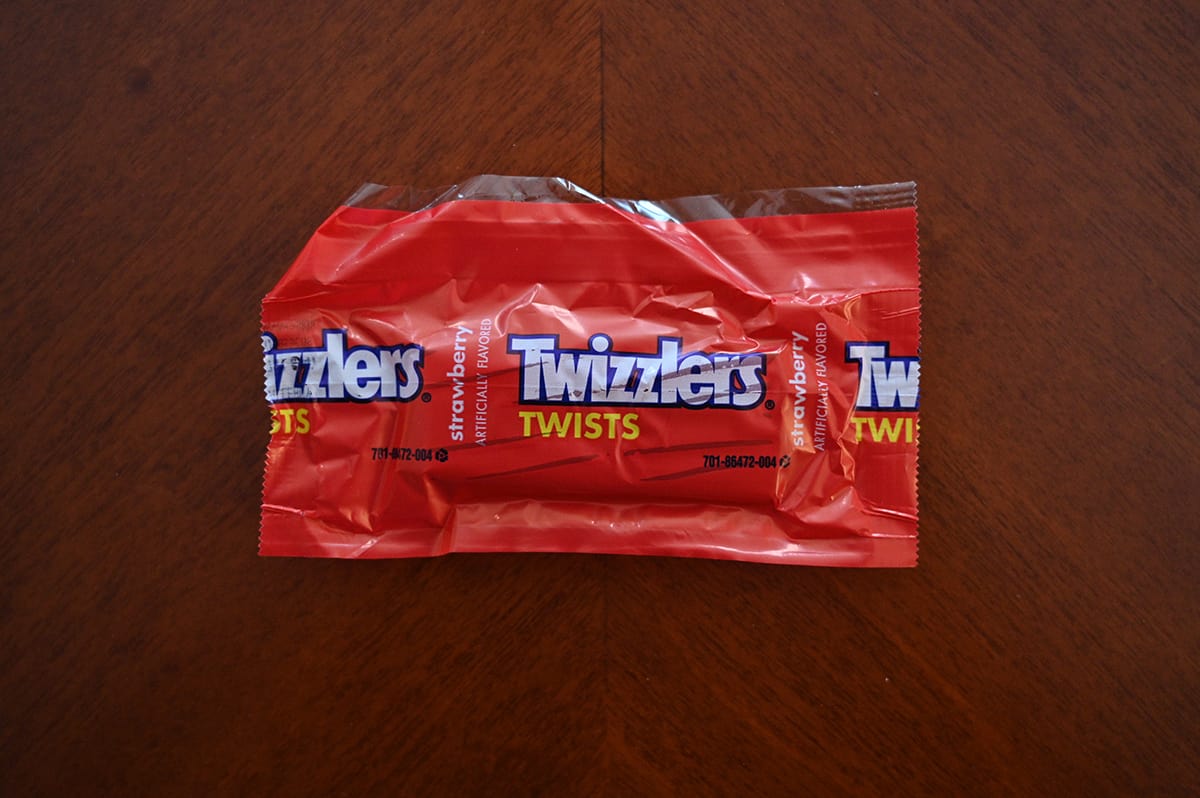 Trolli Sour Brite Crawlers Minis
Mini sugary, sour gummy worms that come in a variety of colors.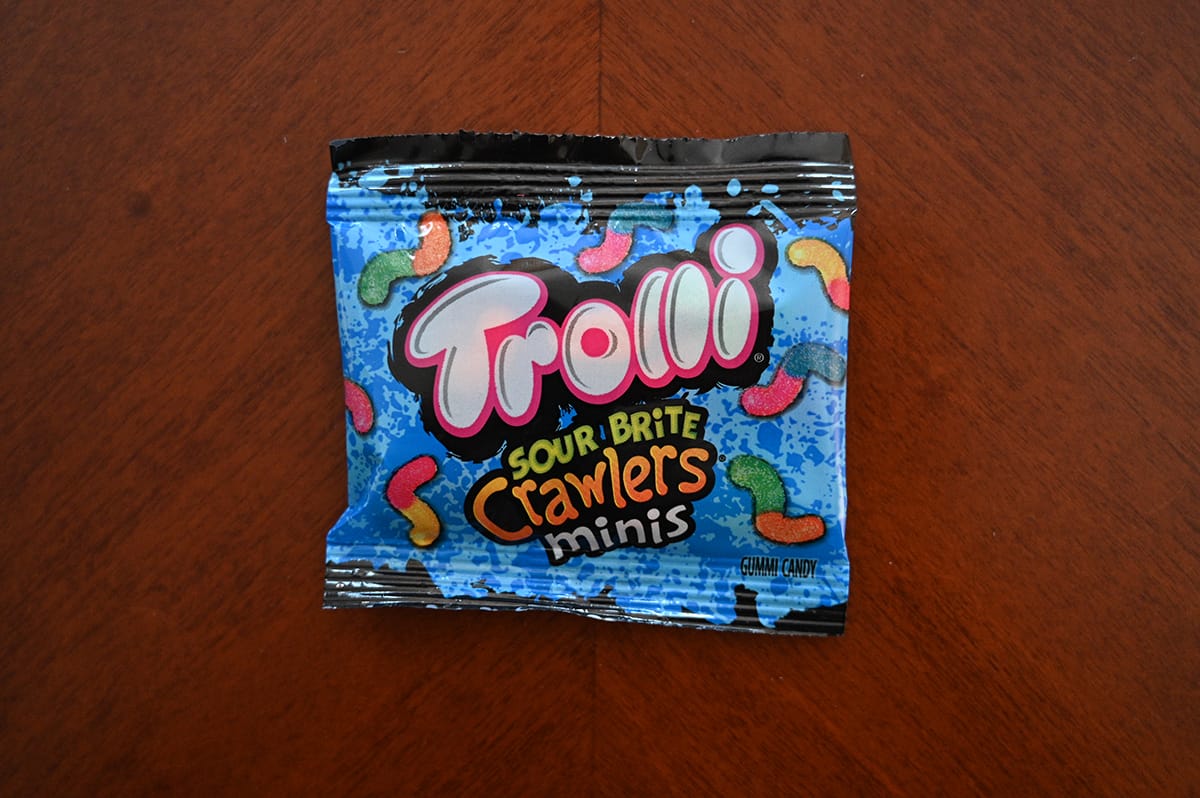 Haribo Goldbears
Soft, chewy gummy bears that come in six flavors in the pack. Pineapple, apple, lemon, orange, strawberry and raspberry.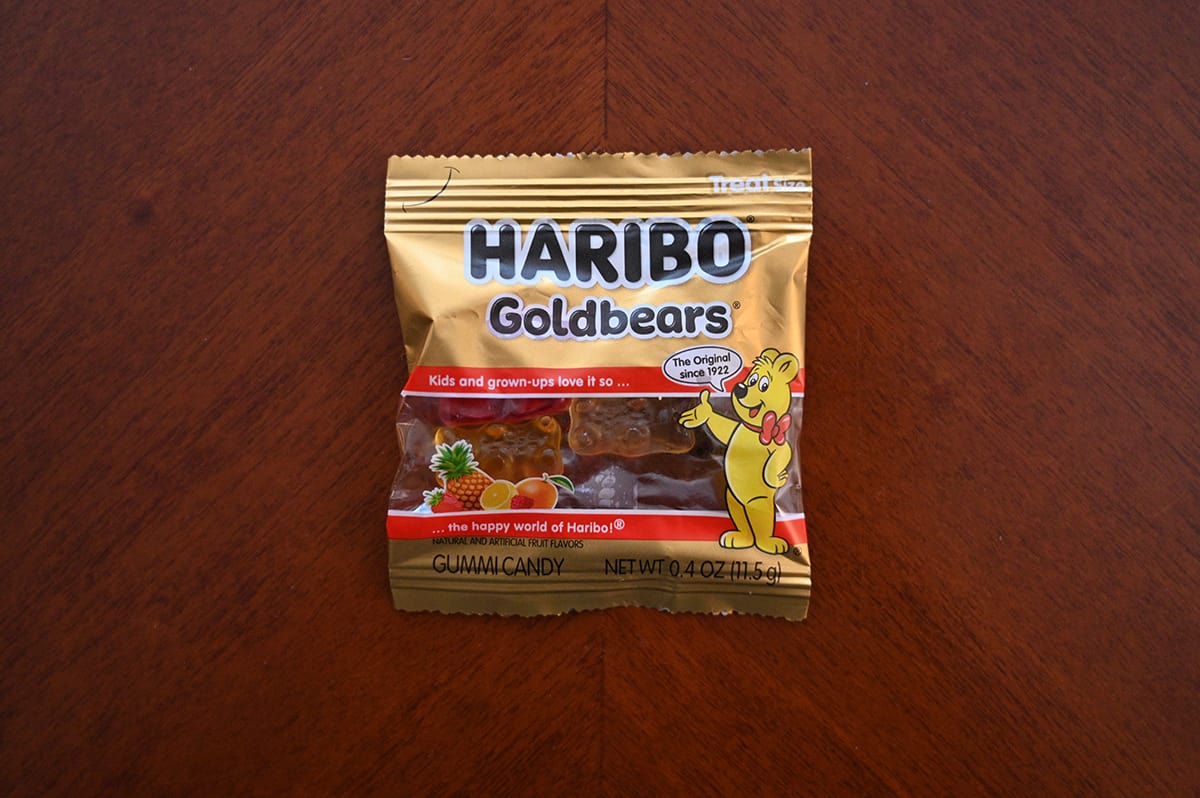 Laffy Taffy
Soft, chewy taffy candy that comes in cherry, sour apple and banana.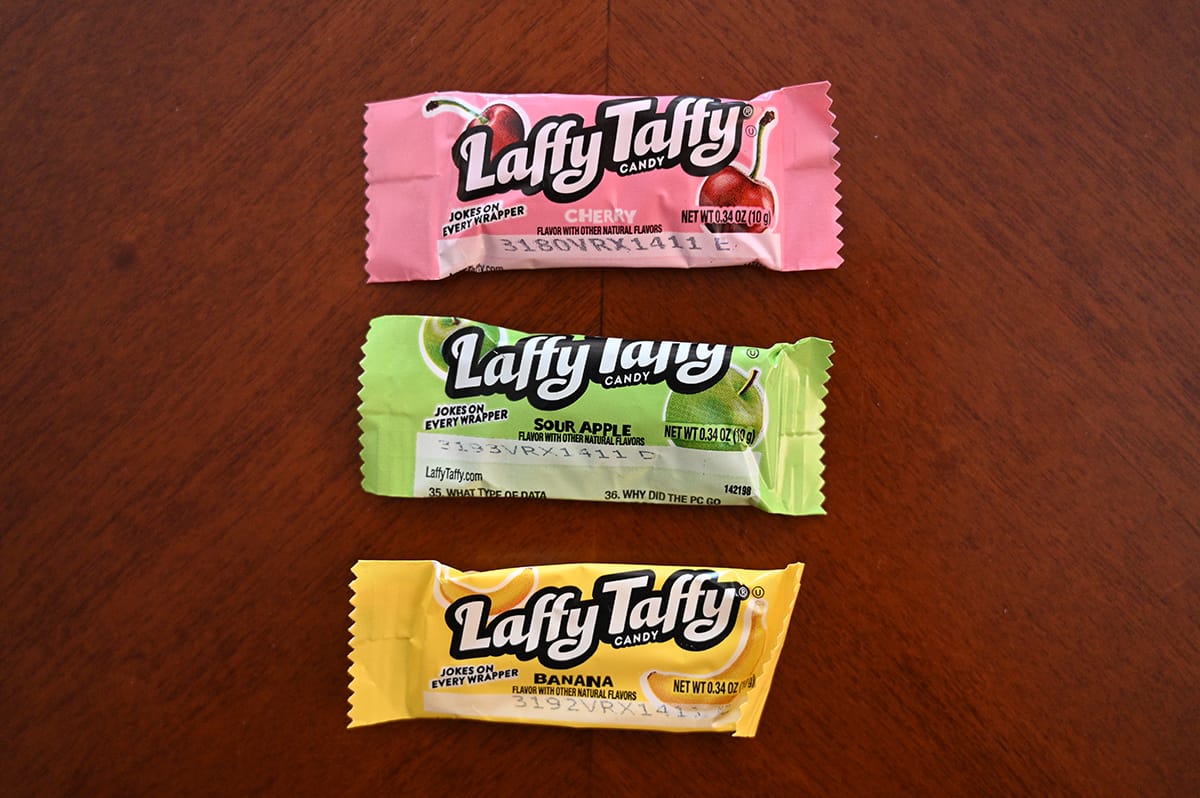 Lifesavers Gummies
A gummy version of the famous fruity hard candy. There are five flavors in the pack cherry, watermelon, green apple, strawberry and orange.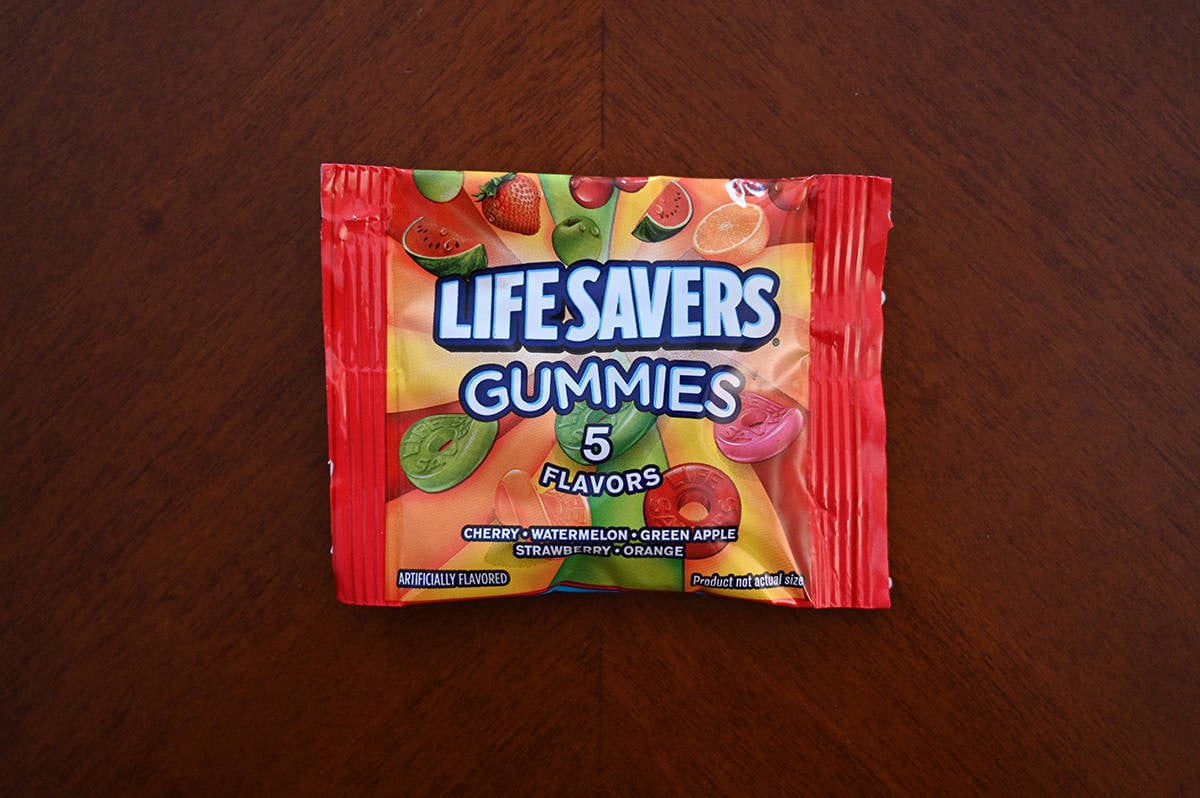 Kirkland Signature All Chocolate (United States)
This bag has a nice variety of chocolate bars – more so than the Canadian Treatsize Favourites. The chocolate bars in the bag are a bit different than the ones in Canada. It's missing Oh Henry! bars, but has 100 Grand, Kit Kat, Milky Way and Almond Joy. Also, as I mentioned above, these mini chocolate bars seem way bigger than what we have in Canada – especially the Snickers, Twix and Kit Kat.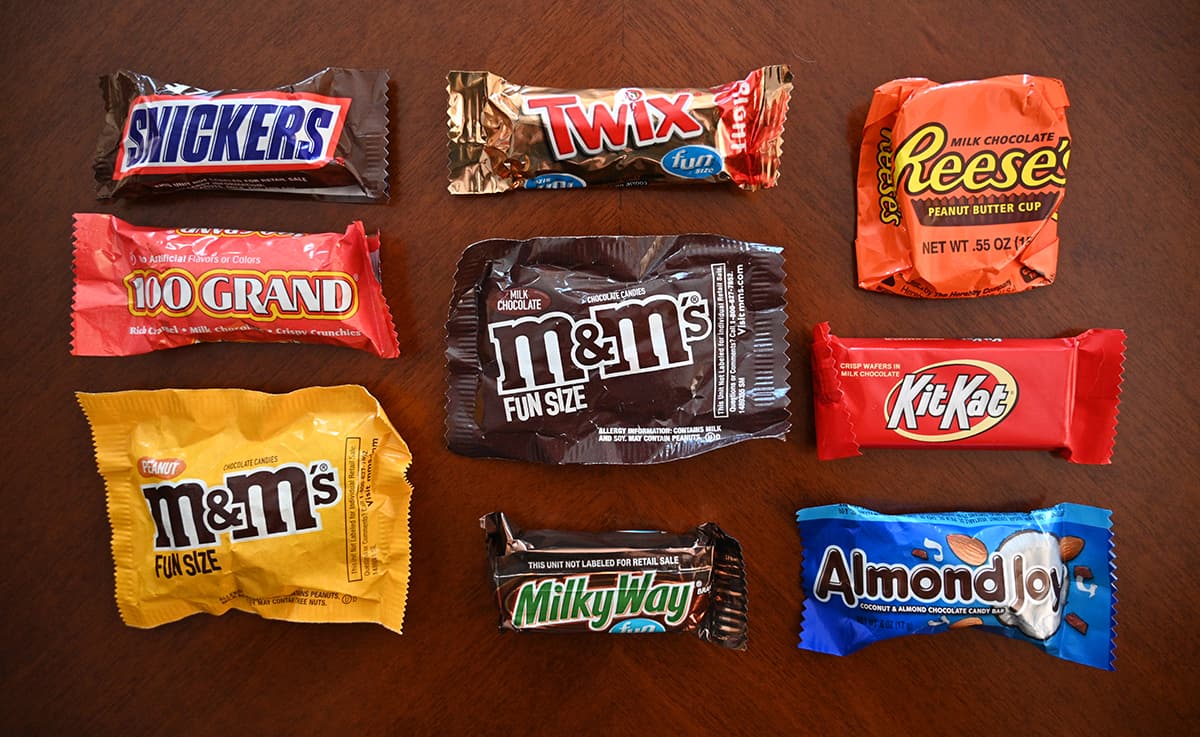 Snickers
Nougat topped with caramel and peanuts and then coated in milk chocolate.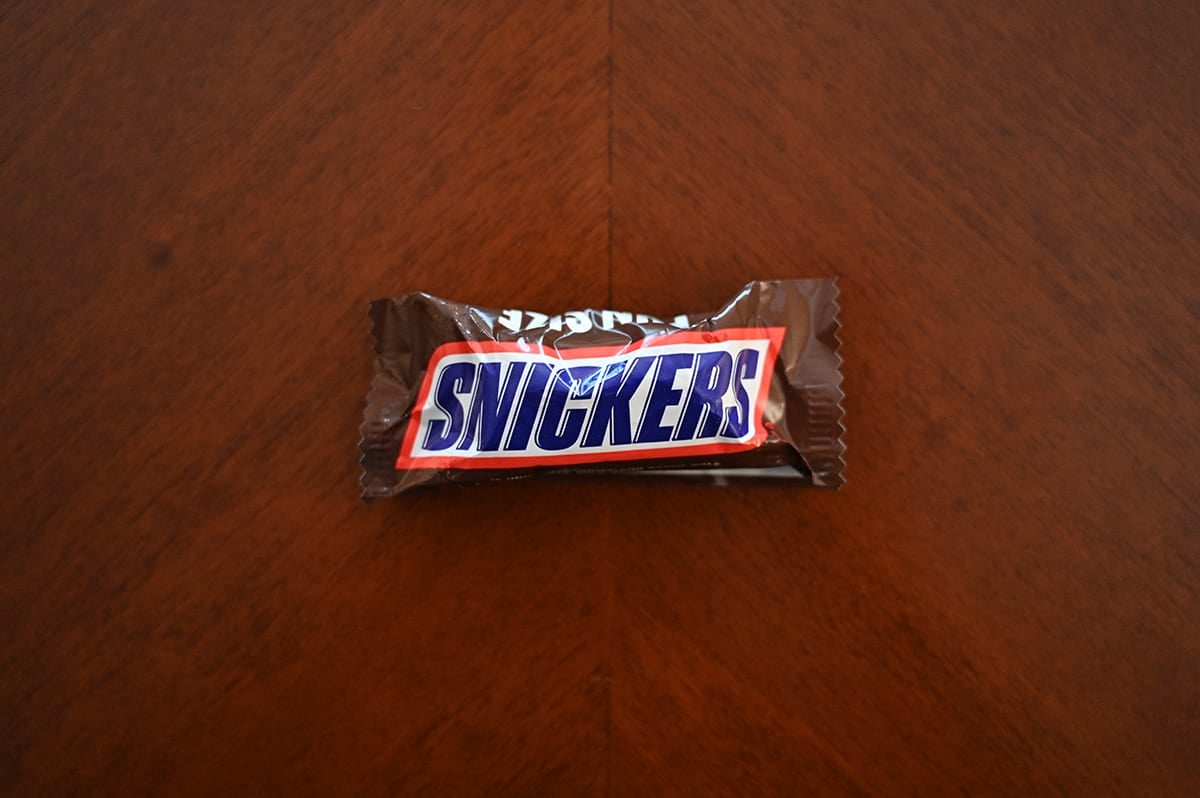 M&M's
Small, round-sized, hard-shelled milk chocolates.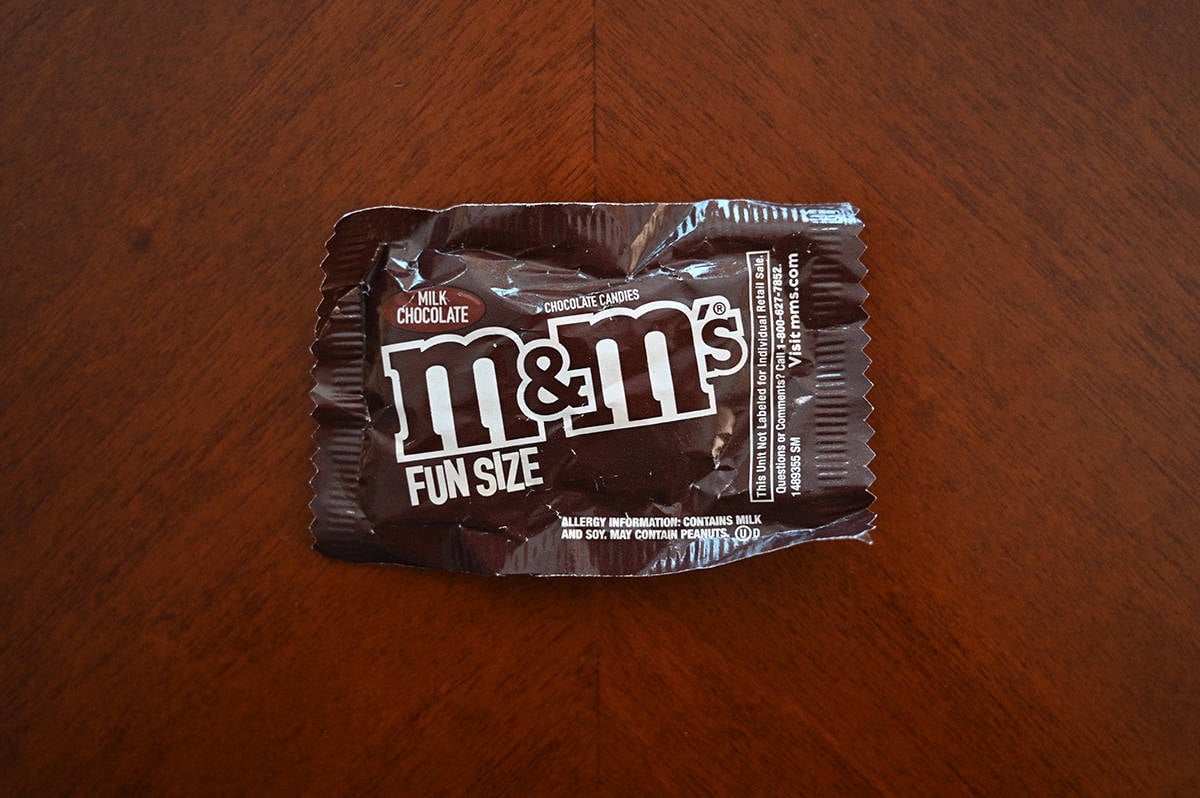 100 Grand
A USA exclusive bar! This one has caramel, crisped rice and milk chocolate. I really like this bar and wish they had them here.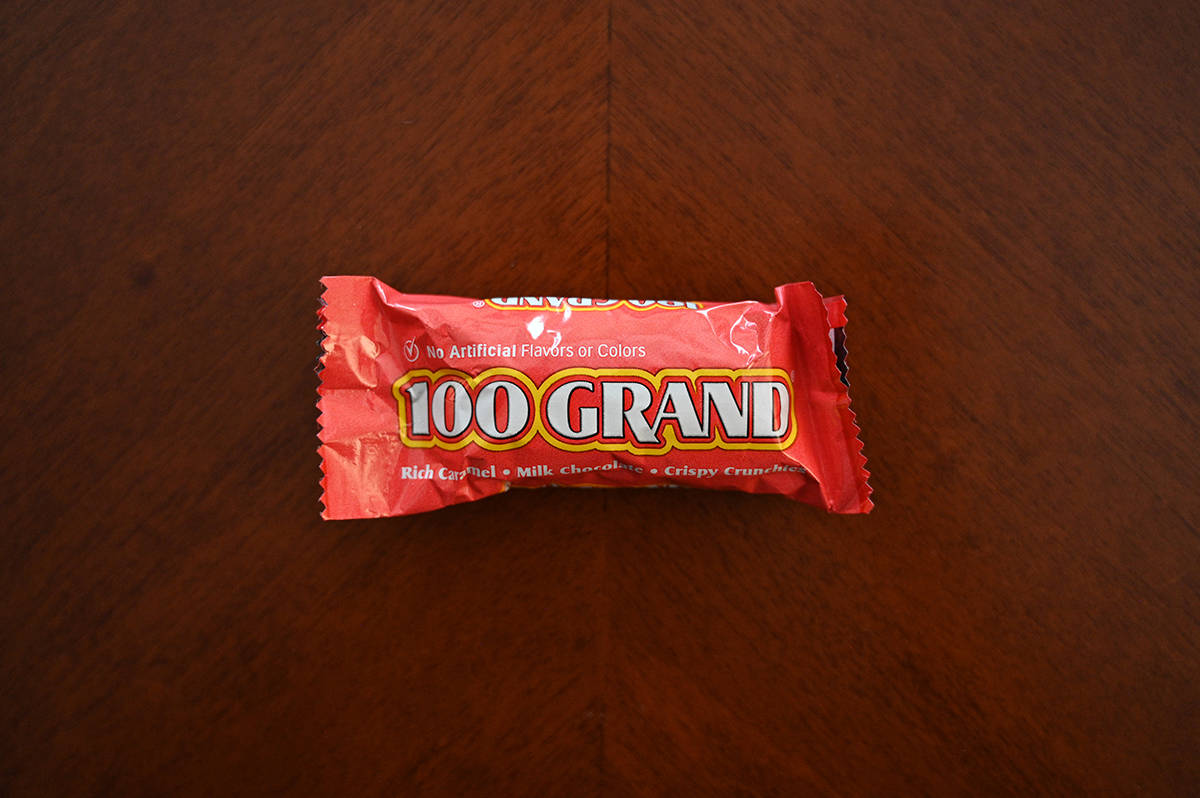 Peanut M&M's
Round hard shell milk chocolates with a peanut in the center.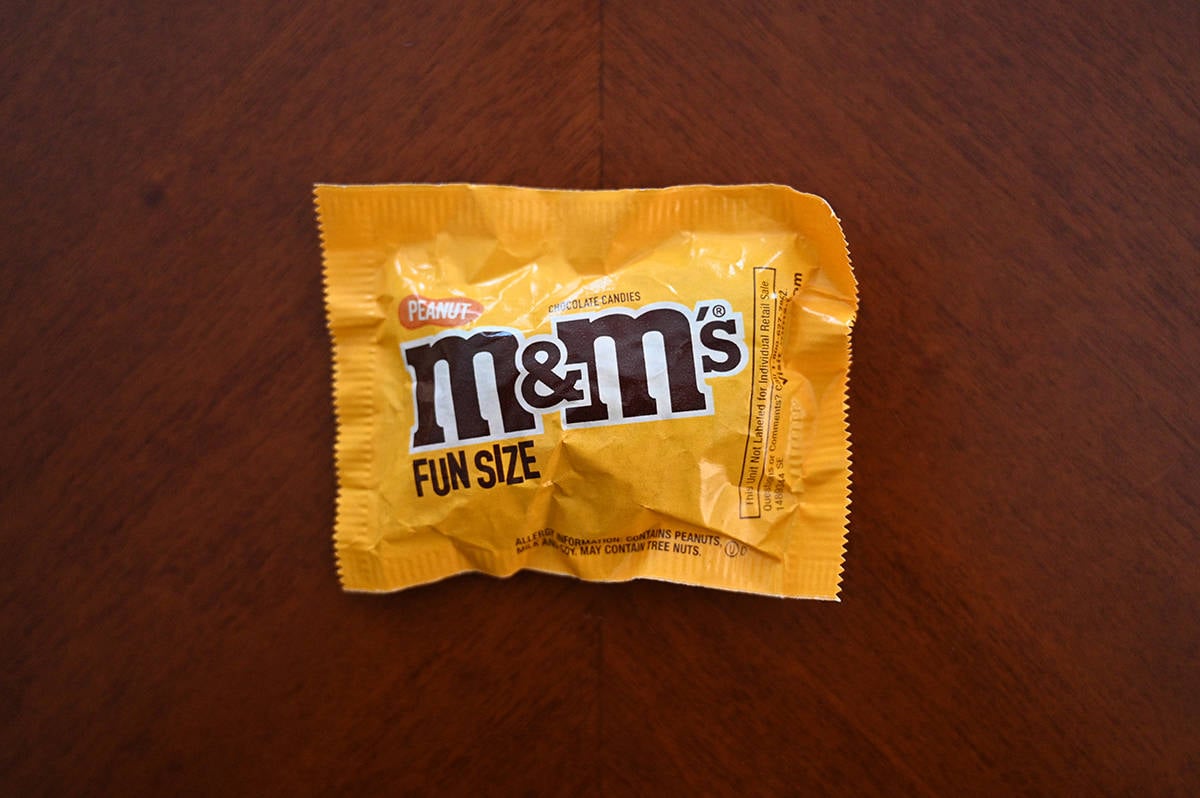 Twix
A biscuit center topped with a layer of caramel and then the whole bar is covered in milk chocolate.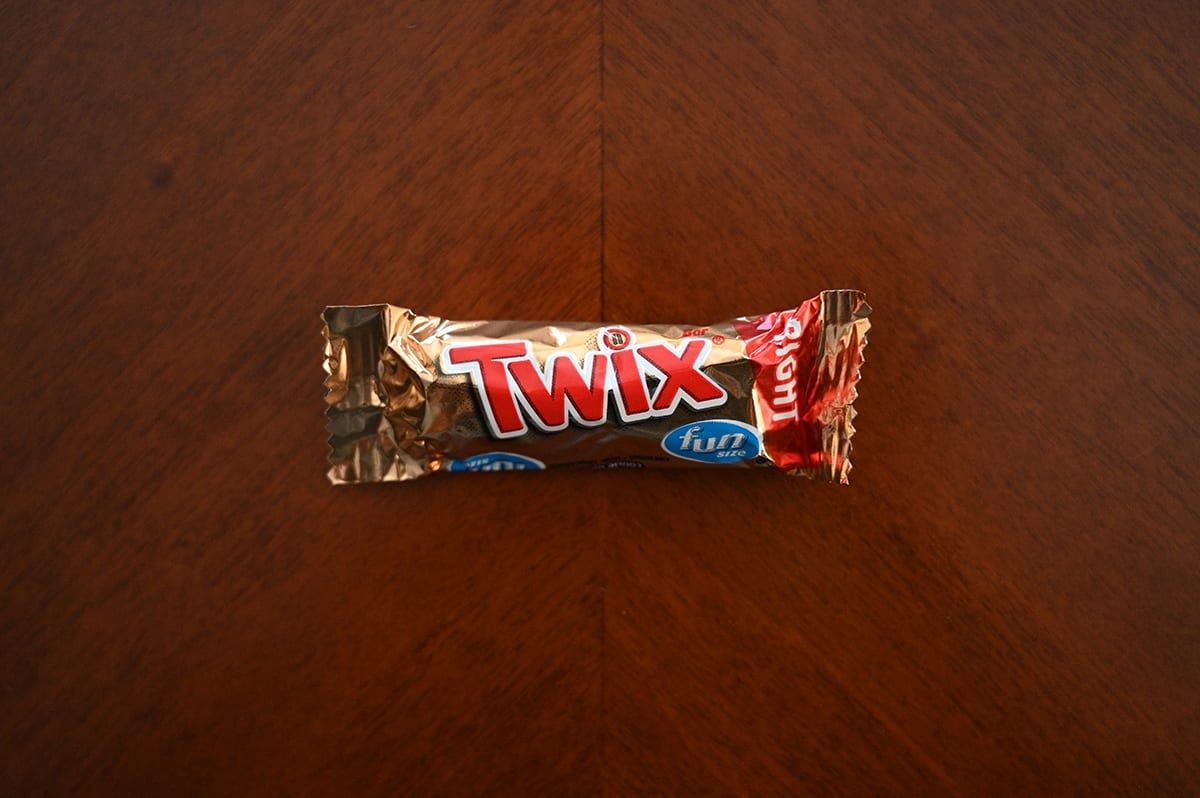 Almond Joy
Also exclusive to the USA. This bar has a coconut center that topped with almonds and then covered in chocolate.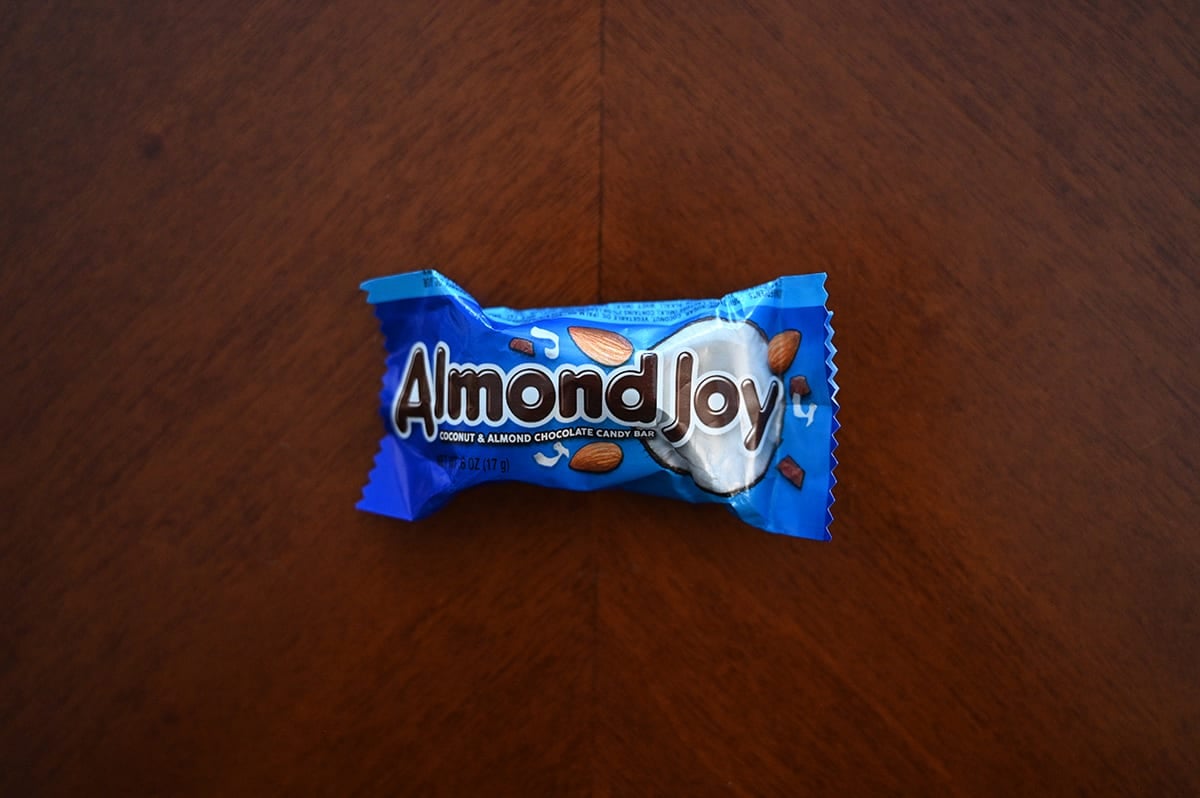 Kit Kat
Milk chocolate-covered wafer bar.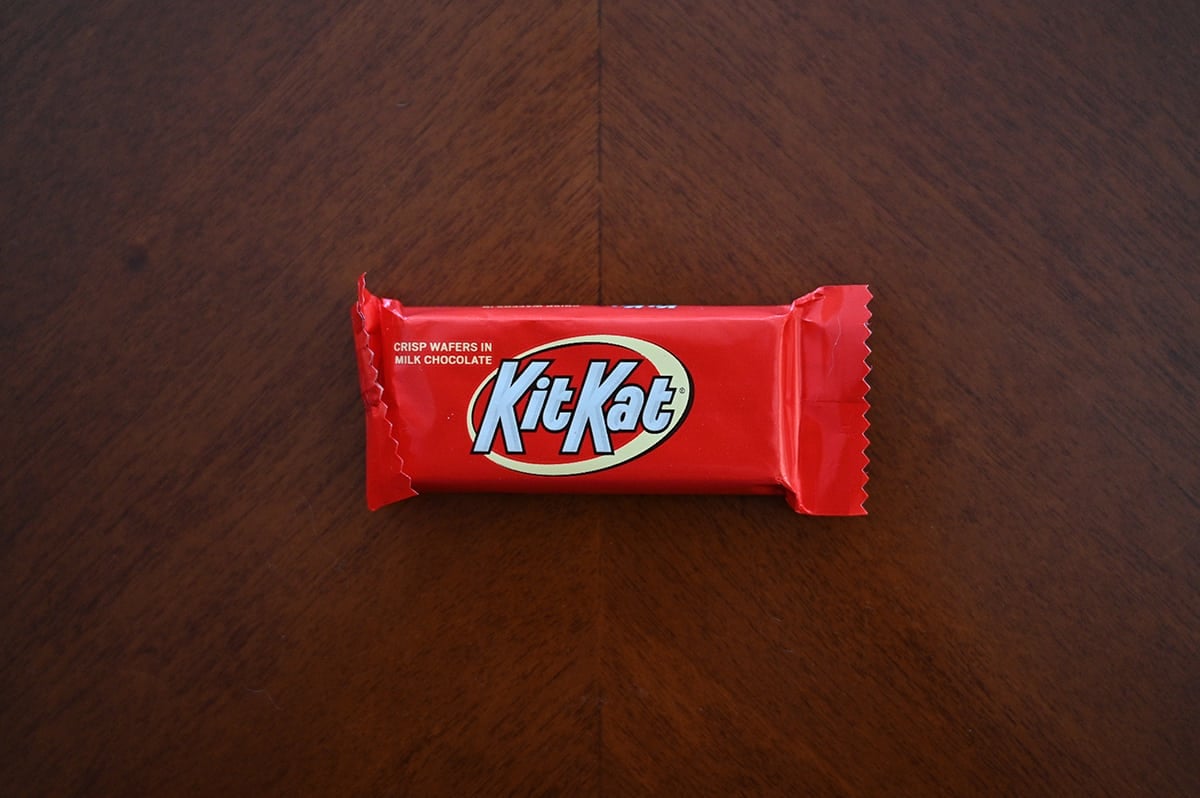 Milky Way
Nougat, topped with caramel and covered in milk chocolate. Exactly like a Mars bar. Milky Way is exclusive to the USA.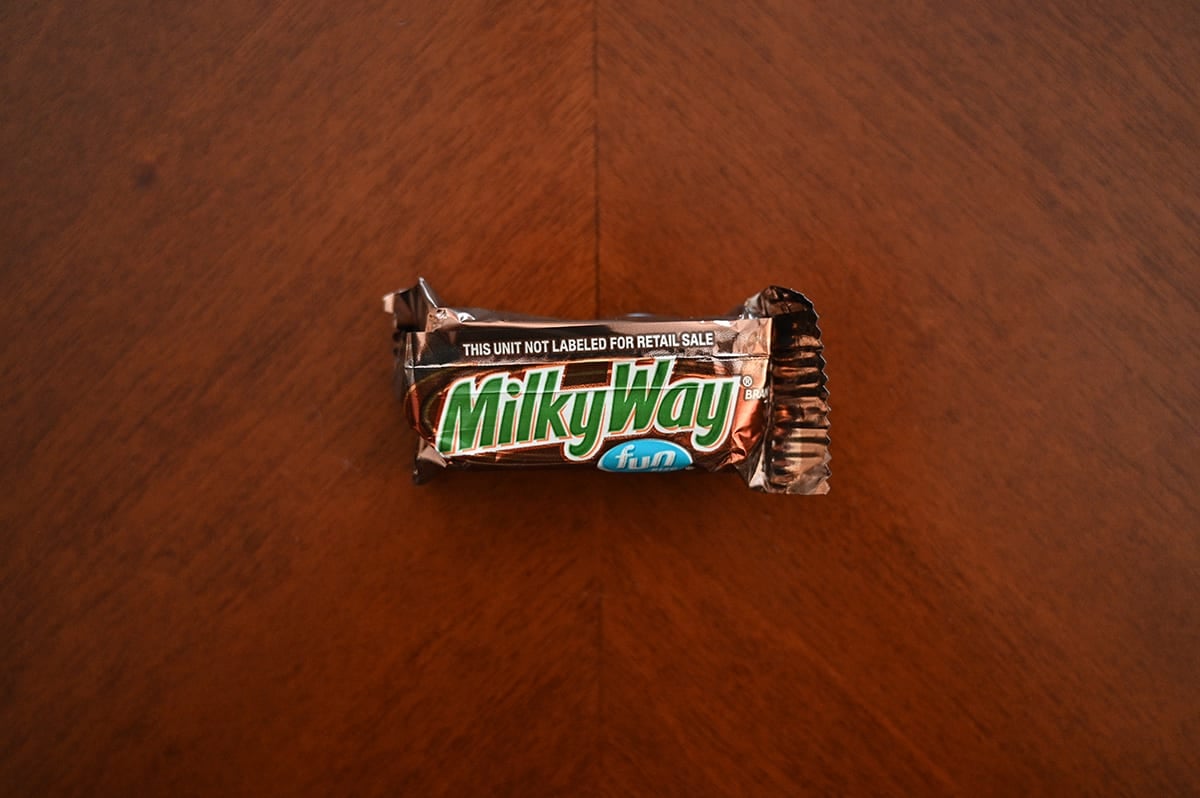 Reese's Peanut Butter Cup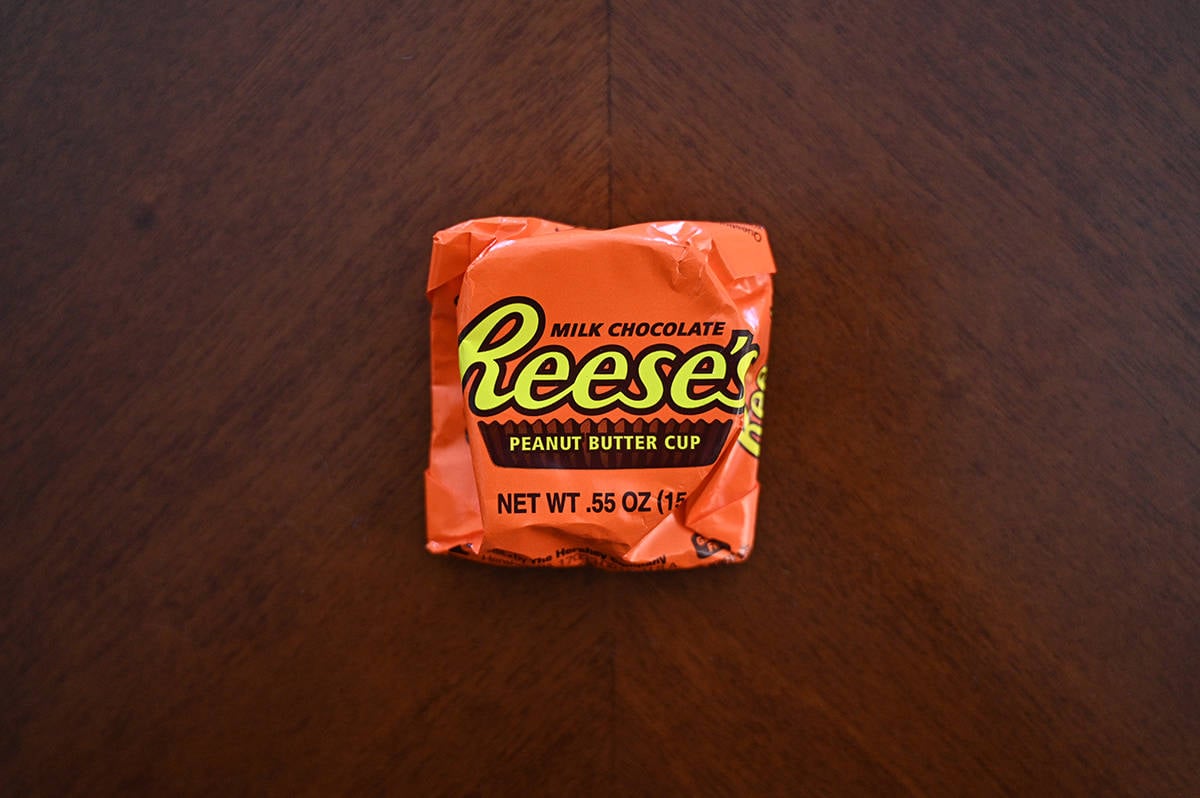 A peanut butter filling covered in milk chocolate. These are highly addictive and loved by many!
How much does Halloween candy cost at Costco?
The two-kilogram Canadian Funhouse Treats bag costs $21.99 Canadian and comes with 175 pieces. That's just over 12 cents per treat. The Treatsize Favourites Bag comes with 150 mini chocolate bars and costs $26.99 Canadian, which is just under 18 cents per bar. It makes sense that the chocolate bars would cost more than the candy because the candy uses much cheaper ingredients.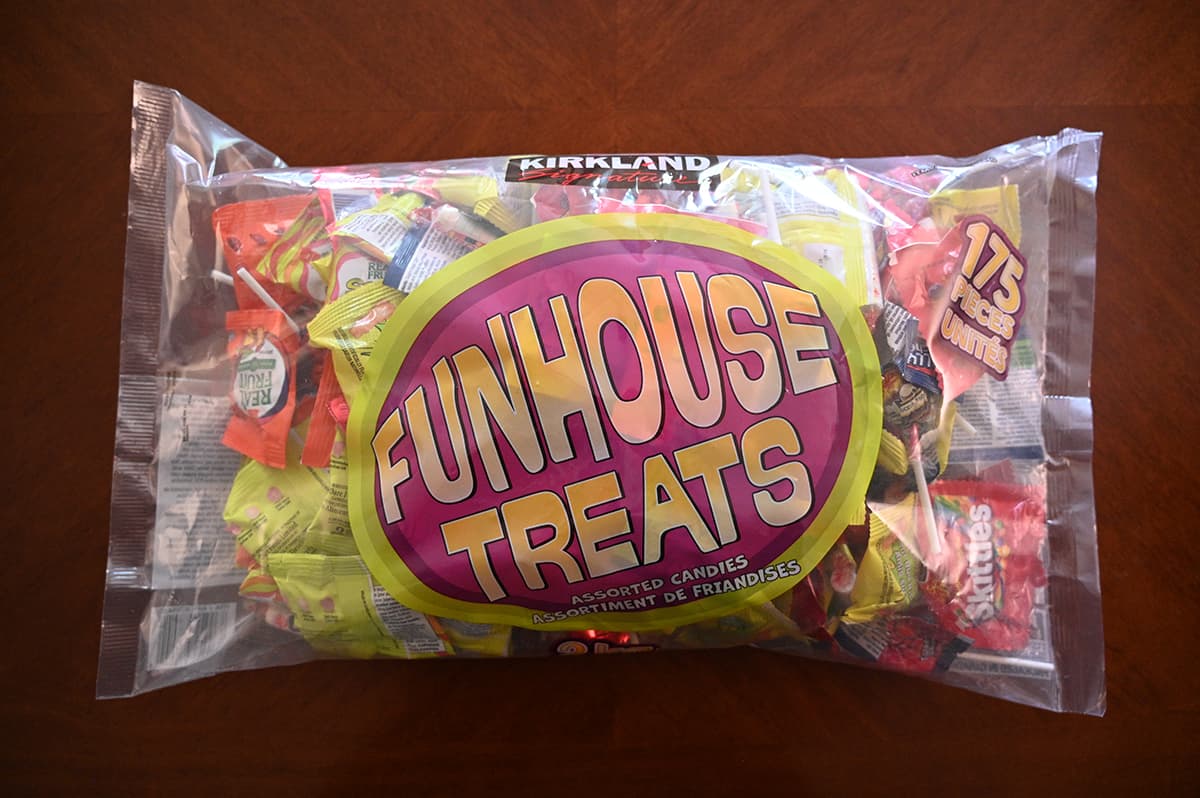 The Funhouse Treats American bag weighs 2.61 kilograms and costs $15.99 USD. It was on sale for three dollars off the regular $18.99 price. The bag is a bit bigger and I'm sure it has more than 175 pieces. Some of the candy is cheaper stuff where I would feel bad giving only one piece to a kid. For example, I wouldn't want to give a kid one Warhead.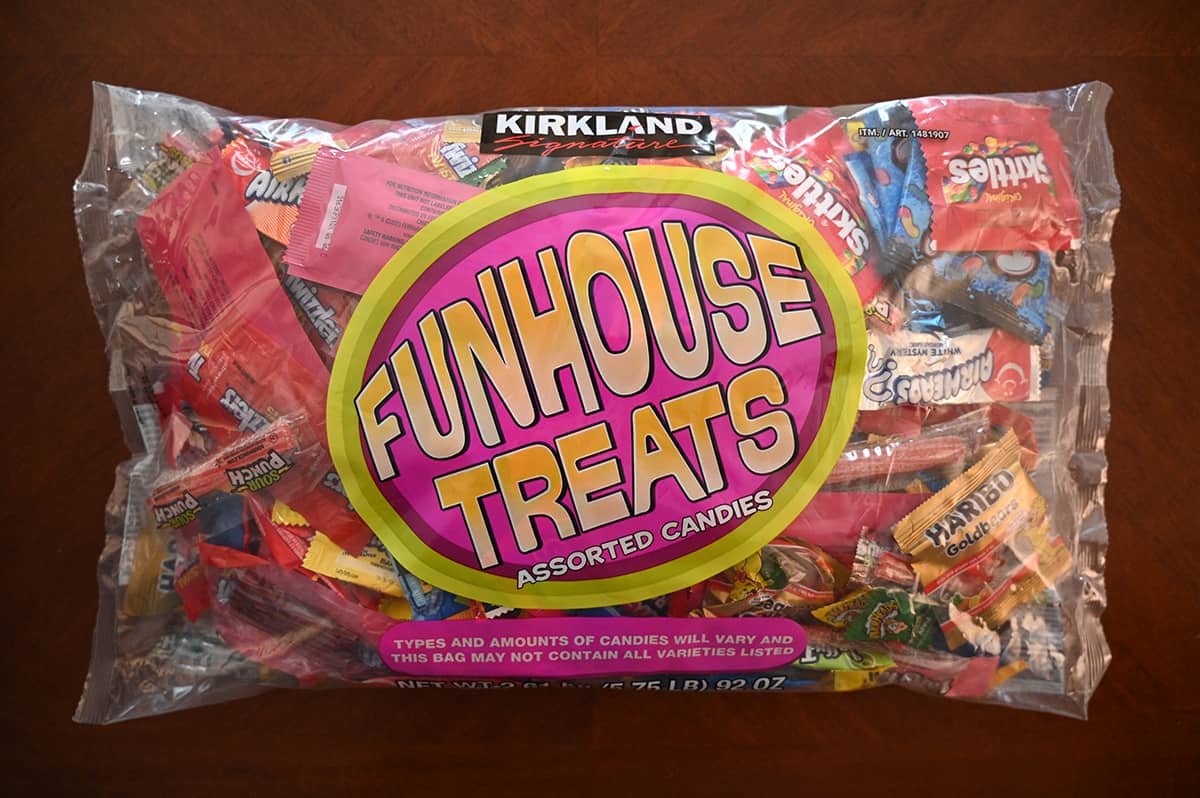 The Kirkland Signature All Chocolate bag from the US weighs 2.55 kilograms and costs $19.99 USD. Both Sean and I agree that the size of the mini chocolate bars in the US bag are bigger than the Canadian. Both the Twix and Kit Kat look massive compared to the smaller Canadian bars. I think the bag probably contains around 150 chocolate bars.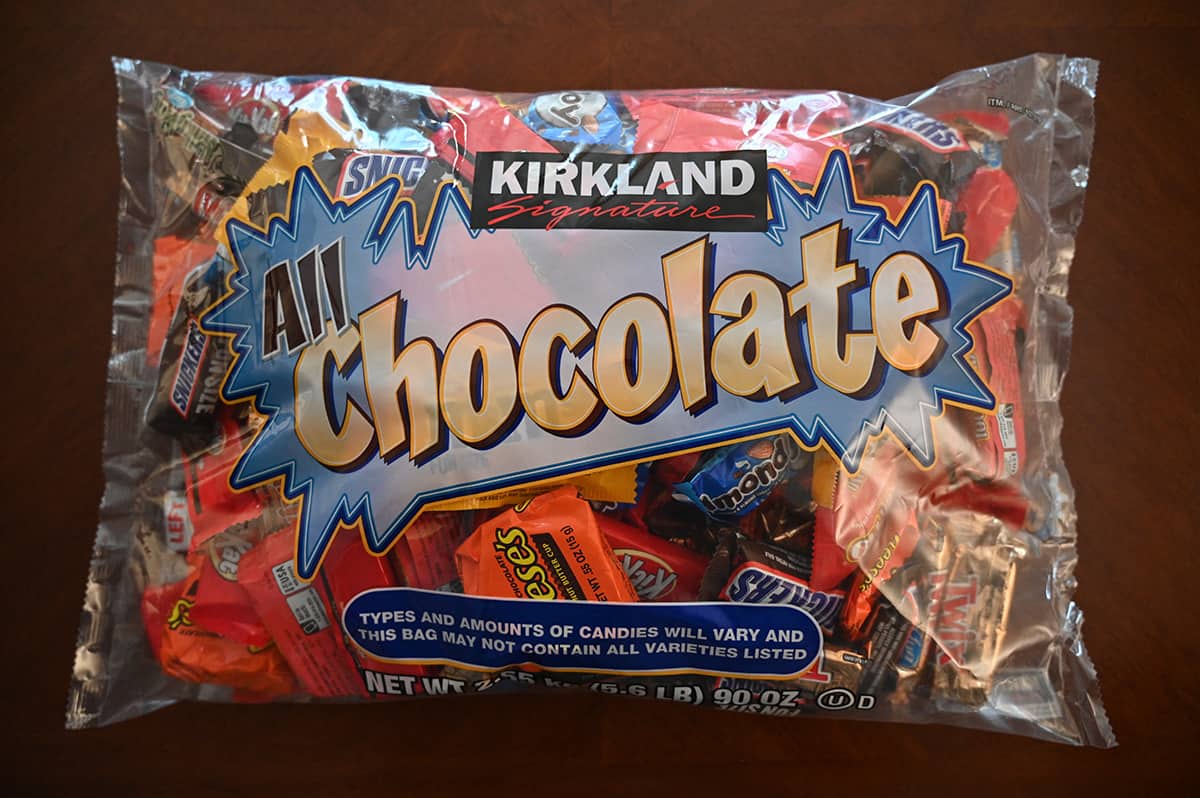 Is Costco a good place to buy Halloween candy?
The thing I like about both the Canadian and American Costco Halloween candy is the variety you get in each bag. The Funhouse Canadian bag has eight different kinds of candy in one bag and the Favourites one contains six different kinds of chocolate bars that are from the Mars and Hershey's brands. It's interesting that Costco manages to combine chocolate from the two different brands in one package.
The American Funhouse bag has 12 different kinds of candy in it and the All Chocolate bag has nine different kinds of chocolate bars.
If you also get a lot of trick-or-treaters but want an affordable option, either the Canadian or American Funhouse bag of Halloween candy is a really reasonable option.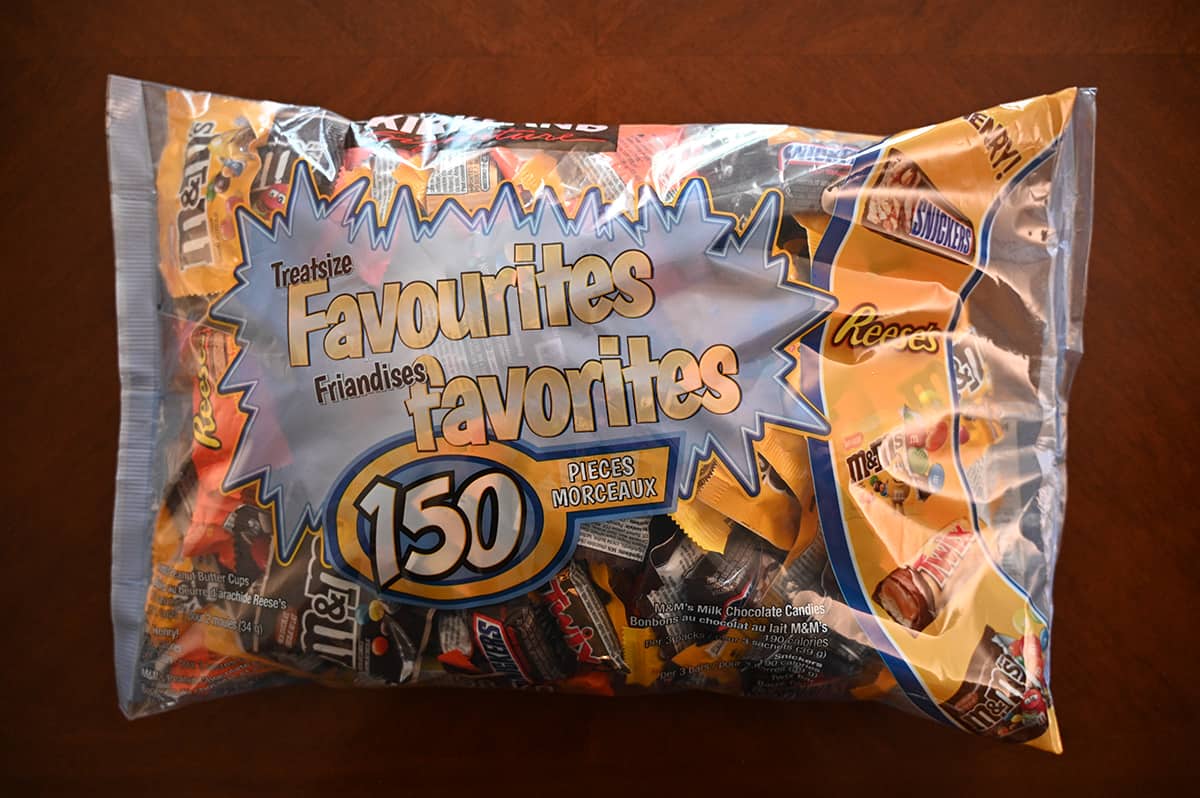 Is Costco's Halloween candy cheaper than Walmart or other stores?
Canada
I compared the price of the Costco Halloween candy to Walmart in the US and Canada. I'll start off with my Canadian comparison.
For mini chocolate bars like a Mars variety pack containing 95 bars at Walmart, the cost is $17.77 which is about 18 cents per bar. So you're not saving that much money buying your mini chocolate bars from Costco.
If you're just looking for a bag of candy (not chocolate) like Skittle's and Starburst the cost is $15.78 for 90 pieces of candy which is over 17 cents per treat. The Funhouse Treats bag at Costco is a much better deal and you would be saving money by buying this at Costco.
In summary, you're not saving much by buying the Treatsize Favourites bag, but you are saving quite a bit by buying the Funhouse Treats bag of Halloween Candy.
United States
I looked at Target to compare the American prices. For a six-pound box of similar mini chocolate bars, the price at Target is $34.99 USD. The bag from Costco weighs 5.6 pounds, so based on weight, it's cheaper to buy from Costco.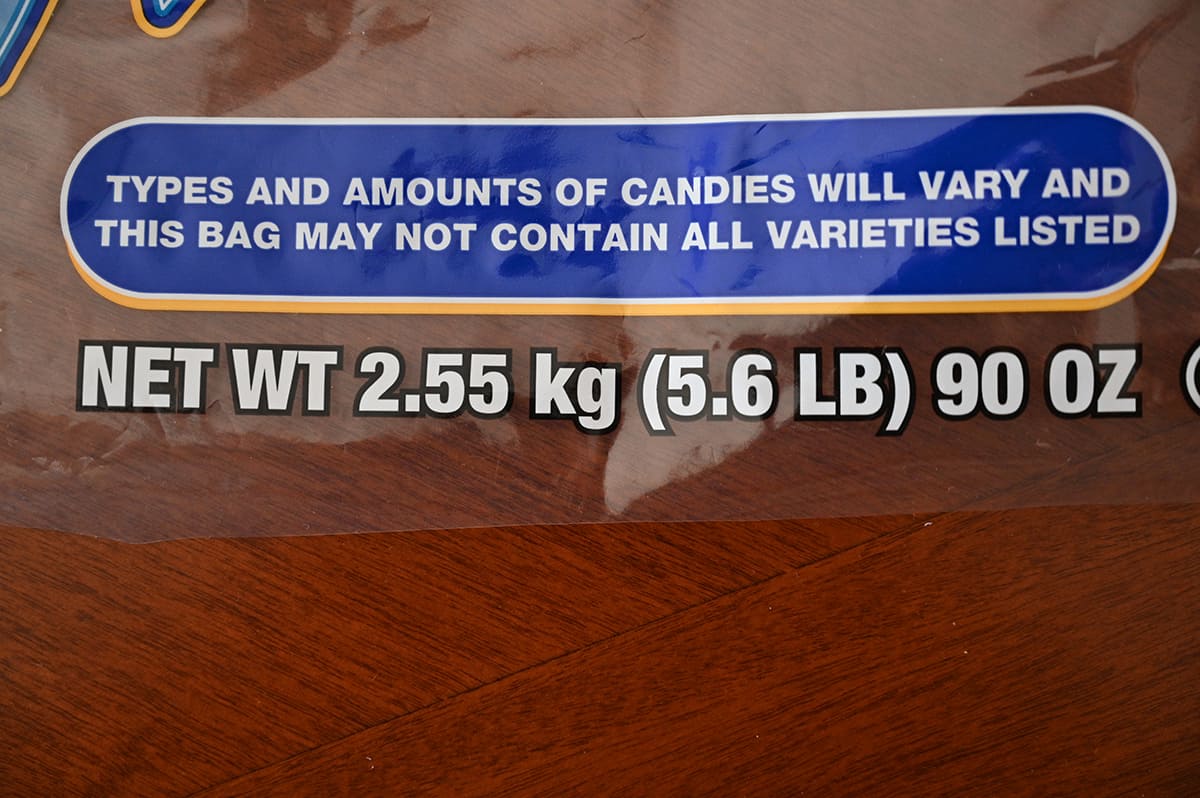 A five-bag pound of candy from Target costs $27.99 USD, so once again Costco is a cheaper option based on weight.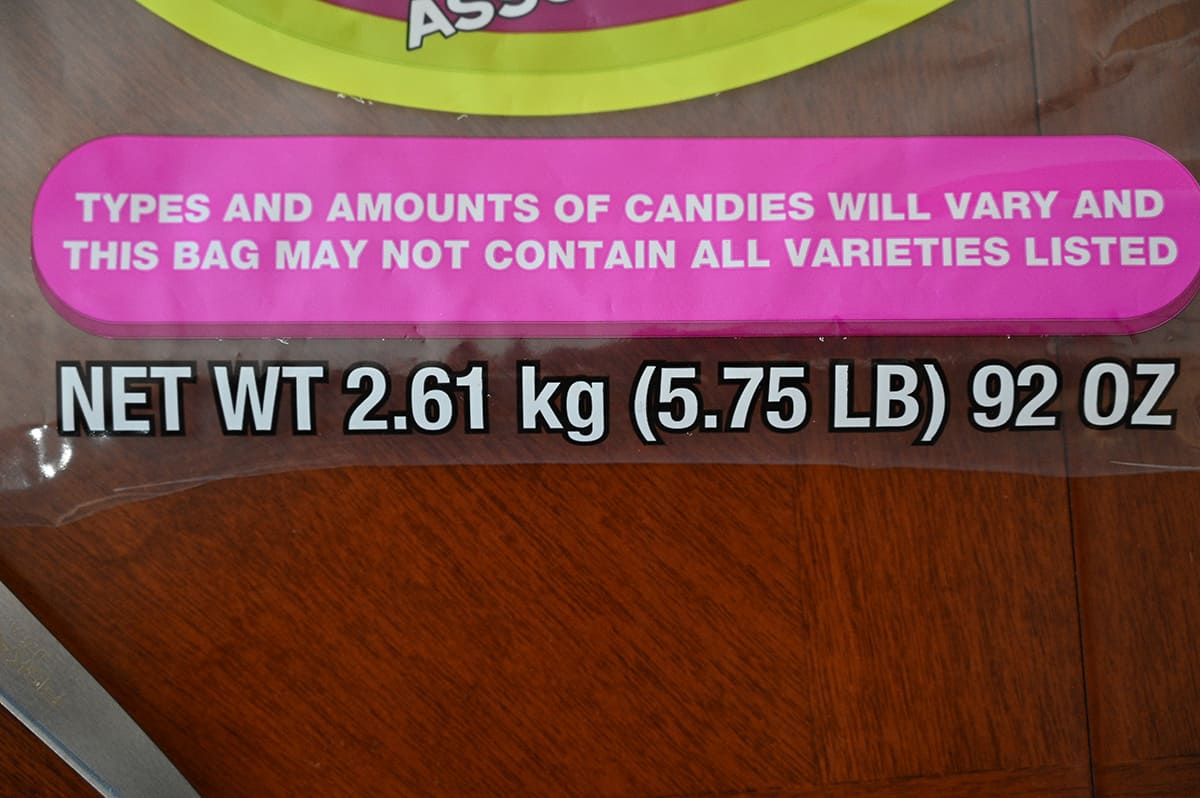 Nutrition facts
Ingredients
Canada
There are only a few things I want to point out about the ingredients, we already know that nether bag of Halloween candy is nutritious! The Funhouse Treats have a few candies that contain red food dye, the Chupa Chup's contain dairy and there is also soy listed as an ingredient for a lot of the candy.

Most of the chocolate bars in the Favourites bag contain the major allergen peanuts. A lot of the bars also contain milk and soy. Twix contains wheat from the biscuit in the center.

United States
All of the candy has a ton of unhealthy ingredients like red dye, sugar, corn syrup, hydrogenated palm kernel oil and artificial flavors. Some of the candies contain wheat and soy. There are also traces of milk in the gummy bears.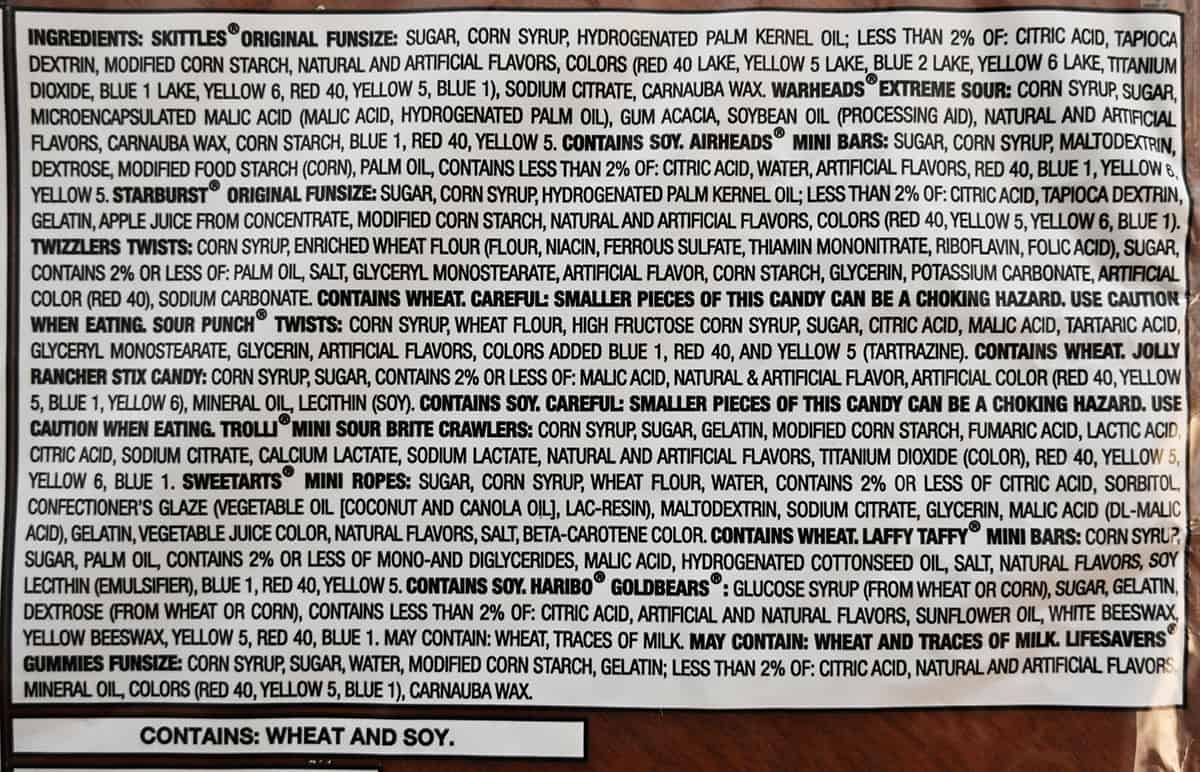 The All Chocolate bag has pretty typical unhealthy ingredients such as sugar, corn syrup, artificial flavor, corn syrup, palm oil and others. The bars contain milk, soy, peanuts, milk and soy and may contain tree nuts and egg.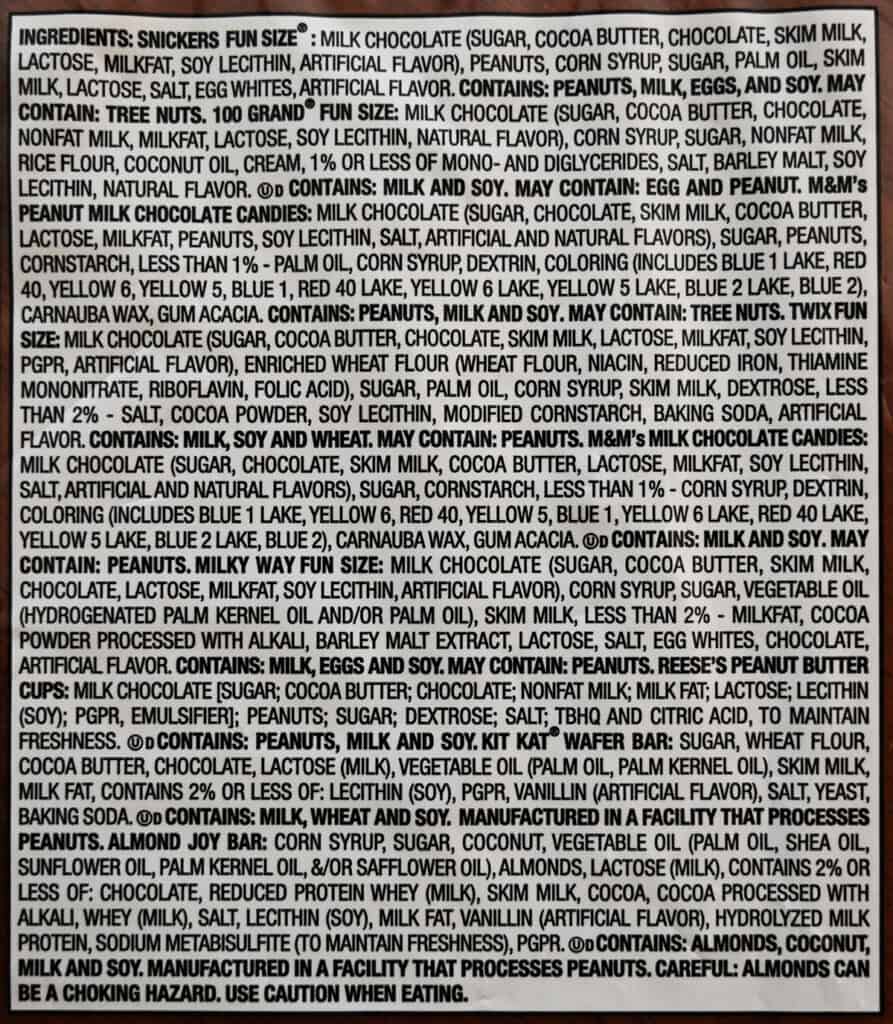 Calories
Canada
I'm posting the nutrition facts for each candy or chocolate bar below. None of these are low in calories but the Funhouse treats are lower in fat than the chocolate bars.


The bag of chocolate bars has lower carbs compared to the bag of candy but they're both pretty high in carbs, calories and sugar. It's Halloween though and Halloween is all about the treats! I do recommend having non-candy options for diabetic kiddos who can't really eat much candy, I think I'll be doing that this year for the first time.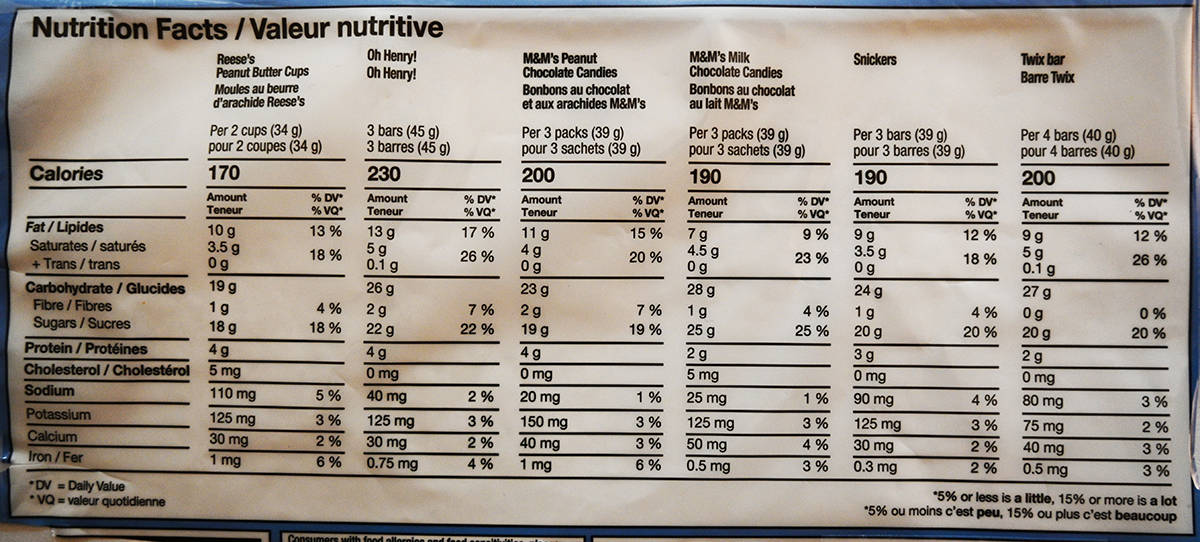 United States
The Airheads have the most sugar out of all the candies in the United States Funhouse Treats bag. All of the candy is lower in fat than the chocolate bars.

The nutrition facts for the All Chocolate United States bag is proof that the mini chocolate bars from the United States are bigger than the Canadian ones.
For example, a Twix in the Canadian bag is 10 grams and in the bag from the United States, it's 16 grams. Whether this is a good thing or bad thing is up to you! All of the bars aren't super low in calories, fat, or sugar but if you only eat one or two it's nothing to fret about.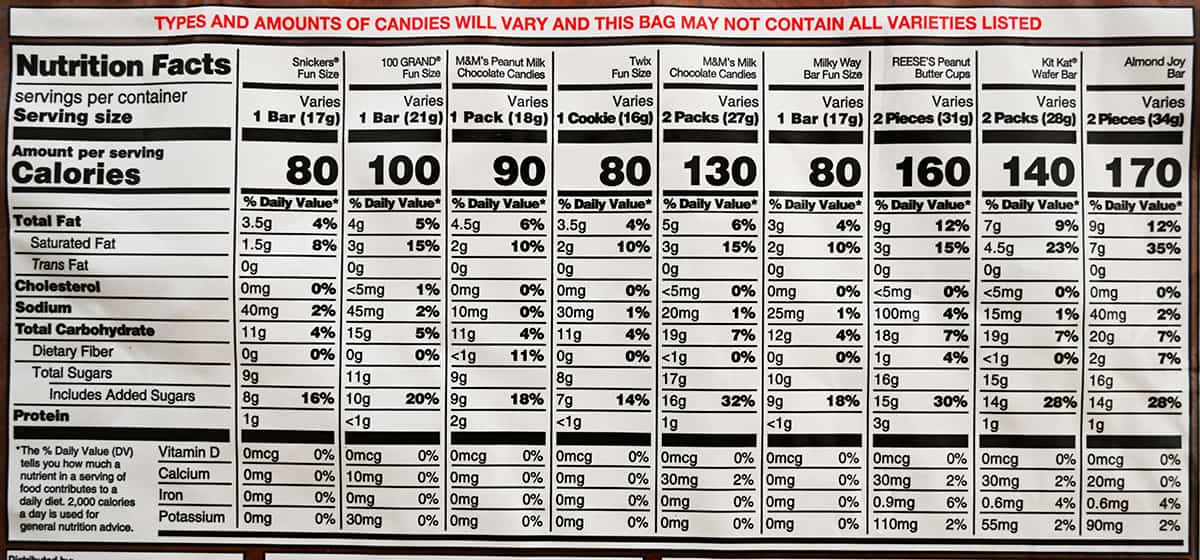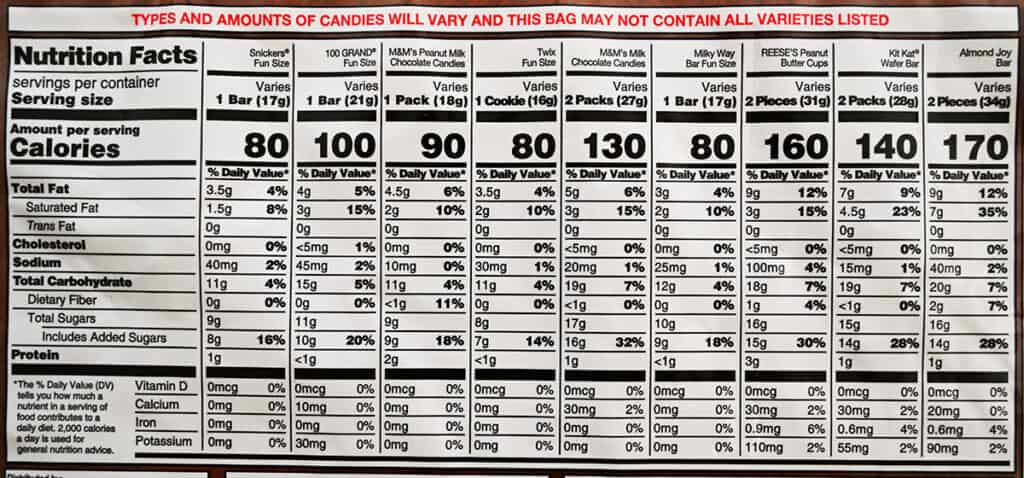 What are you handing out this year? Where do you buy your Halloween candy from? Leave a comment below!
---
Please note that this review was not paid for or sponsored by any third party. This product was purchased by Costcuisine for the purpose of producing this review. The opinions in this review are strictly those of Costcuisine. Costcuisine is not affiliated with Costco or any of its suppliers. In the event that Costcuisine receives compensation for a post from the manufacturer of a product or some other third party, the arrangement will be clearly disclosed (including where the manufacturer of a product provides Costcuisine with a free sample of the product).