Tasty, convenient & nutritious
Please note that this review was not paid for or sponsored by any third party. I purchased this product with my own money and the opinions in this review are strictly my own. I am not affiliated with Costco or any of its suppliers. I am just a fan of the company. I write these reviews to help my fellow shoppers.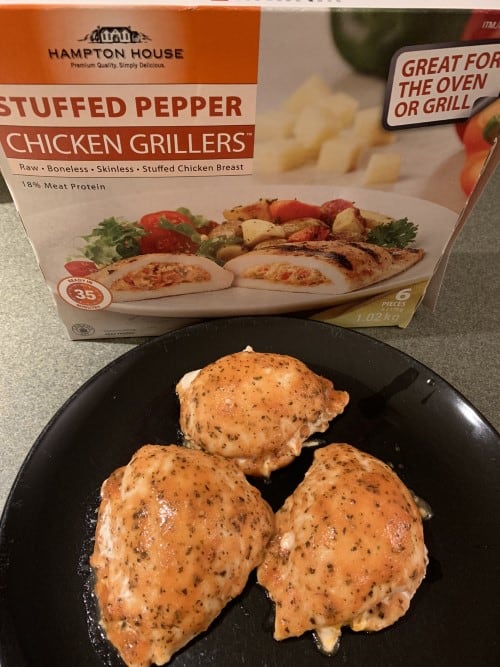 I actually had a reader reach out to me and request this product be reviewed. Hi Carole! I want to be as helpful as I can be to readers and fellow Costco shoppers which is why I set this blog up. I constantly hear conversations between Costco shoppers talking about whether a particular food item is good or not. I also love communicating with anyone who reads the blog so feel free to comment or write me an email!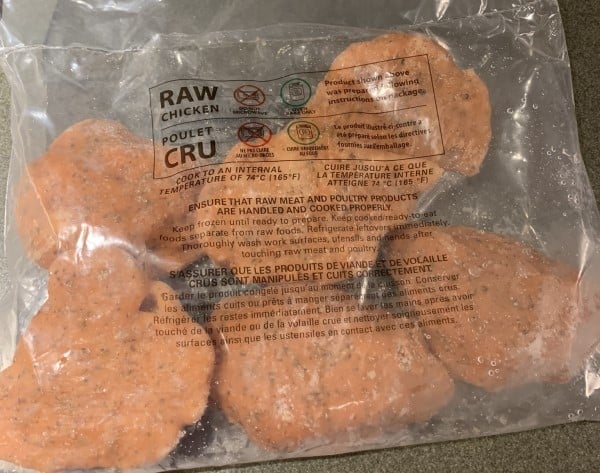 The Hampton House Stuffer Pepper Chicken Grillers from Costco can be found in the frozen section. The chicken breasts come frozen in one plastic bag inside the box and they're raw, so be sure to cook them well! You get six chicken breasts in the box and I paid $14.99 Canadian for the box. Roughly about $2.50 a chicken breast which is not bad. These would be an awesome deal if you could get them on sale for $3 or $4 dollars off.
Although they're raw and require baking or grilling, these were extremely easy to cook and made for a relaxing evening! I just lined a baking sheet with aluminum foil and parchment paper on top (you could skip the parchment paper), set my oven to 375 and baked them for about 35 minutes. I'm a little paranoid when it comes to meat so I use a Thermapen to check all the meat I cook to ensure it's done. Clean up involved removing the aluminum foil from the cookie tray. Literally so easy.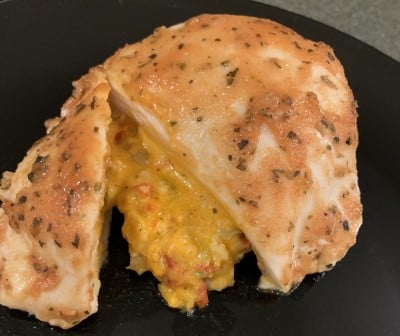 Both my husband and I enjoyed these. My husband was skeptical (he's skeptical about pretty much everything I bring home to try) but he really liked these and said he would buy them again. The chicken breasts are glazed in a tomato tasting sauce. The chicken is white breast meat and is moist and lean. Each breast is stuffed with cheese, rice, green pepper and red pepper. They have a ton of flavor and you can taste a very tiny, tiny amount of spice. If I were to describe them, they're like a chicken breast that has been stuffed with a cheesy Mexican style rice and bell pepper casserole. Hard to picture? Try them! The best part about the Hampton House Stuffed Pepper Chicken Grillers is how versatile they would be. I could see serving them with quinoa, rice, pasta, a salad or a noodle side dish. These chicken breasts are definitely made for busy nights where you want a satisfying, reasonably healthy home cooked meal in little time and minimal effort.
Each breast is 170 calories, six grams of fat, 610mg of sodium and 26 grams of protein. That's pretty good in my opinion! Yes if you're seriously watching your sodium this may seem a little high but it's actually not that bad. If you're concerned I would just use minimal salt on any side dishes. That's a ton of protein for not that many calories and these are also reasonably low in fat.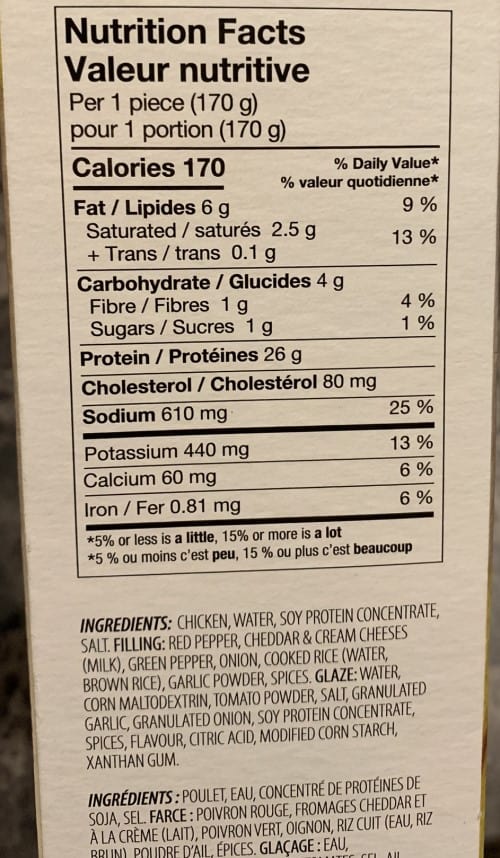 To summarize the Costco Hampton House Stuffed Pepper Chicken Grillers they are tasty, quick, convenient and healthy. I would repurchase these breasts again and will see if the same company has any other kinds because I'd like to try them.
Taste: 8/10
Cost: 7/10
Nutrition: 8.5/10
Convenience: 8.5/10