Not my favorite pork item to buy from Costco
Please note that this review was not paid for or sponsored by any third party. I purchased this product with my own money and the opinions in this review are strictly my own. I am not affiliated with Costco or any of its suppliers. I am just a fan of the company. I write these reviews to help my fellow shoppers.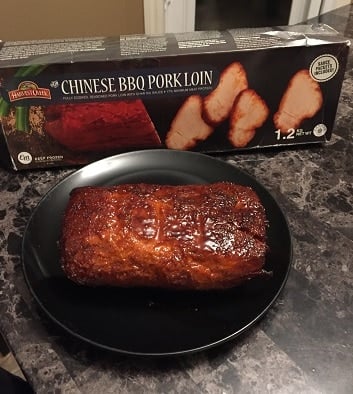 As we all know by now, I love Asian food. I especially love convenient food so that's what lead me to pick up the Harvest Creek Chinese BBQ Pork Loin from Costco. It was on sale at the time which worked out well.
This pork loin comes vacuum sealed and frozen in a long rectangular box at Costco. The box comes with two sauce packets to put on your pork loin when it's nearly finished cooking. The most convenient things about this item are that the pork is already marinated, seasoned and fully cooked so essentially all you have to do is warm this up. All I was required to do was open up the bag, place it on a cookie sheet lined with parchment paper and put it in the oven. When it came close to being done I put some of the barbecue sauce on it, heated it for a little longer and it was done. Clean up was super simple and the Harvest Creek Chinese BBQ Pork Loin sliced easily and was quite tender. I would call this a very convenient, simple, easy supper.
The regular price of this Harvest Creek Chinese BBQ Pork Loin is $11.49 Canadian. I purchased this for $2.50 off. Pork is generally less expensive than other meats but I feel like the cost is very reasonable due to how much meat you get. This could easily serve a family of four and there still may be leftovers. Also you usually end up paying quite a bit of money for convenience and I loved how convenient this was at a reasonable cost.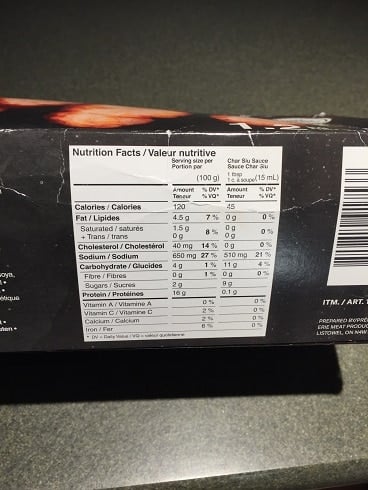 A 100 gram serving is 120 calories, 4.5 grams of fat, two grams of sugar, 16 grams of protein and a whopping 650 mg of sodium. This is definitely high in sodium. Also keep in mind a 100 gram serving isn't that big so it's easy to eat way more than that. 100 grams would be about 1/12th of the pork loin. This doesn't include the char siu barbecue sauce which is 45 calories, 9 grams of sugar and 510mg of sodium per tablespoon. I recommend having lots of water with this. I do love how much protein there is but higher amounts of protein are pretty standard when it comes to meat.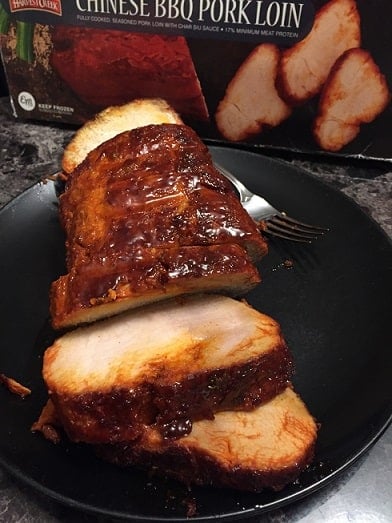 The meat was very tender and easy to cut. It wasn't full of fat and appeared quite lean. One thing I noticed was that it did have that rubbery taste/texture of processed pork. It didn't taste like the fresh pork tenderloin you buy from the meat section at Costco and cook yourself, it tasted more like processed ham which I don't love. I also did not love the spices or marinade that was used, it was not bad, just not great. It almost had a plastic taste to me. Also this is very salty tasting so if you're turned off by overly salty foods you probably won't stomach this well. My husband and I both agreed we did not love the taste of this and will not buy it again.
Overall I loved how convenient this was to make and appreciated being able to throw something in the oven and have it come out looking so perfect. I did not love the taste so much so will not be repurchasing this item again.
Taste: 3/10
Cost: 8.5/10
Convenience: 8.5/10
Nutrition: 3/10