Delicious dark chocolate and almond clusters of goodness
Please note that this review was not paid for or sponsored by any third party. I purchased this product with my own money and the opinions in this review are strictly my own. I am not affiliated with Costco or any of its suppliers. I am just a fan of the company. I write these reviews to help my fellow shoppers.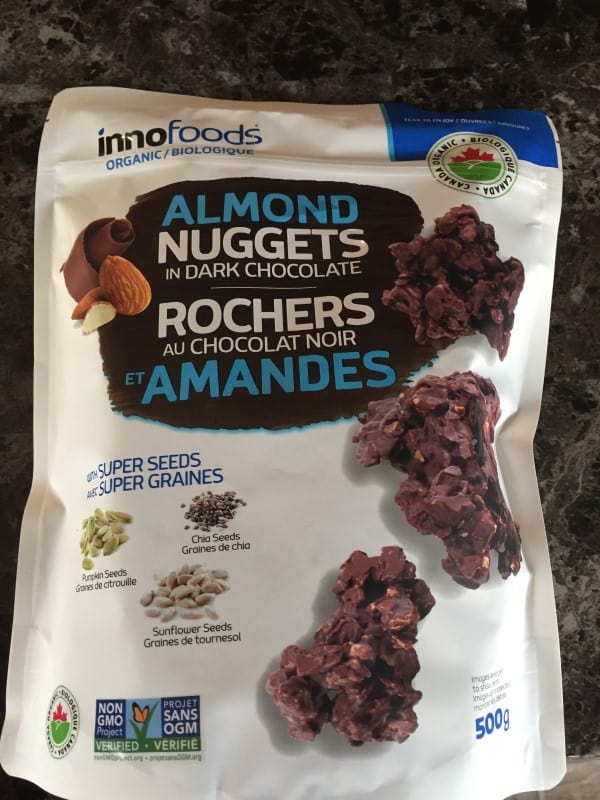 People LOVE the coconut clusters by innofoods found Costco. I've had a ton of feedback from individuals saying how addictive they are and how they're now a staple Costco purchase. I saw these almond nuggets in dark chocolate from the same company and decided to give them a try. Full disclosure, I prefer milk chocolate now but as a kid I actually claimed I preferred dark chocolate and asked for dark chocolate for Easter. I have not decided if I actually preferred dark chocolate or I was just trying to be different than my brother. Anyways.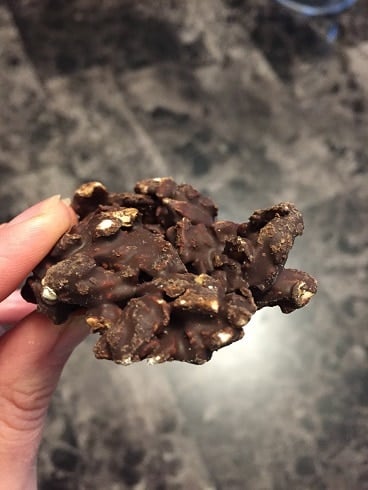 Both my husband and I initially noticed that the almond nuggets actually taste quite a bit less sweet than other treats. We both agreed these taste quite good but if you're someone who appreciates their treats on the less sweet side, you'll definitely enjoy these. I have a sweet tooth so I felt these were slightly bland and was missing the added sugar. The dark chocolate is Callebaut so it tastes like chocolate shop quality dark chocolate and pairs well with the almonds. You mainly taste almonds and dark chocolate. You don't really taste much of the pumpkin or sunflower seeds. This makes sense considering they're called a "almond nugget in dark chocolate". The nuggets reminded me slightly of those no bake oatmeal, chocolate cookies except instead of oats there is almonds. They're also extremely similar to almond bark, they definitely don't skimp on the amount of almonds, so if you go crazy for dark chocolate almond bark, purchase these. I only ate one and felt satisfied but I liked the taste of these enough to decide to not bring the bag to work just yet.
I purchased this bag on sale for $8.89 full price they were $12.89. Recently I saw them at Costco not on sale for $9.99 Canadian so the price must fluctuate. I think I would have a hard time buying these for $12.89 without trying them first and knowing I love them. Compared to other snack options they are a slightly higher price point. At $8.89 I found the cost to be reasonable considering the ingredients used are not cheap ingredients. I would definitely try to purchase these on sale if possible.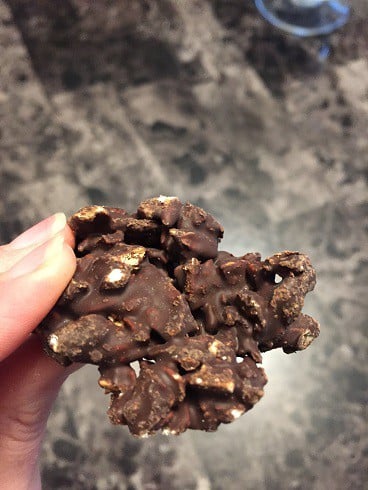 These are basically as convenient as a product comes. I don't need to say too much because they even come in a bag you can reseal (love)! You just open them up and eat them. Chances are if you like them you won't have to worry about the expiry date because they'll have been consumed long before it.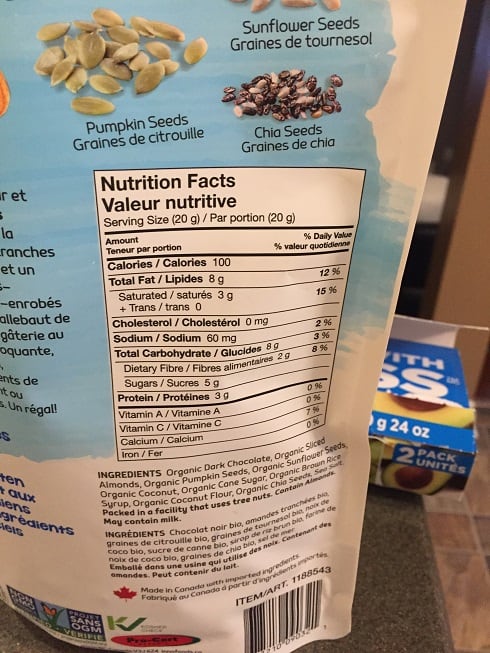 The innofoods Almond Nuggets in Dark Chocolate are 100 calories, eight grams of fat, three grams of protein and five grams of sugar for a 20 gram serving. This is less sugar than the innofoods Coconut Clusters. The three grams of protein is also a nice surprise. The eight grams of fat is most likely coming from the almonds. The Almond Nuggets in Dark Chocolate by innofoods are full of healthy ingredients, pumpkin seeds, almonds, chia seeds, dark chocolate and sunflower seeds. The almond Clusters are NON-GMO, vegan, kosher, gluten free and organic which lots of people appreciate. This doesn't mean you should replace your bowl of oatmeal for breakfast or salad at lunch with the Almond Nuggets in Dark Chocolate by innofoods. These have the tendency to lure people (like myself) into eating too many. Practicing moderation is key with foods like this. I always feel a little better about eating products with healthy ingredients but I try not to let it mask the fact these were bought in the treat/snack section and should be treated as a snack or indulgence.
In summary, these are not too sweet, contain high quality chocolate and lots of almonds and make a nice treat. It will take me some time to get through the bag but I enjoyed them enough to repurchase them in the future, especially if they are on sale.
Nutrition: 6.5/10
Taste: 8/10
Cost: 7.5/10
Convenience: 10/10
Coconut Clusters or Almond Nuggets in Dark Chocolate? Which would you rather? Would you rather have dark or milk chocolate with almonds?