Does the Easter Bunny visit your house? Kids will love these!
Please note that this review was not paid for or sponsored by any third party. I purchased this product with my own money and the opinions in this review are strictly my own. I am not affiliated with Costco or any of its suppliers. I am just a fan of the company. I write these reviews to help my fellow shoppers.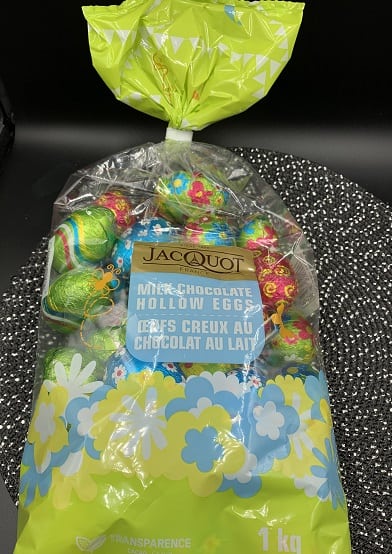 Spring officially started last week and Easter is right around the corner, so this week I thought we'd talk about something seasonal and fun – the Jacquot Milk Chocolate Hollow Eggs. When I saw them at Costco, I immediately decided to review them because I've seen them in years past and I've always wondered if they taste as good as they look!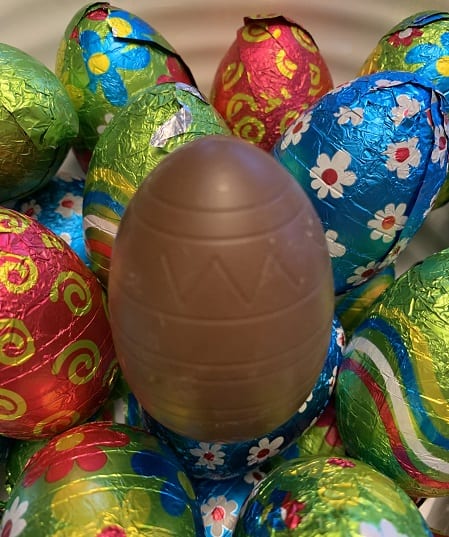 Taste
The Jacquot Milk Chocolate Hollow Eggs are exactly what the name promises – a hollow milk chocolate egg. The walls of the eggs aren't too thick, so they're easy to bite into or break into pieces. They're probably a bit thicker than a Kinder Surprise egg (which I'm guessing most of you have had at some point). They seem to be sturdy enough; we haven't finished our bag yet, but we haven't come across any broken or damaged eggs so far. The packaging prominently states that these chocolate eggs are made in France, so I was expecting some extra special chocolate. I was disappointed when I had my first bite and discovered that while the chocolate is good, it isn't anything special. It's definitely better than the chocolate used in the cheap, little foil-wrapped eggs you see everywhere around Easter, but I wouldn't say it's premium stuff. It doesn't have the smoothness or the richness of higher-quality chocolates I've had. I would say the chocolate is comparable in quality to the stuff you find in Cadbury or Nestle products. I really enjoy those products, so it's not a bad thing, but I had higher expectations given the premium-looking packaging and the fact that these are just plain hollow chocolate eggs.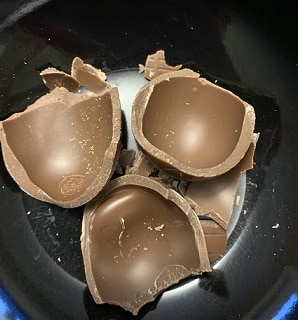 Cost
Regular price for the one-kilogram bag of Jacquot Milk Chocolate Hollow Eggs is $11.99 Canadian. There are about 40 eggs in the bag. This price point seems reasonable considering the number of eggs that you get and the fact that they're individually wrapped in beautiful foil. You also have to take into consideration the cost of other types of Easter candy that are on sale at this time of year – none of it is cheap! My husband and I love Easter candy and end up buying a bunch every year. We've noticed that every year the prices seem to go up and the packages seem to get a little bit smaller! Compared to the typical Easter staples that I know and love, these eggs are a decent value.
Convenience
The eggs would be perfect to have around the house during the Easter season, especially if you have kids expecting the Easter bunny to show up. They're individually wrapped, so they would work well for an Easter egg hunt or in baskets. As I said before, they're also surprisingly sturdy; all of our eggs survived the trip home from Costco despite being crammed into a box in the trunk of the car with a bunch of other items. The eggs are pretty enough that I think a bunch of them in a basket would actually make a nice Easter decoration (although the chocolate would probably get fairly stale since the foil doesn't form an airtight seal). The bag that the eggs come in isn't really made to reseal, so you'll probably want to keep your eggs in a Ziploc bag or some other airtight container after you open it up.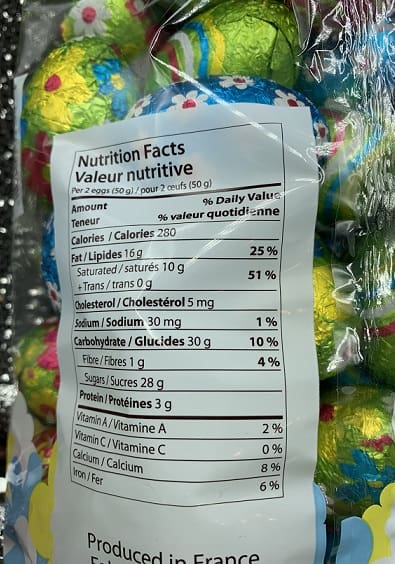 Nutrition
Two eggs contain 280 calories, 16 grams of fat, 28 grams of sugar and three grams of protein. The three grams of protein actually kind of surprised me. As they're made of pure chocolate, obviously these eggs are high in calories, sugar and fat. If you only have one egg, you're only looking at 140 calories, eight grams of fat and 14 grams of sugar. That's actually not too bad considering the eggs are a pretty good size. Maybe since they're hollow you feel like you're getting more chocolate than you actually are?
I can confidently say that kids will have a blast hunting for the Jacquot Milk Chocolate Hollow Eggs and eating them. The brightly-colored foil wrapping is very festive and visually appealing; these eggs can serve as both a tasty treat and a great Easter decoration. The chocolate wasn't extraordinary, but I'll never say no to basic, run-of-the-mill milk chocolate. They'll definitely get eaten. I'm not sure if I'd buy them again just to satisfy my chocolate craving, but I'd definitely pick some up for an Easter egg hunt or kids' Easter baskets!
Taste: 7/10
Cost: 8/10
Convenience: 10/10
Nutrition: 1/10
What's your all-time favorite Easter candy?