Are you interested in a very unique tasting cake?
Please note that this review was not paid for or sponsored by any third party. I purchased this product with my own money and the opinions in this review are strictly my own. I am not affiliated with Costco or any of its suppliers. I am just a fan of the company. I write these reviews to help my fellow shoppers.
This review was originally done as a guest post for the amazing Costco West fan blog. Please visit this website to see Costco deals in Western Canada or even if you're just curious about the different products Costco currently is offering!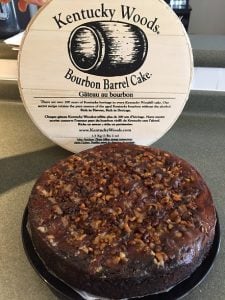 The Kentucky Woods Bourbon Barrel Cake from Costco is a combination of a yellow cake and chocolate cake mixed together in a layered/marbled fashion (it looks like either one depending on the piece you get). The cake mixture is infused with bourbon extract and topped with walnuts and a chocolate/caramel drizzle. The flavor or the bourbon is pretty robust and strong – this cake definitely has a unique flavor and isn't like anything I've tasted before. If you like cakes that taste a little boozy, I think you'll enjoy the Kentucky Woods Bourbon Barrel Cake a lot. I didn't find it overly sweet; it actually seemed less sweet than most cakes to me. It had a slightly woody taste to it, I think from the bourbon extract. The cake is extremely moist (almost wet), which I think is a good thing. There's a generous amount of nice crunchy walnuts on top and the chocolate/caramel drizzle is delicious. I could see this cake being extra delicious warmed up with a scoop of vanilla ice cream (that's how I'm planning to try my next slice).
The first thing I noticed is that this cake comes in a very nice, sturdy, round box. It's the kind of box that you keep and reuse for years; I would feel bad throwing it away. I've decided I'm going to keep my Kentucky Bourbon Barrel Cake box to store delicate Christmas ornaments. I wasn't alone in being impressed by the package; my husband's parents were over when I had the cake sitting on the counter and asked if they could have the box when we were finished with it! They even said, "the box alone is worth a few bucks". Inside, the cake is wrapped separately in tight plastic wrap with a round cardboard piece inside the wrapping at the bottom to support the cake, so the box stays nice and clean. Unfortunately once you open the plastic wrap there isn't a way to reseal it; that's my only complaint about the packaging. I ended up cutting my whole cake into pieces, wrapping them in saran wrap and putting the wrapped pieces in a Tupperware container to store them in my freezer. The cake comes with instructions in the box that say it should be kept in the fridge, wrapped and consumed within five days. I knew my husband and I wouldn't be able to eat our cake that quickly, so I decided the freezer was a better option for us (I don't see why it wouldn't freeze as well as any other cake, but we'll see). I also gave my dad a few slices; his plan was to add actual bourbon to the cake and then use his food saver to vacuum pack and freeze it.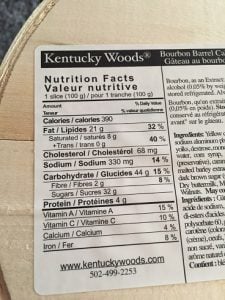 As you'd expect, the Kentucky Bourbon Barrel Cake is pretty high in calories, fat and sugar. With that being said, I was surprised that a 100 gram piece contains 32 grams of sugar because it didn't taste very sweet to me. The fat content is probably higher due to the walnuts that are on top. Although it definitely tastes like it has alcohol in it, it actually doesn't and is non-alcoholic! Apparently the cake is flavored with bourbon extract.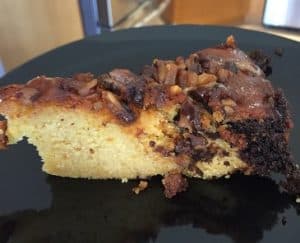 I purchased the Kentucky Bourbon Barrel Cake on sale from Costco for $15.99 Canadian. $19.99 Canadian is the regular price. At $15.99, I feel that the cost is reasonable. It's quite a large cake, has lots of nuts on top and also comes in that fancy (potentially reusable) box. If you know someone who likes bourbon, this would make a great gift. At $19.99 it seems a little pricey, but you're paying for the packaging and novelty of the cake. I attend a large Christmas craft sale in my city every year, and similar (albeit homemade) cakes sold at that event go for $30-$40 Canadian. When you look at it that way, even the regular price seems reasonable as this cake might not be homemade, but it certainly still has character!
The Kentucky Bourbon Barrel Cake is huge and not necessarily something I can see myself eating a lot of (even though I enjoyed it), so I won't be repurchasing it. My husband said he really liked it and was surprised about that since he generally doesn't like desserts that taste of alcohol. I definitely recommend the Kentucky Bourbon Barrel Cake as a gift (it would be great to take to a Christmas party!) or if you're looking to be adventurous and try a very unique-tasting cake. Even if you dislike it, you still get a pretty nice box.
Taste: 7/10
Cost: 7.5/10
Nutrition: 1/10 (walnuts are healthy?)
Convenience: 9/10
Are there any other seasonal items from Costco you're curious to try?