Totally reasonably priced, moist and delicious!
Please note that this review was not paid for or sponsored by any third party. The opinions in this review are strictly my own. I am not affiliated with Costco or any of its suppliers. I am just a fan of the company. I write these honest reviews to help my fellow shoppers.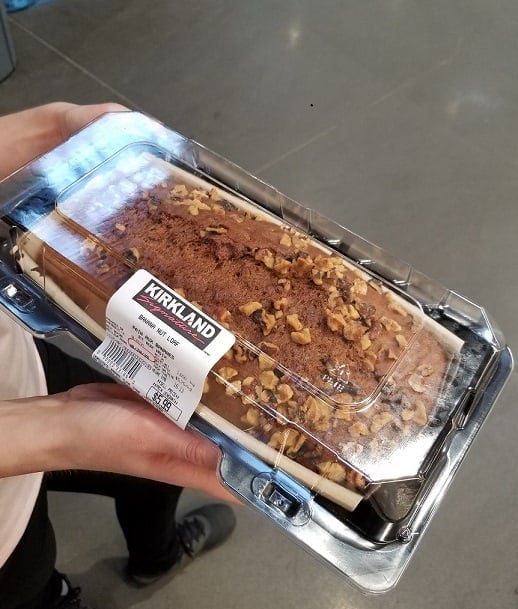 Who does not love banana bread? Banana bread in my opinion is delicious, comforting and makes me oh so happy. Basic banana bread is simple and tasty and I've also tried banana bread with raisins, chocolate chips, nuts and even with cream cheese icing. Did you know that "the best" banana bread in the world is from Maui, Hawaii called Julia's banana bread. Basically you have to drive a distance on this super treacherous road in Maui to reach a little shack in the middle of the rain forest that sells faniys Julia's banana bread. When Sean and I were in Maui I insisted we get this banana bread. So now that I have had the "best banana bread in the world" I feel qualified to review the Costco Kirkland Banana Bread.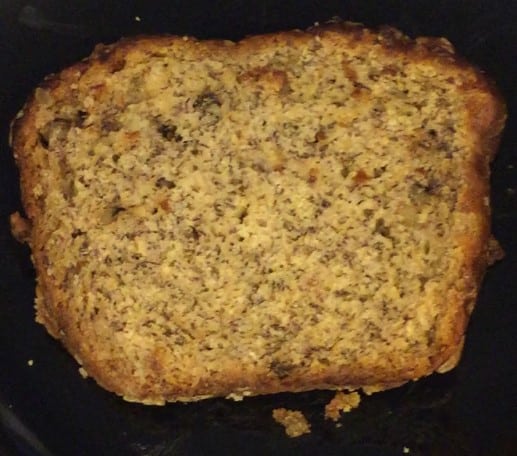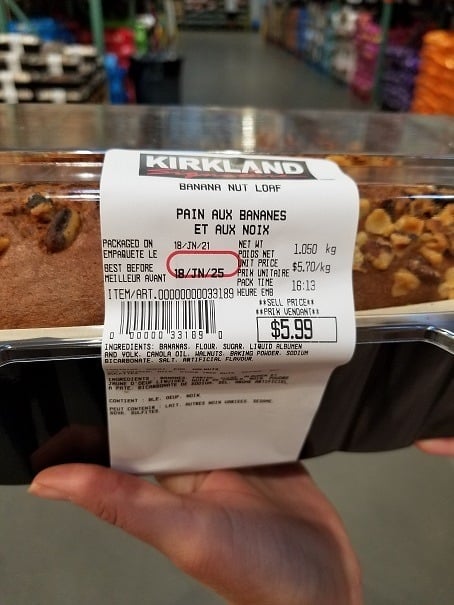 The banana bread is quite reasonably priced as it's a huge loaf and only $5.99. When I purchased my banana bread the container was still warm so obviously it was super fresh. It's topped with walnuts that seem to fall off pretty easily when sliced. Flavor wise if you like straight up banana bread this is it. It's not like "AMAZING BEST BANANA BREAD EVER" but it's very good! Considering you pay over $4 for a slice of not nearly as good banana bread at Starbucks or a cafe I would say Costco is doing a pretty good job. It has some nuts in the bread so obviously a con is that if you are allergic to nuts you cannot eat this. Also there is not any nutritional information on the bread which is kind of a con. I do not think it's the healthiest item but there is not a long list of preservatives added and it was freshly baked. The flavor seemed to taste better on the second and third day and I can also say it freezes really well. If you like a banana bread that is super greasy and moist this is not it. I personally like my baked items really, really moist so I slathered some butter on this and it made it 100 times better. I should mention I am kind of a butter addict thought. This banana bread is perfect if you are hosting people for breakfast or brunch or need something to bring to a work meeting. It is quite large and you can slice it and freeze it in individual saran wrapped portions to make a very convenient breakfast or snack. It also makes amazing banana bread French toast. If you have never had banana bread French toast, it is really decadent and delicious and I will be posting my recipe for it Friday!
Nutrition: 2/10 (it has bananas right?)
Taste: 8/10
Convenience: 10/10
Cost: 10/10 ($5.99 is so good for an entire loaf!)
Do you like chocolate chips or raisins in your banana bread? Do you add butter like me on top or no?