Even if you're a raisin hater, these are still pretty good.
Please note that this review was not paid for or sponsored by any third party. The opinions in this review are strictly my own. I am not affiliated with Costco or any of its suppliers. I am just a fan of the company. I write these honest reviews to help my fellow shoppers.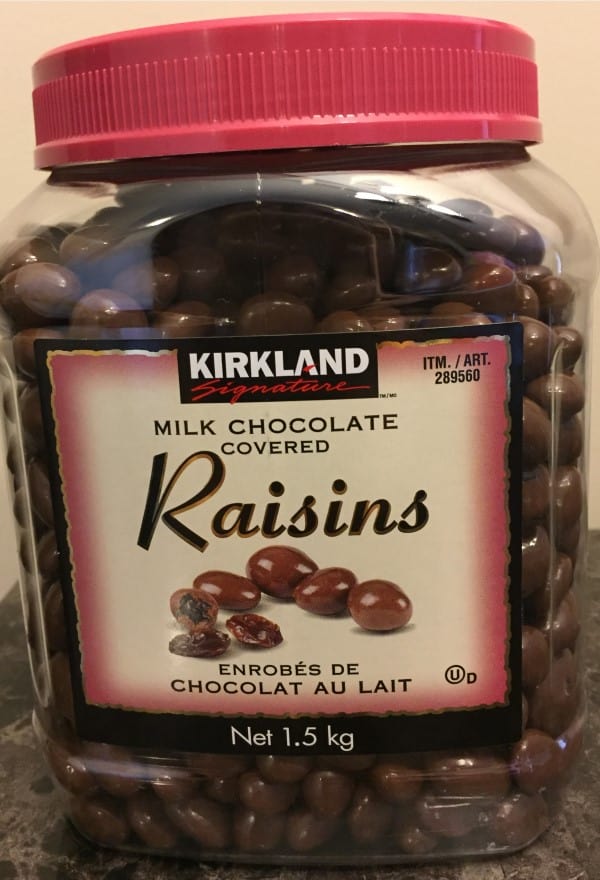 I feel like raisins are one of those things that grow on people the older they get. Maybe it's just me? I used to moan when my mom would tell me she had made raisin anything and wish she had used chocolate instead. Now I actually like raisins and love chocolate covered raisins. They are addictively delicious.
It all started when I randomly decided to pick up a bag of glosettes a few weeks ago. I did not even know they still made glosettes, but they do. The glosettes were "okay enough" to get me to want to buy the Costco version of chocolate covered raisins. Let me tell you, compared to the Kirkland chocolate covered raisins, glosettes look like shriveled up little impersonators.
WARNING: These are hard to stop eating, the evening I opened these all of a sudden while in front of the television I noticed the once full 1.1kg container had decreased by a quarter. The chocolate to raisin ratio is perfectly executed, you get a nice thick coating of smooth, sweet milk, luscious chocolate around a delicious plump non-shriveled, non-tough raisin. These are simple, not complicated, not fancy but oh so good.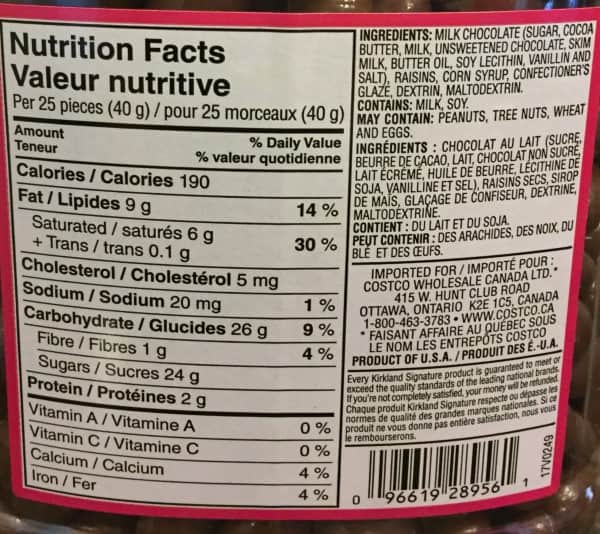 I'm not going to pretend these are super nutritious by saying something like "Well they are raisins and raisins are grapes, which are good for you." You're looking at 190 calories, 9 grams of fat and 24 grams of sugar for 25 of these. Which actually is quite a few considering their size, these are not tiny. I call this kind of food item soul food. Basically soul food is food that's delicious, you enjoy, is good for your mood and gets you excited. Cost wise these are quite reasonable.
I know what you're thinking, "Natalie, why on earth do I need 1.1 kg of chocolate covered raisins?" I will just say this, these are probably the highest quality chocolate covered raisins you can find so if you enjoy chocolate and raisins, buy these for yourself. These also make the perfect candy dish filler, I could see people at work appreciating you sharing these or serving these at a BBQ, birthday or potluck would also be a good use. Hosting a party? This is a perfection addition to your candy bar. Or you can do what I'm doing and make Oatmeal Chocolate Raisin Cookies! There's oatmeal raisin cookies and oatmeal chocolate chip cookies but have you ever had oatmeal chocolate raisin cookies? I'll be posting the recipe Friday!
Nutrition: 2/10 (remember me talking about soul food? Food that makes you happy? This is it!)
Taste: 9/10 (they don't skimp on the chocolate and use nice big juicy raisins, addictive to say the least)
Convenience: 10/10 (too convenient, you end up eating a quarter of the container before you know it)
Cost: 7/10 (this large container was just over $11 CAD. It may seem slightly expensive but considering the quality and how much you get I think it's reasonable. Plus you can use these to make cookies)
Do you like chocolate covered raisins? What's your favorite thing to eat that's covered in chocolate? Raisins, almonds, fruit, toffee, caramel?