My review for the Kirkland Signature frozen wild caught Atlantic cod from Costco!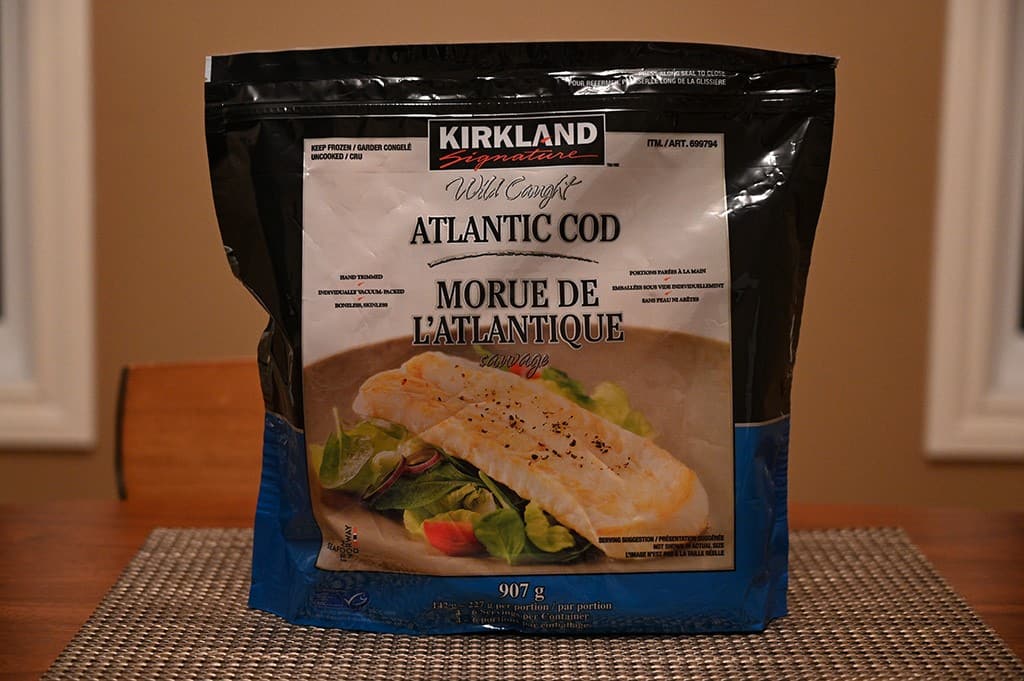 Recently I decided that cod was actually okay tasting and began eating more cod because of the health benefits! I posted a review for this Miso Glazed Cod from Costco and when I ran out of that I decided I needed to buy some more cod.
I hadn't tried the Costco Kirkland Signature Wild Caught Atlantic Cod so I picked up a bag to try. I figure it's a healthy option because it's just plain cod so I can control how much salt and oil I add to it!
You can find the Costco Kirkland Signature Wild Caught Alaskan Cod in the freezer section by the other frozen fish and the item number is 699794.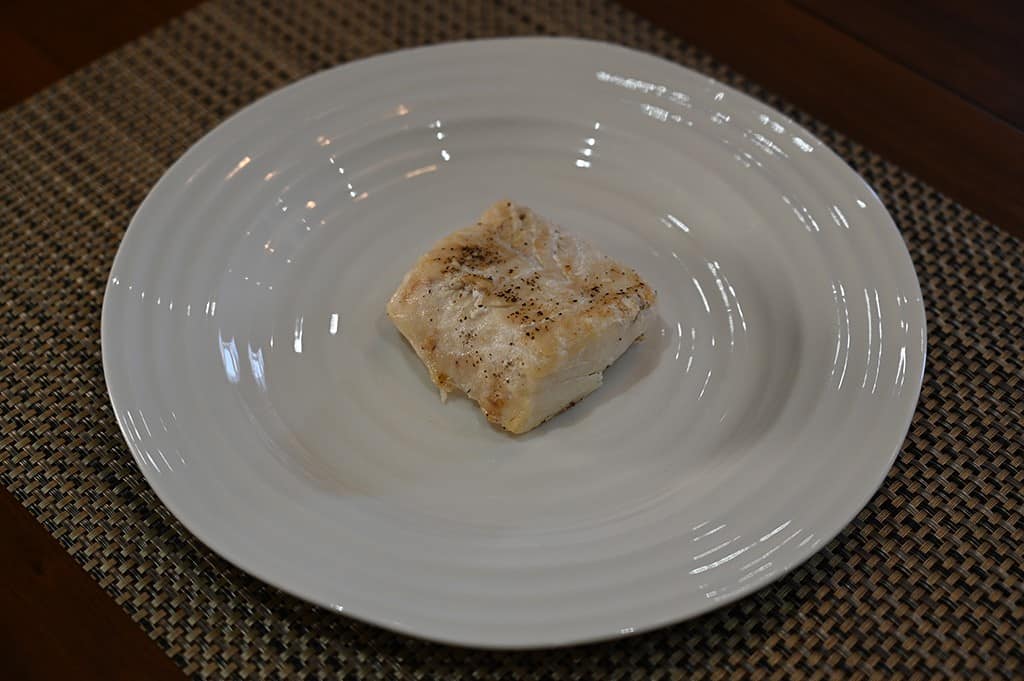 Taste
I really wanted to like this cod and I still like cod in general but will not be repurchasing the Costco cod again, it almost turned me off cod completely. I totally may have just got a bad bag.
First of all this cod smells fishy, as soon as I take it out of the packaging and put it in the oven to bake I just wait for my husband to start making comments about how fishy it smells. I do not enjoy fishy smelling fish at all and got turned off by the smell. Also I found a few small pieces of bone in my cod, not a big deal but when you combine the bones with the smell I wasn't loving this.
There's no added flavor to the cod, which is totally fine for me because I enjoy just simple salt & pepper. After baking this the cod was mostly tender, light and flaky but I did find some gross, slimy bites.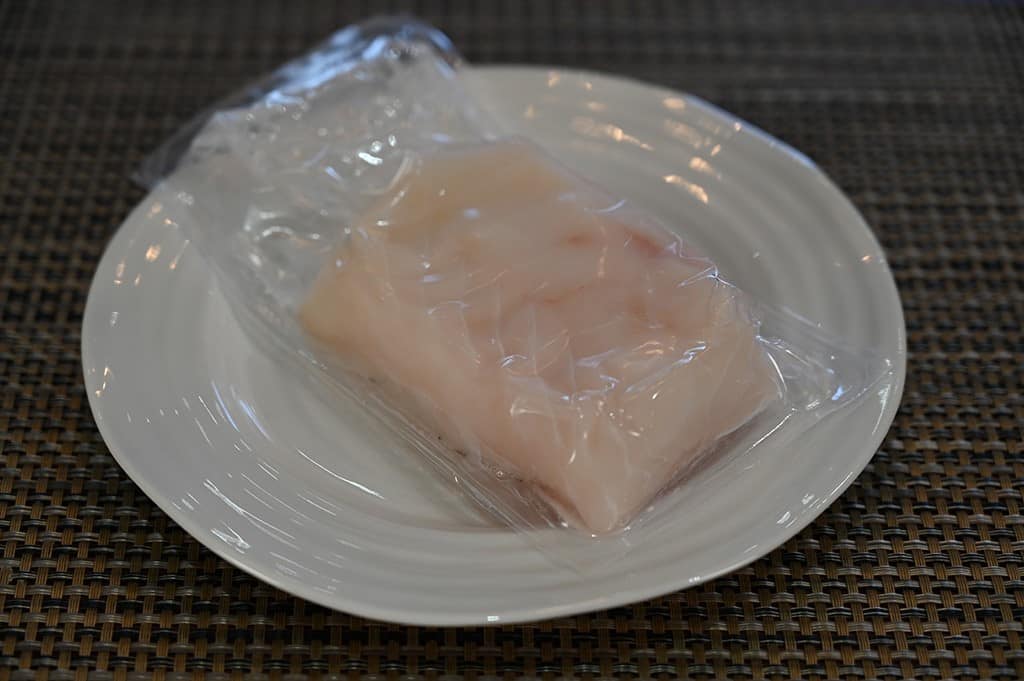 Cost
I paid $21.99 for the bag of Kirkland Signature Wild Cod. You get 4 to 6 cod portions in the bag that are 142 to 227 grams each and come individually vacuum-packed.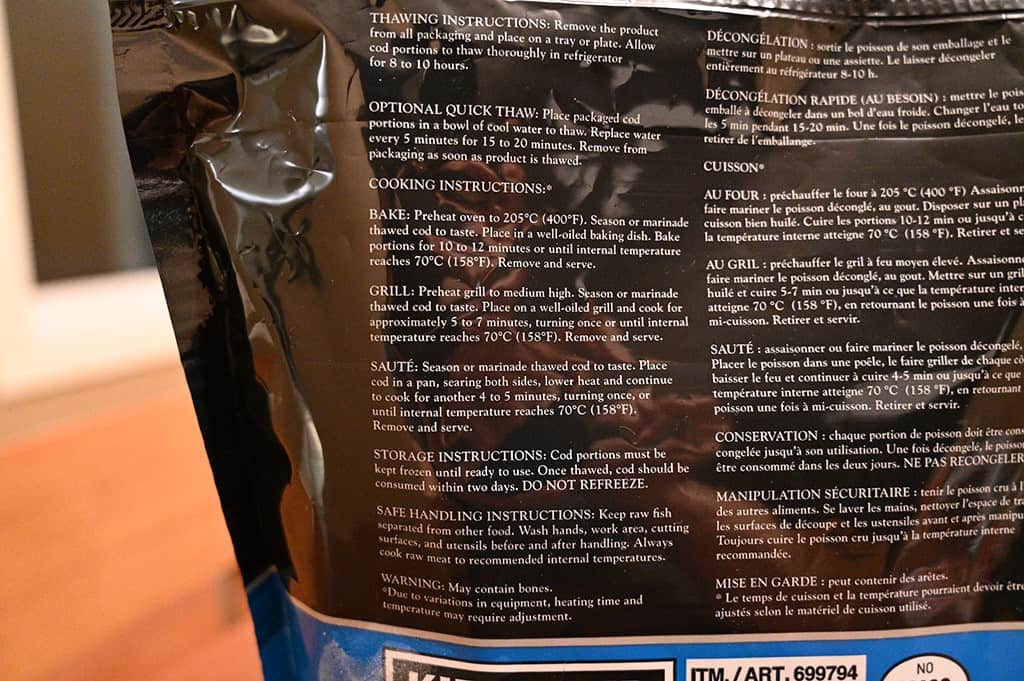 Convenience
You can choose to grill, sauté or bake the cod to prepare it. The cod needs to be defrosted and you can do that by leaving it in the fridge overnight. Once the cod is thawed the bag states it should be consumed within two days.
I chose to bake the cod, the packaging states to bake it at 400 degrees farenheit for 10 to 12 minutes however I found my cod needed a few minutes longer than 12 minutes before it reached an internal temperature of 158 degrees Fahrenheit.
The cod needs to be kept frozen until you're ready to cook it and the best before date listed on the bag is about a year and a half from the date we purchased the frozen Costco Kirkland Signature Wild Caught Atlantic Cod.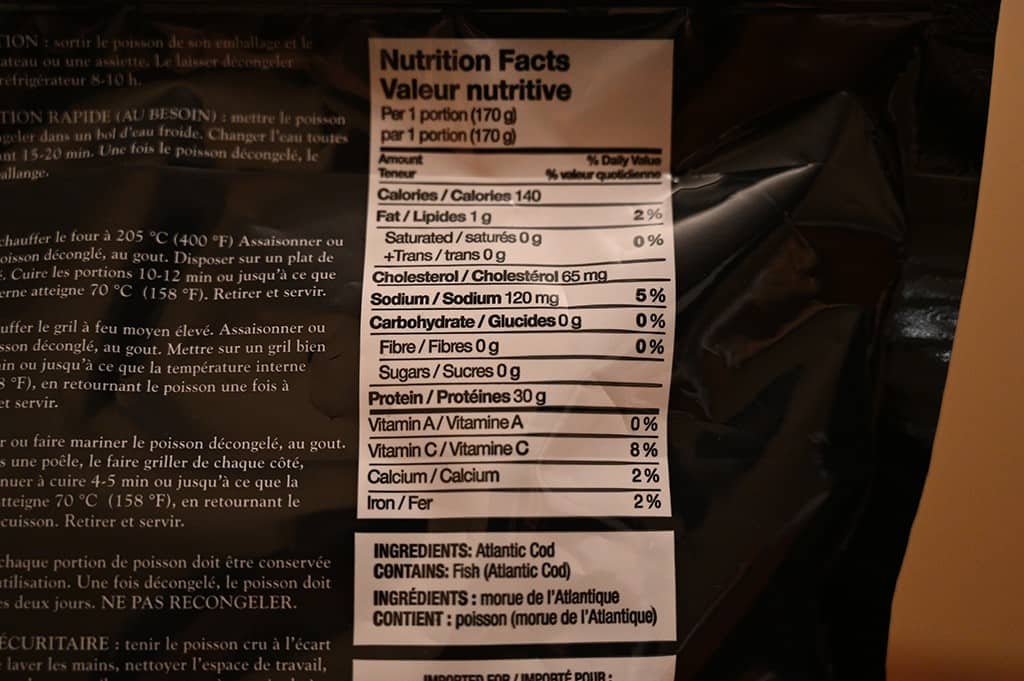 Nutrition
Cod is a super healthy protein option. A 170 gram portion is 140 calories, one gram of fat, 120 mg of sodium, zero grams of fibre, sugar or carbohydrates and 30 grams of protein! The ingredients list is one ingredient, Atlantic Cod.
I've had other cod before that wasn't at all slimy, was less fishy smelling and didn't have bits of bone so I'll skip repurchasing this product. I'm not sure if I just got a bad batch but I'm a little turned off to try it again!
Scoring
Taste: 6/10
Cost: 7.5/10
Convenience: 5/10
Nutrition: 10/10
Overall
Walk on by!
I enjoy the High Liner Miso Glazed Cod from Costco more than this so you might want to check that product out if you like cod!
Have you tried this cod? How did you find it, did I just get a bad bag?
---
Please note that this review was not paid for or sponsored by any third party. This product was purchased by Costcuisine for the purpose of producing this review. The opinions in this review are strictly those of Costcuisine. Costcuisine is not affiliated with Costco or any of its suppliers. In the event that Costcuisine receives compensation for a post from the manufacturer of a product or some other third party, the arrangement will be clearly disclosed (including where the manufacturer of a product provides Costcuisine with a free sample of the product).