Pesto lovers rejoice! You can stop making your own pesto.
Please note that this review was not paid for or sponsored by any third party. The opinions in this review are strictly my own. I am not affiliated with Costco or any of its suppliers. I am just a fan of the company. I write these honest reviews to help my fellow shoppers.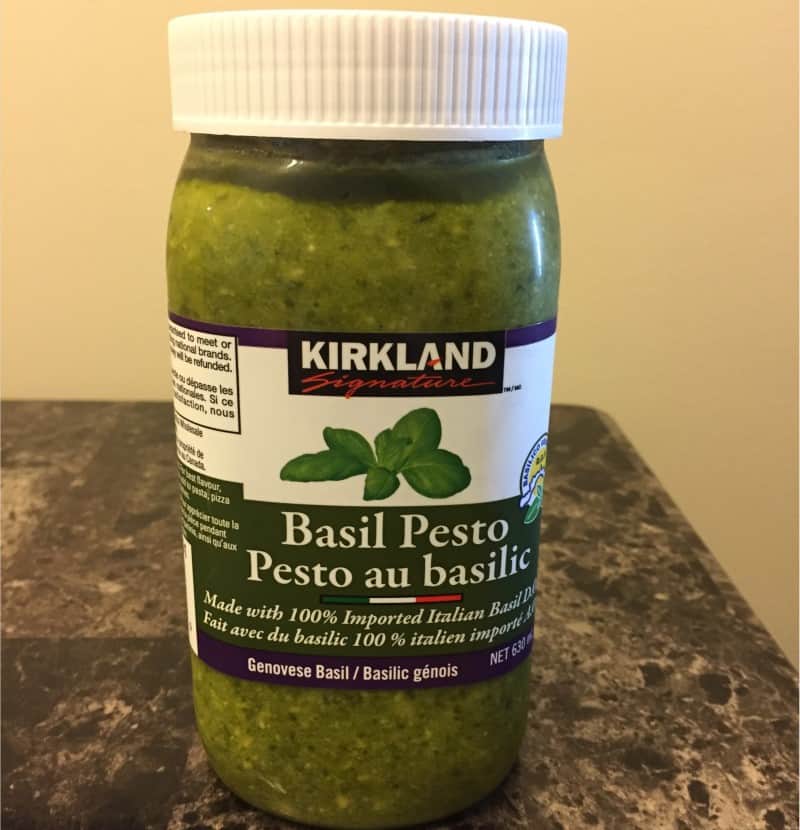 So I have to tell you a secret. I hated pesto before I had ever tried it. I never had pesto prior to meeting Sean. He introduced me to it when he made dinner for our first valentine's day together (awww so sweet!). Anyways I remember Sean saying we had to stop at a grocery store because he needed to pick up this store made pesto. I was all cool with the idea of pesto until I picked up a jar and saw the nutritional info. HOW can there be SO much FAT in such a small amount I thought. Instantly I was turned off but because Sean was making dinner I had no choice but to try it. Well I thought this high fat pesto I feared tasted pretty darn good. When I saw Costco had released their own Kirkland Signature pesto I knew I had to try it.
First off. What is Pesto? Pesto is essentially pine nuts, basil, extra virgin olive oil and cheese. Kirkland Signature uses 100% Genovesa basil from Italy (where pesto originated). So that must make it more authentic right?
Taste wise, pesto is delicious. If you like the flavors of basil, nuts and cheese (pecorino, parmesan) then you'll love pesto. It goes well in a frittata or eggs, with pasta, as a spread on bread or crostinis, on sweet potatoes, as a pizza sauce, with crackers, certain meats such as prosciutto and chicken. It's not a super sharp, distinct overpowering flavor and goes well with a variety of foods.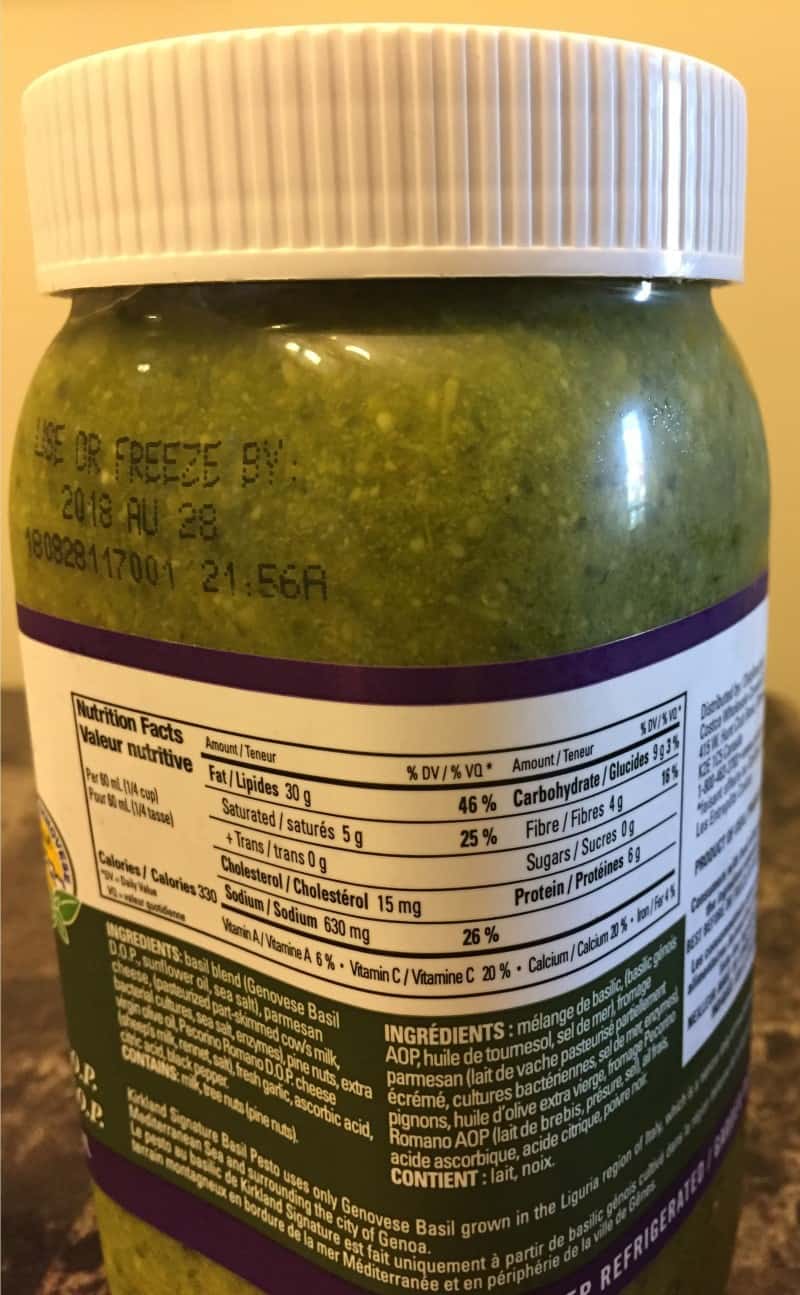 Nutrition wise, okay let's break it down. A quarter cup has 330 calories, 30 grams of fat, 630mg of sodium, 6 grams of protein and 4 grams of fibre. No sugar. That might seem a little mind blowing at first. When I first saw the nutrition information on pesto years ago I swore I would never eat it. However these are healthy fats, coming from olive oil, pine nuts, cheese. Also if you think about it, let's say you make a massive pasta salad and add a quarter cup of pesto to it and eat it amongst 4 people over 2 days, you're probably only getting a maximum of 10 grams of fat and not that many calories. Do I recommend you eat pesto everyday on bread for lunch? Maybe not, but a lot of people do well on a higher fat diet. Fats are good for hair, nails and skin! To all the vegans out there I apologize, this is not vegan but it is gluten free and vegetarian.
Cost wise, this is a 630 ml container of Pesto for 10.99 Canadian. I'll just say it, you will not find pesto that is this high quality at this price. You just will not. At a specialty Italian store this would probably be 20 dollars or more. Have you ever bought a small bag of pine nuts? My friends, they are not cheap. Basically this pesto scores high on being reasonably priced. Some may think, 10.99 for sauce?! That is ridiculous, but you have to consider the quality and price of ingredients used.
Convenience? It does not get anymore convenient. The alternative to store bought pesto is using your own food processor to combine the ingredients and make it fresh which takes time as does buying all the ingredients. There's a use by date on the side of the bottle and you can even freeze this as well. (I love to freeze everything, even small tiny amounts of cooked rice that my husband finds 2 years later buried in the freezer).
Overall! Pesto is awesome, this pesto is delicious, high quality, priced right and I would buy it again. The only downside is that it's such a large container that using it by the best before date may be tricky for some.
Nutrition: 5/10 (high calorie and full of healthy fats, a little high in sodium).
Taste: 9.5/10
Cost: 9/10
Convenience: 10/10
Do you like pesto? What is your favorite food to have with pesto? Mine is pasta for sure!