Do you love the Costco deli section meals for convenience as much as I do?
Please note that this review was not paid for or sponsored by any third party. The opinions in this review are strictly my own. I am not affiliated with Costco or any of its suppliers. I am just a fan of the company. I write these honest reviews to help my fellow shoppers.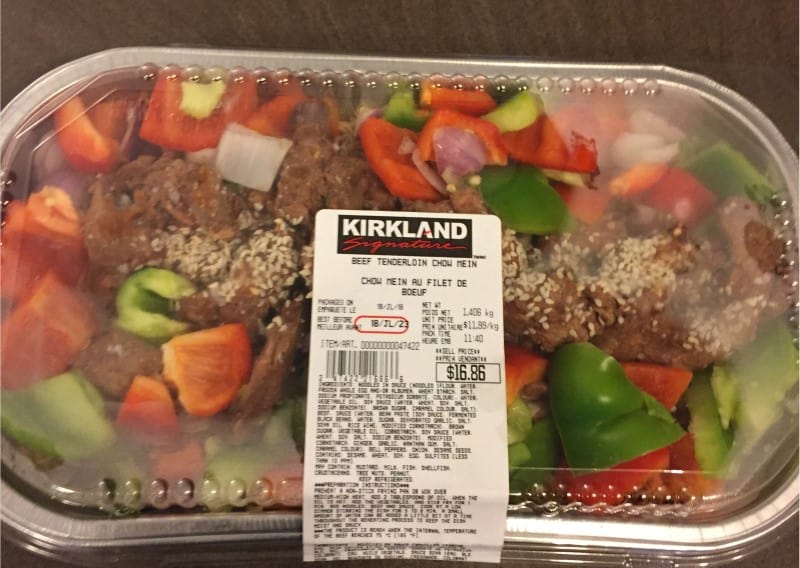 I really, really, really love the Costco deli section with the pre-made meals such as lasagna, chicken salad, quinoa salad, pizza. I love it because it makes busy nights easier and I feel like it's halfway between eating healthy at home and eating out. I look forward to cold winter nights where I can watch a movie and stay in with my Costco pre-made selection.
I have had the Costco Kirkland Signature Chicken Chow Mein many times and I really enjoy it. They are currently not carrying the Chicken Chow Mein and have replaced it with this Beef Tenderloin Chow Mein so I decided to try it. When I make egg rolls and potstickers as a side this meal will last us two nights (leftovers are the best aren't they?).
Basically it comes with chow mein noodles layered on the bottom, beef, purple onion and green and red peppers on top. Sometimes if I have extra veggies in my fridge such as celery, sugar snap peas or carrots I add them to increase the volume and amount of vegetables. Super easy to cook. You heat about a tablespoon of Costco Kirkland Extra Virgin Olive Oil in a pan and add the veggies, when they soften you add the meat and noodles and cook for about 6-8 minutes until it's nice and hot.
It takes about 15 minutes to cook up but it's very simple. If you're totally turned off by any cooking I would recommend grabbing something else like a food court cooked pizza or Caesar salad. I would rate this as in the middle of the road for convenience, it's more work than take out (you have to clean your pan after) but it's less work than cooking this meal from scratch and cutting vegetables, cutting meat, cooking noodles.
I love the taste of the black bean sauce in this meal. The chow mein noodles aren't soggy or overcooked and the vegetables are fresh and crisp. I actually made this right on the best before date and we also ate it 2 days past the best before date for leftovers, it was fine. Overall it's a really tasty chow mein. I definitely prefer the chicken version to the beef though, I did find pieces of beef that were fatty or had gristle and I ended up wasting those. You do not have that problem with the chicken.
Nutritionally, there's no nutrition information available for this dish. However I will say it's definitely carbohydrate heavy. If you're watching your carbohydrate intake, maybe not the best choice. It does have vegetables with increases the nutrition and there is a substantial amount of meat so you are getting protein. The fat in this dish is coming from the meat and the oil used. I would say this is probably healthier than take out but definitely not the healthiest option for dinner. To make it healthier you can add extra veggies like I do and stretch this out so you're eating more veggies and less noodles.
The price fluctuates depending on the weight. I always look for the biggest one and this cost $16.86 Canadian. For a convenient meal, opposed to getting takeout which would cost more I would say the cost is quite reasonable. It might even be cheaper than making the same dish at home and buying all the ingredients.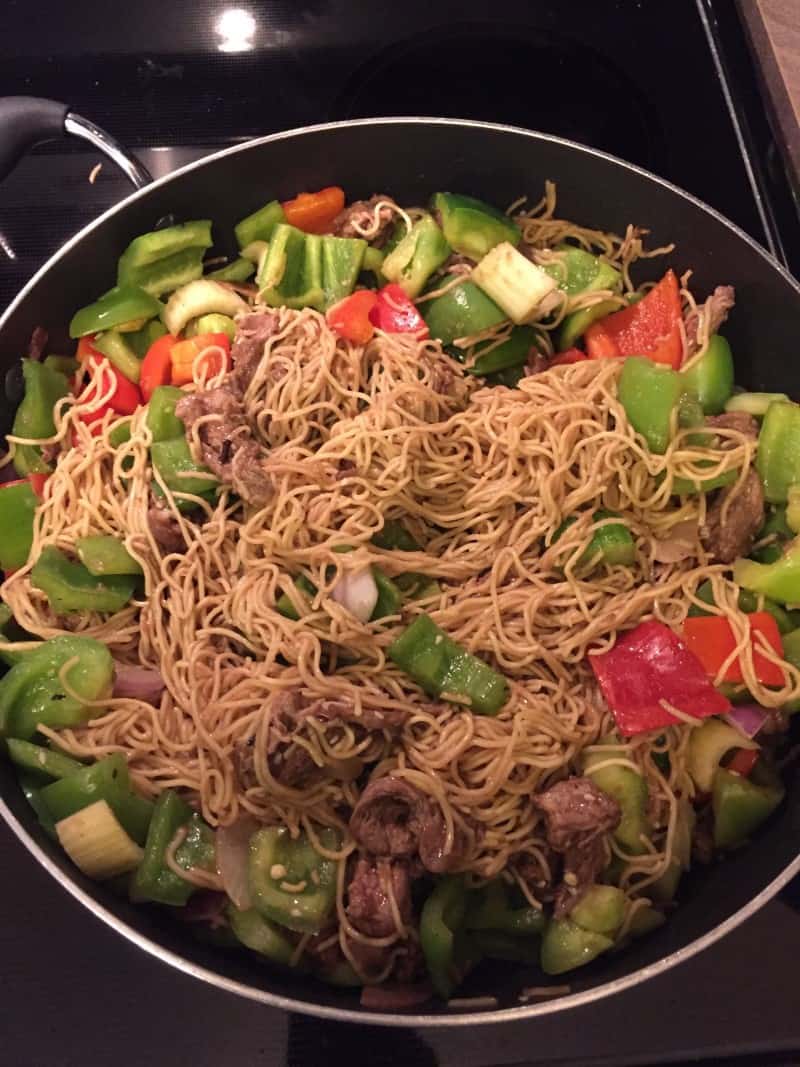 Overall, honestly I probably won't buy the beef one again, I did not love the gristle and fat I found but I will definitely purchase the chicken chow mein if or when it comes back out!
Taste: 7/10
Cost: 5/10
Convenience: 7/10
Nutrition: 4/10
Which chow mein do you like the best – chicken, beef, shrimp or tofu?