New Year's Eve is just a few days away! Are you hosting a party or attending one?
Please note that this review was not paid for or sponsored by any third party. I purchased this product with my own money and the opinions in this review are strictly my own. I am not affiliated with Costco or any of its suppliers. I am just a fan of the company. I write these reviews to help my fellow shoppers.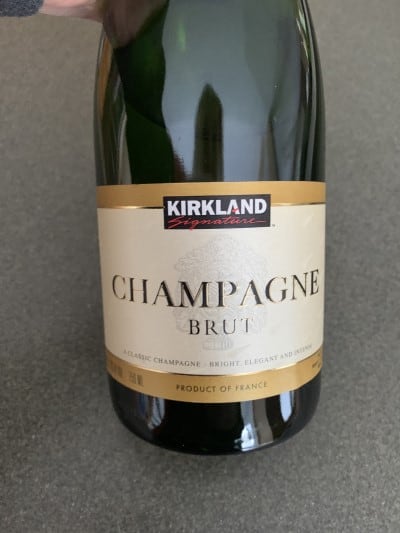 How was your Christmas? Did you eat lots of delicious food? We had crab legs and lobster tails from Costco on Christmas Eve and they were DELICIOUS! With New Year's Eve just a few days away, I figured it was the perfect opportunity to review the Costco Kirkland Signature Champagne!
Taste
Costco Kirkland Signature Champagne is actually produced in France and is produced from a combination of Chardonnay, Pinot Noir and Pinor Meunier grapes. The champagne tastes refreshing, crisp, slightly citrusy and has a long finish. It's not overly sweet and doesn't have the oaky flavor you sometimes taste in certain white wines. Recently I toured a vineyard in Italy and learned that a good wine or champagne should have a 10 to 20 second finish, meaning you can taste it in your mouth for about 10 to 20 seconds after you swallow it. I found that pretty interesting. Anyway, this is definitely one of the more bubbly champagnes I've had, so it has that sharp carbonated taste from the fermenting sugar/yeast when you drink it and swallow it.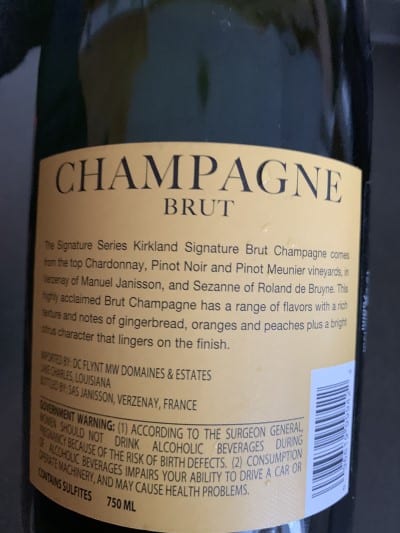 Cost
The price of the Costco Kirkland Signature Champagne is one of the main reasons why I recommend it. Compared to other champagne of similar quality, you're saving a ton of money by buying the Costco Kirkland Signature Champagne. The Costco Kirkland Signature Champagne Brut will run you about $30 dollars Canadian, while other bottles of similar quality will cost you about $50 dollars Canadian minimum.
Convenience
We don't really need to talk about convenience when it comes to champagne. Still, for someone like me who hasn't mastered the art of opening champagne, I can't say it's very convenient because I either would have to watch a Youtube video on how to open champagne without taking my eye out or wait until someone who knows how to open champagne without getting it everywhere is around. Luckily my husband seems to know what he's doing!
Nutrition
Did you know that Brut Champagne has less added sugar than certain other kinds of champagne? If you're looking for a champagne without much added sugar, look for one labeled as "Brut". I don't know the nutrition information for the Kirkland Signature Champagne, but I can tell you with quite a bit of confidence that there's not much nutritional value in champagne. However, champagne is usually something that signifies celebration so I guess it has a positive mental energy associated with it!
I definitely recommend the Costco Kirkland Signature Champagne. Even if you don't drink, this champagne is a great choice to bring as a gift for your host on New Year's Eve or to have on hand if you're the one hosting and you want to give your guests something bubbly to drink after that special toast when the clock strikes midnight. The Costco Kirkland Signature Champagne is crisp and refreshing and is a very high quality bottle of champagne at a reasonable price. Try a blind taste test with your guests and see if they can guess that it's Kirkland champagne! I'm almost positive they'll think it's an expensive, well-known brand of champagne.
I hope you have a wonderful New Year's Eve!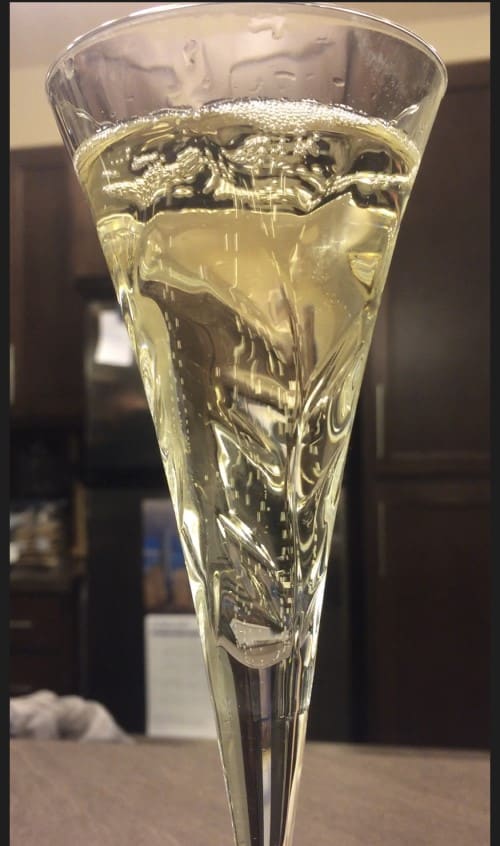 Taste: 8/10
Cost: 9/10
Convenience: It's very convenient as long as you know how to open it!
Nutrition: 1/10
How do you celebrate New Year's Eve? Do you have any special traditions?