You can't go wrong with Costco cookies!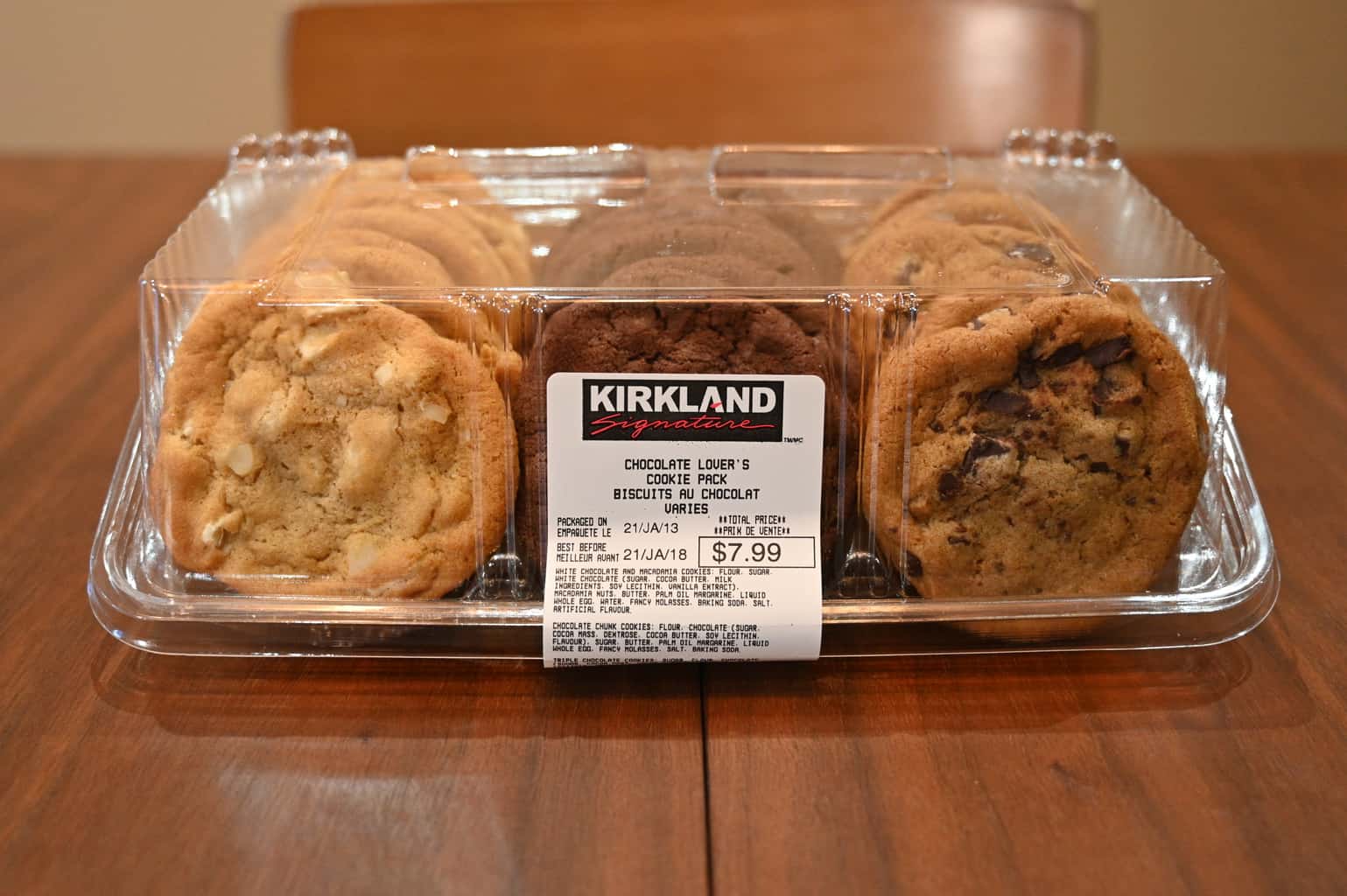 As a nurse, there are a few treats we often indulge in at work. These items include Tim Hortons Timbits, Costco slab cakes and Costco cookies, these are staples in nursing celebrations. If anyone is a nurse in Canada reading this you might relate to this. Today I'm reviewing the Costco Kirkland Signature Chocolate Lovers Cookie Pack.
Taste
The three flavors in the pack are white chocolate macadamia nut, triple chocolate and chocolate chunk. They're soft and chewy in the middle and slightly crisp on the outer edges. They're definitely a thinner cookie so if you're looking for a thick cookie, these are not them. They also taste slightly underdone and are quite soft so if you like your cookies very crisp, look elsewhere. I feel like the ratio of chocolate chunks and nuts to cookie dough is just right, not too much and not too little. My husband and I often split these in half and there are never any arguments about which piece has more chocolate or macadamia nuts.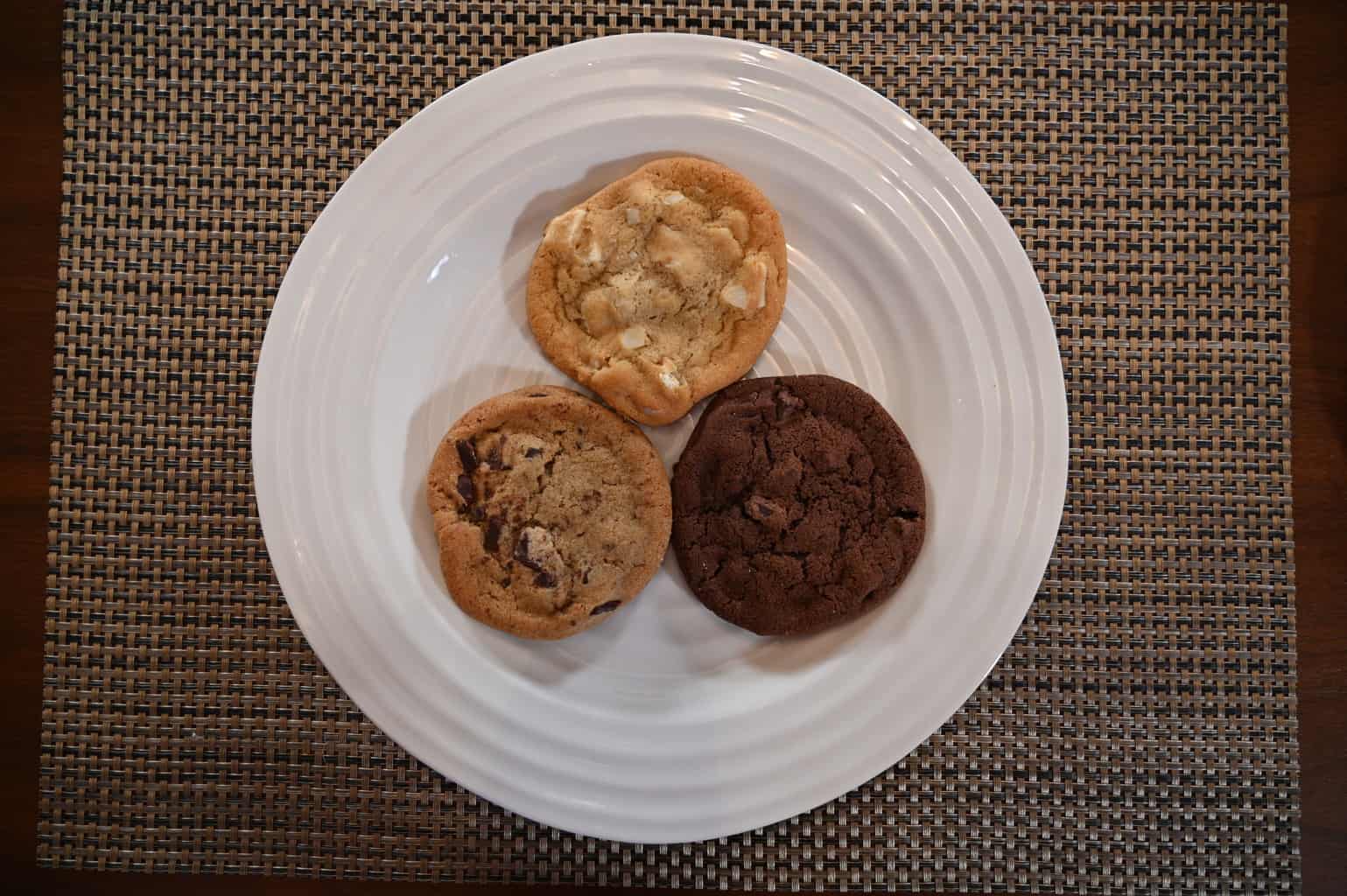 My favorite is by far the white chocolate macadamia nut, the cookie dough itself is very sweet and soft and there's white chocolate chunks as well as unsalted macadamia nuts scattered throughout the cookie. I love white chocolate combined with macadamia nuts and feel the two flavors pair perfectly together. The macadamia nuts also add a crunchy texture to the cookie. The chocolate chunk is my second favorite, it's a sweet cookie dough base with semisweet chocolate chunks throughout the cookie. The triple chocolate doesn't taste as chocolatey as you would expect. It's a slightly rich chocolate cookie dough base with chocolate and milk chocolate chunks. The one thing I don't love about the triple chocolate cookie is there's a sprinkling of sugar on top. I feel like the sugar on top is unnecessary and overkill. I won't say these are as good as home-baked cookies but they're pretty much the next best thing.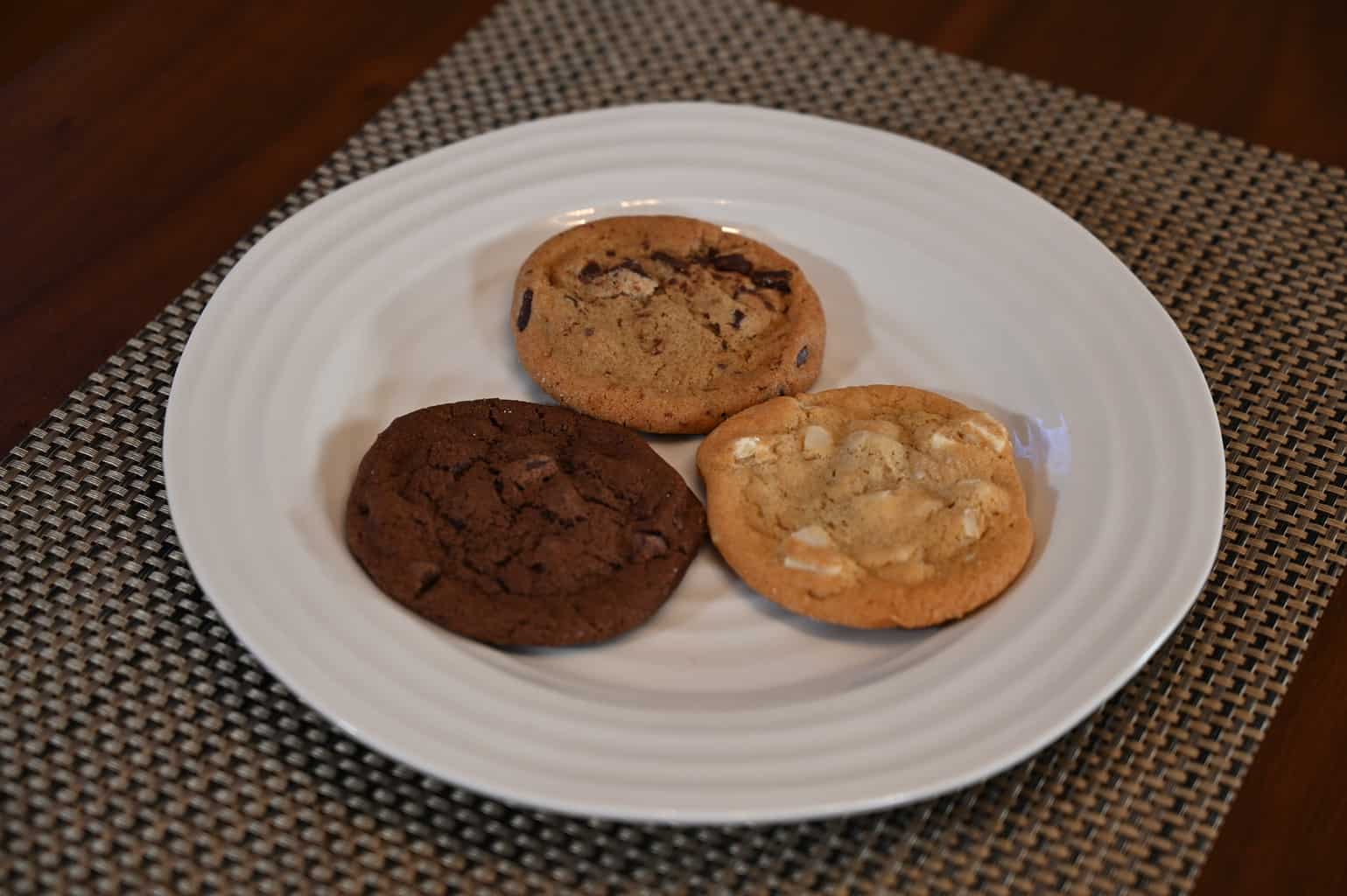 Cost
The Costco Kirkland Signature Chocolate Lovers Cookie Pack has 24 cookies in the pack for $7.99 Canadian. This is far cheaper than any bakery cookies you'll find. I think the quality of these cookies far surpasses other grocery store cookies and have no problem paying $7.99 for 24 large Costco cookies.
Convenience
Making cookies from scratch isn't the most difficult thing to do but making three different kinds of cookies is definitely not easy. This pack has three different flavors in it which is super convenient because if you're bringing them to share with others as long as the person likes chocolate they'll be sure to find a cookie they like out of three flavors. They're conveniently packaged in a plastic resealable container that divides each flavor of cookie into its own section. These cookies freeze fabulously, I always freeze these in a ziplock bag right after purchasing them and just take out a cookie to defrost when I want.
Nutrition
Do you even want to know? If you must know…here it is. The chocolate macadamia nut cookie is 230 calories, 12 grams of fat and 17 grams of sugar, 170 milligrams of sodium and three grams of protein. The triple chocolate cookie is 220 calories, 10 grams of fat, 20 grams of sugar, 170 milligrams of sodium and two grams of protein. The chocolate chunk cookie is 220 calories, 10 grams of fat, 19 grams of sugar, 180 milligrams of sodium and three grams of protein. These are not marketed as healthy cookies so I believe you should have a cookie and enjoy it!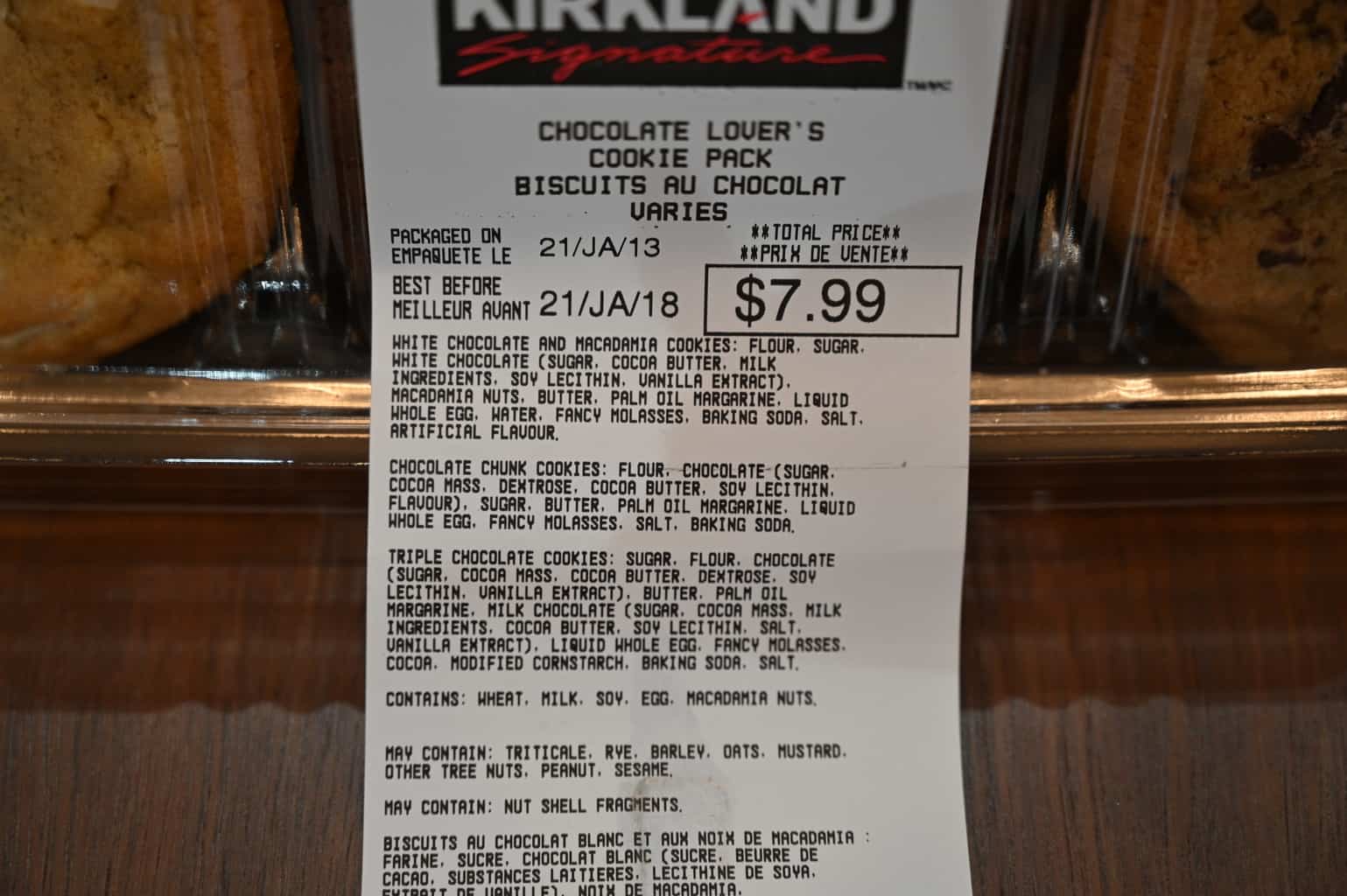 Scoring
I enjoy all three flavors in the Costco Kirkland Signature Chocolate Lover's Cookie Pack so I definitely recommend them. I've witnessed a TON of colleagues enjoy these throughout my nursing career at potlucks and celebrations and my husband and I regularly keep these in our freezer and pull them out for a quick, convenient, sweet treat.
Taste: 8/10
Cost: 9.5/10
Convenience: 10/10
Nutrition: 1/10
Overall
Must buy!
Have you tried these? What did you think? If you could only choose one, which kind of cookie would you eat from the Costco Chocolate Lover's Cookie Pack?
Please note that this review was not paid for or sponsored by any third party. This product was purchased by Costcuisine for the purpose of producing this review. The opinions in this review are strictly those of Costcuisine. Costcuisine is not affiliated with Costco or any of its suppliers. In the event that Costcuisine receives compensation for a post from the manufacturer of a product or some other third party, the arrangement will be clearly disclosed (including where the manufacturer of a product provides Costcuisine with a free sample of the product).