Where are my chocolate lovers?!
Please note that this review was not paid for or sponsored by any third party. I purchased this product with my own money and the opinions in this review are strictly my own. I am not affiliated with Costco or any of its suppliers. I am just a fan of the company. I write these reviews to help my fellow shoppers.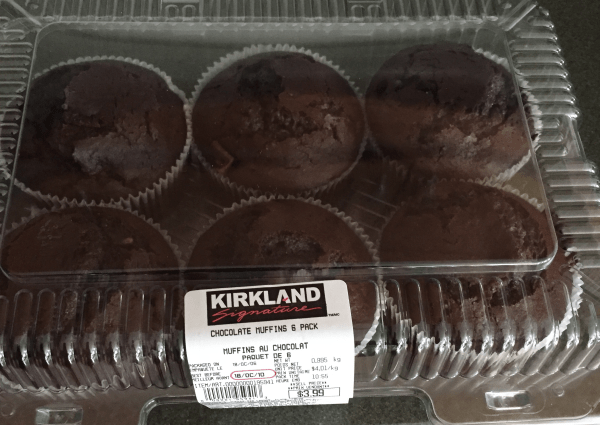 We're talking muffins again! This time, I'm delving into double chocolatey goodness. The Costco double chocolate muffins are MUCH different than the cranberry orange ones, so I feel like they deserve their own post. If you want to eat cake for breakfast and at the same time tell yourself that you're not technically eating cake for breakfast, then pick up some of these chocolate muffins from Costco ASAP! I wish I could say I hate these, because it would have saved me a lot of calories over the years. I don't hate them though – I actually really love them and have ever since I was a little girl. Isn't it funny how when you're a kid you wish your Mom would let you eat all the Costco muffins because they're so good? Or you eat two or three in a day in an attempt to gobble them up before your sibling does? Then once you become an adult, it's like, "oh man I should not be eating double chocolate muffins for breakfast, I'll just have my spinach celery juice thank you". I guess we suffer through the healthy stuff so that we can enjoy things like these muffins!
Taste
These muffins have a dark chocolate, rich flavor and are packed full of extra chocolate chips to increase the overall chocolatey deliciousness. The muffin has a texture similar to a moderately dense cake. Although they're packed full of chocolate they're not overly artificially sweet. The chocolate flavor is more like a dark chocolate rather than a milk chocolate. The Costco Kirkland Signature Chocolate Muffins are also quite moist. If you want to imagine the taste, picture eating a dense, moist, dark chocolate cake minus the icing. These do dry out if you leave them out so I recommend freezing them right away if you're not going to eat them all!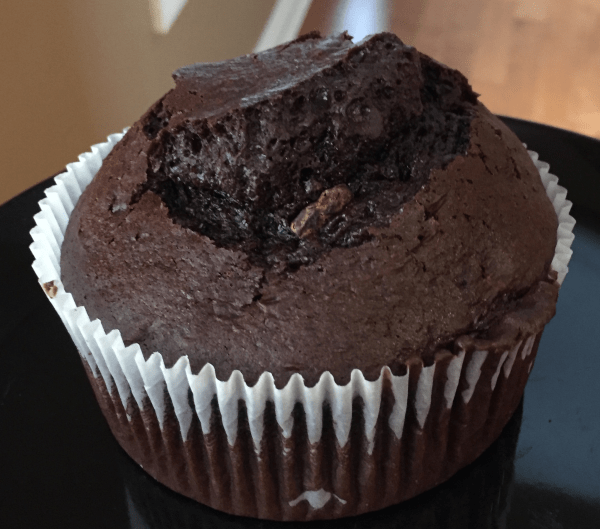 Cost
The cost of the muffins is $3.99 Canadian for a package of six, or two packages for $7.00 Canadian. Pretty reasonable for muffins that are the size of my face!
Convenience
These muffins are convenient for a bunch of reasons: they freeze well, you can eat them at pretty much any time of day and both kids and adults love them. I also think it's much easier to buy the jumbo-sized muffins rather than to bake them. I've never even seen muffin cups this size before in a store – have you?
Nutrition
When it comes to the nutritional information for the Costco Kirkland Signature Chocolate Muffins, ignorance is bliss! There are definitely some preservatives and other unhealthy ingredients in these. It almost goes without saying that sugar is the first ingredient listed – these muffins are loaded with fat and sugar.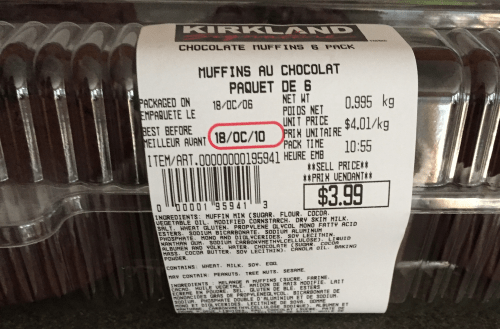 I'd love to eat these regularly, but realistically I'll purchase them maybe once a year as a treat. If I had kids I'd probably purchase them more often as I used to look forward to getting them back when I was a kid, and kids still seem to love them.
Taste: 8.5/10
Cost: 9.5/10
Convenience: 10/10
Nutrition: 1/10
What are your feelings on having double chocolate muffins for breakfast?