This is sooooooooo rich!
Please note that this review was not paid for or sponsored by any third party. The opinions in this review are strictly my own. I am not affiliated with Costco or any of its suppliers. I am just a fan of the company. I write these reviews to help my fellow shoppers.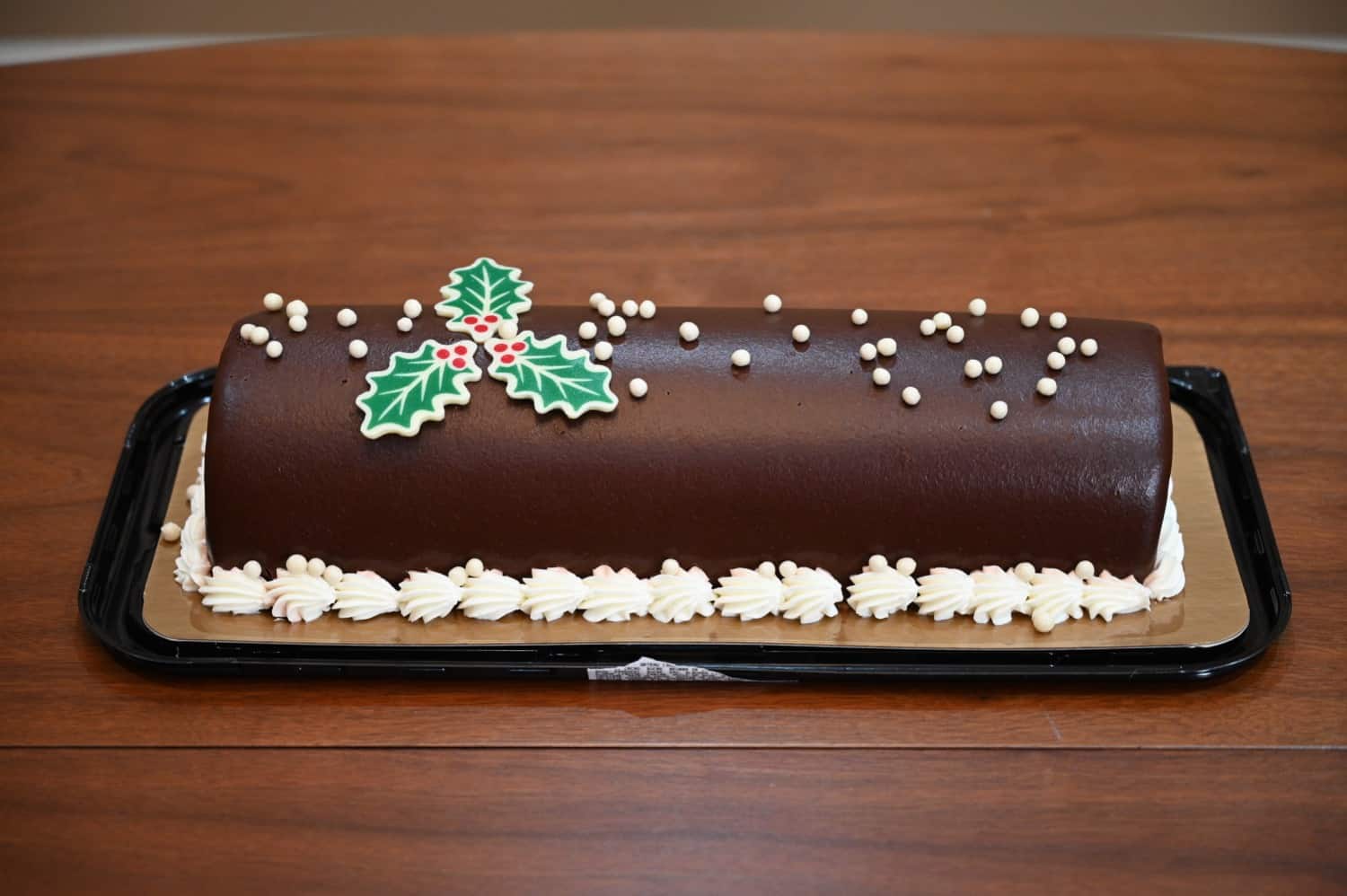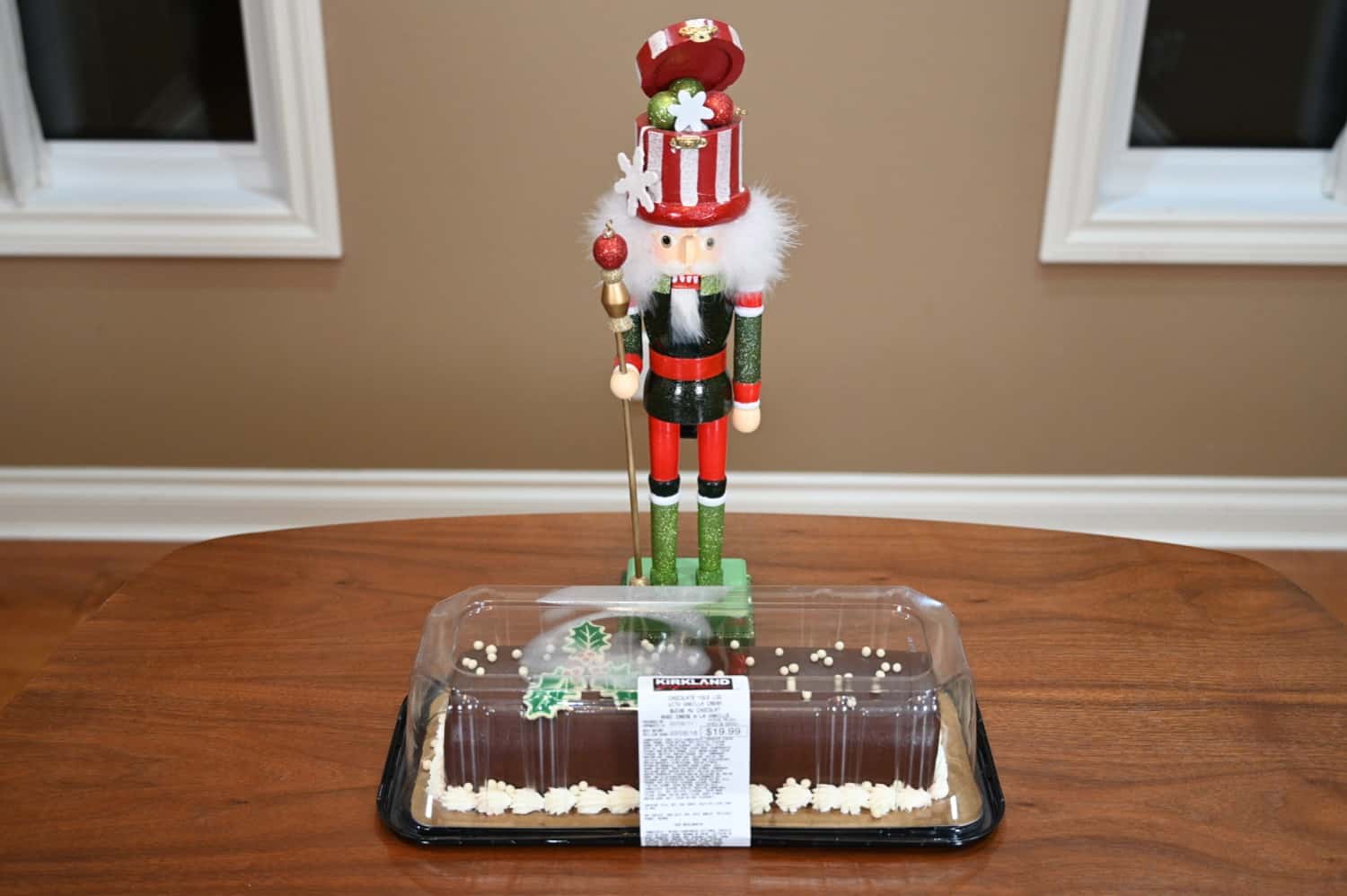 Sean and I had a plan last Friday to go to the Costco Liquor store strictly to pick up some ingredients to make Christmas Moscow Mules. When we got there I decided I wanted to quickly run in the store to get a salad kit and maybe some fresh berries.
Big mistake, we left $300 dollars poorer and a huge Costco Kirkland Signature Chocolate Yule Log With Vanilla Cream richer. Today I'm reviewing this yule log that you might consider picking up for the holiday season!
Taste
Okay this is rich like…really rich. You only need a tiny slice. There's a lot going on in this yule log! The bottom is a layer of chocolate cake, then there's a chocolate mouse, in the middle of the chocolate mousse there's a vanilla pudding and below that vanilla pudding is chocolate fudge. Then the whole log is encased in chocolate ganache with whipped cream piped along the edges.
There's also a white chocolate mistletoe garnish on the top of the yule log. The first couple of bites tasted really good but it's so rich that it was too much to handle after a few bites. Had I served myself a thin slice and not 1/8th of the log I probably would have done okay.
The chocolate mousse is really enjoyable and flavorful, the cake is great (probably the same cake from the tuxedo cake, the ganache is good and the chocolate fudge under the vanilla is yummy too. I didn't love the vanilla pudding.
It's like the vanilla custard or pudding from the large slab vanilla birthday cakes they used to make, just not my favorite. I dropped off some pieces for my parents and they found it rich as well.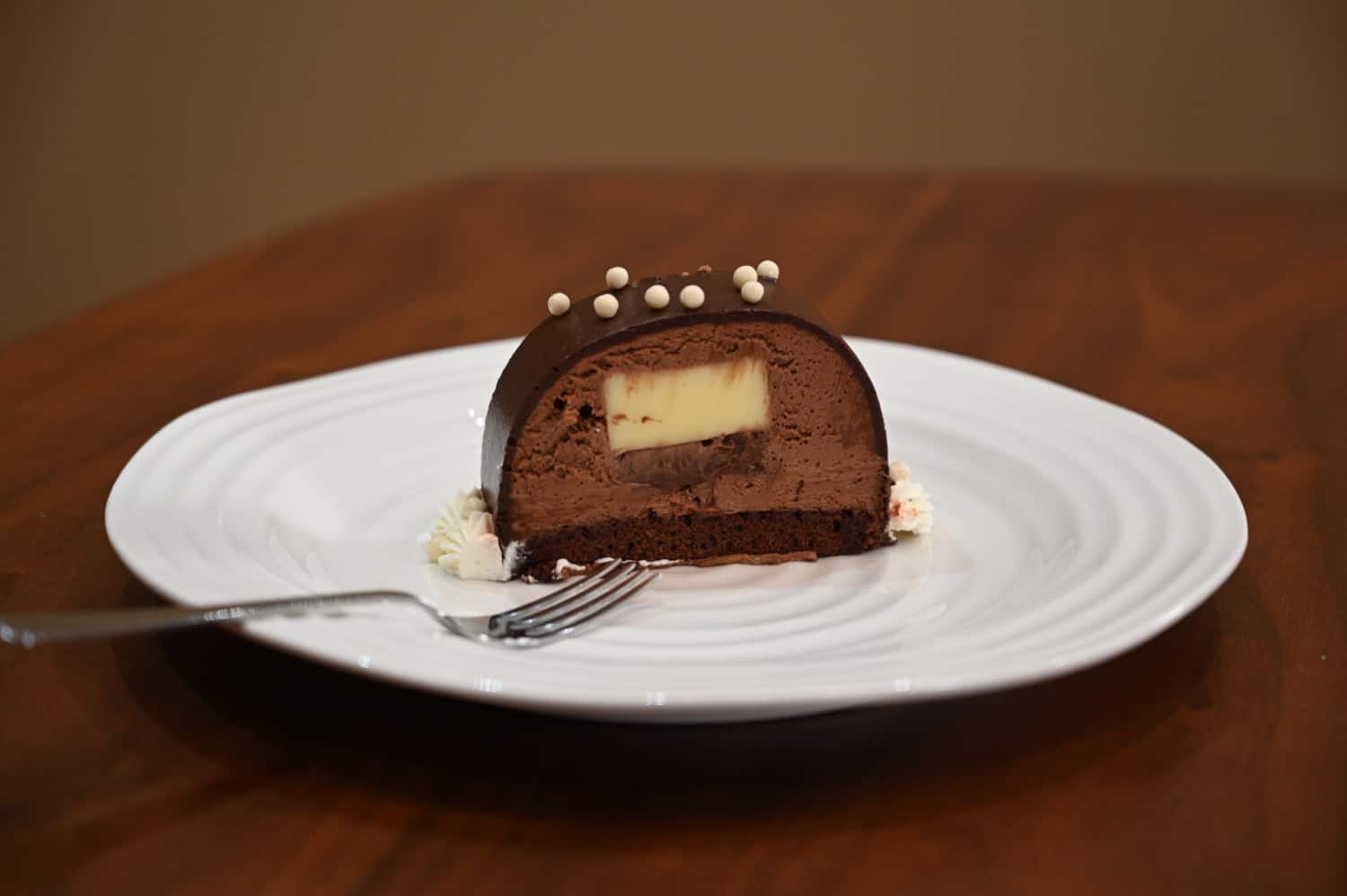 Cost
I paid $19.99 Canadian for yule log. This could easily feed about 16 people so the price is very reasonable. Lots to freeze and enjoy at a later date.
Convenience
The best before date is about five days from the date this was packed on. It freezes really well and is great for a holiday season dessert.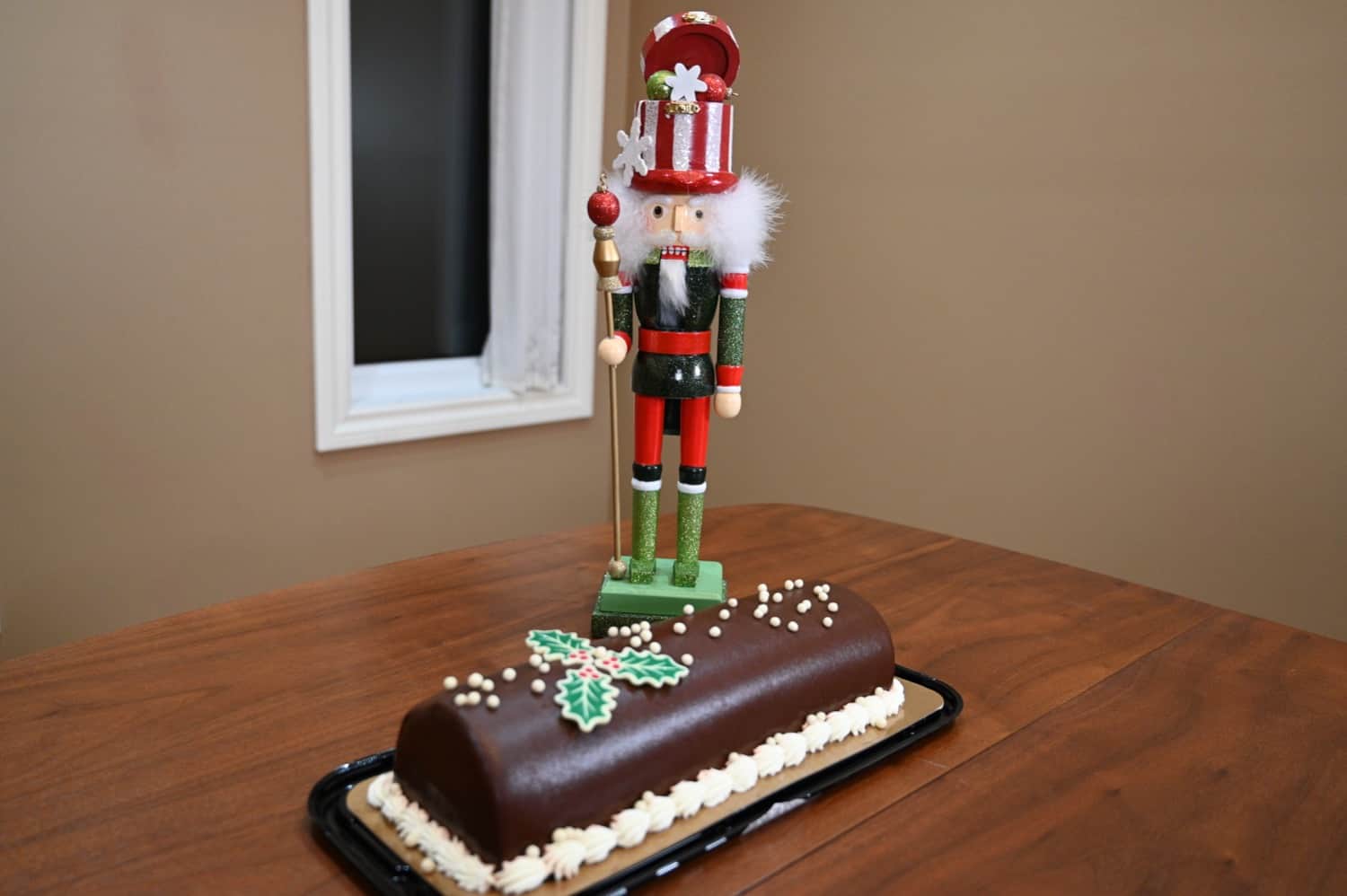 Nutrition
Definitely not healthy for you but you already know that! 1/16th of the log is 350 calories, 24 grams of fat, 65 mg of sodium, 30 grams of carbohydrates, three grams of fibre, 21 grams of sugar and four grams of protein.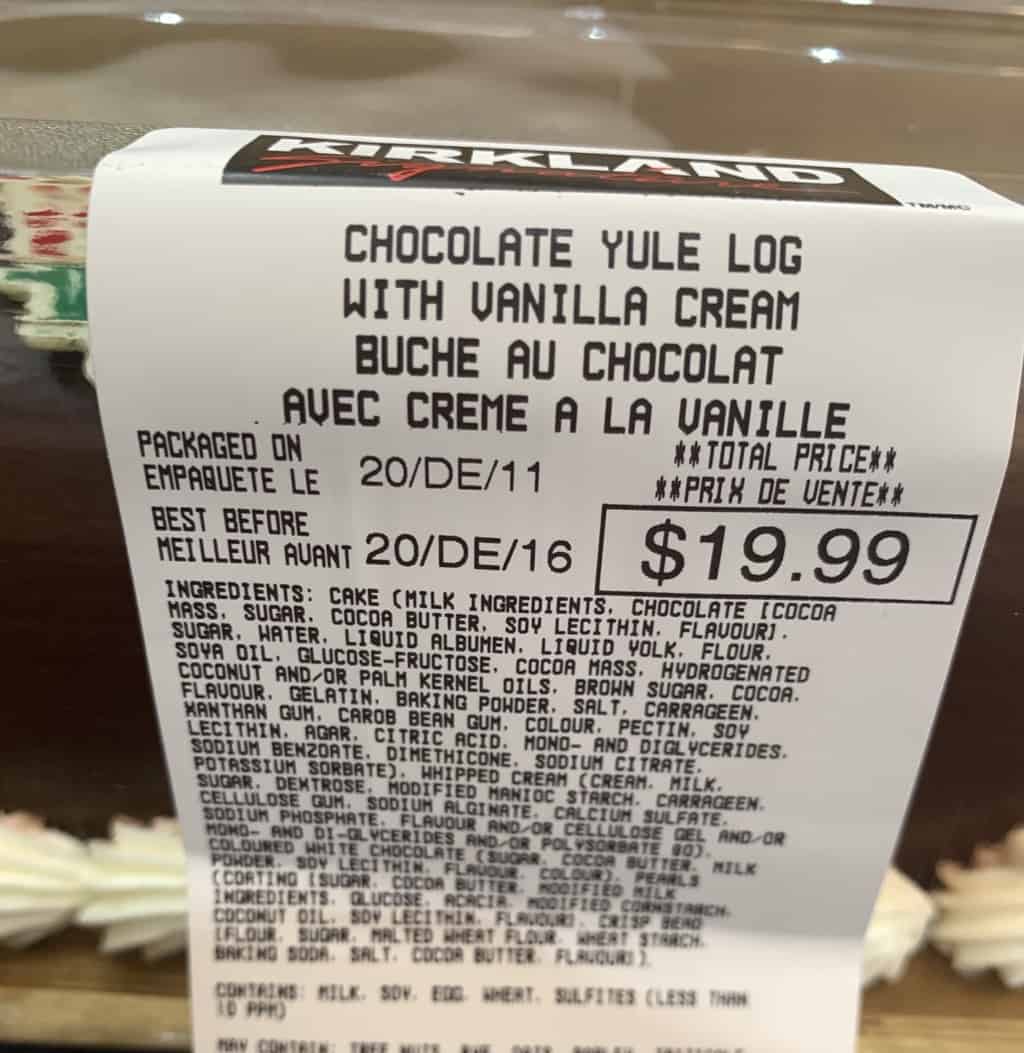 This was fun to try but if I only had to pick one cake from Costco for the holiday season I'd pick the Costco Kirkland Signature Tuxedo Cake.
Taste: 7.5/10
Cost: 9/10
Convenience: 10/10
Nutrition: 0/10
Do you have a favorite yule log that you buy or bake? What's in it?