A chocolate or a crispy & light cookie?
Please note that this review was not paid for or sponsored by any third party. I purchased this product with my own money and the opinions in this review are strictly my own. I am not affiliated with Costco or any of its suppliers. I am just a fan of the company. I write these reviews to help my fellow shoppers.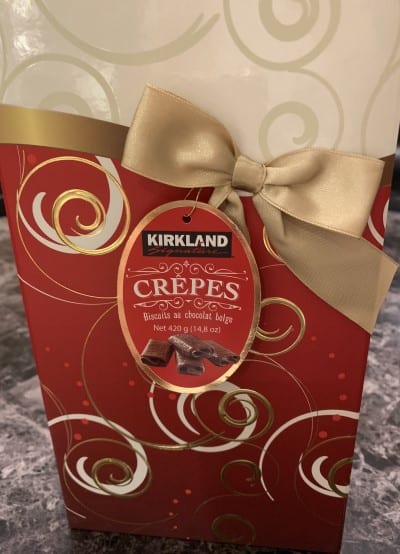 Adding another Costco Kirkland Signature holiday cookie to add to the reviewed list. Some people may think these are more like a cookie and others might say they're a chocolate. I see them as a cookie. I like these cookies more than my husband does, I think this is because they're more on the plain side than what he usually likes. The Costco Kirkland Signature Crepes cookies aren't heavy, overly sweet and are pretty simple. Simple in a delicious way. If you have someone in your household that does not like heavy traditional biscuits this might be the perfect option for them. The box states they're a "delicious combination of an authentic French Crispy Crepe from the Brittany region of France and fine Belgian chocolate". So what do these taste like? Basically picture a very, very thin, crisp wafer cookie coated in luscious smooth milk chocolate. The crepe portion reminds me of a fortune cookie except way thinner and lighter. I find these hard to describe because I've never really had a cookie like this. If you're expecting "Cadbury Fingers" they're not similar because there's not a thick biscuit underneath the chocolate. I think if you enjoy Kit Kat and Coffee Crisp chocolate bars, you'll enjoy these. The chocolate is delicious and I really enjoyed the light, crispy, flaky crepe. They're hard to describe but it's hard to not like these.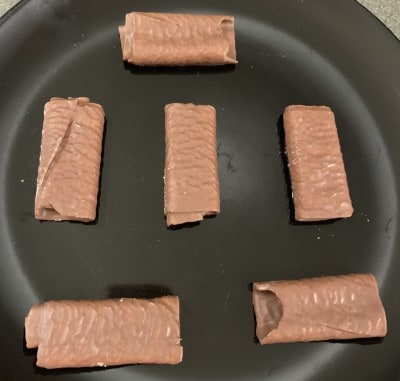 The cookies cost $9.99 Canadian and they weren't on sale. They come in a pretty box with a bow and inside you get two separate packages of cookies. You get about 84 cookies with 42 cookies in each package. These are super light cookies, I could easily eat 8 (true statement right here). So I feel these are slightly expensive compared to other cookies I've bought for about the same price that are more substantial. I think at $7.99 the price point would be very reasonable. I also need to consider these cookies are from France and also use high quality, Belgian milk chocolate so if you look at them as more of a novelty item using high quality ingredients, $9.99 is not outrageous.
You probably already know these cookies are convenient. However I want to point out that I've never seen anyone bake a cookie like this and I've also never had a cookie quite like this. You won't find me in the kitchen anytime trying to figure out how to turn crepes into cookies. So you're saving yourself hours in the kitchen and also buying an item that's rather unique. They also come in a very pretty Christmas themed box so would make a really nice host/hostess gift or edible Christmas present.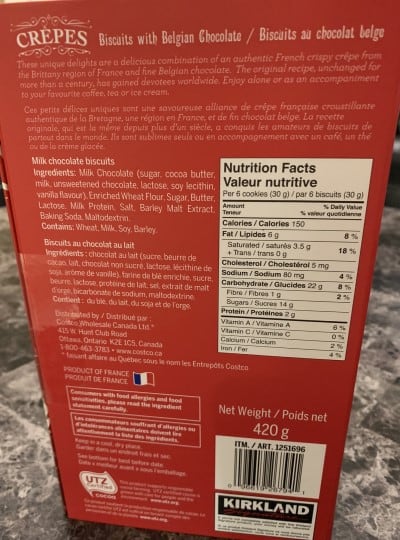 I'm slightly impressed by the nutrition information for these. Six cookies is 150 calories, six grams of fat and 14 grams of sugar. Although I could easily eat 8, I felt satisfied with two and that's not that many calories, fat or sugar to curb my chocolate craving for the rest of the day. If you want a treat over the holiday season but are trying to watch your weight, you might want to check out these light and crispy cookies that still calm your inner chocolate monster.
These cookies are perfect for someone who doesn't like super sweet, heavy cookies. They would go well with coffee or tea and would make a perfect accompaniment to a bowl of ice cream. If you like super decadent, thick, doughy biscuits or cookies, these aren't for you. They are quite different than anything I've had before and I do look forward to finishing them up.
Cost: 6/10
Convenience: 10/10
Nutrition: 6/10
Taste: 8/10
Would you say these are a chocolate or a cookie? What are your thoughts on this product?