Do you like to save money and enjoy a medium to dark roast smooth coffee?
Please note that this review was not paid for or sponsored by any third party. The opinions in this review are strictly my own. I am not affiliated with Costco or any of its suppliers. I am just a fan of the company. I write these honest reviews to help my fellow shoppers.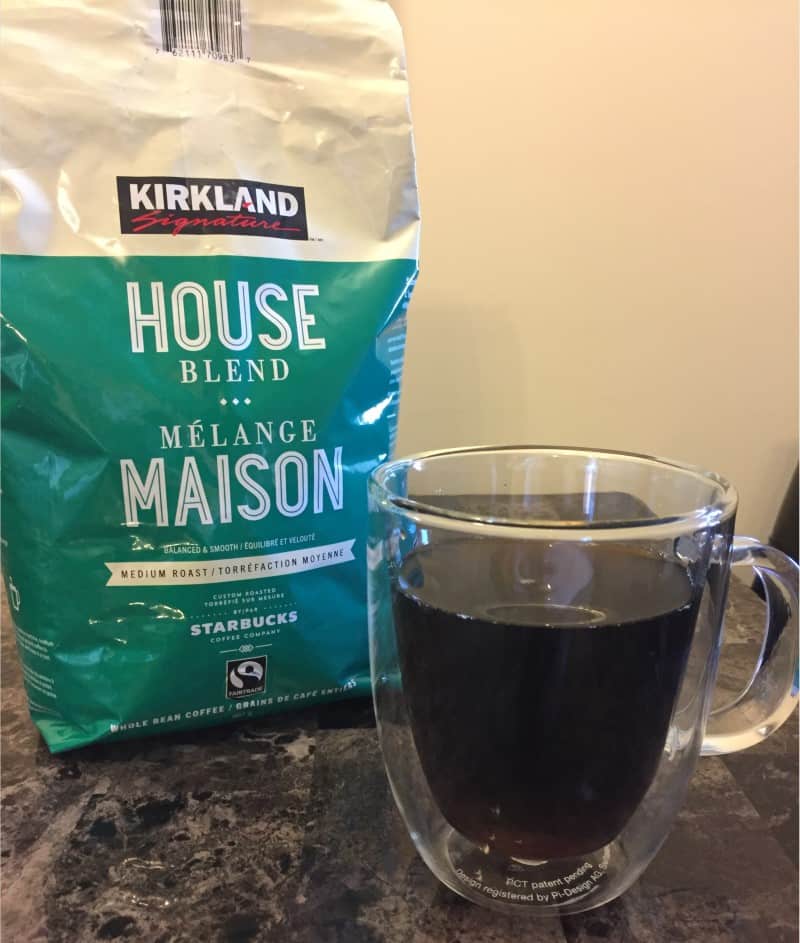 It's not a secret that I like to save money! I try to bring my coffee to work at least 4 times per week as a way to save some money as buying coffee can get expensive. Let's say I bought a 4 dollar coffee 5 times per week at work. That's about $1000 dollars a year. You can imagine a lot of different things you can do with that amount of money. I find the trick to bringing coffee to work is making sure it is coffee you actually enjoy and like the taste of. I was running low on coffee and wanted to try the Kirkland Signature House Blend Medium Roast which is roasted by Starbucks. I also think I'm a pretty good judge of coffee, I have consumed copious amounts of coffee in my days (I sound like I'm 80). Basically when I first started as a nurse working nights I used to drink tons and tons of coffee with the belief that it would make night shift more tolerable. WELL, it turns out I am the kind of person that can drink a huge coffee and fall asleep 10 minutes later so that did not work for me but it did allow me to try all different kinds of coffee.
Nutritionally, well coffee is controversial! Some say coffee is great for you and others claim not so much. However I can say with confidence that you will not gain a bunch of weight by drinking this delicious coffee on its own. Coffee only adds to daily caloric intake if you're putting a ton of sugar and cream in it.
This coffee tastes like a medium to dark roast to me even though it says it is a medium roast, it's not an oily dark roast. It's also not taste super dark and does not taste bitter. The flavor is bold, rich, creamy and smooth tasting and there's no acidic taste! This is definitely a high quality non oily bean for a reasonable price. If you like Starbucks coffee, you'll be sure to enjoy this. If you find dark roasts to be overpowering or are looking for more of a light to medium roast you may find this to be too dark. I drink my coffee black and without cream I found this coffee to be really smooth and delicious. Side note if you grind the coffee finer you'll get a bolder flavor than if you have a courser grind.
You get a huge bag for a very reasonable cost, 13.99 CAD. I bet a bag of this would last about a month depending how much coffee you use and how you grind it. That's WAY cheaper than buying coffee! Therefore in terms of cost this scores pretty high. Think of all the money you're saving.
Whole coffee beans are not the most convenient product at Costco, you have to grind them and make coffee. This is made a million times easier with a good grinder and coffee maker. I also like to make cold brew coffee with this and although it does take some work, I can make a big jug that lasts me about 3 or 4 days kept in the fridge. I think we all buy coffee more because it's so convenient but once you get a handle on making your own it is easy!
Basically this a good quality, flavorful, extremely smooth tasting coffee at a reasonable price. It stores really well if you put the bag of coffee in a large ziplock bag or coffee canister. I would definitely repurchase this and I also could see buying a bag of this if you're hosting guests staying at your house or run a bed and breakfast.
Nutrition: 5/10 (no calories and some studies say it is healthy, but some people have to watch caffeine intake so we'll put it in the middle)
Taste: 8.5/10 (pretty good coffee in my opinion)
Cost: 9/10 (very reasonably priced for a Starbucks roast, it's a big bag and also uses fair trade coffee beans which is great)
Convenience: 5/10 (you have to grind and make it)
What's your favorite coffee that Costco sells??