Artificial blueberry but still tasty
Please note that this review was not paid for or sponsored by any third party. I purchased this product with my own money and the opinions in this review are strictly my own. I am not affiliated with Costco or any of its suppliers. I am just a fan of the company. I write these reviews to help my fellow shoppers.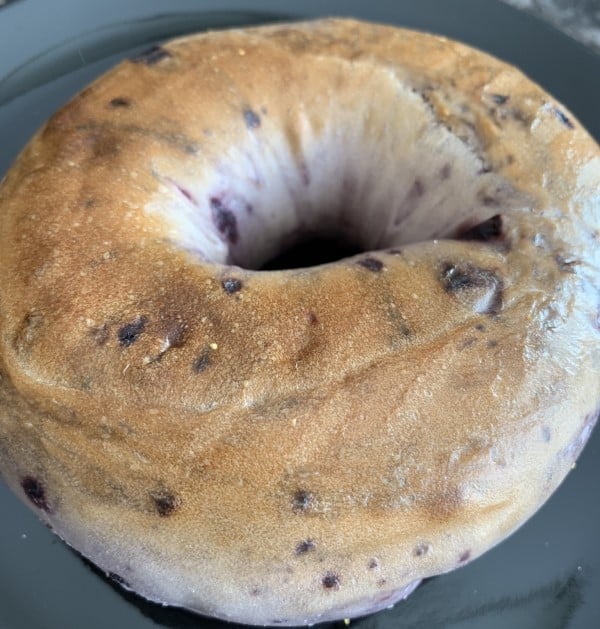 How did foods like bagels and bread get such a bad reputation? I grew up happy thinking my morning bowl of cereal, daily peanut butter and banana sandwich for lunch and pasta for dinner was completely normal and healthy. I felt pretty good eating all those carbs, I could go to school, focus, run around at recess and slept well at night. I felt good physically. I have definitely tried to limit my carbs in the past, but I learned pretty quickly that doing so made me a slower runner, more tired and extra moody. If I eat pizza, quinoa, pasta or stir fry with noodles, I feel like I can run forever the next day. Anyway, with that being said, I hadn't had a bagel in years prior to picking up these Costco Kirkland Signature Imitation Blueberry Bagels. For some reason, I just had a strong craving for bagels on that particular trip to Costco.
Taste
Taste wise, these aren't the best bagels but they're not the worst. They're thick and chewy. The blueberry taste is definitely a little artificial. Have you ever had a blueberry Eggo? That's what comes to mind when I want to describe the blueberry flavor. There isn't big chunks of fresh blueberries if that is what you're seeking. Also the blueberry flavor is not very strong which I think may be a good thing because if it was super strong they'd taste even more artificial. I've tried these with peanut butter, butter and jam and I have to recommend just putting plain salted butter on these.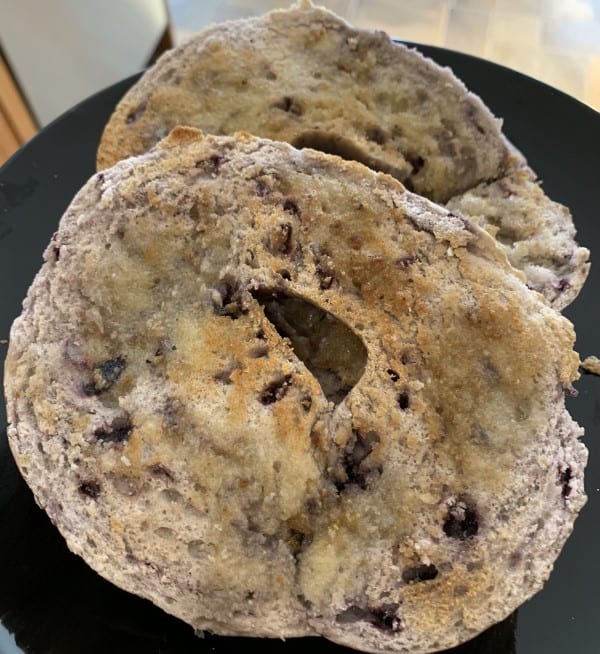 Cost
The price of the bagels is quite reasonable. You get two packs for $6.99 Canadian. Each bag has six bagels in it, so you're paying less than a dollar per bagel. The bagels are also quite large. It's certainly way cheaper to buy the Costco Kirkland Signature bagels than to go and buy a bagel from a coffee shop. I know I've seen local coffee shops that sell baked goods that look suspiciously similar to Costco muffins and bagels for a much higher price!
Convenience
I've never made my own bagels from scratch, but I've seen it done on the Great Canadian Baking Show and it didn't look easy! The Costco Kirkland Signature Imitation Bagels freeze wonderfully. I don't even bother leaving them out when I bring them home from Costco – I immediately put them in the freezer, then pull one out to defrost when I want it. You can eat these bagels plain or with jam, butter, etc. They toast up nicely and also cut pretty easily.
Nutrition
These aren't as bad for you as I would expect. One bagel contains 370 calories, 1.5 grams of fat and 11 grams of sugar. There's a good amount of fibre and a moderate amount of protein (12 grams). What surprised me was the amount of sodium in these bagels (760 milligrams). I had no idea bagels had that much sodium! They don't taste super salty, but that's a large amount of sodium. Personally, I eat half a bagel at breakfast and it keeps me full until lunch; the calories, sugar and sodium aren't as big of a deal if you only eat half.

I'm currently on a bagel kick, but I wouldn't repurchase this particular flavor again.
Taste: 7/10
Cost: 8.5/10
Convenience: 10/10
Nutrition: 6/10
What do you like to put on your bagels?