A simple, standard, tasty cheesecake!
Please note that this review was not paid for or sponsored by any third party. The opinions in this review are strictly my own. I am not affiliated with Costco or any of its suppliers. I am just a fan of the company. I write these honest reviews to help my fellow shoppers.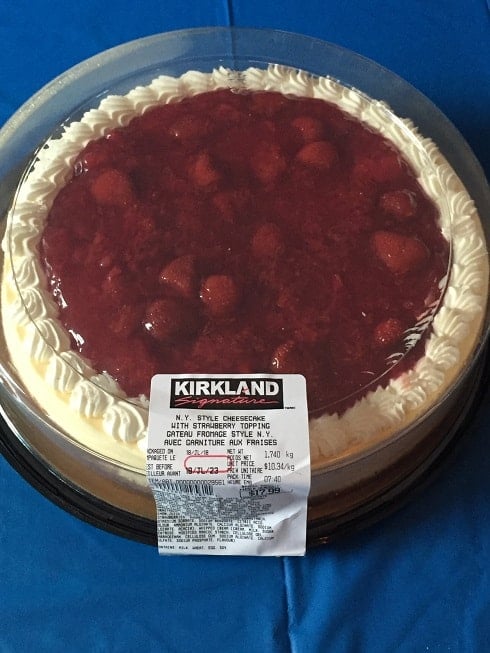 So I guess yesterday was national cheesecake day! I figured I should release this review today even though it's a day late, perhaps you're still in the cheesecake mood! Let's talk cheesecake, specifically New York style! New York Style Cheesecake is usually baked before serving and the main ingredients are usually a graham cracker crust and the cheesecake part is usually cream cheese, eggs, sour cream and sugar combined. New York Style Cheesecake can be difficult to make at home because you have to bake it in a water bath and it can crack easily. Also it's hard to not under bake or over bake. The toppings can be anything like chocolate, berries or just plain. This particular cheesecake came with a delicious looking strawberry topping.
Sean and I picked this up for a barbecue we were attending and the general consensus was that it was pretty good.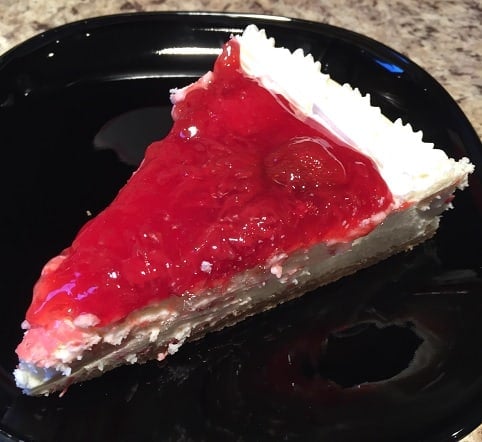 Taste wise this cheesecake tasted quite nice, the crust is a standard graham cracker crust and is not overly thick or thin and made cutting the cheesecake quite easy. The filling was light and fluffy, not overly heavy, a little on the sweet side and not as tart as I like my cheesecake to be. The strawberry topping was my favorite part. Sweet and delicious tasting fresh strawberries in a thick coulis top this cheesecake. I did not find the topping to be overly sweet and it went well with the creamy, smooth cheesecake. One thing I did not like about this cake is that I expected the outer icing on the top around the cheesecake to be a real whip cream. I find real whip cream without too much sugar really cuts the sweetness of cakes or pies and provides a nice balance of flavors. However this was more of a sweet buttercream or icing on the outer rim, not a real whipped cream which I would have much preferred.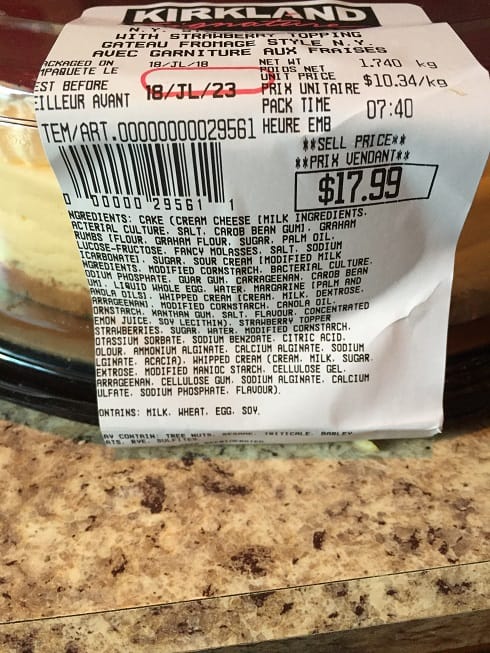 When it comes to nutrition, let me just say it. Cheesecake is not a health food. This cake does have the nutrition but it does have the ingredients label and based on looking at it, this is what I call "soul food", not good for your physical body but good for your soul. As a mental health nurse, I strongly advocate for treating yourself and enjoying things in moderation that you like to eat. So go ahead and have a slice! Basically this is going to be high in sugar, fat, carbohydrates and all the stuff that makes your insides smile.
Convenience, this is a no brainer. Super convenient! Sliced easily and everyone enjoyed it. Also you can get a lot of slices out of this cheesecake so it is perfect to bring to a large gathering. I can confirm this freezes really well, I cut slices and put them in the freezer and take out a slice to defrost when I want and it defrosts well.
Cost, I paid 17.99 for this cheesecake and it is HUGE. I think you could easily get about 24 slices out of this so I feel that the cost is reasonable. Do I need 24 slices of cheesecake for Sean and myself? Probably not so I probably would not repurchase again unless I am attending a gathering or barbecue. I think a lot of people generally enjoy cheesecake so this is perfect to bring for a big summer barbecue or work event.
Overall, I am glad I tried this cheesecake and still have lots leftover in the freezer which I continue to enjoy. I recommend this if you're a cheesecake fan (you can freeze single freeze it easily) or if you're in need of bringing something to a gathering.
Nutrition: 1/10
Taste: 7.5/10 (It needs real whipped cream or to be a little less sweet)
Convenience: 10/10
Cost: 7/10
Cheesecake fan? Favorite style of cheesecake? Do you have a favorite cheesecake topping or kind?