These Organic Nacho Cheese Flavour Tortilla Chips were a hit at a recent barbecue I attended!
Please note that this review was not paid for or sponsored by any third party. I purchased this product with my own money and the opinions in this review are strictly my own. I am not affiliated with Costco or any of its suppliers. I am just a fan of the company. I write these reviews to help my fellow shoppers.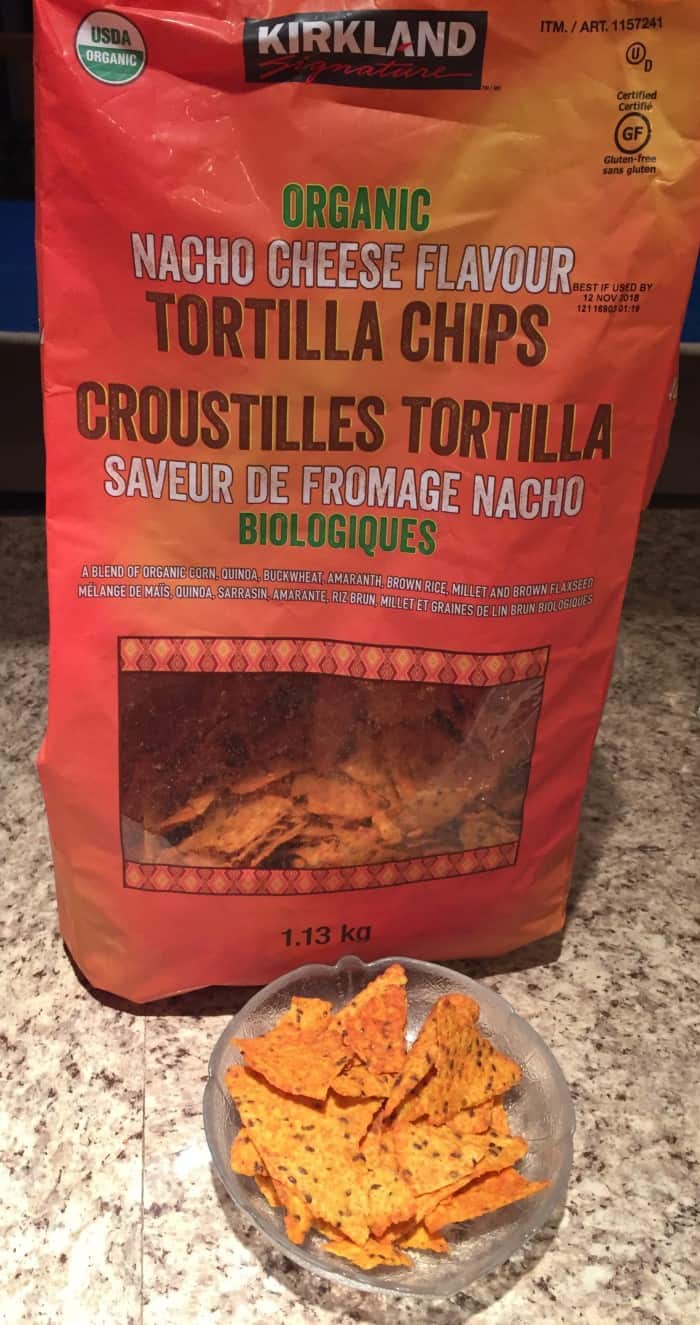 When it comes to contributing to a potluck or barbecue I always want to bring something will be eaten and people will enjoy. I recently was invited last minute to a barbecue and although I was told I did not need to bring anything, I decided to bring these and they were raved about.
These chips have the same idea as Doritos but at the same time they are so far from Doritos I don't feel like I should put them in the same category. If you like Doritos you'll love these. If you hate Doritos, either you'll hate these or you may surprise yourself and like them.
First of all, they're organic so if organic is something important to you take note. Secondly because they are made of corn, quinoa, buckwheat, amaranth, brown rice, millet and brown flaxseed these chips taste a lot more hearty and healthy. They're a thick, gluten free, substantial tortilla chip coated in nacho cheese flavoring. I don't find the nacho cheese flavoring to be in your face artificial cheesy like others, more like a combination of subtly spicy, mildly smoky and slightly cheesy. These taste a bit on the salty side to me but so do most tortilla chips. That does not make them any less delicious or addictive. I had a number of people at the barbecue approach me wanting to confirm that these dangerously good nacho cheese chips were from Costco.
Warning, this bag is massive. 1.13 kg of nacho flavored tortilla chips is a lot. However if you're going to a party, hosting something, going camping or attending a potluck the size seems totally appropriate. If you're the kind of person who eats a tiny bowl and stashes the bag away at the back of the pantry for the next 12 months, this may be a little large for you. From the time I purchased these they had about 5 months until the best before date. I believe once opened these have the potential to go stale prior to the best before date if not sealed and stored appropriately.
For $10.99 Canadian, it seems like an expensive bag of chips. When you take into account the size of the bag, the fact they're organic and also consider that a much smaller bag of non-organic chips from the grocery store can be about 3.49 per bag, the cost seams slightly more reasonable.
I think these would be more convenient if they were packaged in a bag that could be sealed again, I think a lot of people would feel more inclined to buy a humongous bag if they knew it was easy to keep the chips fresh. Also I'll mention the one gripe I have with these is there are a lot of crushed chips in the bag despite my attempts to be pretty careful with loading them in my cart and unloading them. This leaves you with a bunch of smaller chips and crumbs that are not great for dipping but are perfect for topping a casserole with. I think this is probably a common occurrence with these chips and I'm not too sure how it can be prevented in the future.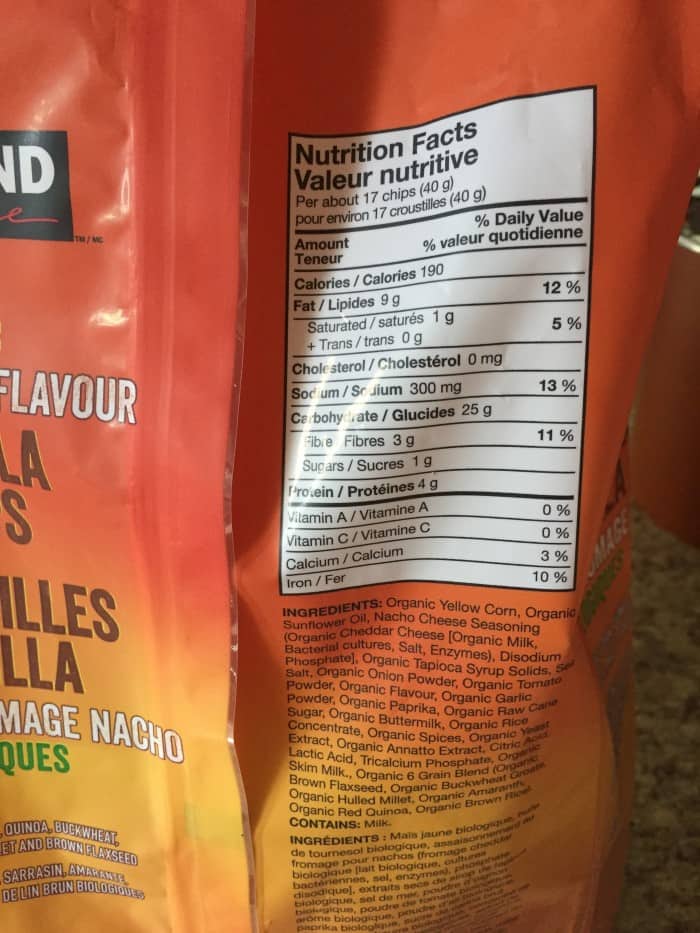 Nutrition wise, despite these chips being organic and containing a lot of healthy ingredients such as millet, brown rice, quinoa and flaxseed these are not exactly a health food. 17 chips is 190 calories, 9 grams of fat, 300mg of sodium, 4 grams of protein, 1 gram of sugar and 3 grams of fibre. If you just eat 17 chips, this is definitely not terrible (you get fibre!). It's stopping at 17 chips which is the hard part, or you might need to be mindful if you're dipping these in Costco's delicious 7 layer dip (yum).
In summary, these are a delicious, hearty, organic, not overly artificial tasting nacho flavored chip. I'd love if there were less broken/crushed chips and would be appreciative of bag that can be sealed again. I prefer eating these alone rather to using them as a chip to dip. They come in a massive bag so they're great to share or serve if you're hosting a party. I definitely would repurchase these, just not anytime soon as I already have a bag on the go!
Nutrition: 3/10
Taste: 9/10
Cost: 7/10
Convenience: 8/10
What's your opinion on nacho cheese flavoring? Would you dip these or eat them plain?