Great for turkey BLT sandwiches!
Please note that this review was not paid for or sponsored by any third party. The opinions in this review are strictly my own. I am not affiliated with Costco or any of its suppliers. I am just a fan of the company. I write these honest reviews to help my fellow shoppers.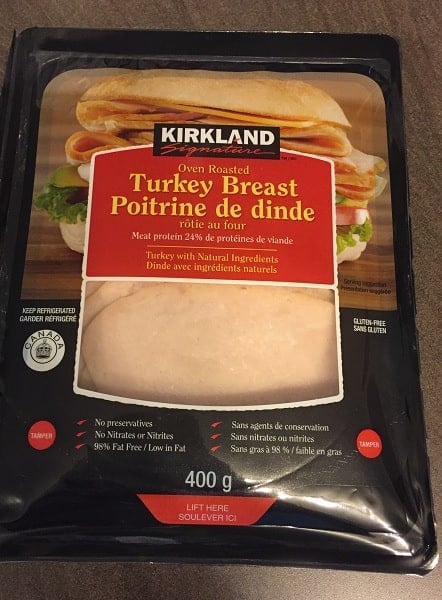 Sometimes you need a quick and convenient dinner or lunch. When I think of quick and convenient I often think of sandwiches. I like a lot of different sandwiches, peanut butter and jelly, turkey, tuna and grilled cheese are my favorite.
I decided since it's been so hot lately to pick up the Kirkland Signature Turkey Breast to try. Not only did picking it up give me an excuse to make sandwiches for dinner but it also allowed me to review it here. It comes in a two pack and each pack is 400g and re-sealable. It is recommended that you consume it within a week of opening it, if you don't plan to consume it within a week of opening it I highly recommend you freeze it. Actually I freeze it right away until I'm ready to use it and this freezes fine. I've accidentally consumed turkey more than a week after opening and could not figure out why it was slimy because the best before date was like 2 months away. Slimy turkey is gross and probably a bit dangerous. Cost wise it's not bad, you're getting quite a bit of turkey here for $13.99 CAD. I would say there's enough turkey here to make about 10 sandwiches.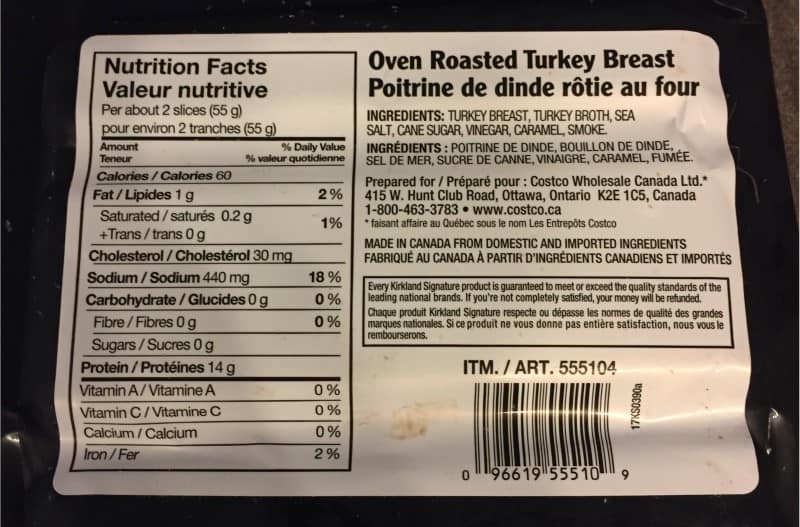 Let's talk about the nutrition, first off the main ingredient is turkey breast, which is good! 2 slices is about 60 calories and 14 grams of protein, 1 gram of fat. That's really good! The con? The sodium! If you're watching your sodium 440mg is a little high. If sodium is not a concern of yours this is pretty healthy. I want to add, generally with any kind of cold cut meats sodium is high so you'll find this with pretty much all other cold cuts.
Taste wise I really enjoyed this turkey, it tasted fresh, not overly salty to me. This was also cut into nice and thick pieces, none of that super thin deli meat here. It made great sandwiches. I used mustard, cheese, lettuce and tomato in my sandwich. I think you could make a pretty awesome sandwich using the Costco Kirkland Signature Basil Pesto with this turkey. You could also add this turkey to eggs or a salad or even just have a slice or two as a high protein snack. How many snacks give you 7 grams of protein and half a gram of fat for 30 calories? Not many. I would definitely repurchase this again and if turkey sandwiches are your thing I recommend you check it out!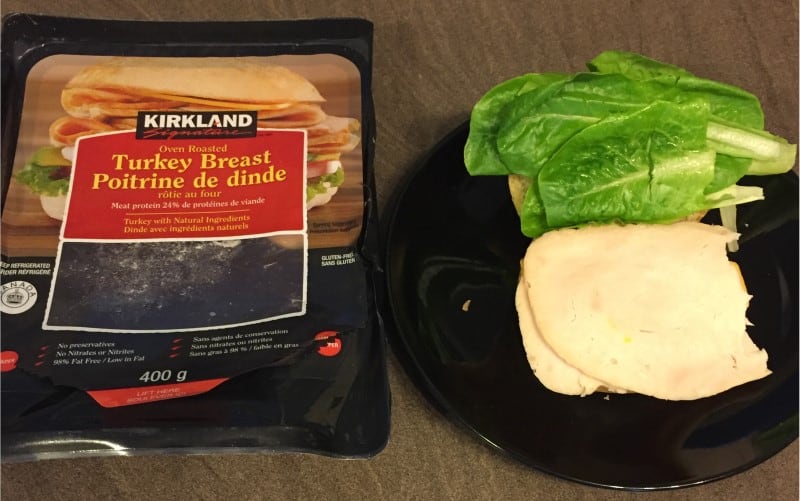 Nutrition: 8.5/10 (loses points for sodium and being processed)
Taste: 9/10 (I love turkey sandwiches and enjoyed this turkey)
Convenience: 9/10 (loses a point for having to use it within a week or freeze it)
Cost: 9/10 (for a large amount of high quality cold cuts and about 10 sandwiches I say $13.99 is pretty good)
What do you put in your turkey sandwiches? What is your favorite kind of sandwich?