A new snack item available at Costco!
Please note that this review was not paid for or sponsored by any third party. I purchased this product with my own money and the opinions in this review are strictly my own. I am not affiliated with Costco or any of its suppliers. I am just a fan of the company. I write these reviews to help my fellow shoppers.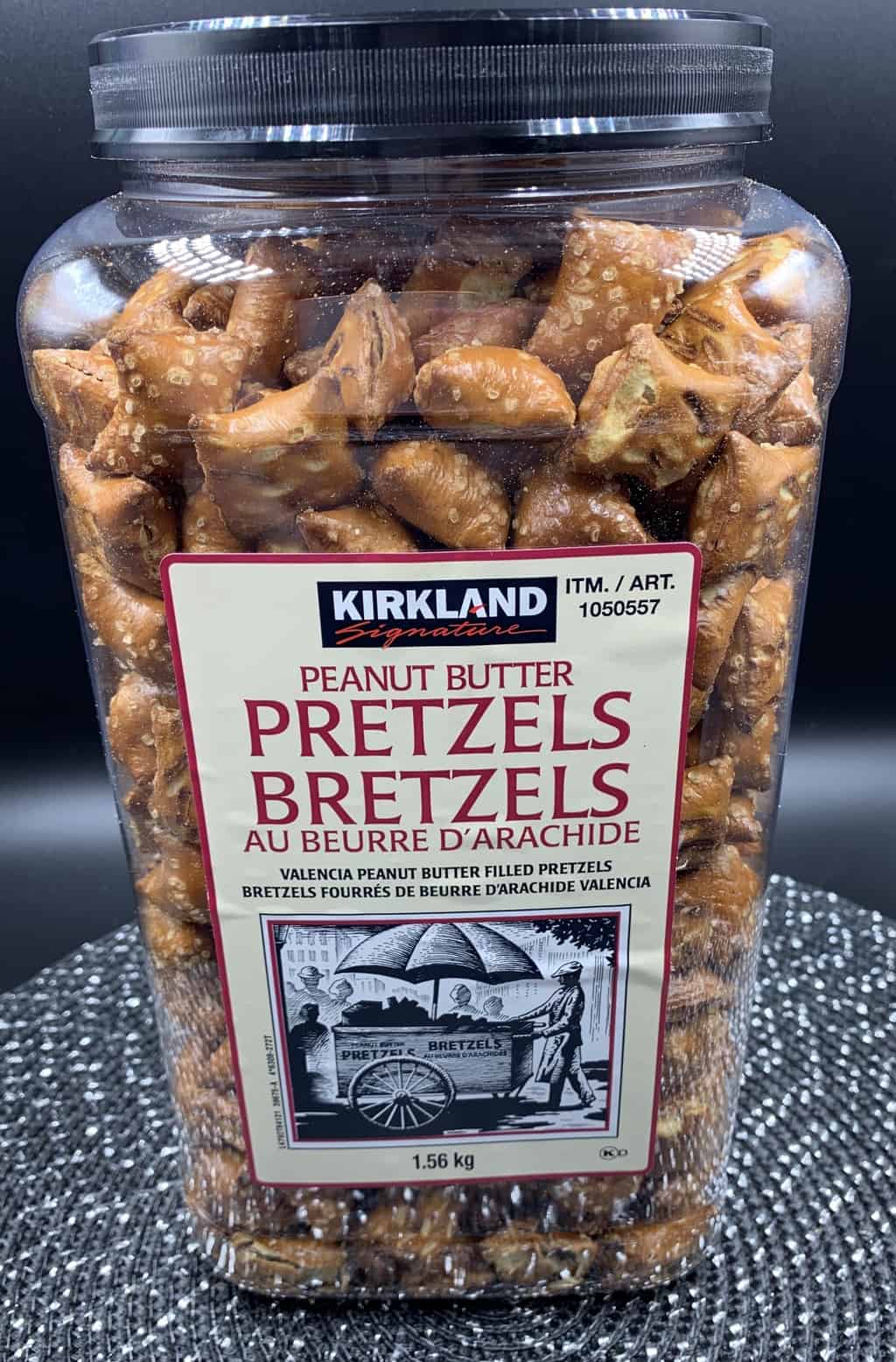 Sean and I went to Costco last Friday I think we were both pretty grumpy and hungry, we ended up losing each other like ten times and I had to keep calling him to find out where he was. Anyways there's a whole bunch of new snacks in the front two aisles by the checkout that I wanted to review! These Costco Kirkland Signature Peanut Butter Pretzels were one of the new items.
Taste
If you like pretzels and enjoy peanut butter, you must try these. I love them, When I bought them I already knew I'd love them. Sean was a little more of skeptic and he really likes them too. These are thick, crunchy, very salty pretzels with a peanut butter filling. The peanut butter inside isn't soft and gooey, it's firm peanut butter and blends really well into the outer pretzel. The peanut butter itself is not very sweet at all and is nice and smooth. This may sound weird but Sean eats them just by chewing them right away but I like to let them linger in my mouth to soften the hard pretzel and peanut butte a little. The salty pretzel goes perfectly with the slightly sweet and smooth peanut butter. The Costco Kirkland Signature Peanut Butter Pretzels are definitely a tasty snack. I wanted to know what Valencia Peanut Butter is and I found out through google it's the type of peanut used to make the peanut butter. Valencia peanuts are more commonly used in all-natural peanut butter and have a naturally sweeter flavor.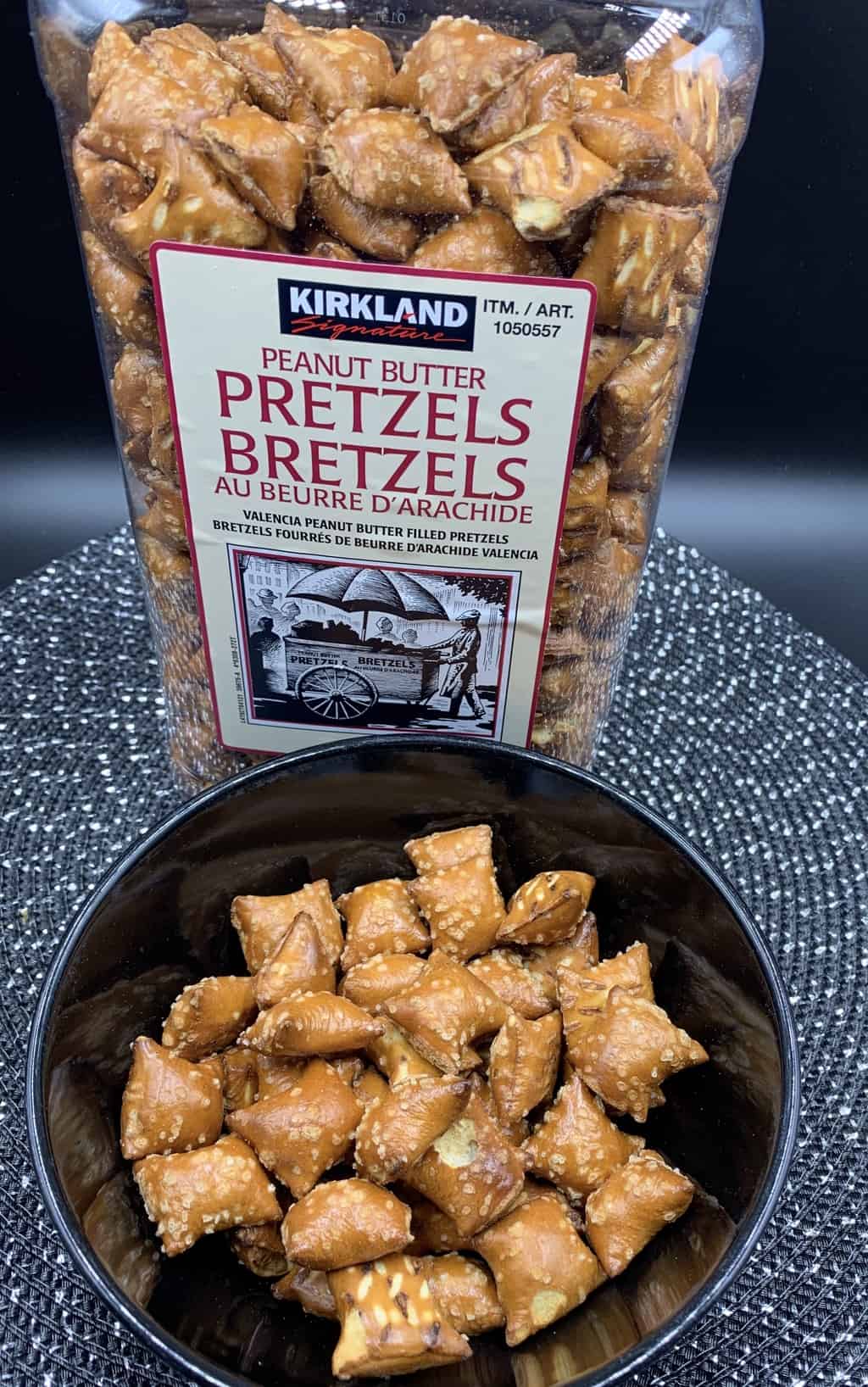 Cost
This is a HUGE tub of pretzels. Sean kind of looked at me like "who is going to be eating all those pretzels?" As I put them in the cart. 1.56 kg of Valencia Peanut Butter filled pretzels to be precise. The cost was $10.99. When you think about spending $10.99 CAD on pretzels the price seems high, however these aren't your plain old pretzels, they're peanut butter stuffed. I haven't really seen peanut butter pretzels regularly at too many grocery stores so it's hard for me to compare the price. I'd say these definitely aren't cheap but they're basically the same price point as the other snacks in the snack section but you get a massive tub. You also are probably paying for the plastic packaging. Which I recommend washing and reusing!
Convenience
These are super convenient for bringing to a party, potluck or just having at home to snack on. The plastic tub keeps them fresh and it's easy to pour out a little bowl. They're a fun item that I haven't seen available everywhere, you can buy pretzels basically anywhere but not peanut butter stuffed pretzels.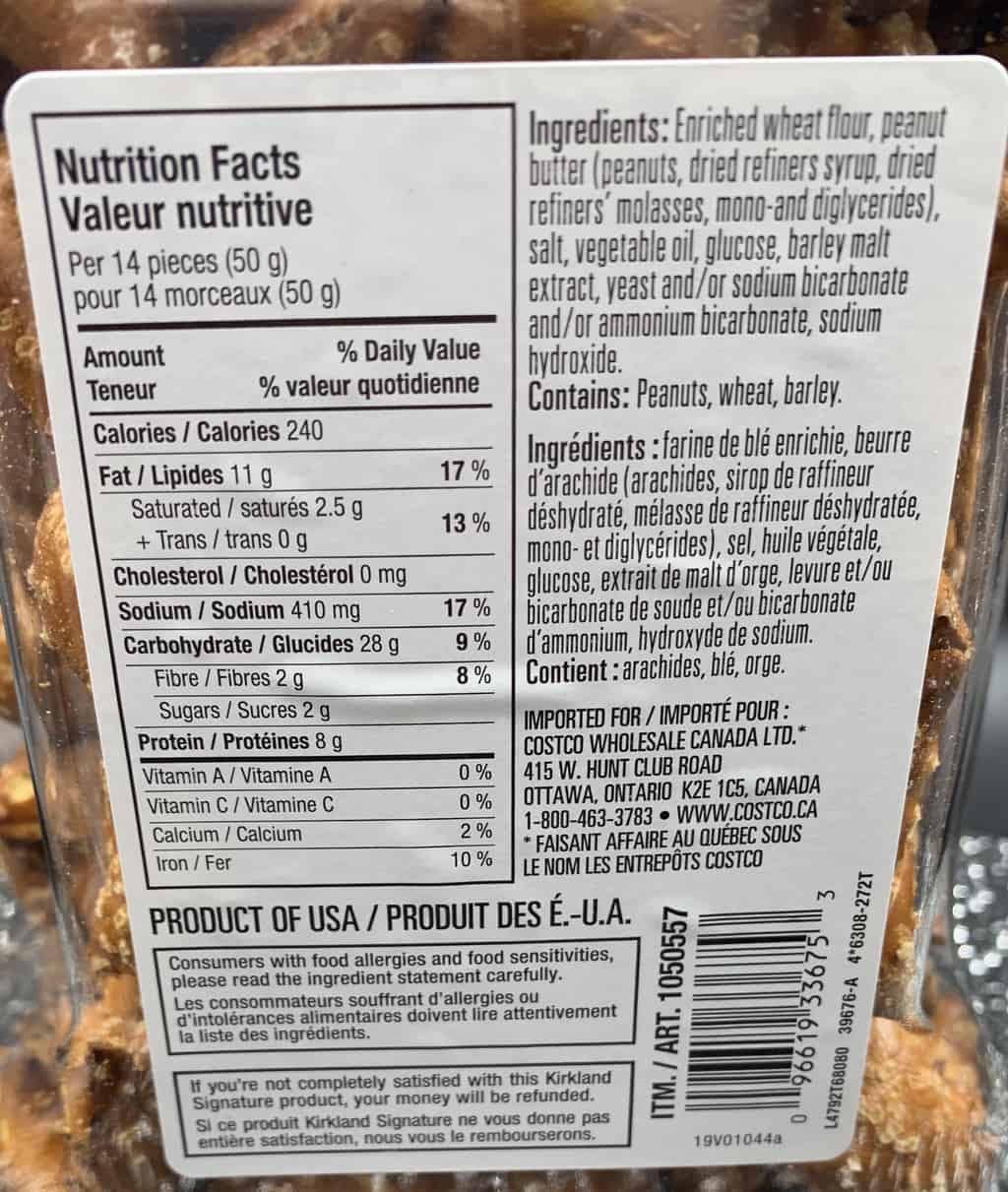 Nutrition
So this nutrition information actually really surprises me. The Costco Kirkland Signature Peanut Butter Pretzels filled with Valencia Peanut Butter are not as many calories as you'd think. 14 pieces is 140 calories 11 grams of fat, 410mg of sodium, two grams of sugar and eight grams of protein. The amount of protein, calories and sugar shocked me, the fat didn't really surprise me. These peanut butter filled pretzels are actually pretty large. I can eat five and feel completely satisfied or have two or three and feel like I've curbed a craving. To think I can eat 14 peanut butter pretzels for only 140 calories and only two grams of sugar is a little shocking.
I have a giant tub of Costco Kirkland Signature Peanut Butter Pretzels now to go with my other Costco snacks so most likely won't be buying these for a while but they are delicious, addictive and actually not most unhealthy snack option.
Taste: 9/10
Cost: 7.5/10
Convenience: 10/10
Nutrition: 6/10
Would you try these? Why or why not? I could see these being perfect for a family beach or park day in the summer!