Candy bark is something I can only eat during the holidays – how about you?
Please note that this review was not paid for or sponsored by any third party. I purchased this product with my own money and the opinions in this review are strictly my own. I am not affiliated with Costco or any of its suppliers. I am just a fan of the company. I write these reviews to help my fellow shoppers. If you like my blog and want to show your appreciation, please follow me on Instagram or Facebook, or tell your friends to check out my blog!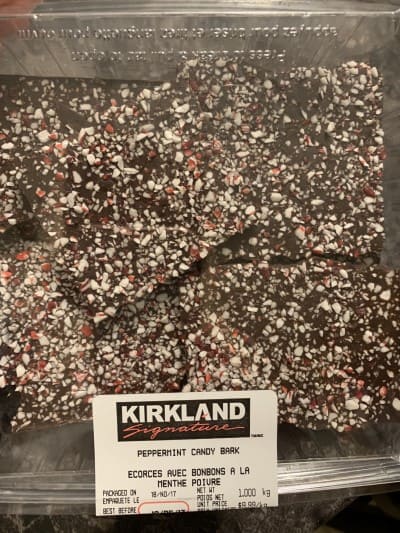 Christmas is coming up fast, and Costco is coming at us in force with holiday treats! This year, it seems like the assortment of cookies, chocolates and other sweets is larger than ever; I almost can't keep up! The key word here is almost – I'm definitely enjoying the challenge. I have an excuse to buy everything in the store, but for those of you who aren't sure which items are worth buying for your holiday celebrations, I've got you covered.
Anyway, bark treats like chocolate bark, peppermint bark and almond bark don't usually excite me. Despite my love for all things sweet, I find it a little unappealing to eat big slabs of chocolate and sugar. For that reason, when I first saw Costco Kirkland Signature Peppermint Candy Bark in the bakery section, it didn't strike me as something I had to try. My husband insisted on trying it, so it ended up in my cart. I'm happy it did, because it's changed my opinion on bark treats!
Taste
I have to admit, this bark is quite visually appealing compared to other barks I've seen in the past. The candy cane bits on top give it a sparkly, festive look; when my husband brought it over to our cart and I took a second to actually look at it, I felt a bit more interested in trying it. As far as flavor goes, what you see is what you get; it tastes like chocolate sprinkled with candy cane bits. It's executed very well though; the chocolate is creamy milk chocolate that has great texture and flavor, and the peppermint candy cane pieces complement it well. There are enough of them to sparkle and provide a nice crunchy and peppermint flavor, but not so many that the bark is overly sweet or you can't taste the chocolate (which is just the right thickness). My husband found that the candy cane bits got stuck in his teeth, but he still really enjoyed the bark. When does candy cane not get stuck in teeth anyways? I will say that in my opinion, peppermint bark is a true Christmas food; you wouldn't find me eating it in July (whereas I would probably eat some other holiday treats like shortbread and sticky toffee pudding year-round). To me, this is the kind of treat you buy one package of every year, enjoy and then forget about until next Christmas.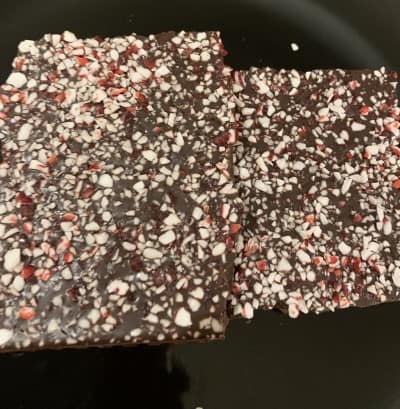 Cost
One kilogram of the Costco Kirkland Signature Peppermint Candy Bark costs $9.99 Canadian. This seems very reasonable to me, as you're getting a kilogram of good-quality chocolate.
Convenience
I love that the Costco Kirkland Signature Peppermint Candy Bark comes in a plastic container than you can reseal easily. The bark stays fresh and safe from being crushed or broken. Also, as a freezer fanatic, I can say that it freezes just fine, and the container works well for that too. According to the best-before date on the package, the bark is good for a month after the packaging date, so don't stress if you can't eat the whole kilogram over a few days (but be warned that once you try it, you might surprise yourself!). If the idea of eating the whole package of bark makes you cringe, I can think of a million things to do with it, mostly related to holiday baking (such as putting pieces in cookies or brownies or using it as a decoration on a cake or on a gingerbread house). I could also imagine it working well in lots of different holiday snack mixes (maybe with pretzels, nuts, popcorn, M&M's or Hershey's Kisses).
Nutrition
As far as nutrition goes, the package doesn't have the numbers listed on it, but I don't think we really need to see them. There are a few not-so-great sounding ingredients listed, like modified palm kernel oil, sunflower lecithin and colour. The Christmas spirit content is high though!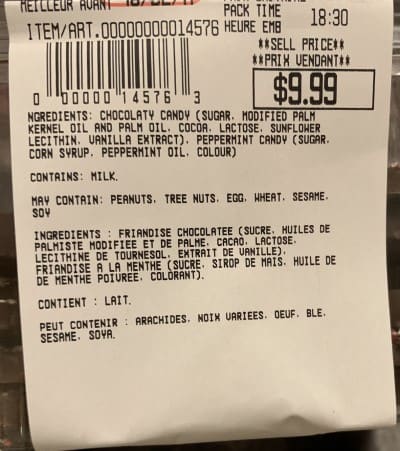 Kirkland Signature Peppermint Candy Bark is another great holiday offering from Costco's Kirkland Signature brand this year. It changed my opinion of candy bark. I probably won't ever eat more than one piece in a sitting, but that one piece sure does taste good. There isn't anything unique or surprising about this bark, but it's very well executed. The star of the show is definitely the chocolate. This bark would be a great addition to any holiday cookie platter. You'll probably be surprised at how quickly a kilogram of it disappears!
Taste: 8/10
Cost: 9/10
Convenience: 10/10
Nutrition: Nutritionists may disapprove, but Santa definitely would gobble up a plate of this!
What's your opinion on candy barks? Can you eat them any time of year? What's your favorite kind?