A new Costco snack that I found!
Please note that this review was not paid for or sponsored by any third party. I purchased this product with my own money and the opinions in this review are strictly my own. I am not affiliated with Costco or any of its suppliers. I am just a fan of the company. I write these reviews to help my fellow shoppers.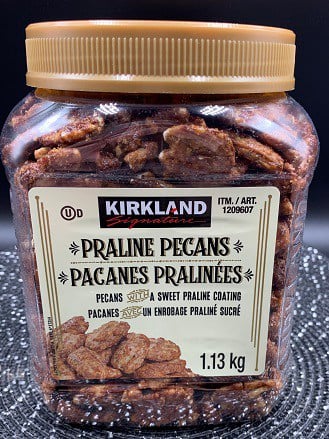 I noticed these Kirkland Signature Praline Pecans at Costco for the first time a few weeks ago. I thought they might be fun to bake with, so I decided to try them out! Pecans are definitely one of my favorite kinds of nuts, and I've enjoyed pretty much all of the Kirkland Signature brand nuts that I've tried before, so I had high hopes for these praline pecans.
Taste
The Kirkland Signature Praline Pecans are sweet, nutty, buttery and addictive! The pecans are large and coated in a sweet brown sugar and butter candy coating. I found that the flavor of the pecans was masked just slightly by the sweetness of the coating, but that didn't mean I enjoyed the pecans any less. The brown sugar and butter coating compliments the nutty richness of the pecans perfectly. The pecans are nice and crunchy and would go well in cookies or other baked goods, with vanilla ice cream or on waffles or French toast, to name a few ideas I had as I was taste-testing them.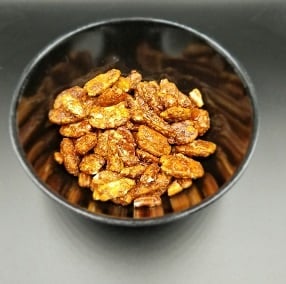 Cost
These aren't cheap; regular price for a 1.13 kilogram container is $17.99 Canadian. Nuts (pecans especially) tend to be pricey though, so I think the price is reasonable for such a large container. You can bake a lot of cookies with a container of pecans this big!
Convenience
The Costco Kirkland Signature Praline Pecans are versatile. You could bring them on a road trip, hike or family excursion just to snack on. I could see putting a bowl out over the Christmas season (assuming they're still in stock by then!). Personally, I think I'll use most of mine as an ingredient for baking. Creative chefs might even be able to find a place for them in salads and other dishes. Fortunately, as with most Kirkland Signature nuts, the plastic tub that they come in is re-sealable, so you should be able to keep them fairly fresh in your pantry for quite a while. The best before date on my container is just under a year from the date I purchased these!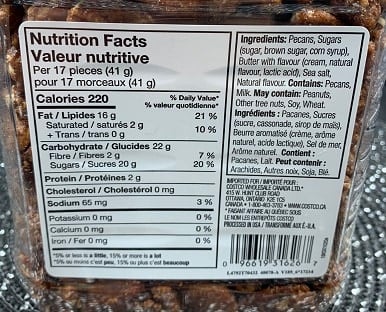 Nutrition
A serving of 17 Kirkland Signature Praline Pecans contains 220 calories, 16 grams of fat, 22 grams of carbohydrates, 65 milligrams of sodium, 20 grams of sugar and two grams of protein. Honestly, that didn't seem too bad to me considering how big the pecans in my container were! 17 seems like a lot. The ingredients list was short and didn't list a bunch of chemicals or preservatives, which is always a plus.
I'm excited to use try using these pecans in different ways! I started off by using them in a cookie recipe that I'll be posting on the blog this week!
Taste: 8.5/10
Cost: 7.5/10
Convenience: 10/10
Nutrition: 3/10
Location in Costco: The snack section.
Do you have any creative ideas on how you could use these?