I love the combination of strawberries & cream, this cake is great!
Please note that this review was not paid for or sponsored by any third party. I purchased this product with my own money and the opinions in this review are strictly my own. I am not affiliated with Costco or any of its suppliers. I am just a fan of the company. I write these reviews to help my fellow shoppers.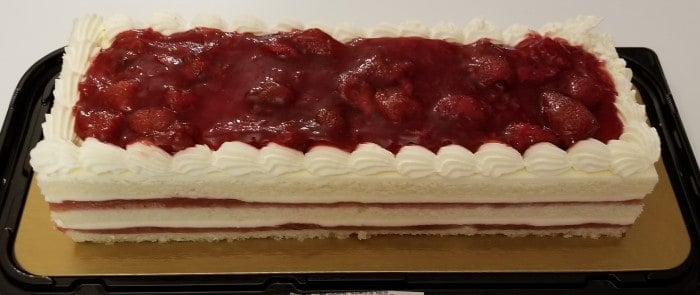 I'm slowly working my way through the Costco cakes. The Costco Kirkland Signature Strawberry Shortcake does not disappoint.
This is a simple cake that tastes delicious, it's composed of layers of whipped cream, strawberry jam and shortcake. Nothing overly fancy. The Costco Kirkland Signature Strawberry Shortcake is definitely nice and sweet with the layers of sugary strawberry compote throughout. The real whipped cream that Costco uses cuts the sweetness of the strawberries and cake. The actual cake part is a slightly sweetened, dense, white shortcake, it's not super fluffy and light or airy. This works well as the cake part itself does not become soggy from the layers of whipped cream and jam. The top of the cake is finished off with a nice thick layer of whipped cream and a strawberry coulis with larger strawberries on top. I found this cake to taste fresh and not overly heavy. It's not too sweet and is very simple. Basically if you like simple, fresh, not overly sweet tasting cake with fruit. This is your go to.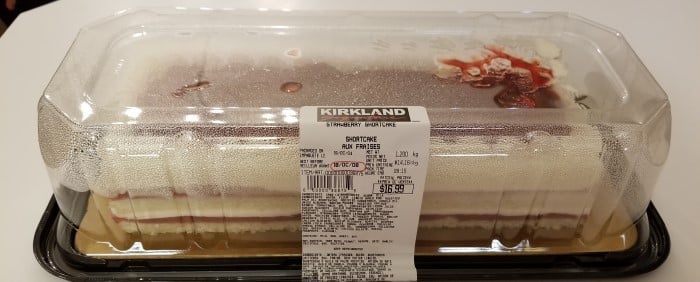 We don't even need to talk about nutrition, do we? Basically this is not healthy. High fat, high sugar and high calories will be found here.
This is such a convenient item for your next party or get together. This cake freezes well and comes in a long rectangular box that fits the cake so you can easily put the entire container in your freezer. I recommend slicing it prior to freezing it and then it's easy to remove a frozen slice to defrost without having to take out the entire cake.
All of the Costco bar cakes are set at the same price, $16.99 Canadian which I find is super reasonable considering this cake could probably easily feed 10-12 people. I also think the cost is reasonable because to me this cake tastes similar to some cakes bought at fancy bakeries for a lot more money.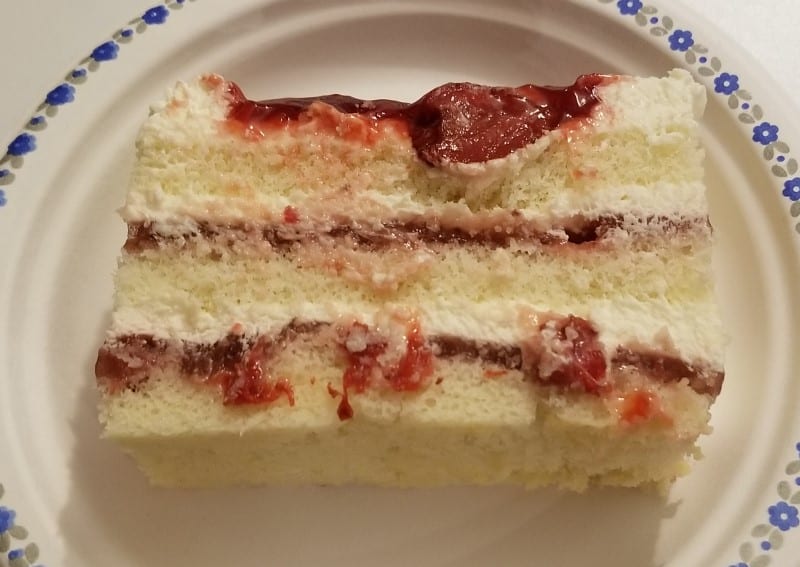 Overall this cake is delicious, I hope Costco never changes the fact that they use real whipped cream as opposed to the artificial tasting, oily whipped cream found at local grocery stores. I would gladly purchase this and consume it again.
Nutrition: 1/10
Cost: 8.5/10
Taste: 9/10
Convenience: 10/10