These stuffed peppers from Costco are a super convenient comfort food.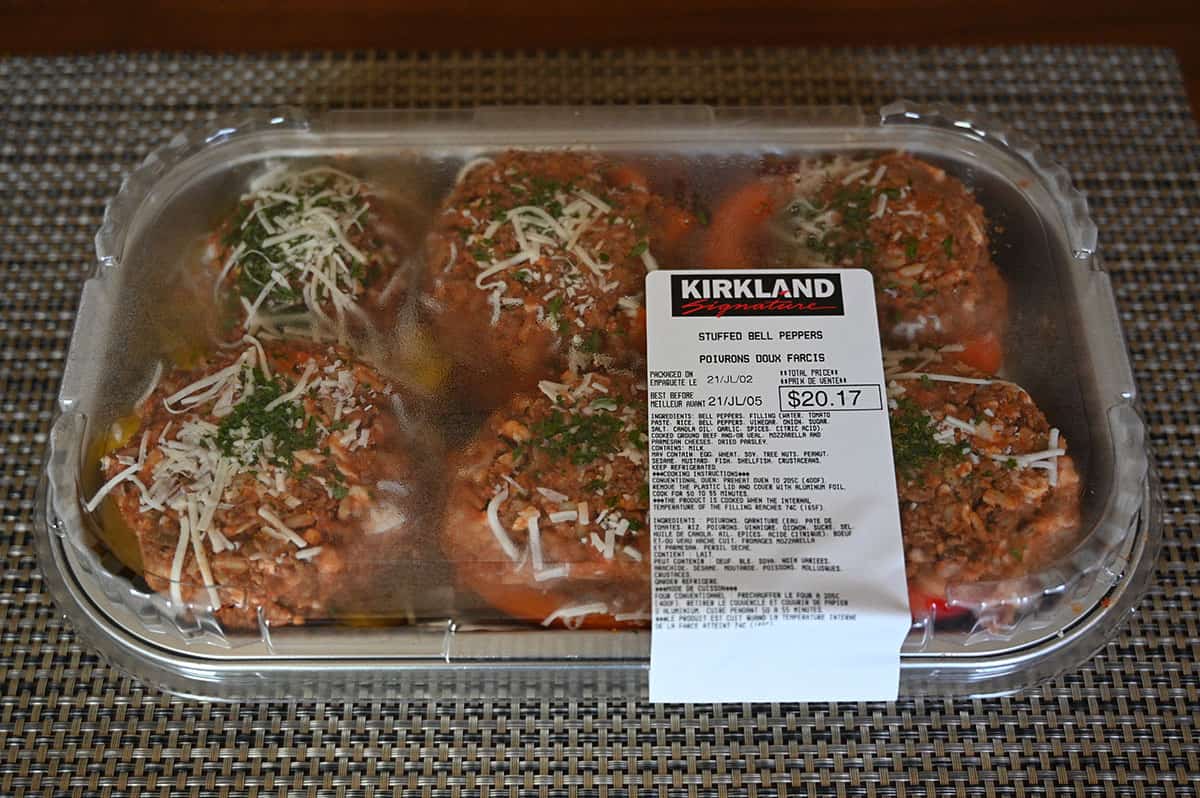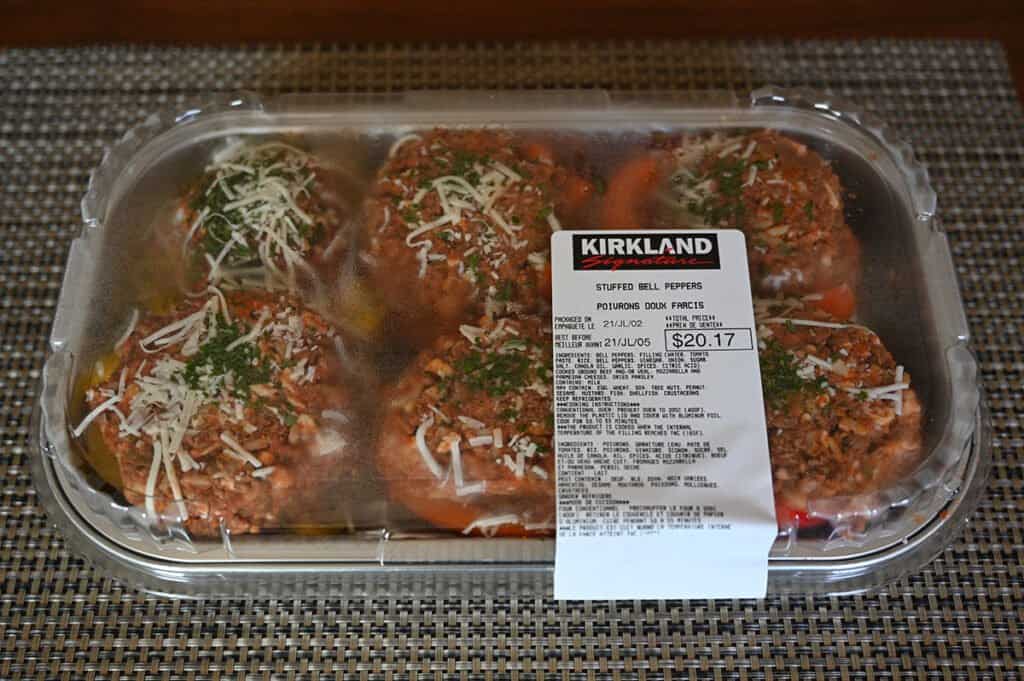 I think I tried stuffed bell peppers once as a kid. I'm pretty sure my grandma made them in tomato soup or something like that, and I didn't love them. 20 years later, I'm eating stuffed peppers again and also making them! I've made my own stuffed peppers a few times using ground turkey, rice, black beans and corn, but I wanted to try the Costco version because they looked delicious and it's much easier to heat up pre-made stuffed peppers than it is to make them from scratch!
Location in Store
The pre-made meal section in the deli area in Costco.
Taste
The Costco Stuffed Bell Peppers are simple but well-executed. Inside each half pepper, there's well-seasoned ground beef, a cheese mixture and rice, and then the half pepper is topped with more cheese and a bit of parsley. They're not overly fancy or full of complex flavors, which is how comfort food should be in my opinion. The spices used are pleasing and the peppers I had were crispy (not soggy or over-ripe) and sweet. One of my family members who was with me when I ate the stuffed peppers found that they tasted a little spicy, but I didn't find that personally. Maybe a person who's very sensitive to spicy foods would notice this?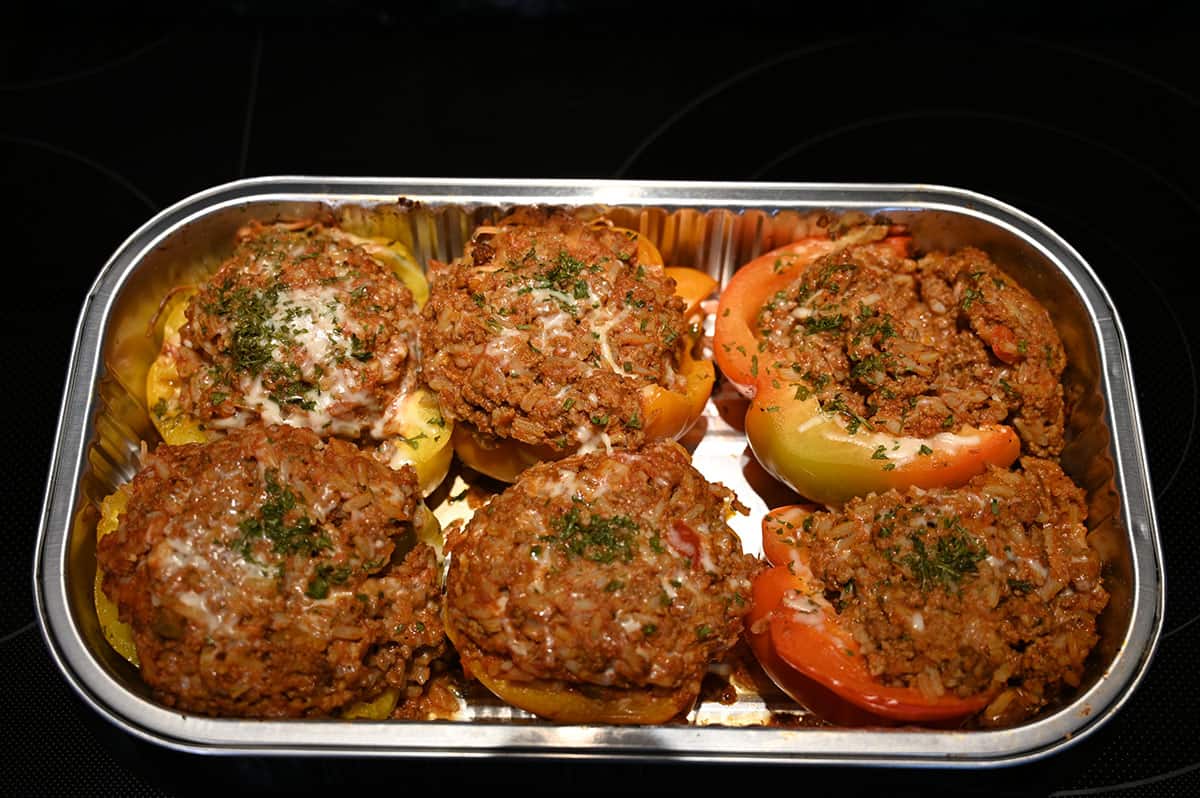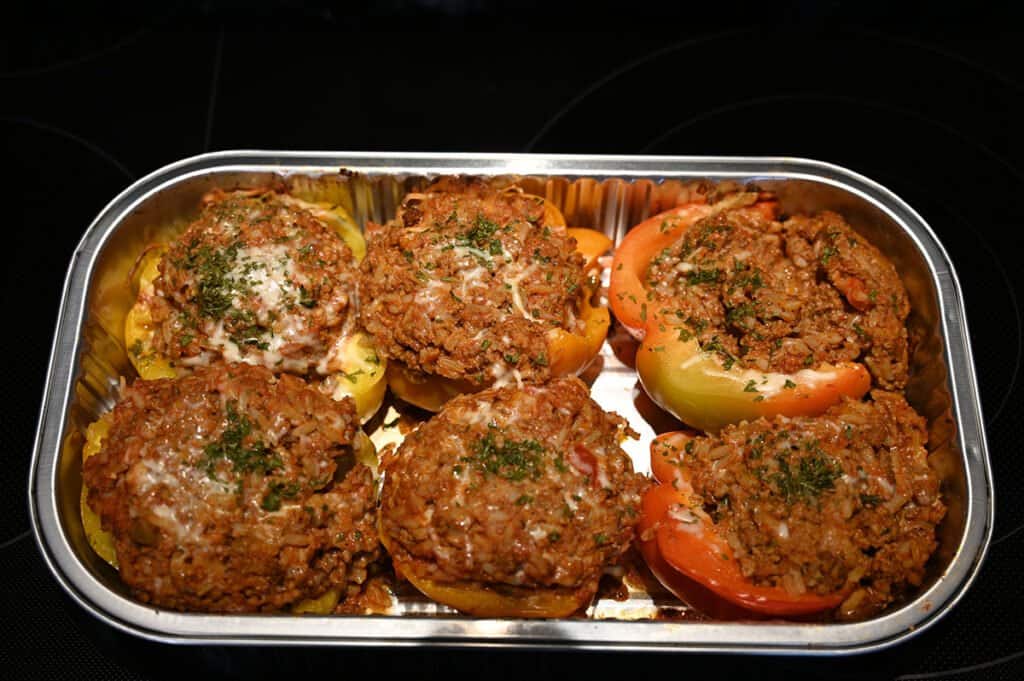 If you like ground beef, tomato sauce, bell peppers and cheese, then these are a pretty safe bet. They have parmesan cheese, on top so if you're not a fan of parmesan, take note, but honestly, you can't really taste strong parmesan flavor. I recommend adding even more cheese on top when you bake these, because cheese is amazing and you can never have too much cheese!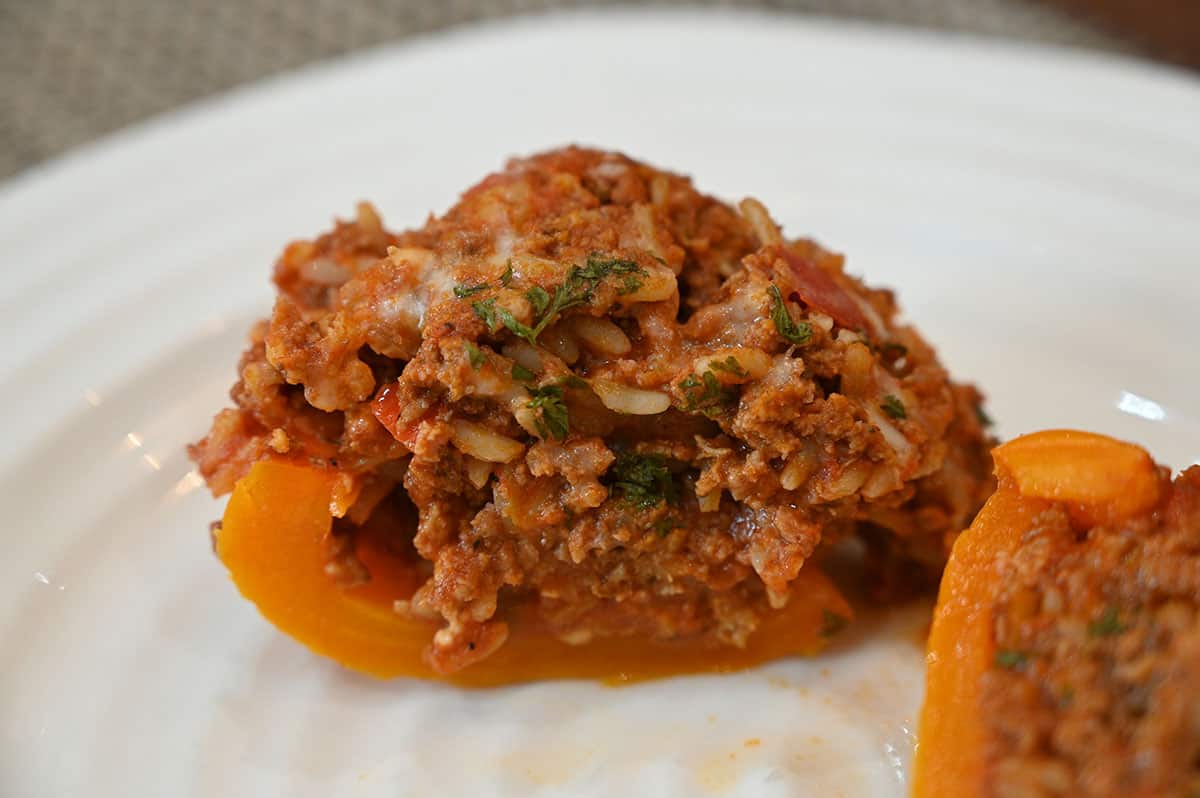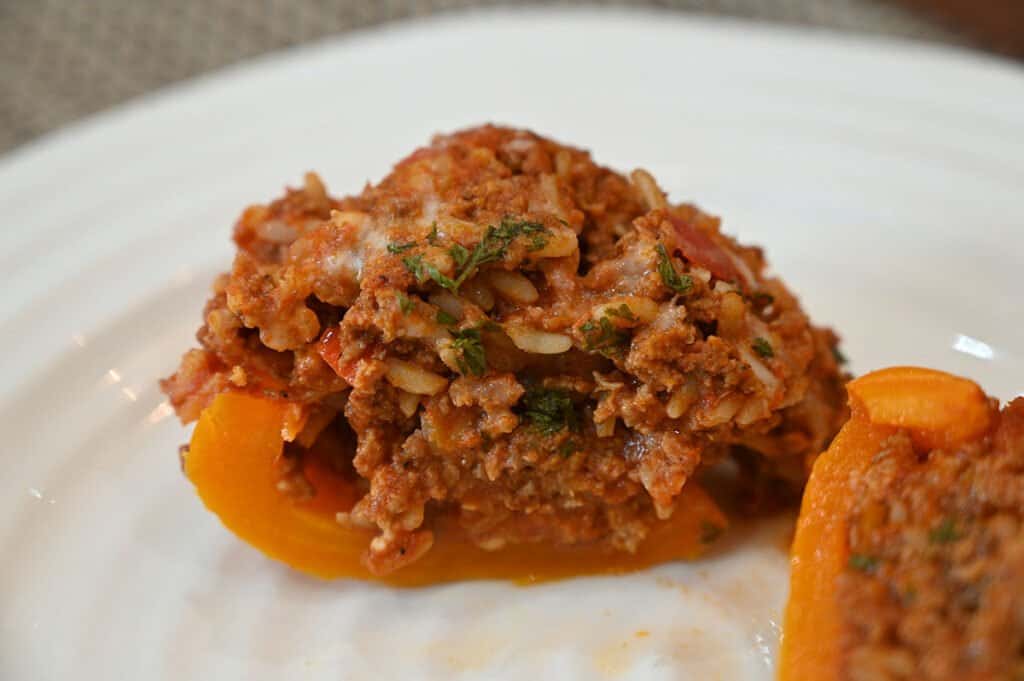 Cost
The Costco Kirkland Signature Stuffed Bell Peppers come in a large oven-safe tray. You get six half (stuffed) peppers for $19.99 Canadian. The price is pretty similar to the other pre-made deli items at Costco. Whether this is expensive or not is kind of subjective; some families will get more servings/meals out of a tray of the stuffed peppers than others. When (as in my family) your husband can easily eat three or four of the stuffed peppers in one sitting, it seems slightly expensive! If you eat one stuffed pepper and the tray lasts you two meals, this is a pretty good deal. Even though my household wouldn't get two meals out of one tray, I don't feel that the Kirkland Signature stuffed peppers are super overpriced; ingredients like bell peppers can be expensive (sometimes $6 Canadian for a bag of six). I feel like $15.99 would be a slightly more reasonable price though.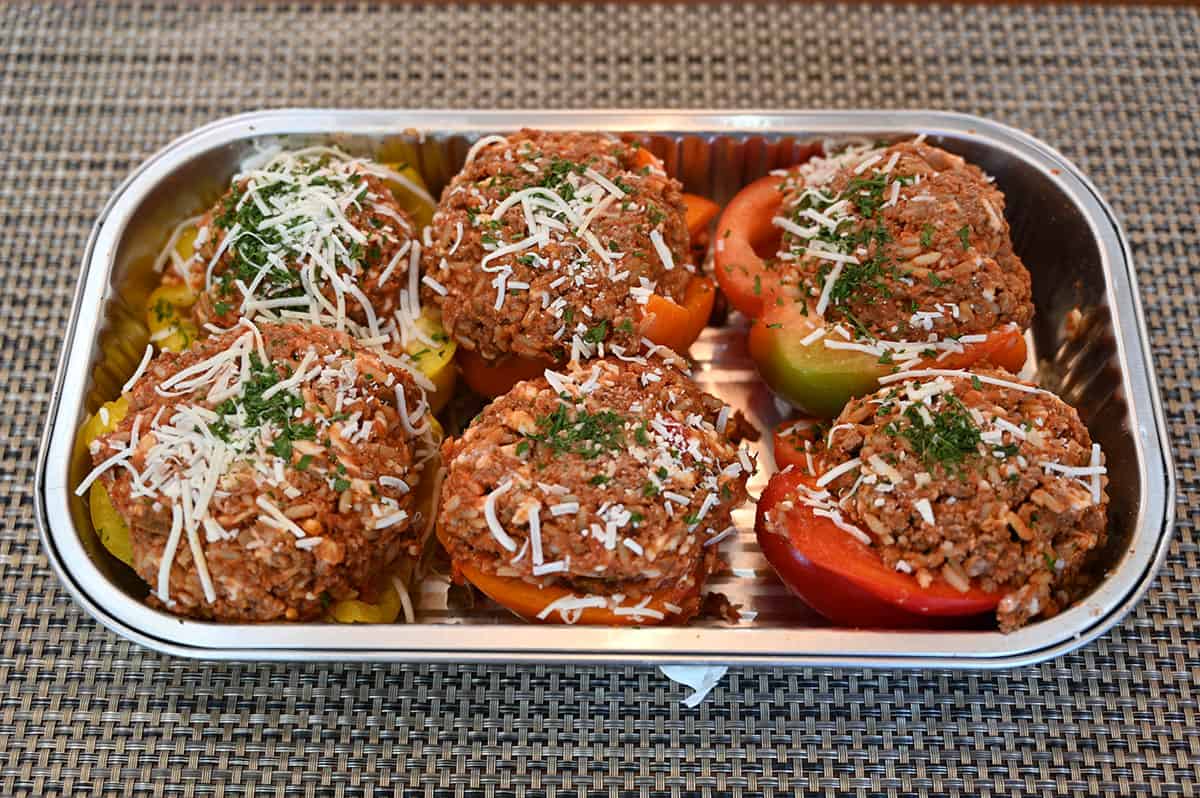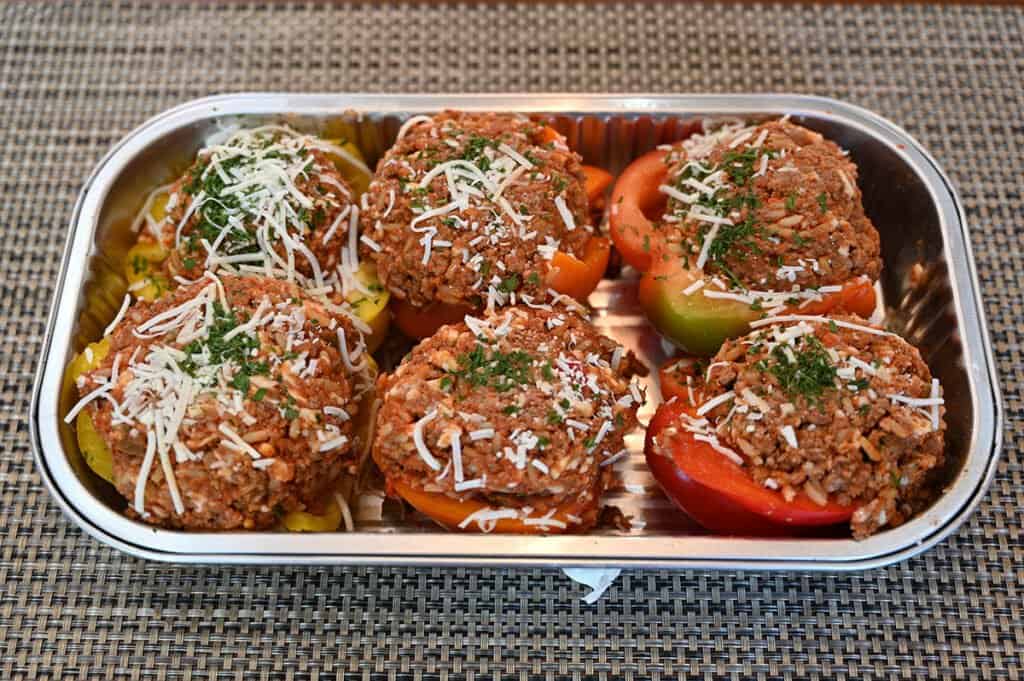 Convenience
The Costco Kirkland Signature Stuffed Bell Peppers are so easy to bake in the oven! You just remove the plastic lid from the tray, cover it in aluminum foil and pop the tray in the oven at 400 degrees Fahrenheit for 50 to 55 minutes! The package recommends checking the internal temperature after cooking to make sure that the internal temperature of the filling in the peppers is at least 165 degrees Fahrenheit. If you need a super convenient meal, the stuffed peppers are a great choice.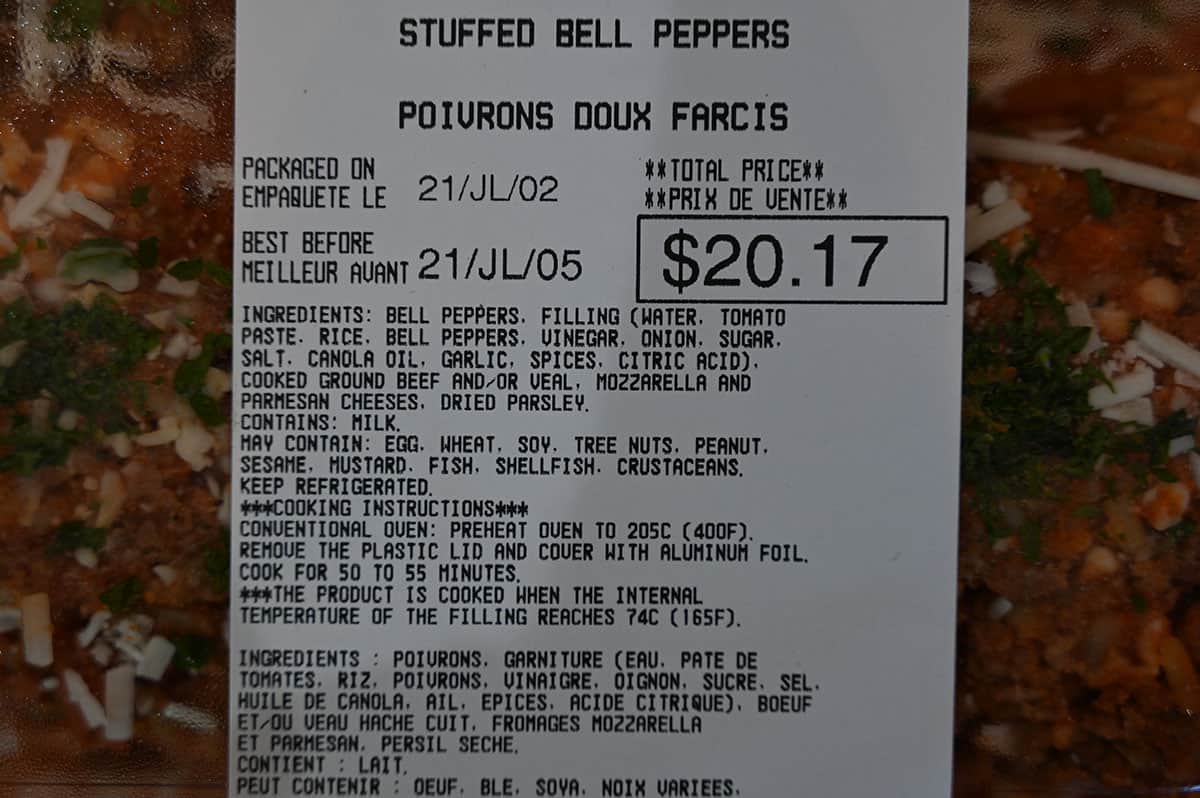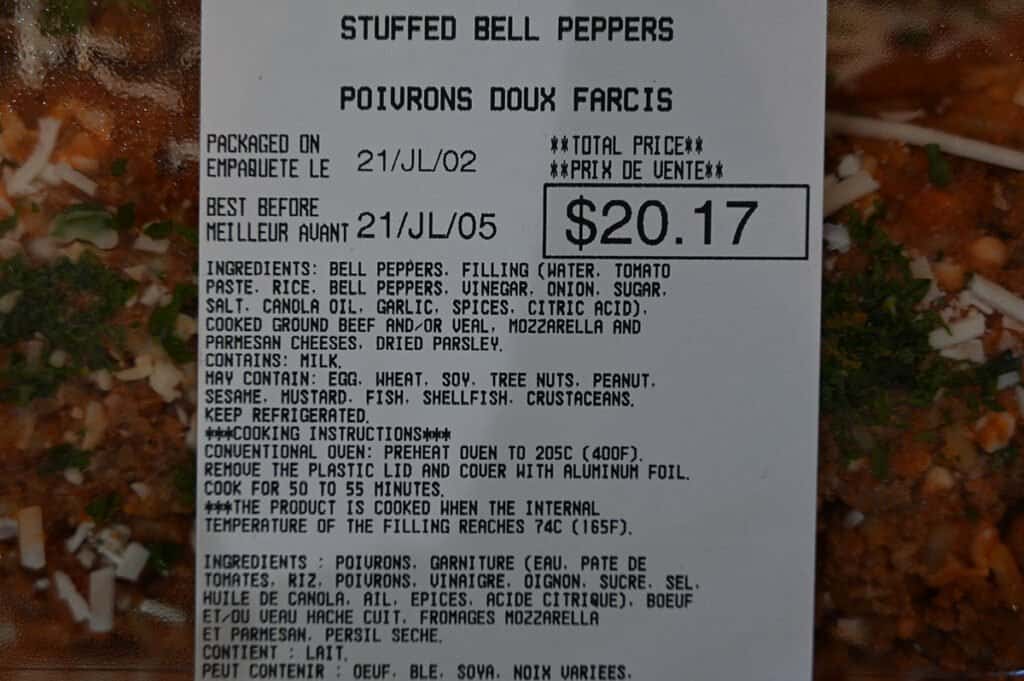 Also, did you know, you can freeze the peppers individually, then defrost and bake them? They're slightly softer if you do this, but they still taste good and make a perfect lunch or dinner for one. I'm a person who hates waste and freezes… everything, so trust me on this. If you want to know if something can be frozen, just ask me! I've probably tried it.
Nutrition
Shall we discuss nutrition information? Half of a stuffed pepper contains 320 calories, 13 grams of fat, 610 milligrams of sodium, 11 grams of sugar and a nice 24 grams of protein. I updated this post because a kind reader named Jessica from Calgary pointed out to me that half of a bell pepper means 1/6th of the tray (basically one full serving). I initially thought half of a bell pepper meant only half of one of the six stuffed pepper halves that come in the tray (so 1/12th of the tray). Anyway, thanks, Jessica!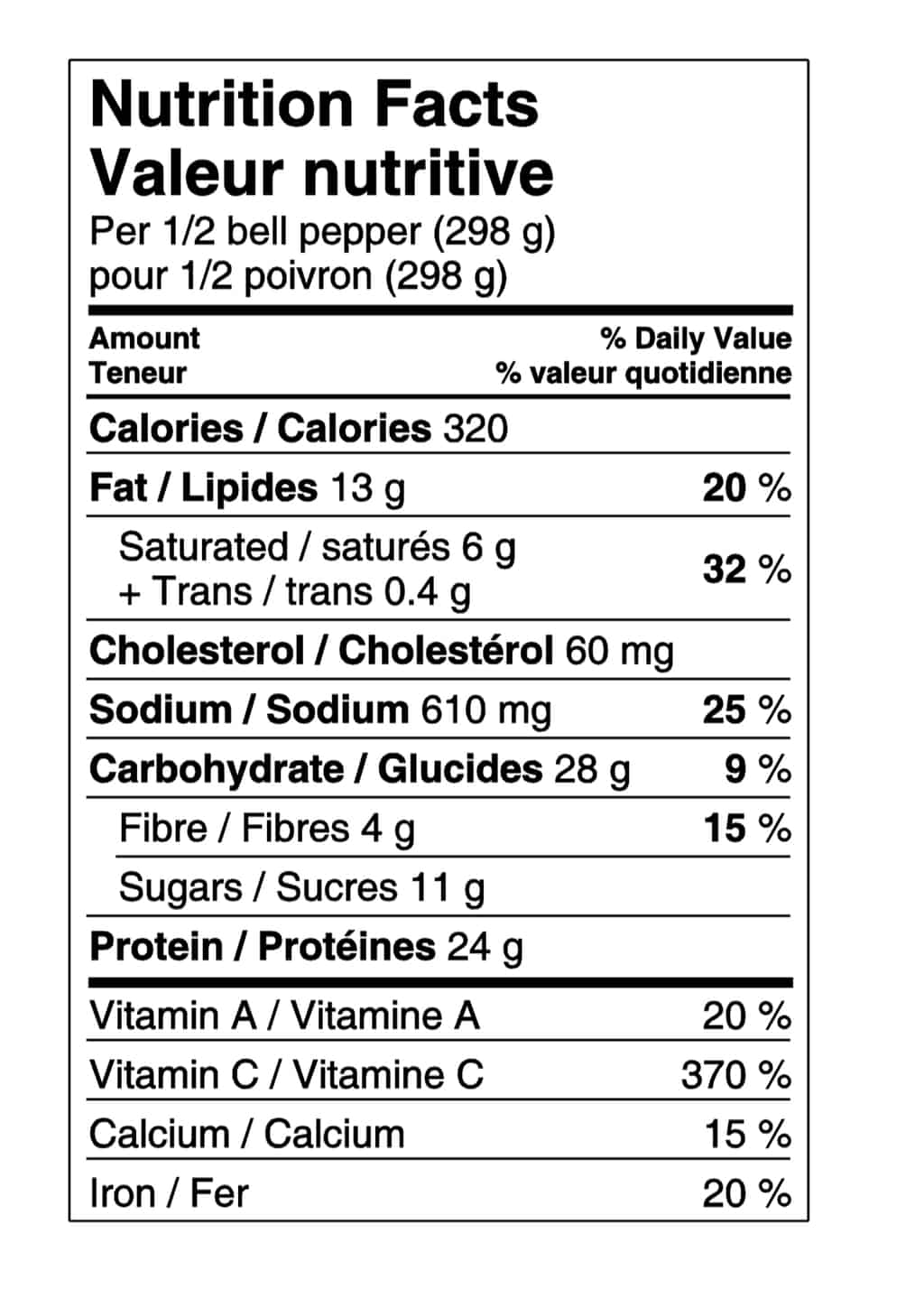 The calories and fat aren't outrageous, and the amount of protein is actually really good! Protein helps makes you feel full, so that's always a positive in my books. For some reason, I feel the need to eat these with bread and butter, which counteracts the fact these are a lower carb option, but it does add to the comfort food vibe! One small complaint I have is the added sugar; people who are really trying to watch their sugar intake won't appreciate that either. Otherwise, the ingredients on the label are pretty straightforward and unsurprising.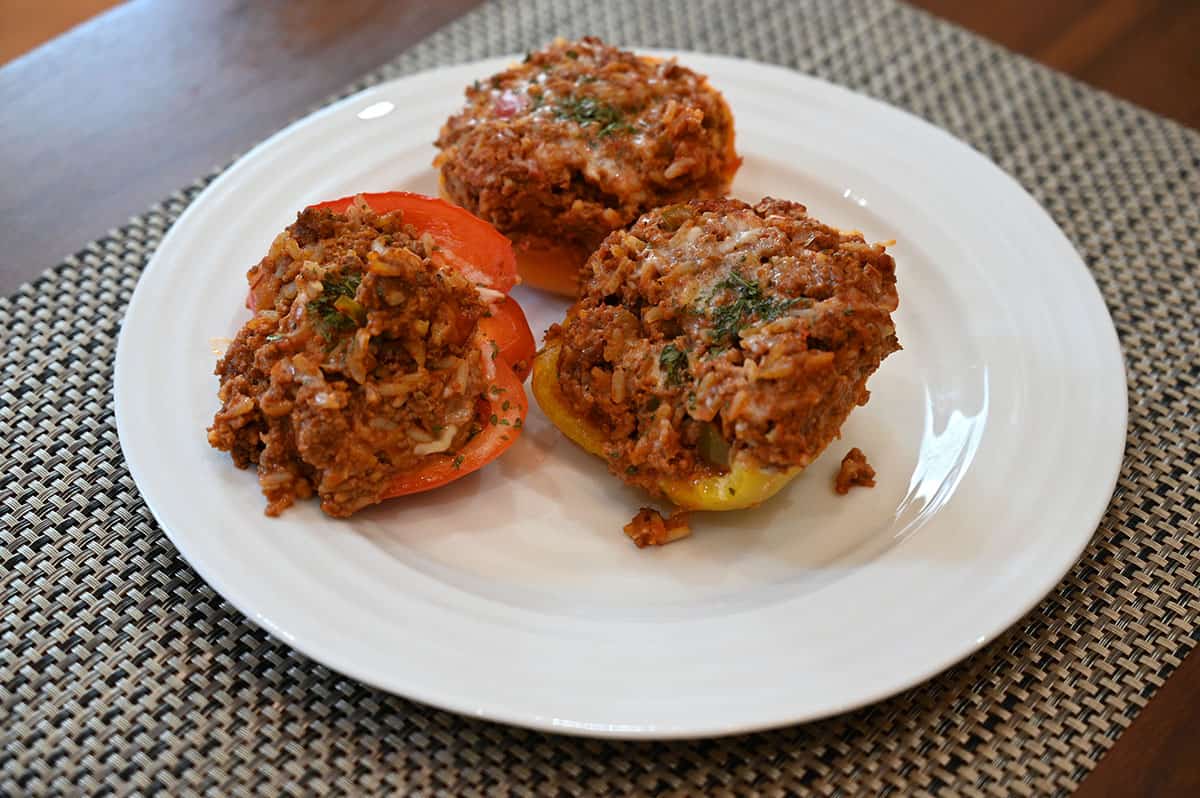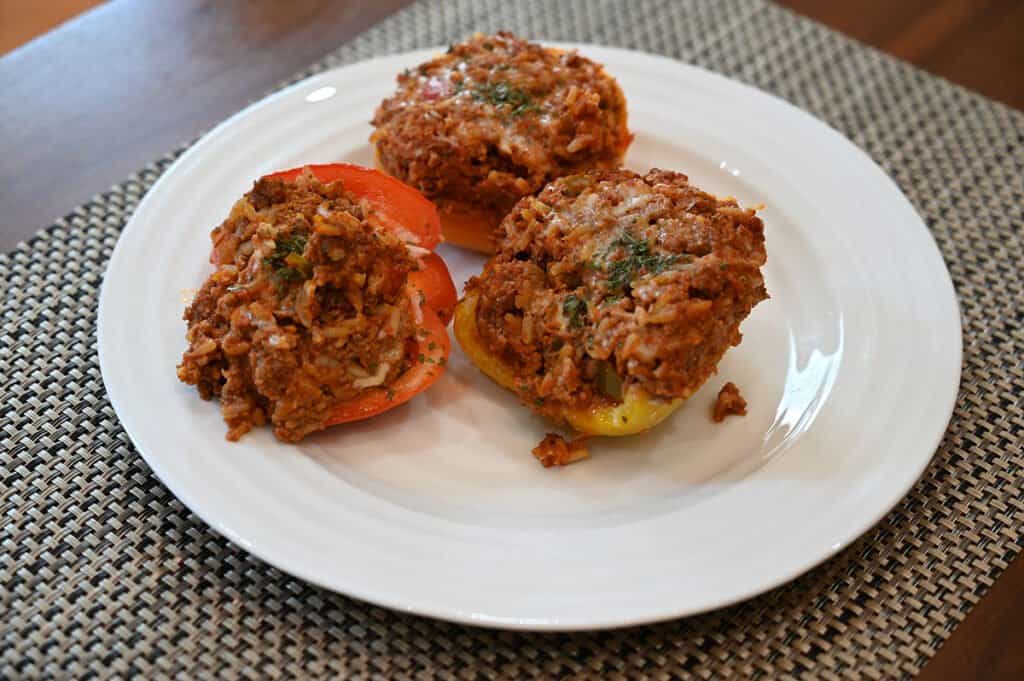 Scoring
Taste: 8/10
Cost: 7/10
Convenience: 9/10
Nutrition: 4/10
Overall
Give it a try.
These Costco Kirkland Signature Stuffed Bell Peppers make perfect comfort food for cold winter nights and are amazingly easy to cook up. I personally find them to be pretty tasty, but I can see how some people might not be too excited at the idea of a giant meatball stuffed inside half of a bell pepper.
What's your favorite comfort food? What about your favorite "stuffed" food?
Please note that this review was not paid for or sponsored by any third party. This product was purchased by Costcuisine for the purpose of producing this review. The opinions in this review are strictly those of Costcuisine. Costcuisine is not affiliated with Costco or any of its suppliers. In the event that Costcuisine receives compensation for a post from the manufacturer of a product or some other third party, the arrangement will be clearly disclosed (including where the manufacturer of a product provides Costcuisine with a free sample of the product).