I put this cheese on everything!
Please note that this review was not paid for or sponsored by any third party. I purchased this product with my own money and the opinions in this review are strictly my own. I am not affiliated with Costco or any of its suppliers. I am just a fan of the company. I write these reviews to help my fellow shoppers.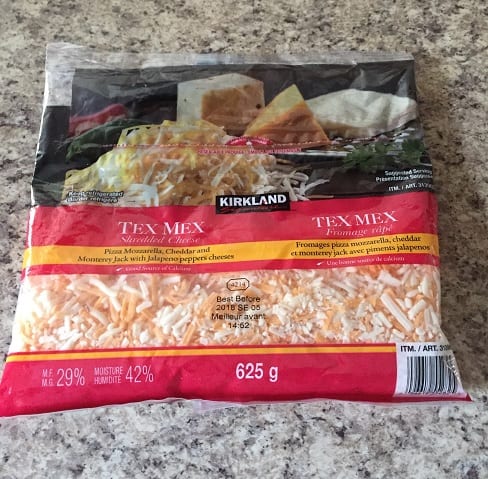 Today I would like to share with you my favorite cheese from Costco. I use this cheese on pretty much everything, grilled cheese sandwiches, tacos, to make pizza, in casseroles, fajitas, stuffed peppers, zucchini boats and on top of chili to give you just a few ideas. I'm talking about the Costco Kirkland Signature Tex Mex Shred. It's a blend of pizza mozzarella, cheddar, and monterey jack with jalapeno pepper cheese. Although it was the jalapeno pepper cheese this definitely is not overly spicy. It has a subtle heat/spice to it but is not the kind of overpowering spicy. I have even used this on foods that you would not want to have something spicy with like Italian lasagna and it works just fine. It tastes absolutely delicious and works well with so many things that I believe this is a staple item everyone should have in their house. If you like mozzarella, cheddar and a little bit of heat in your cheese you'll love this.
You get 2 bags of cheese that are 625 grams each for 14.99. You're definitely paying for the fact that it's already shredded and that it's a mixture of 3 different cheeses. However I have had to resort to buying competitor brand cheese at the regular grocery store and I pay about $6.00 for a 300 gram bag. If you tend to buy shredded cheese, this is definitely far cheaper than the competitors.
The cheese is conveniently packaged in a bag you can reseal and the expiry date is about 3 months after purchase date. I like to buy this and freeze one bag for later. It freezes really, really well. As previously mentioned the #1 reason why I think people purchase this cheese is for the convenience of it. To have to purchase three different types of cheese and shred it by hand takes time. It's much easier to have a bag of this on hand when you randomly decide to make nachos or feel like a grilled cheese sandwich but do not have a block of cheese.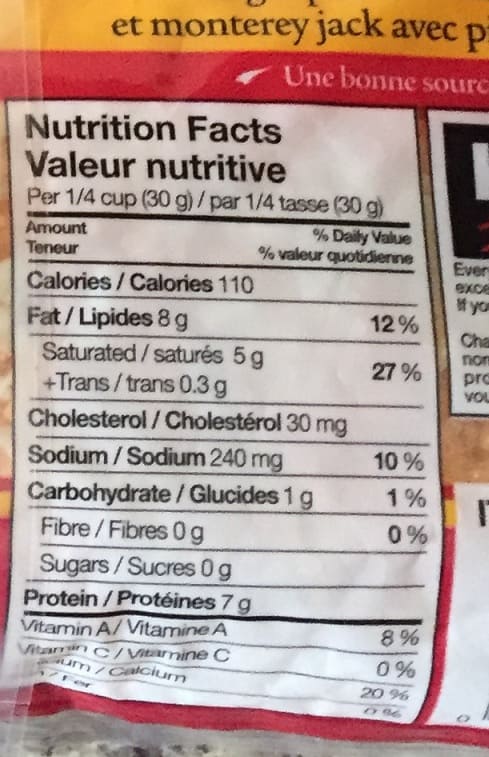 Nutritionally, ¼ cup of cheese is 110 calories, 8 grams of fat, 240 mg of sodium and 7 grams of protein. That's actually a lot more protein than I suspected it to have which is a good thing. Otherwise this nutritional information is similar to basically any cheese you would buy and consume. One thing I'll point out is that ¼ cup is 20% of your daily Calcium intake, so that's a positive.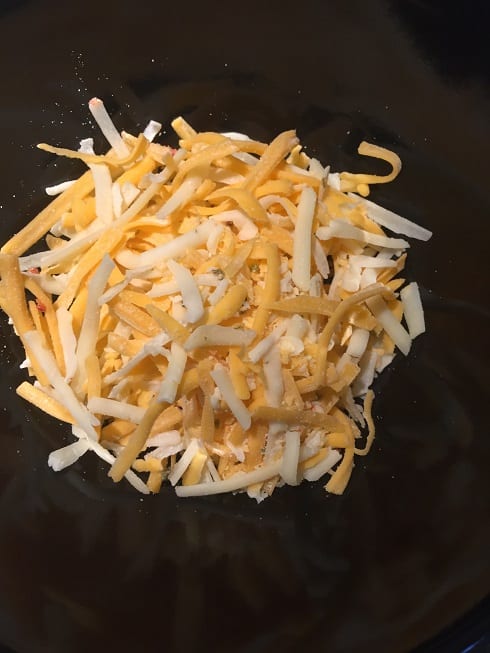 Overall this cheese tastes fantastic and is always in my home because it goes in so many things I make. The cost may seem slightly high but you pay a little extra for the fact it's already shredded and cheese in general is usually expensive. There are similar products available from other companies that have "light" versions of Tex Mex cheese with less fat and calories but I would not be too concerned about the fat content in this cheese, I find you usually don't use very much and fat is an essential part of a diet.
Nutrition: 6/10
Taste: 9/10
Convenience: 10/10 (it freezes well too)
Cost: 7.5/10
What's your all time favorite kind of cheese?