Restaurant quality for a fraction of the price!
Please note that this review was not paid for or sponsored by any third party. I purchased this product with my own money and the opinions in this review are strictly my own. I am not affiliated with Costco or any of its suppliers. I am just a fan of the company. I write these reviews to help my fellow shoppers.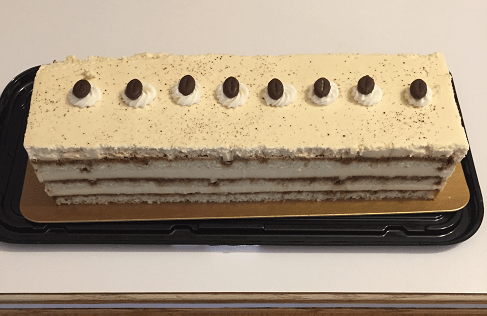 Recently while celebrating my husband's birthday it seemed like cake was a staple in my diet. There was carrot cake, chocolate cake, Costco tuxedo cake and this Costco Tiramisu cake. Tiramisu is a traditional Italian coffee-flavored dessert, it's a pretty popular dessert and can often be found on restaurant dessert menus.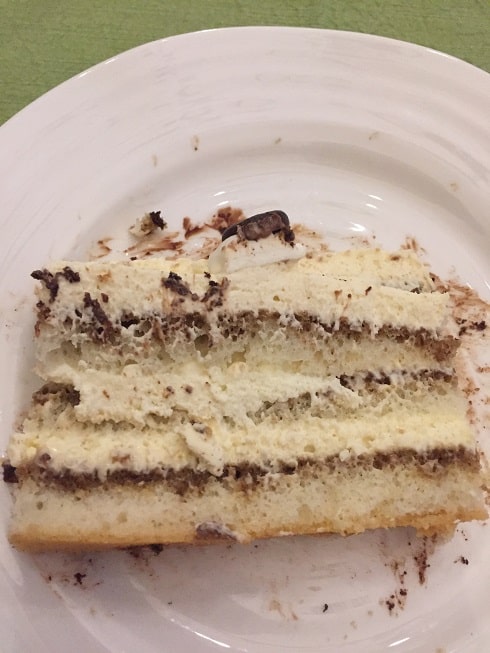 This Tiramisu does not disappoint. I'm going to say that I believe this tastes just as good as restaurant quality tiramisu. The cake was very light and fluffy, the whipped cream icing and mousse is smooth and rich and not overly sweet. The flavors are quite bold and complex, you could definitely taste the coffee, cream cheese and mascarpone cheese. I as well as others eating this cake swore there had to be liquor in the cake because it had a hint of that taste you get when dessert has some sort of liqueur in it (it does not). The thing I dislike most about any store bought cakes is when they use artificial, sugary, waxy, whipped cream. This cake definitely uses the real deal, not too sweet whipped cream. If you're looking for a dessert at Costco that's less sweet. I highly recommend trying out their Tiramisu.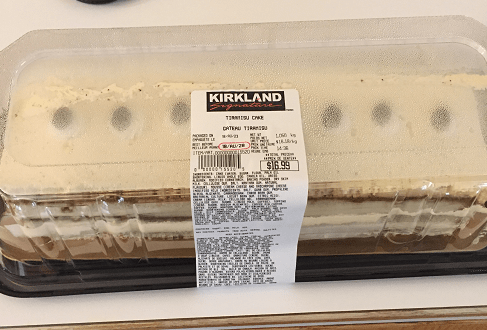 The cake cost $16.99 Canadian. Compared to their huge slab cakes you may think this looks small for $17. It's all in the quality. This cake is definitely worth $16.99 considering I've had restaurant Tiramisu and bakery shop cakes that taste far worse than this for far more money. The list of quality ingredients such as real whipped cream, cream cheese and mascarpone cheese makes the price seem quite reasonable too. I would say if you wanted to stretch it, this cake could feed about 12-15 people with smaller slices.
Nutritionally cake is not that healthy for you. However, cake usually signifies celebration or a time when people get together. It signifies treating yourself after a long stressful week or just having something you enjoy with a cup of tea. It's a symbol for family dinners, weddings, babies, new jobs, retirement, leaving jobs, getting together with friends, birthdays, potlucks and barbecues. Sometimes it's the thing that helps someone feel a bit better when going through a breakup or bad event or a food to be brought to show someone you care. This is why I believe a little cake in life is always a good thing.
The cake is conveniently packaged in a plastic container and the best before date is 5 days after the date made. This cake freezes really well. I recommend slicing it up prior to freezing and then freezing it in the container. This way you can just grab a slice to defrost when you like.
I would definitely repurchase this cake, especially if I were having people over and needed a dessert. It's delicious, light, not too sweet and tastes as good as restaurant quality tiramisu (to me).
Taste: 9.5/10
Cost: 8.5/10
Convenience: 10/10
Nutrition: 1/10
What's your favorite Italian dessert or treat?