Costco's delicious cake version of the classic Italian dessert!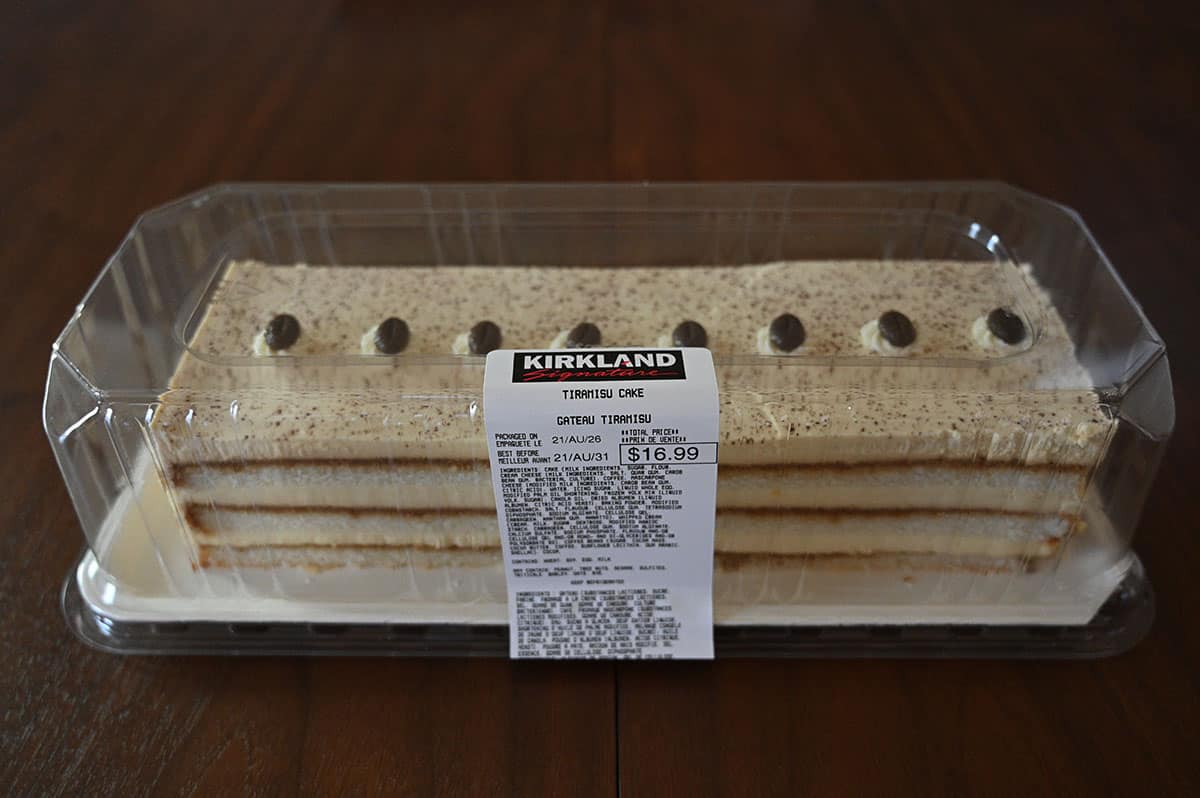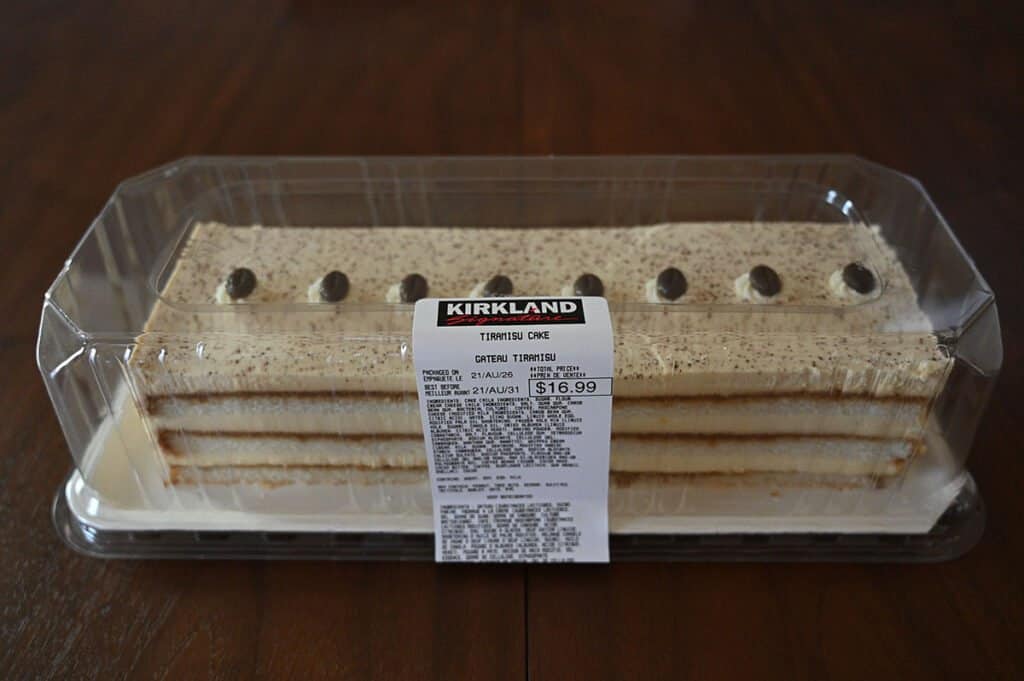 Tiramisu is a pretty famous and popular dessert. Given the great flavors in it – coffee, mascarpone cheese and chocolate – it's not surprising that a lot of people love tiramisu and you find it or some variation of it on a lot of restaurant menus (even non-Italian ones!).
Costco's take on tiramisu comes in the form of this Kirkland Signature cake, and as someone who's enjoyed her share of tiramisu and cake, I think they've done a great job of bringing the two desserts together!
Location in Store
In the refrigerated bakery area with other Costco cakes (like the classic Kirkland Signature Tuxedo Cake!).
Taste
What's in the cake
Similar to actual tiramisu, the Tiramisu Cake from Costco contains multiple layers, specifically three layers of a plain white cake that are coated with coffee and covered with icing. It's hard to tell if the top layer of icing is different than the two layers of icing in the middle of the cake, but based on the ingredients list, there's cream cheese, mascarpone cheese and whipped cream in the cake, so I assume those are important parts of the icing mixture (or mixtures). The top of the cake is dusted with a small amount of cocoa (a much lighter dusting than most tiramisus that I've had before, which tend to be covered in a generous layer of cocoa). To finish it off, the cake is nicely decorated with chocolate-covered coffee beans that sit on top of little dollops of plain vanilla icing.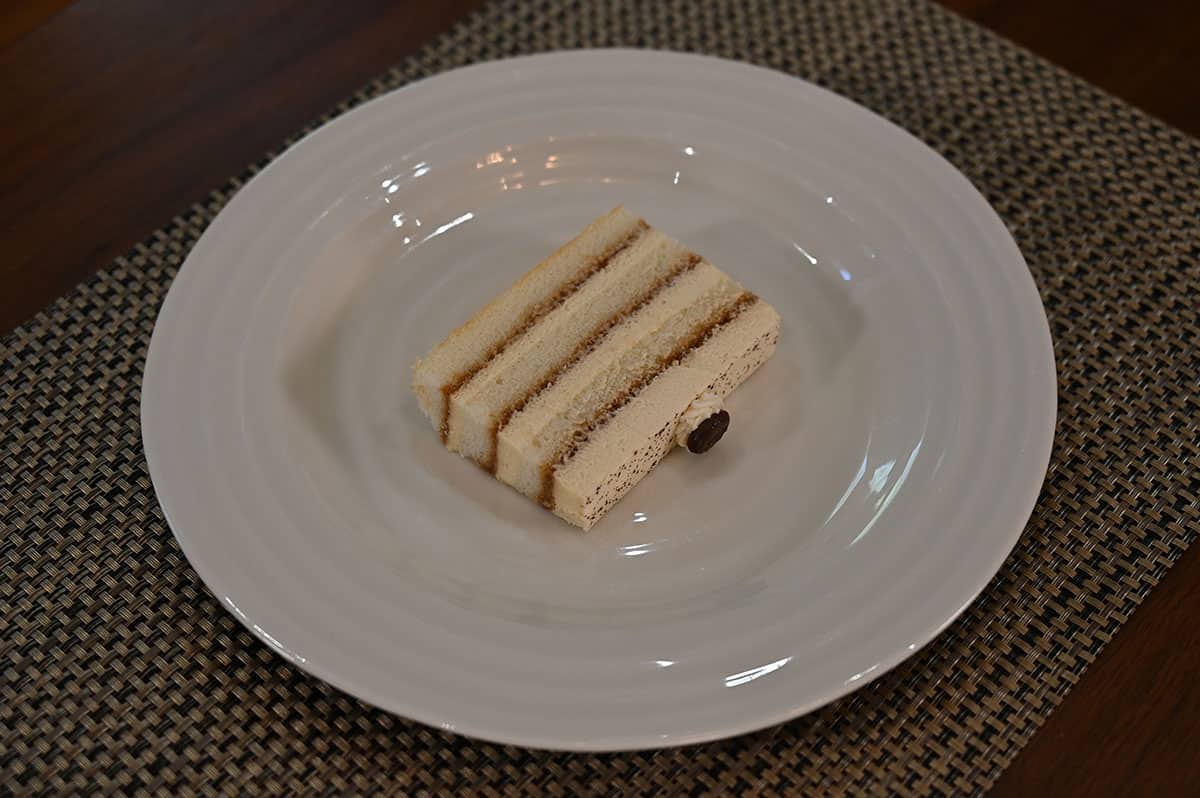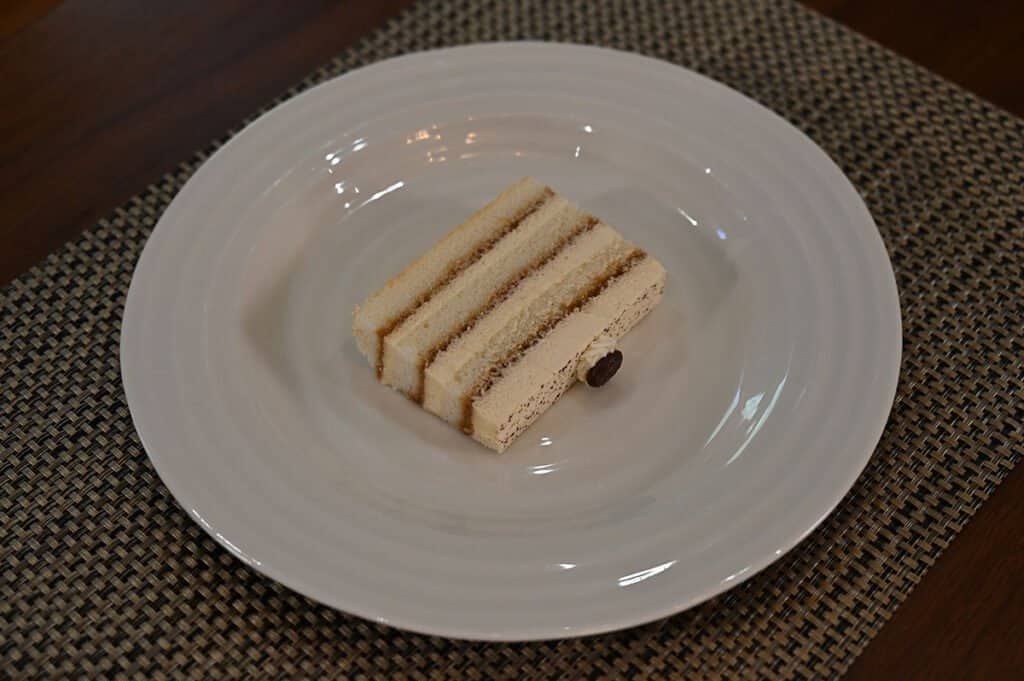 Flavors
This Kirkland Signature Tiramisu Cake definitely does the original dessert proud! It's delicious and actually tastes a lot like actual tiramisus that I've had in the past even though it's in the form of a cake. It's a light cake that's creamy and has the right amount of sweetness. You taste the mascarpone, cream cheese and whipped cream and the coffee more than you notice the sweetness. That's a good thing, because tiramisu isn't tiramisu without mascarpone cheese and coffee!
When I first tasted this cake, I could have sworn there had to be some kind of liquor in the cake. It had a hint of that taste you get when dessert has some sort of liqueur in it. It doesn't have any sort of alcohol in it, but the other members of my family with whom I enjoyed the cake noticed the same thing. Anyway, I think my favorite thing about this cake is the icing – the layers of the mixture of mascarpone cheese, cream cheese and whipped cream. It tastes like the real thing and that's big in my books. The thing I dislike most about most store-bought cakes is when they use artificial, sugary, waxy, whipped cream and icing.
Cost
The cake cost $16.99 Canadian. Compared to the huge slab cakes at Costco, you might think it looks small for $17, but the difference is the quality. This cake is definitely worth the price. I've had restaurant tiramisu and cakes from bakeries that weren't nearly as good as this cake and cost far more money (at least on a per-serving basis). The quality ingredients in the cake (such as real whipped cream, cream cheese and mascarpone cheese) also help justify the price. The cake should easily serve at least eight people. If you wanted to stretch it, you could probably feed 10 to 15 people with smaller slices.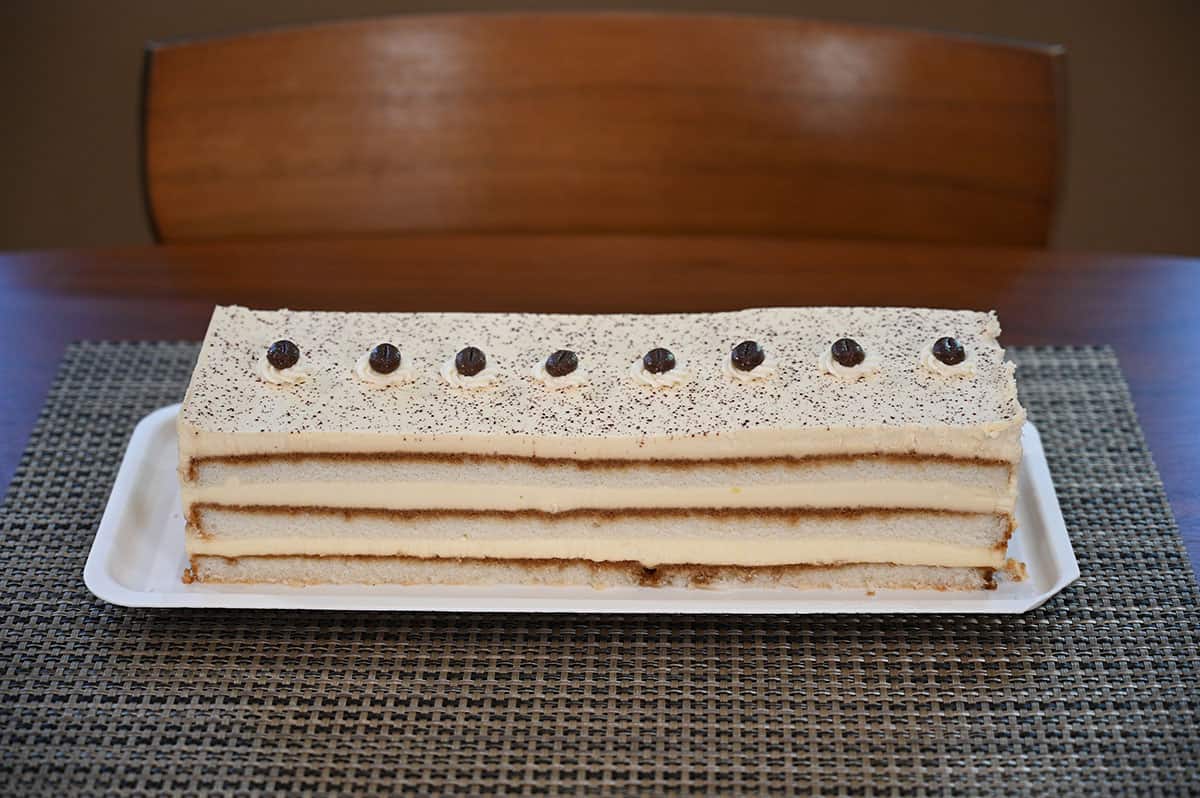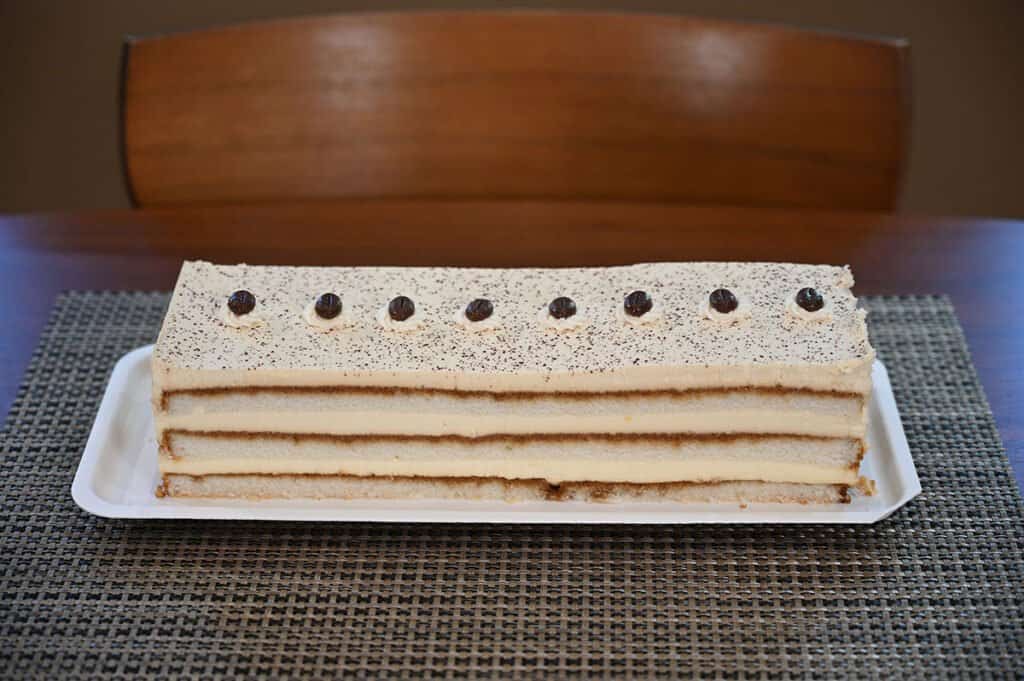 Convenience
The Tiramisu Cake is conveniently packaged on a tray with a plastic dome lid, so it's easy to reseal. The best before date for the cake I purchased was five days after the date it was made. This cake freezes really well. I recommend slicing it up prior to freezing, but you can even freeze it in the package that it comes in (though you might want something a bit more airtight if you're planning to keep it in your freezer for an extended period).
Nutrition
Calories
Before I started writing this blog, I kind of liked the fact that Costco doesn't publish the nutrition information on its cakes. Sometimes ignorance is bliss! It's my job to tell you all about the products I review though, so I contacted Costco and got the nutrition information for the Tiramisu Cake. In one-eighth of the cake (or a 153-gram slice), there are 460 calories, 29 grams of fat, 30 grams of sugar, one gram of fiber, 320 milligrams of sodium and 44 grams of carbohydrates. They didn't give me the amount of protein, but I don't think anyone is planning to get their daily intake of protein from a cake!
Ingredients
Although I've been praising this cake for the quality of its ingredients and it certainly does taste like it's made from quality ingredients, the ingredients list tells a slightly different story. Along with all the things you'd expect to see in this cake, there are quite a few ingredients listed that make it clear this is a mass-produced commercial product and not the same as homemade cake or tiramisu. I'm just happy that you don't get that impression from tasting the cake.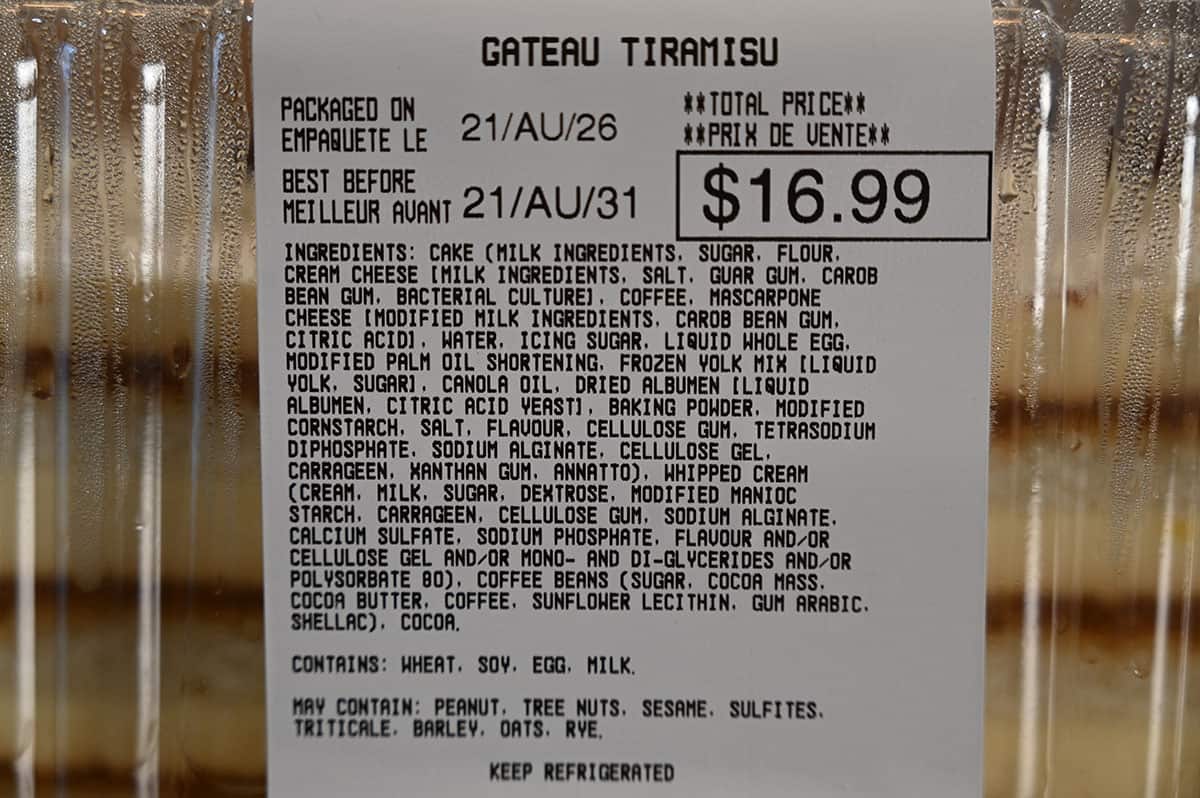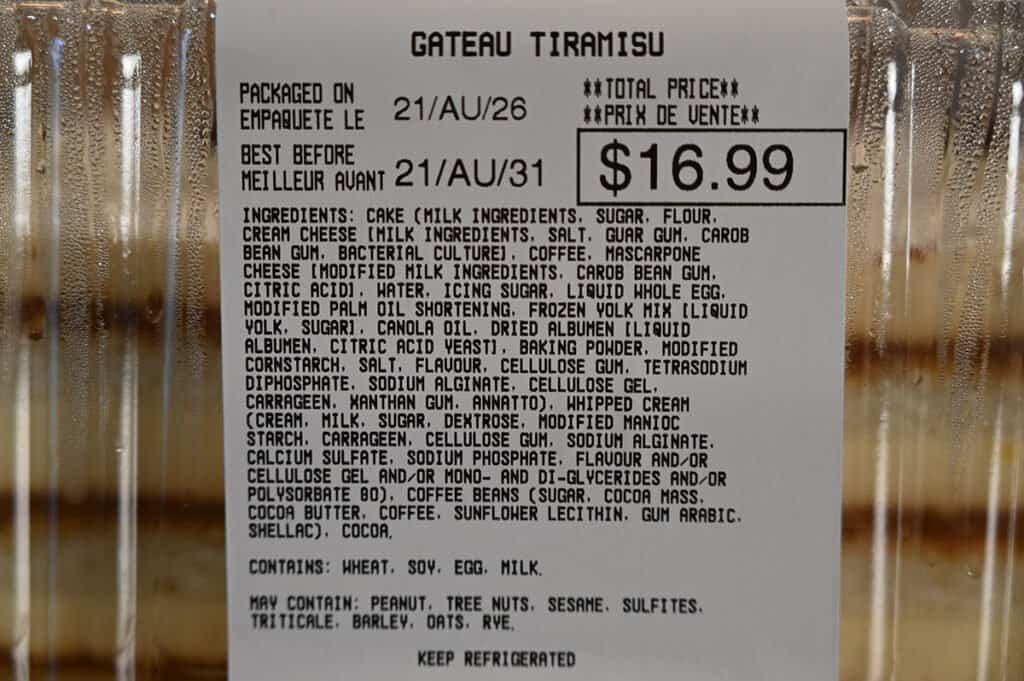 Scoring
Taste: 9.5/10
Cost: 8.5/10
Convenience: 10/10
Nutrition: 1/10
Overall
Must buy!
I would absolutely repurchase the Kirkland Signature Tiramisu Cake. It's delicious, light and not too sweet. In my opinion, it tastes as good as most restaurant-quality tiramisus. If you're looking for a dessert at Costco that's less sweet or you're trying to keep both the chocolate and white cake fans in your family happy, I highly recommend trying this cake.
What's your favorite Italian dessert or treat?
Please note that this review was not paid for or sponsored by any third party. This product was purchased by Costcuisine for the purpose of producing this review. The opinions in this review are strictly those of Costcuisine. Costcuisine is not affiliated with Costco or any of its suppliers. In the event that Costcuisine receives compensation for a post from the manufacturer of a product or some other third party, the arrangement will be clearly disclosed (including where the manufacturer of a product provides Costcuisine with a free sample of the product).