Baklava fan? Costco carries Baklava straight from Europe!
Please note that this review was not paid for or sponsored by any third party. I purchased this product with my own money and the opinions in this review are strictly my own. I am not affiliated with Costco or any of its suppliers. I am just a fan of the company. I write these reviews to help my fellow shoppers.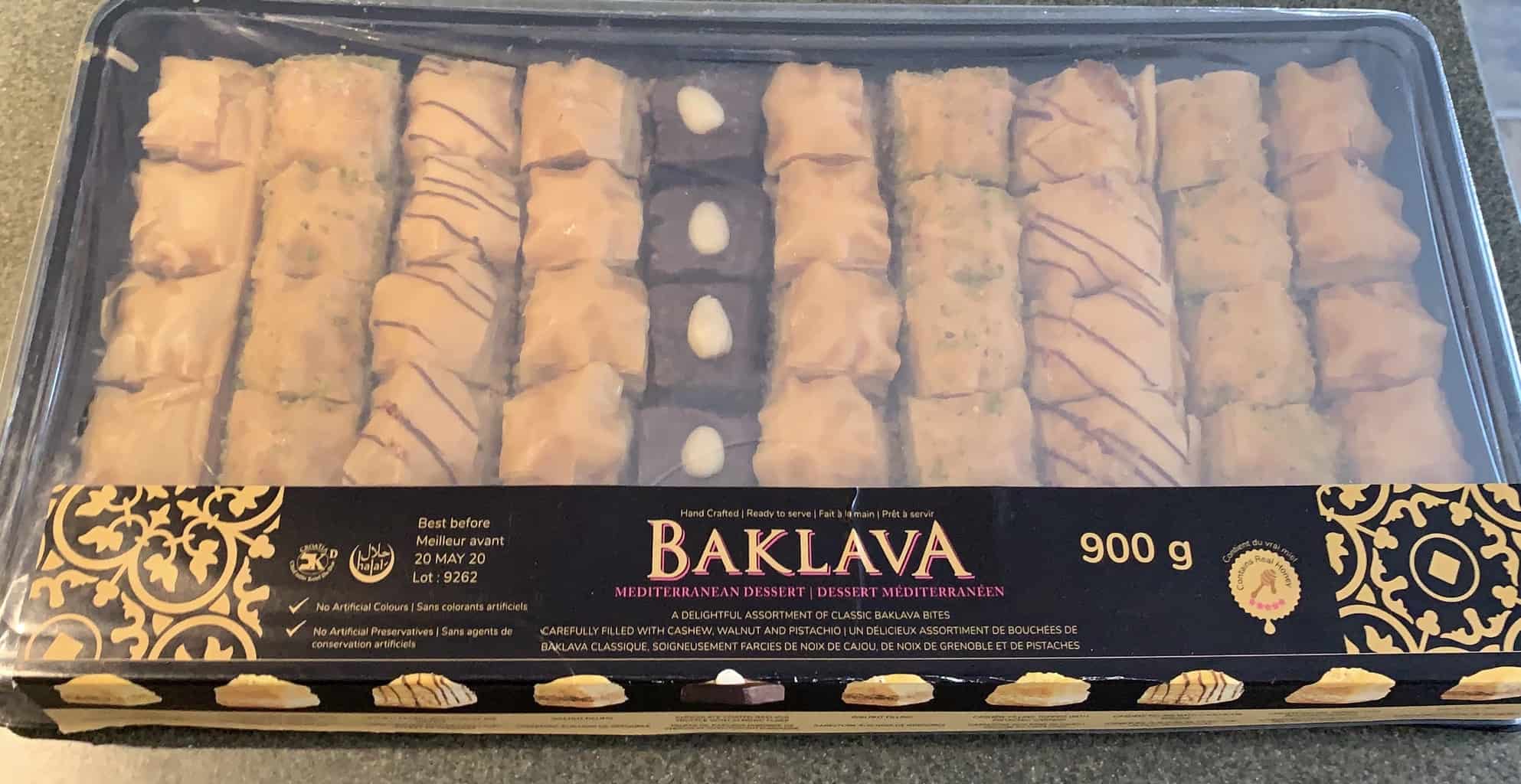 During our last trip to Costco, Sean and I found baklava and had never seen it at Costco before. I have to admit I really haven't consumed a lot of baklava in the past but the times I have had it I thought it was pretty good! If you know someone who loves baklava you might want to pick them up some baklava from Costco for Christmas!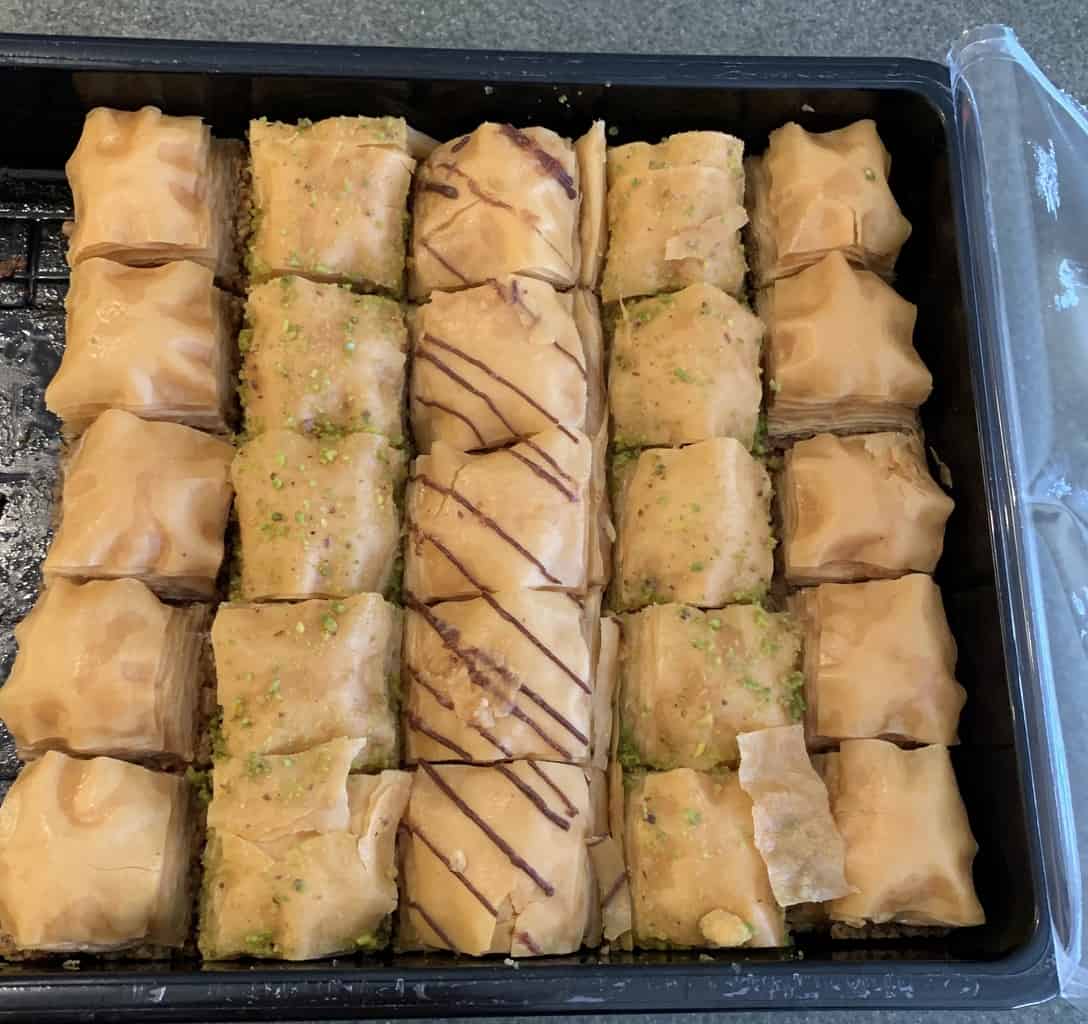 Taste
There's five different kinds of baklava in the pack, pistachio filling, cashew filling with pistachio garnish, cashew filling with chocolate drizzle, walnut filling and chocolate coating baklava truffle with almond flake. Alright so they pretty much all taste the same except for the chocolate coating baklava truffle with almond flake. That one tastes like a chocolate truffle/macaroon. All of the baklava is extremely flaky, sweet, sticky and soft. It's quite good actually! My husband Sean pointed out that he felt the baklava was sweet but didn't have the distinct flavor of honey that he usually tastes when eating authentic baklava. This Costco baklava definitely nailed the flaky pastry part though. The nuts also tasted fresh. There's not a huge amount of filling, but there's just enough.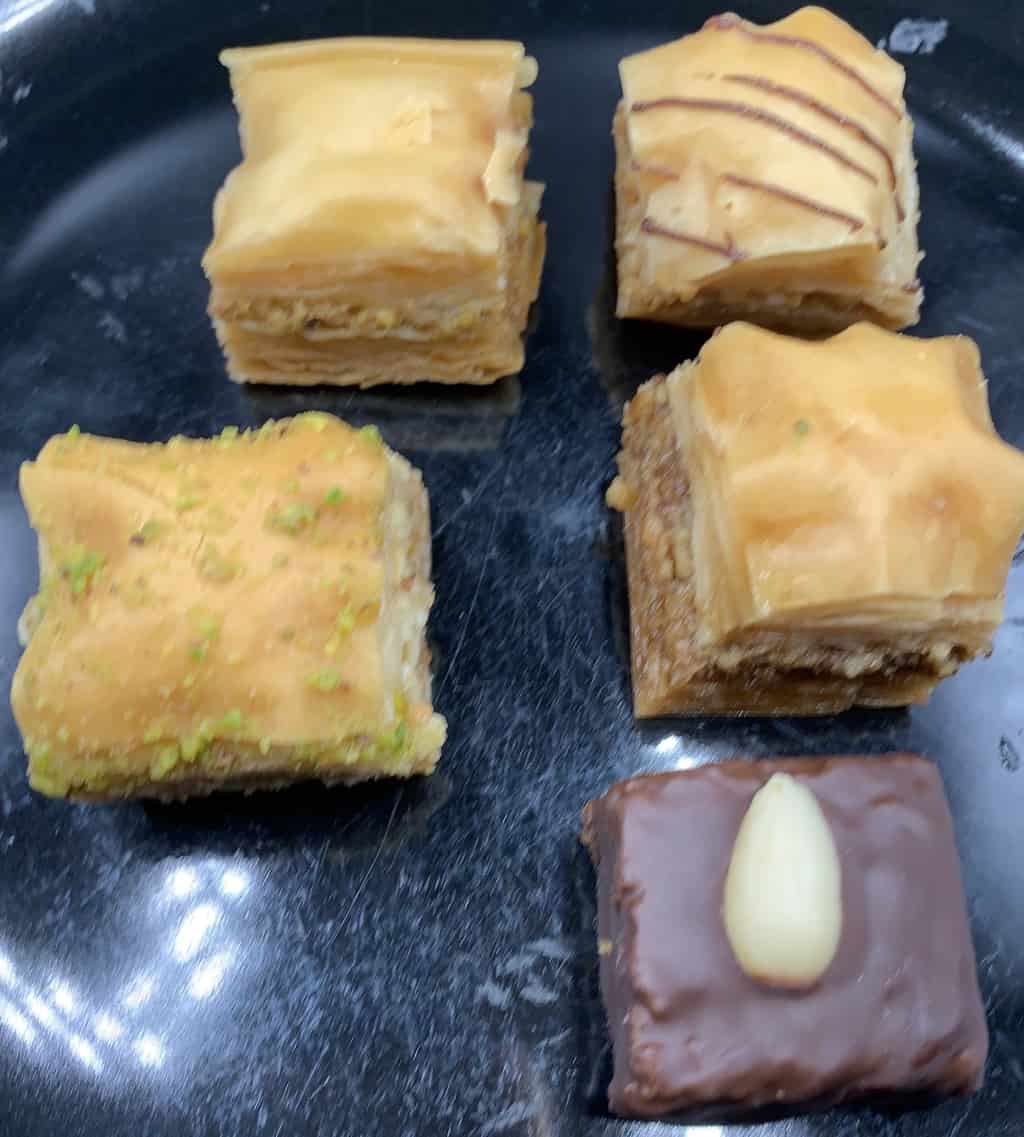 Cost
This is a 900 gram package of baklava and it contains 50 small squares of baklava, I paid $13.99 Canadian for the pack of Layla Baklava from Costco. That's not too bad considering that it's from Europe (Croatia)!
Convenience
The best before date is about six months from the date I purchased the baklava. However the packaging recommends consuming the baklava within a week of opening the package. The baklava comes in a large plastic rectangular container and there's plastic wrap keeping the baklava fresh. It freezes okay, it doesn't taste quite as good as it does when just opened but it's not bad!
Nutrition
So not healthy for you! This has a ton of calories, fat and sugar! Three pieces of baklava is 300 calories, 18 grams of fat, 30 grams of carbohydrates, two grams of fibre, 18 grams of sugar, three grams of protein and 90 mg of sodium. The first ingredient listed is sugar!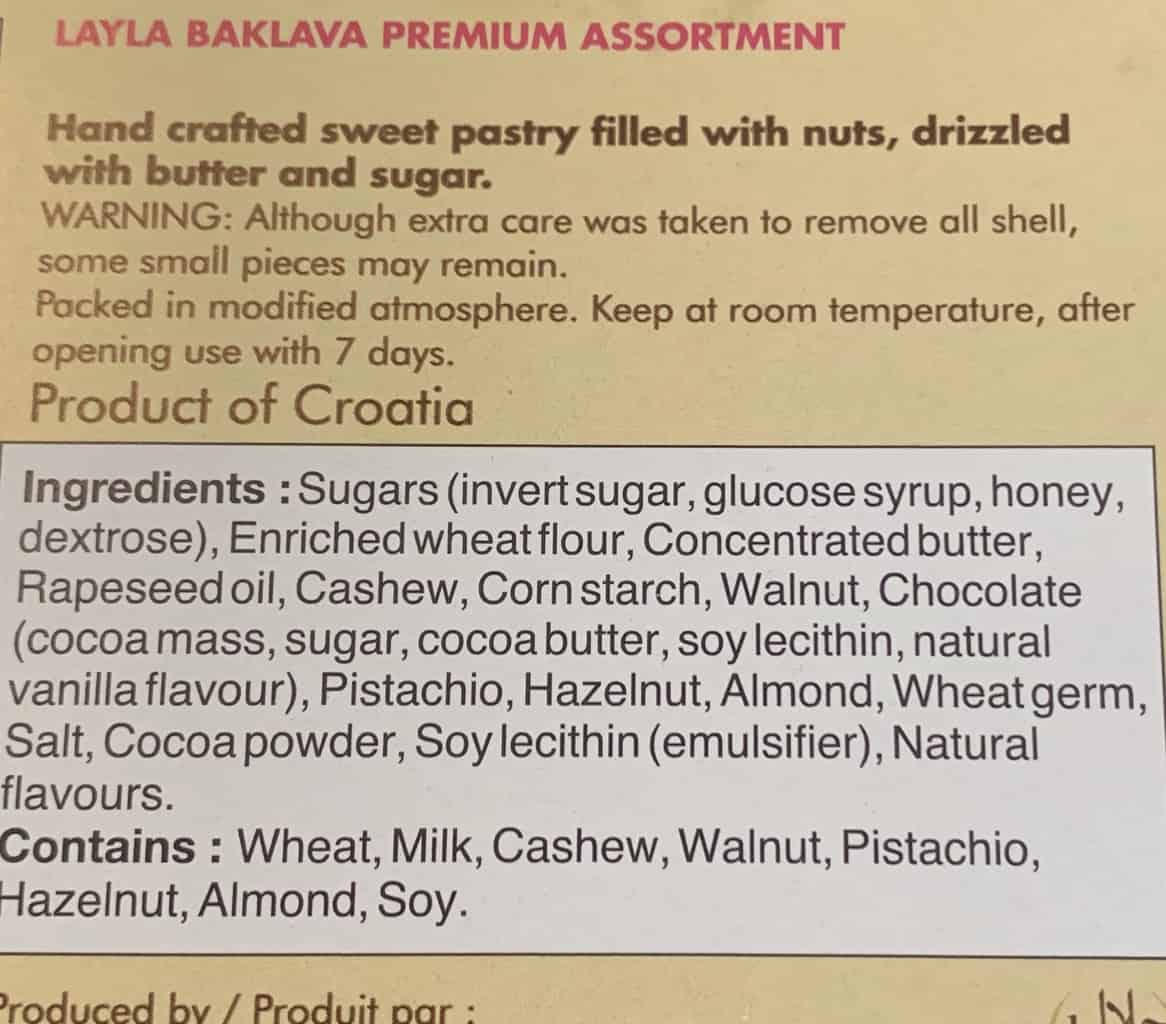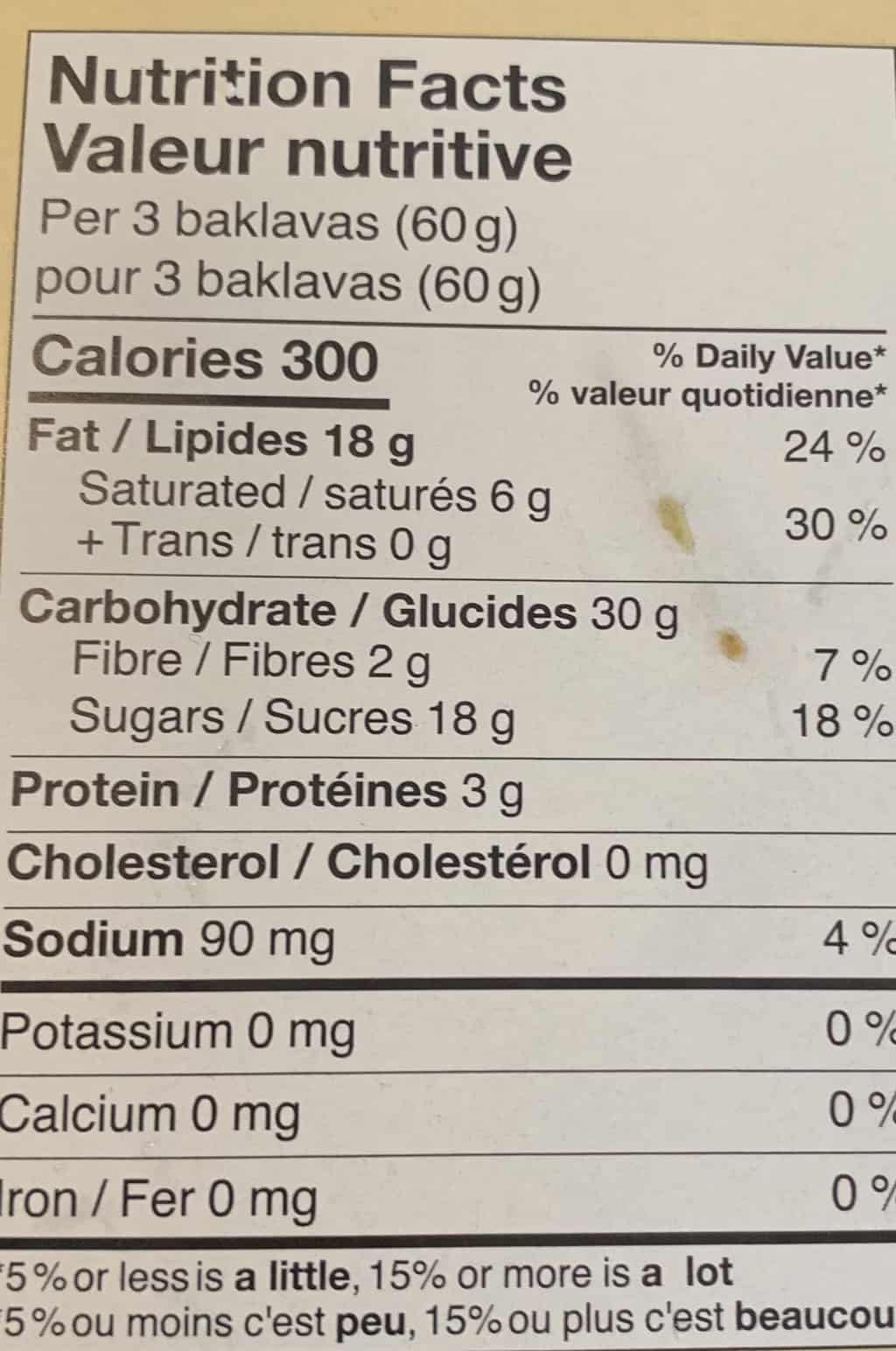 A lot of people I know really enjoy baklava and it's not really something you can get from a lot of bakeries or stores. The Costco baklava is a great option for anyone who really enjoys baklava.
Taste: 4/10
Cost: 6/10
Nutrition: 0/10
Convenience: 10/10
Do you like baklava? Which kind of baklava in the pack do you think would be your favorite?